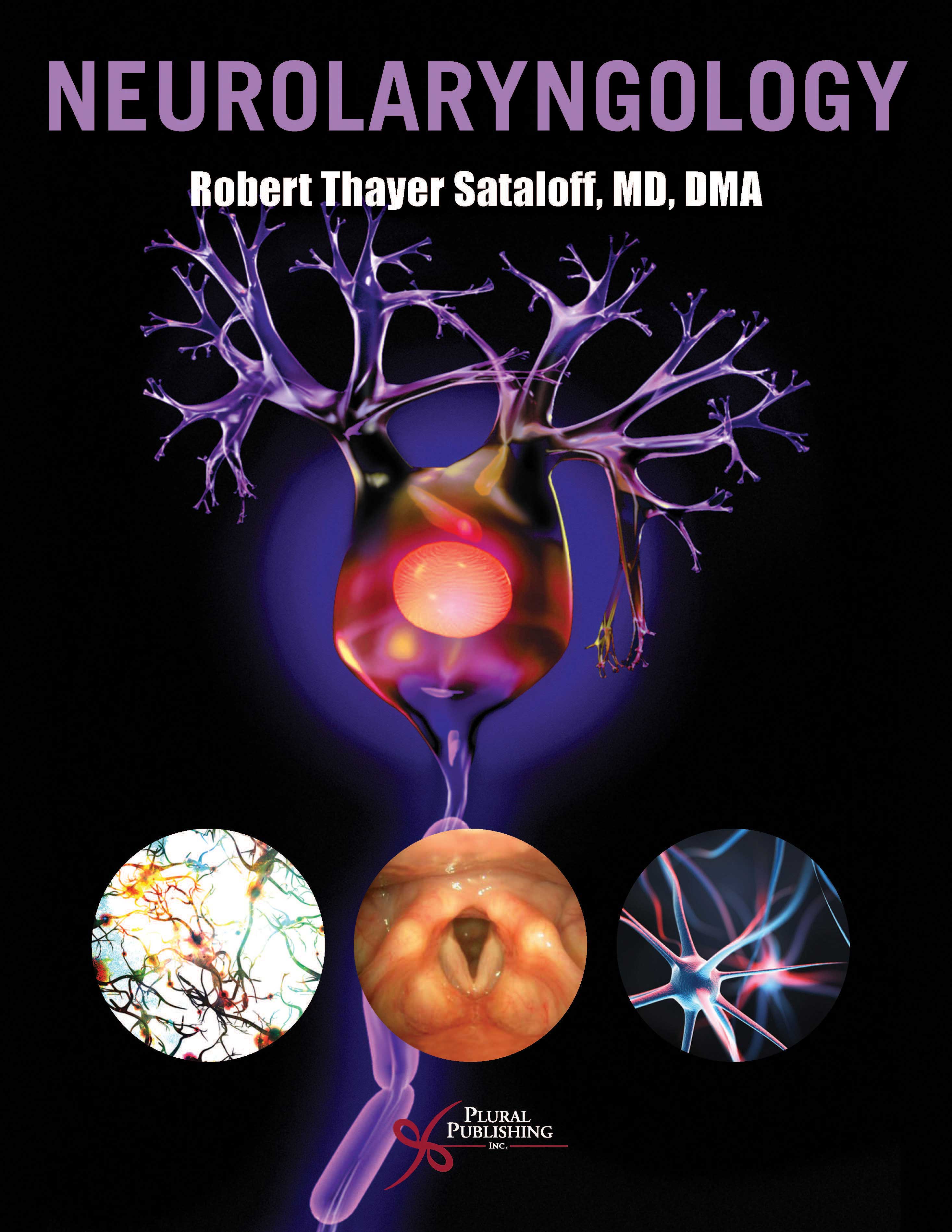 Neurolaryngology
First Edition
Robert T. Sataloff
Details: 1,161 pages, Full Color, Hardcover, 8.5" x 11"
ISBN13: 978-1-94488-383-6
© 2017 | Available
Neurolaryngology brings together in one volume the latest concepts in this important and developing field. In order to make this text as useful as possible for clinicians, selected chapters on general concepts important to clinical care have been included, including chapters on history, physical examination, clinical voice laboratory assessment, common diagnoses and treatments, and other topics important to all voice patients, including those with neurolaryngological complaints.
Starting with a perspective on modern voice medicine, including neurolaryngology and a brief historical overview of the development of laryngology, the text goes on to describe neuroanatomy and physiology, laryngeal function, and the role of chaos in voice disorders. It contains fascinating new ideas on applications of nonlinear dynamics to voice care and research, a topic of great relevance in neurolaryngology.
Beginning the section on clinical assessment of voice disorders is a description of the current approach to history and physical examination recommended for patients with neurolaryngological voice disorders. The text contains the most current research and references throughout, presenting the latest information about many conditions, including some rarely covered in the laryngologic literature; it highlights diagnosis and treatment of a wide array of motor and sensory disorders that may impair voice.
The interdisciplinary expertise of numerous authors has been invaluable in the preparation of this text; however, every effort has been made to maintain style and continuity throughout. Clinically relevant and thought provoking, Neurolaryngology is the definitive encyclopedic reference in this new subspecialty of laryngology.
Preface
Acknowledgments
About the Author
Contributors
Dedication
Chapter 1. Introduction
Robert Thayer Sataloff
Chapter 2. Formation of the Larynx: From Hox Genes to Critical Periods
Jeffrey T. Laitman, Drew M. Noden, and Thomas R. Van De Water
Chapter 3. Laryngeal Embryology and Vocal Development
David H. Henick and Robert Thayer Sataloff
Chapter 4. Genetics of the Voice
Robert Thayer Sataloff and Mary J. Hawkshaw
Chapter 5. Clinical Anatomy and Physiology of the Voice
Robert Thayer Sataloff
Chapter 6. Arytenoid Movement
James A. Letson, Jr., and Renny Tatchell
Chapter 7. The Microanatomy of the Vocal Fold Musculature
Ira Sanders
Chapter 8. Laryngeal Neurophysiology
Christy L. Ludlow
Chapter 9. Music and the Brain
Thomas Swirsky-Sacchetti, Robert Rider, Michael E. Keesler, and Steven Mandel
Chapter 10. Cellular and Molecular Mechanisms of Aging of the Vocal Fold
Ashley P. O'Connell Ferster and Leslie T. Malmgren
Chapter 11. An Overview of Laryngeal Function for Voice Production
R. J. Baken
Chapter 12. Laryngeal Function During Phonation
Ronald C. Scherer
Chapter 13. Vocal Tract Resonance
Johan Sundberg
Chapter 14. Chaos in Voice Research
Rajeev Bhatia, Robert Thayer Sataloff, and Mary J. Hawkshaw
Chapter 15. Dynamical Disorders of Voice: A Chaotic Perspective on Vocal Irregularities
R. J. Baken
Chapter 16. Patient History
Robert Thayer Sataloff
Chapter 17. Physical Examination
Robert Thayer Sataloff
Chapter 18. The Clinical Voice Laboratory
Jonathan J. Romak, Reinhardt J. Heuer, Mary J. Hawkshaw, and Robert Thayer Sataloff
Chapter 19. Voice and Forensics
Harry F. Hollien
Chapter 20. High-Speed Digital Imaging
Matthias Echternach
Chapter 21. Transnasal Esophagoscopy
Nancy L. Solowski and Gregory N. Postma
Chapter 22. Laryngeal Electromyography
Robert Thayer Sataloff, Steven Mandel, and Yolanda D. Heman-Ackah
Chapter 23. Clinical Applications of Laryngeal Electromyography: Case Studies
Robert Thayer Sataloff
Chapter 24. Electrophysiological Monitoring of Laryngeal Nerves During Anterior Neck Surgery
Robert Thayer Sataloff, Jeffrey Liaw, and Mary J. Hawkshaw
Chapter 25. Laryngeal Photography and Videography
Eiji Yanagisawa, Ken Yanagisawa, and H. Steven Sims
Chapter 26. Laryngeal Computed Tomography
Jean Abitbol, Albert Castro, Rodolphe Gombergh, and Patrick Abitbol
Chapter 27. Magnetic Resonance Imaging of the Voice Production System
Matthias Echternach
Chapter 28. New Dimensions in Measuring Voice Treatment Outcomes and Quality of Life
Michael S. Benninger, Mausumi N. Syamal, Glendon M. Gardner, and Barbara H. Jacobson
Chapter 29. Common Medical Diagnoses and Treatments in Patients With Voice Disorders: An Introduction and Overview
Robert Thayer Sataloff, Mary J. Hawkshaw, and Johnathan B. Sataloff
Chapter 30. The Effects of Age on the Voice
Robert Thayer Sataloff, Karen M. Kost, and Sue Ellen Linville
Chapter 31. Pediatric Voice Disorders
Alexander Manteghi, Amy Rutt, Robert Thayer Sataloff, and Caren J. Sokolow
Chapter 32. Hearing Loss in Singers and Other Musicians
Robert Thayer Sataloff, Brian McGovern, Joseph Sataloff, and Morgan A. Selleck
Chapter 33. Impact of Auditory Systems on Phonation
Robert Thayer Sataloff
Chapter 34. Psychological Aspects of Voice Disorders
Deborah Caputo Rosen, Reinhardt J. Heuer, David A. Sasso, and Robert Thayer Sataloff
Chapter 35. Cough and the Unified Airway
Rupali N. Shah and Kenneth W. Altman
Chapter 36. Sleep and the Vocal Performer
Joanne E. Getsy, Robert Thayer Sataloff, and Julie A. Wang
Chapter 37. Neurologic Disorders Affecting the Voice in Performance
Linda Dahl, Jessica W. Lim, Steven Mandel, Reena Gupta, and Robert Thayer Sataloff
Chapter 38. Vocal Fold Paresis and Paralysis
Adam D. Rubin and Robert Thayer Sataloff
Chapter 39. Bilateral Vocal Fold Paralysis
Michael S. Benninger and Glendon M. Gardener
Chapter 40. Spasmodic Dysphonia
Aaron J. Jaworek, Daniel A. Deems, and Robert Thayer Sataloff
Chapter 41. Botulinum Toxin in Otolaryngology
Julia A. Pfaff, Michael C. Neuenschwander, Edmund A. Pribitkin, and Robert Thayer Sataloff
Chapter 42. The Neurology of Stuttering
Savita Kumari, Rebecca Spain, Steven Mandel, and Robert Thayer Sataloff
Chapter 43. Dysphagia
Ashley P. O'Connell Ferster and Amanda Hu
Chapter 44. Voice Therapy
Bridget Rose, Michelle R. Horman, and Robert Thayer Sataloff
Chapter 45. Voice Rest
Adam D. Rubin, Robert Thayer Sataloff, Susan E. Cline, Jean Skeffington, and Karen M. Lyons
Chapter 46. The Singing Voice Specialist
Margaret M. Baroody, Robert Thayer Sataloff, and Linda M. Carroll
Chapter 47. The Role of the Acting-Voice Trainer in Medical Care of Professional Voice Users
Sharon L. Freed, Bonnie N. Raphael, and Robert Thayer Sataloff
Chapter 48. Exercise Physiology: Perspective for Vocal Training
Mary J. Sandage and Matthew Hoch
Chapter 49. Voice Surgery
Robert Thayer Sataloff
Chapter 50. Safety of Laryngology Procedures Commonly Performed in the Office
George Ziade, Aaron Jaworek, and Robert Thayer Sataloff
Chapter 51. Laryngeal Reinnervation: Traditional Approaches
Harvey M. Tucker
Chapter 52. Reinnervation: New Frontiers
Jean-Paul Marie
Chapter 53. Cricoarytenoid and Cricothyroid Joint Injury: Evaluation and Treatment
Robert Thayer Sataloff
Chapter 54. Voice Impairment, Disability, Handicap, and Medical-Legal Evaluation
Robert Thayer Sataloff
Chapter 55. Voice Horizons
John S. Rubin and Robert Thayer Sataloff
Appendix I
Laryngeal Electromyography: Summary Outline of Selected and Important Facts
Appendix II
A. Reading Passages
B. Laryngeal Examination
Appendix III
A. Sample Laryngologist's Report
B. Strobovideolaryngoscopy Report
C. Objective Voice Analysis and Laryngeal Electromyography
D. Speech-Language Pathologist's Report
E. Singing Voice Specialist's Report
F. Acting Voice Specialist's Report
Appendix IV
A. Outline for Daily Practice
B. Sample Phrases
C. Frontal Placement Words
D. H/Vowel Minimal-Pairs
E. Vowel-Initiated Words
F. Phrases for Blending
G. Phrases to Practice Easy Onset and Blending
H. Homographs
I. Open-Vowel Words
Appendix V
Checklist of Vocal Abuse for Teachers
Appendix VI
Selected Office and Surgical Forms
Glossary
Index