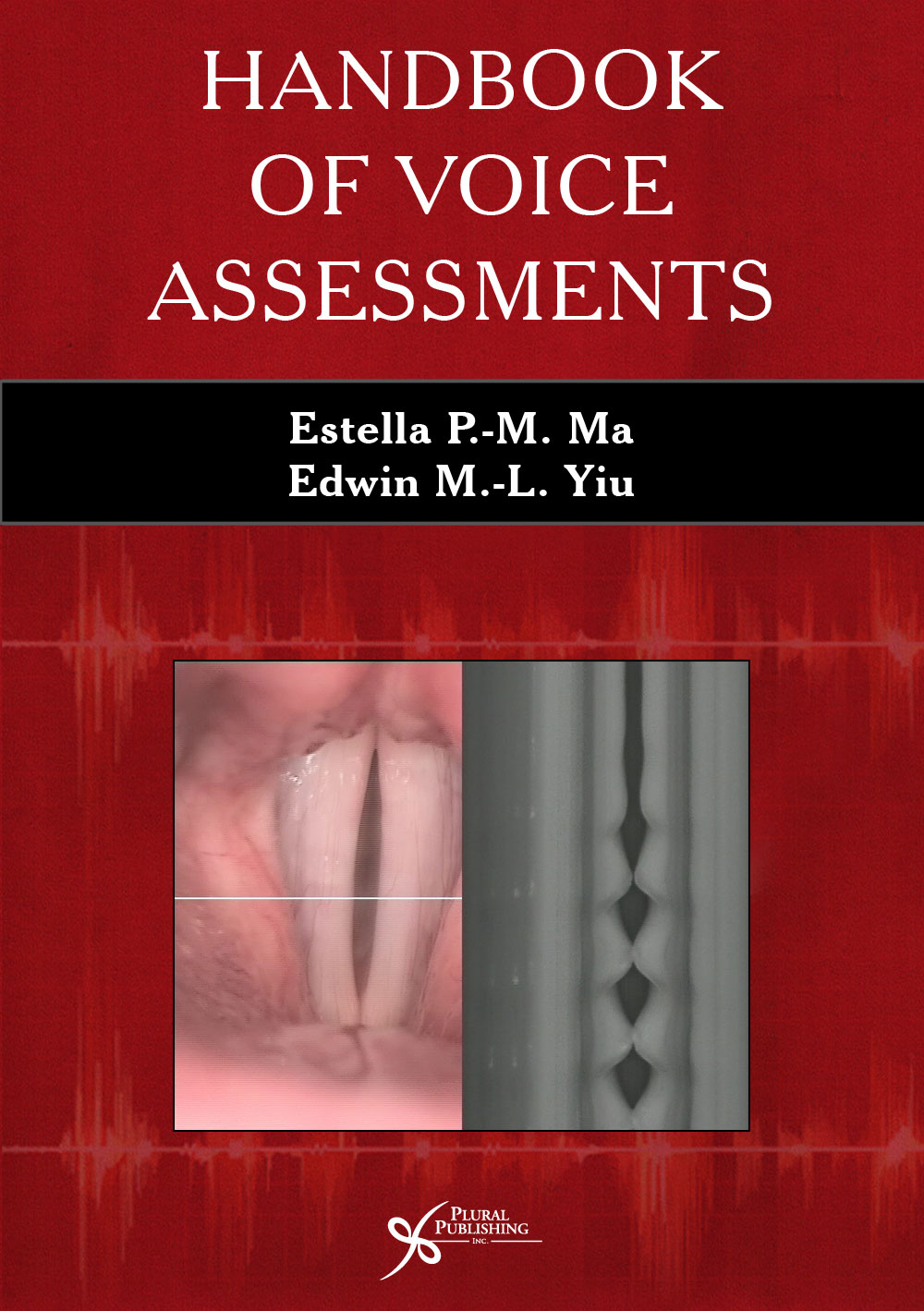 Handbook of Voice Assessments
First Edition
Estella P.-M. Ma, Edwin M.-L. Yiu
Details: 400 pages, B&W, Softcover, 7' x 10"
ISBN13: 978-1-59756-364-2
© 2011 | Available
Purchase Print Book
Price: $124.95
Handbook of Voice Assessments embraces current best practice and the latest research on the assessment of voice by leading international clinicians and scholars in the professions. Each chapter focuses on one area of voice assessment and starts with a succinct list of the purposes of the assessment. Next, the procedure is described in an easy-to-understand and systematic format. Finally, guidelines on how to analyze the voice samples and interpret results are included.
Key Features
Theoretical background is restricted to a simple paragraph.
Detailed instructions for each voice assessment are provided, allowing the clinician to immediately implement the assessment with patients.
All chapters are consistent in format and terminology. Each chapter begins with the purpose of the assessment, followed by the description of procedures.
The book is written in a lucid and straightforward manner, to be understood readily by student speech-language pathologists and laryngologists with a variety of backgrounds and levels of expertise.
Each assessment method is illustrated by a case study that accompanies each chapter.

Handbook of Voice Assessments maximizes students' and clinicians' competence, knowledge, and effectiveness. This text is a necessary and invaluable sourcebook for every undergraduate student, graduate student, and clinician in his/her early career.
Reviews
"This is a well-organized, practical manual for the practicing clinician or the advanced student of voice. The book is organized into seven sections covering aerodynamics, vocal fold movements, laryngeal muscle activities, acoustics, resonance, auditory-perceptual evaluation and quality of life evaluation. Each chapter is written by established experts and presents theoretical background, description of system/approach, equipment and materials, test procedures, normative data and an illustrative case study. The chapters are clearly written and give helpful "how to" information regarding the use of instrumental and non-instrumental assessment of voice. Section II is unique in that it includes international perspectives on the use of stroboscopy in the clinical setting, enabling us to learn from colleagues in various regions of the globe. Handbook of Voice Assessments is suitable as a trusted reference for practicing professionals as well as a textbook for advanced courses in voice disorders. It is a welcome and valuable contribution to the field of voice."
—Barbara Prakup, PhD, Cleveland State University, Ohio, USA, Voice Foundation (June 2011)
Foreword by Ray D. Kent, Ph.D.
Preface
Contributors
1. Introduction
Estella P.-M. Ma and Edwin M.-L. Yiu
Section One: Aerodynamics
2. Aerodynamic Measurement of Vocal Function: Phonatory Aerodynamic System
Joseph Stemple, Barbara Weinrich, and Susan Baker Brehm
3. Monitoring Oral Airflow and Air Pressure during Speech Production: Aerophone II
Estella P.-M. Ma
4. Assessment of laryngeal airway resistance and phonation threshold pressure: Glottal Enterprises
Nancy Pearl Solomon
5. Kinematic Respiratory Analysis: Respiratory Inductance Plethysmography
Petrea Cornwell
6. Maximum Phonation Performance
Edwin M.-L. Yiu
Section Two: Vocal Fold Movements
7. Stroboscopy in the Clinical Setting: Sweden Perspective
Per-Åke Lindestad
8. Videostroboscopy: USA Perspective
VyVy N. Young and Clark A. Rosen
9. Stroboscopy in the Voice Clinic: United Kingdom Perspective
John S. Rubin and Ruth Epstein
10. Laryngoscopic Examination: China Perspective
Demin Han and Wen Xu
11. Videokymographic Examination of Voice
Jan G. Švec and František Šram
12. Quantitative Analysis of High-speed Laryngoscopic Images
Jiangping Kong and Edwin M.-L. Yiu.
13. Electroglottography: Speech Studio Laryngograph
Ruth Epstein
Section Three: Laryngeal Muscle Activities
14. Assessing Vocal Hyperfunction Using Surface Electromyography
Amy Y.-H. Wong and Estella P.-M. Ma
15. The Applications of Surface Electromyography to Assess Stressor-Evoked Changes in Extralaryngeal Functioning
Maria Dietrich and Richard D. Andreatta
16. Laryngeal Electromyography
Wen Xu and Demin Han
Section Four: Acoustics
17. Multi-dimensional Analysis of Voice: Computerized Speech Lab
Adam P. Vogel
18. Acoustic Analysis using Freeware: Praat
Cate Madill and Patricia McCabe
19. Voice Range Profile: Phog
Estella P.-M. Ma
Section Five: Resonance
20. Nasometry in the Evaluation of Resonance Disorders
Alice Lee and Tara L. Whitehill
Section Six: Auditory-perceptual Evaluation
21. Perceptual Assessment of Voice Quality: Past, Present, and Future
Jody Kreiman and Bruce R. Gerratt
22. Evaluating Voice Quality
Rahul Shrivastav
23. Auditory-Perceptual Voice Evaluation: A Practical Approach
Karen M.-K. Chan
Section Seven: Quality of Life Evaluation
24. Patient Reported Outcomes in Voice Disorders
Barbara Jacobson and Richard I. Zraick

Index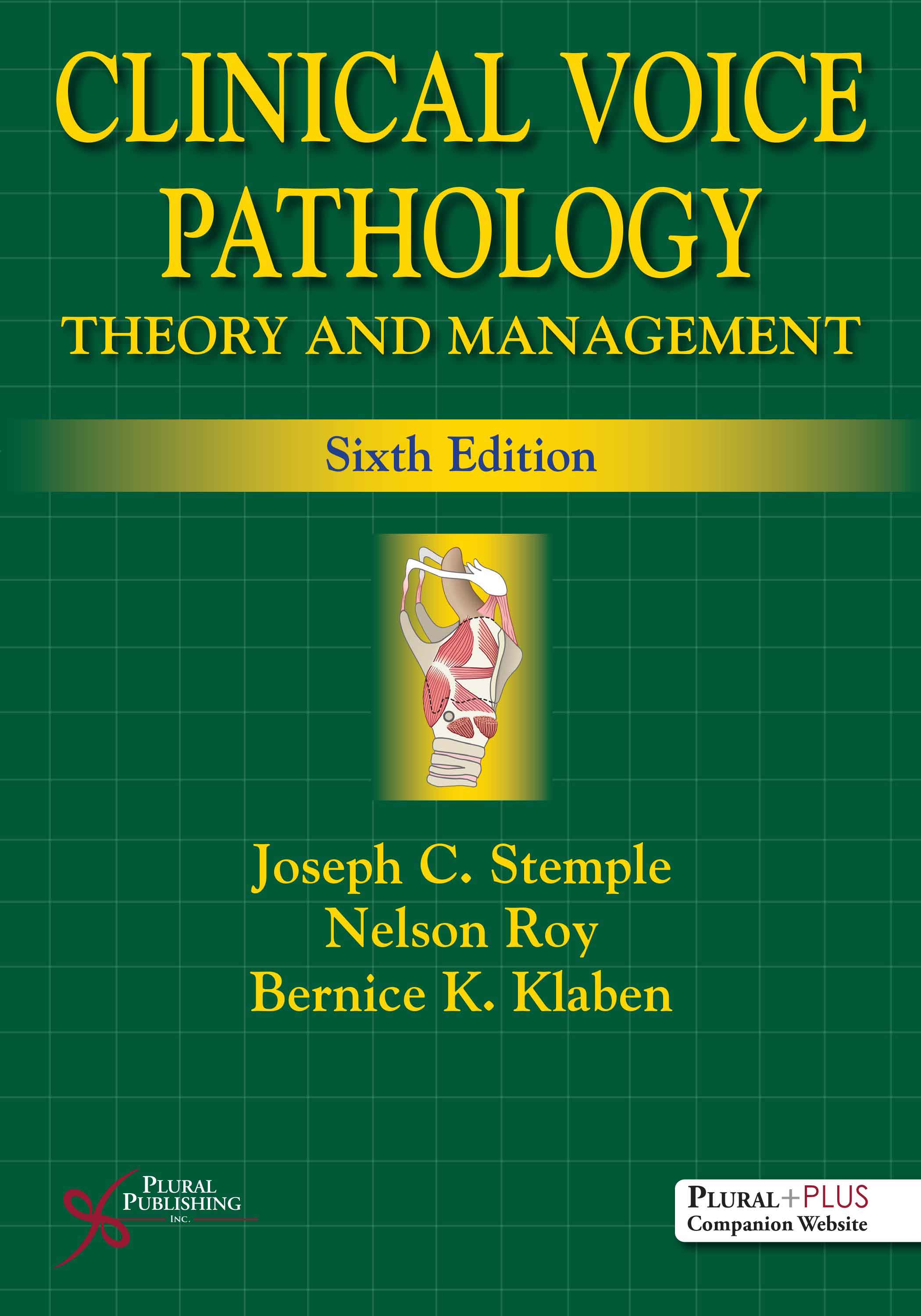 Sixth Edition
Joseph C. Stemple, Nelson Roy, Bernice K. Klaben
Details: 540 pages, Full Color, Softcover, 7" x 10"
ISBN13: 978-1-63550-028-8
© 2020 | Available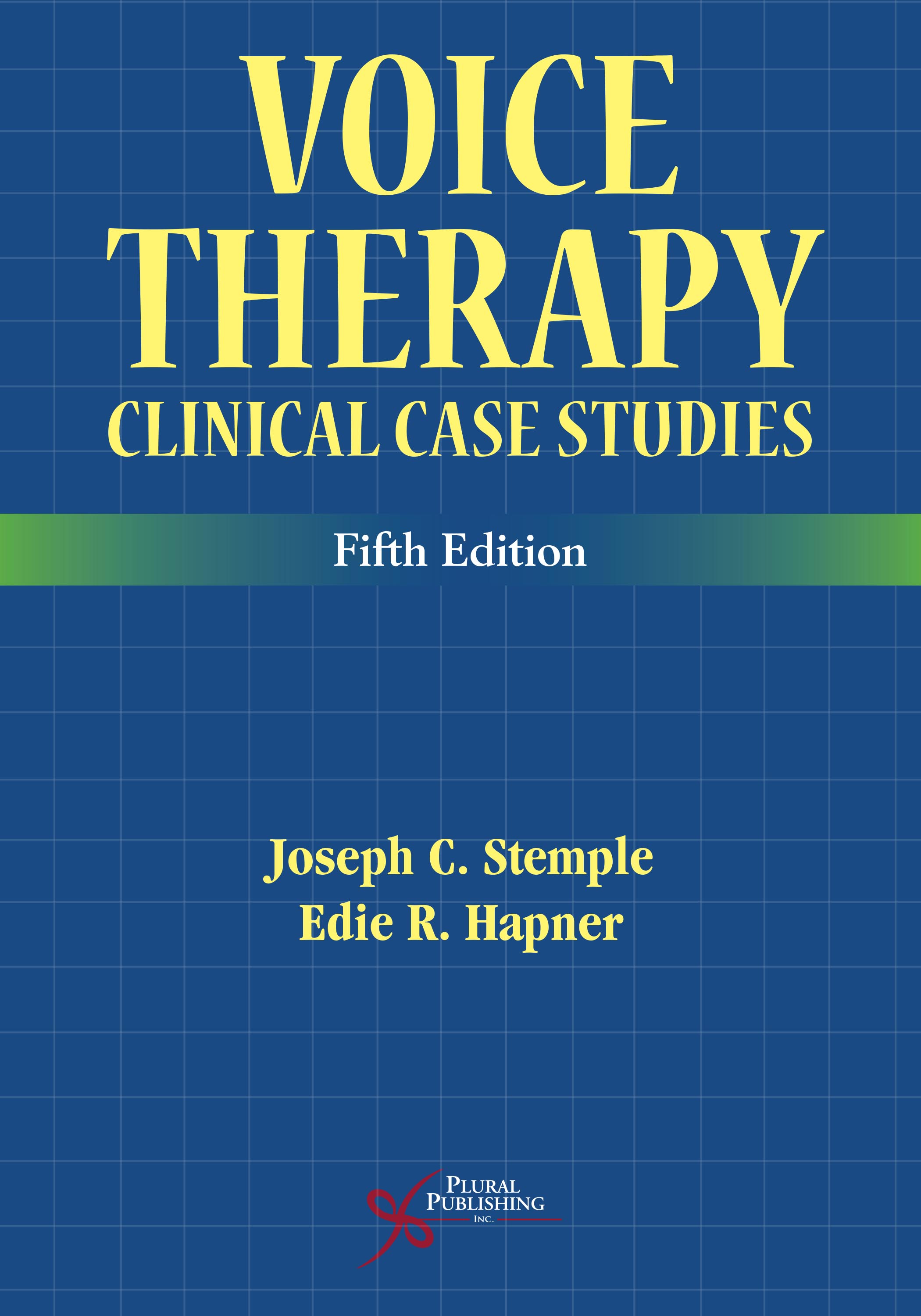 Fifth Edition
Joseph C. Stemple, Edie R. Hapner
Details: 508 pages, B&W, Softcover, 7" x 10"
ISBN13: 978-1-63550-035-6
© 2019 | Available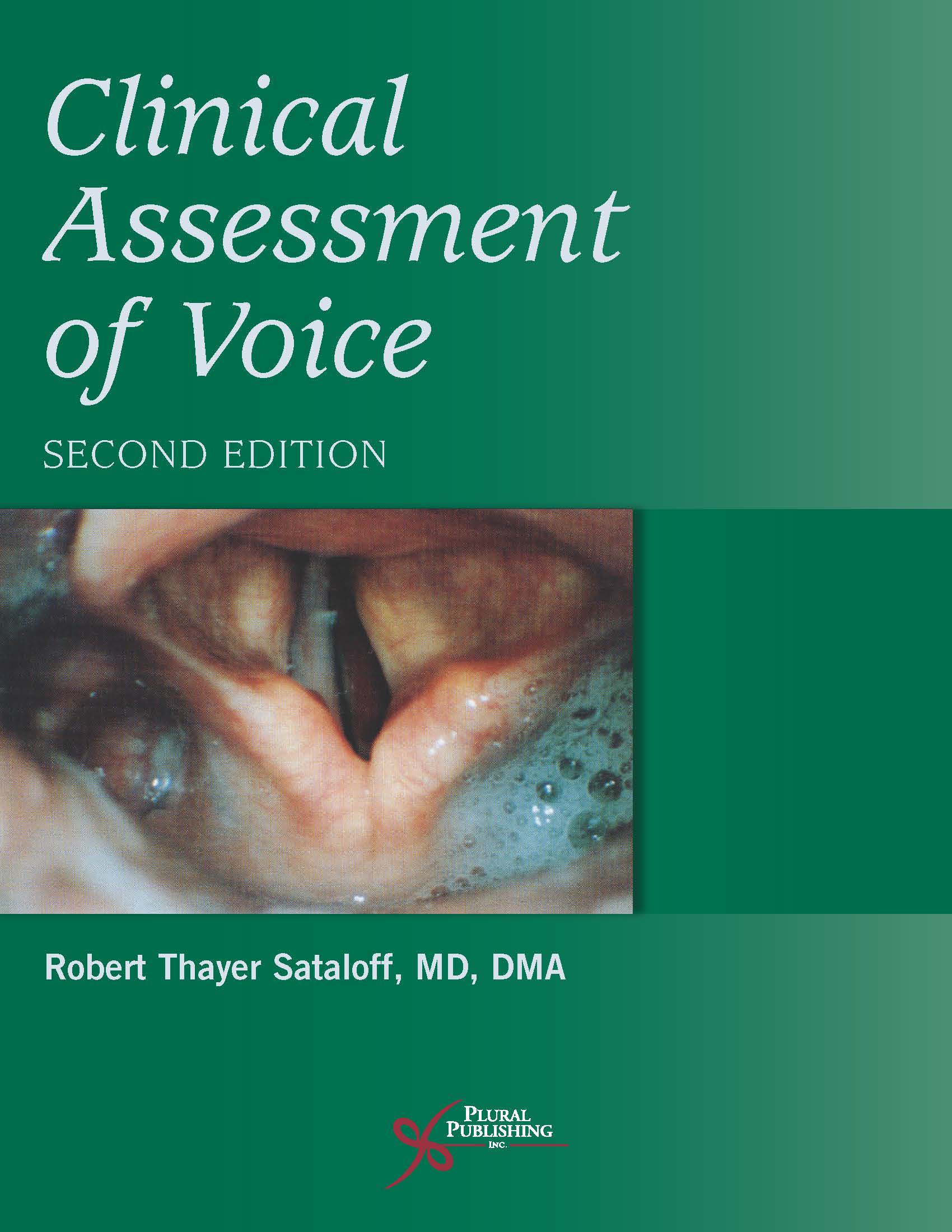 Second Edition
Robert T. Sataloff
Details: 752 pages, Full Color, Softcover, 8.5" x 11"
ISBN13: 978-1-59756-859-3
© 2017 | Available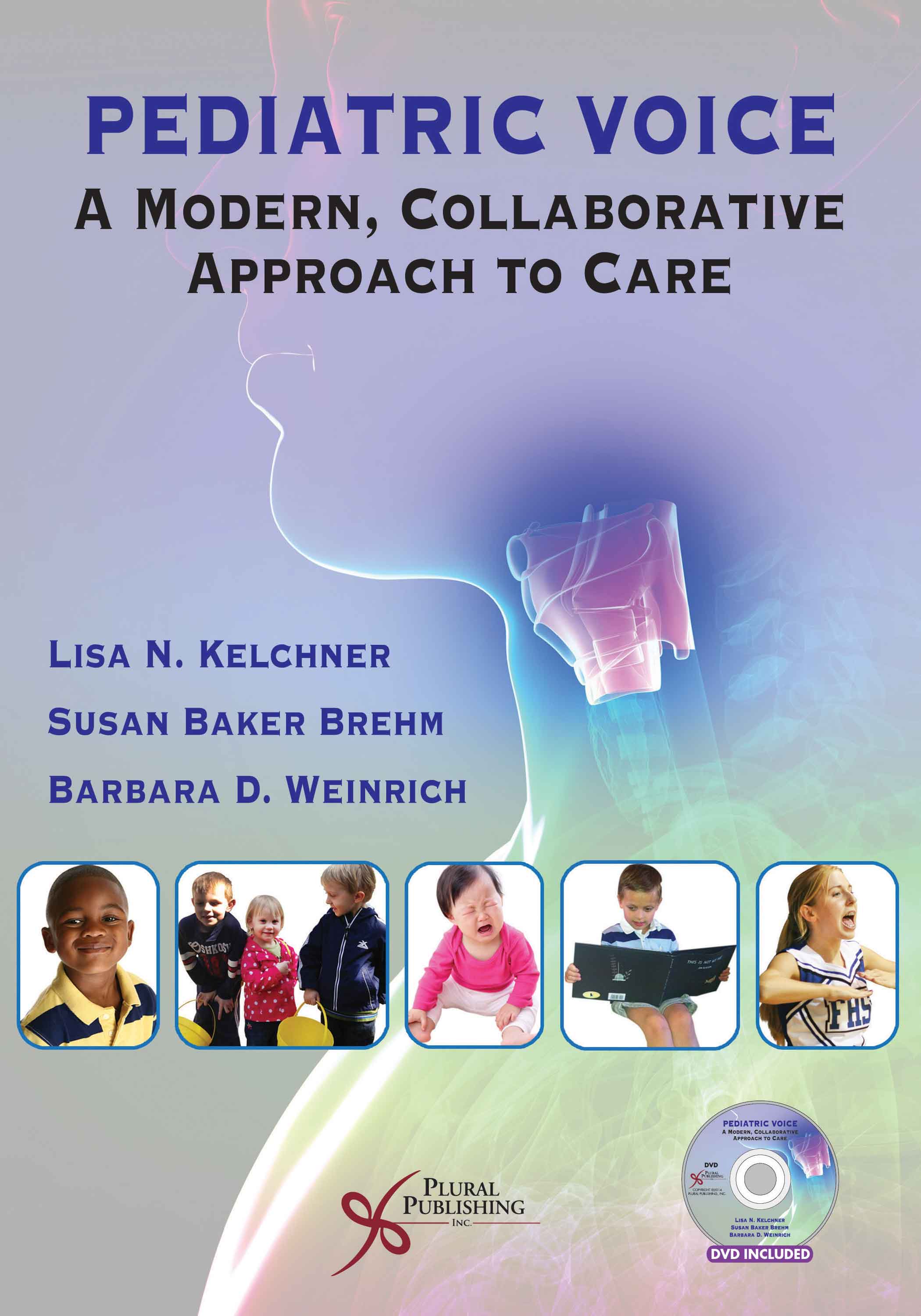 First Edition
Lisa N. Kelchner, Susan Baker Brehm, Barbara D. Weinrich
Details: 240 pages, B&W with Color Insert, Softcover, 7" x 10"
ISBN13: 978-1-59756-462-5
© 2014 | Available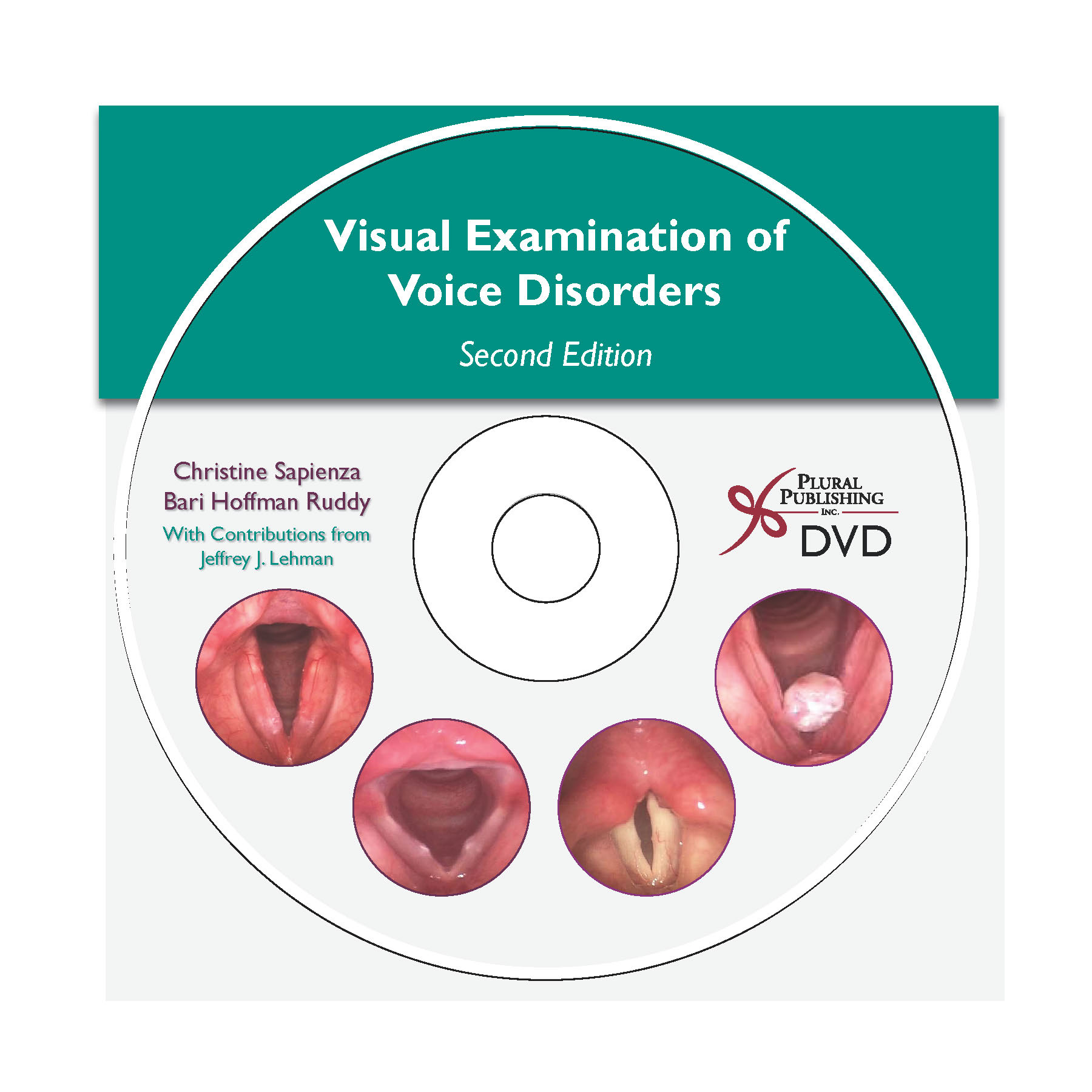 First Edition
Christine Sapienza, Bari Hoffman
Details: DVD
ISBN13: 978-1-59756-514-1
© 2013 | Available