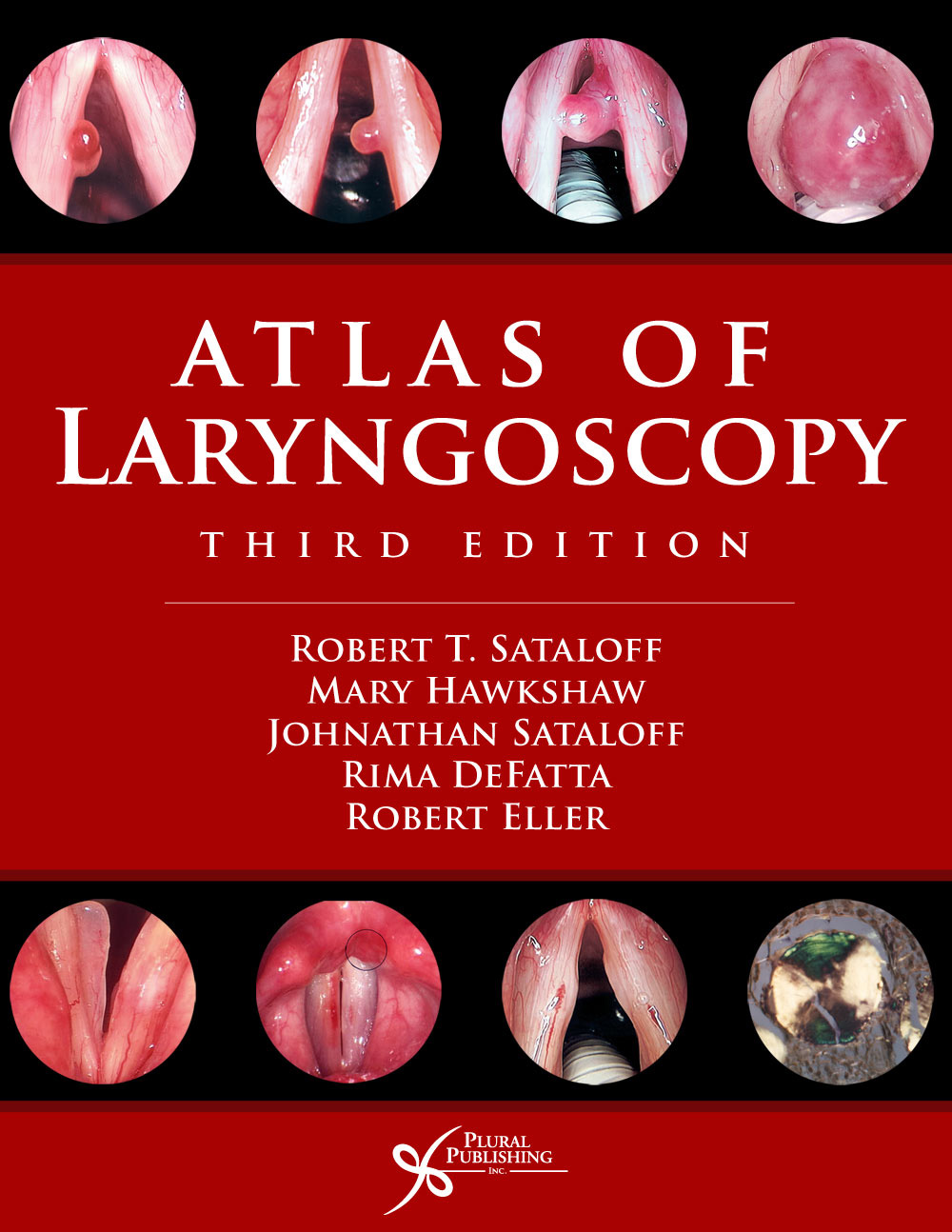 Atlas of Laryngoscopy
Third Edition
Robert T. Sataloff, Mary J. Hawkshaw, Johnathan Brandon Sataloff, Rima A. DeFatta, Robert Eller
Details: 368 pages, Full Color, Hardcover, 8.5" x 11"
ISBN13: 978-1-59756-474-8
© 2013 | Available
The third edition of Atlas of Laryngoscopy has been updated and improved upon to present the latest information from experts in the field. Each of the 146 chapters is made up of applicable case studies and color, high-resolution photographs. As the skill of diagnosis remains critical for residents, fellows, practitioners, and academics, the third edition adds new diagnostic information. It also includes new clinical observations. Covering everything from normal vocal fold anatomy to vocal fold cancer to rare traumatic injuries, there is no other book like this in the field. It is a must-have for residents and professors alike.
Reviews
"An atlas never fails to attract and this, in its third expanded edition, is particularly appealing, coming as it does from that 'Renaissance Man', Dr Sataloff. He can turn his author's hand to Noise induced hearing loss as easily as voice disorders and has a remarkable literary record. This book shows nearly a doubling of the chapter count and significantly improved reproduction of the photomicrographs . . . The book is multi-author, lavishly illustrated of course and a valuable addition to the library. I learnt much . . ."
—Liam M. Flood, FRCS, FRCSI, in the Journal of Laryngology and Otology (March 8, 2013)
"This textbook focuses mainly on providing an overview of the spectrum of laryngeal pathologies, using short case reports, with accompanying clinical images as illustration and references to previous published literature where necessary. The book gives a short introduction to the basic science/anatomy of the vocal cords, but its main strength is in the clarity of the clinical images and wide coverage of the various laryngeal pathologies, including complications from interventions . . . Overall, this atlas will be a very useful source and reference material for any ENT professional as well as undergraduate student looking to gain an understanding and recognition of laryngeal pathologies."
—D. Cartlidge, MRCS (Edinburgh), DOHNS, in the Journal of Laryngology and Otology (March 8, 2013)
Preface xvii
About the Editors xix
Contributors xxi
Acknowledgments xxv
Section I: Normal Vocal Folds 1
1 Normal Anatomy of the Vocal Folds 3
Robert T. Sataloff
2 Macula Flava 5
Robert L. Eller, Mary Hawkshaw, and Robert T. Sataloff
Section II: Techniques in Imaging and Evaluation of the Vocal Folds 7
3 Alveolar Ridge Mucosa Protection During Suspension Laryngoscopy in the 9
Edentulous Patient
Mark R. Gilbert, Sorena A. Ostlund, and Clark A. Rosen
4 Vocal Fold Atrophy and Reinke's Edema: Determining True Vocal Fold Edge 11
Eliana Verghese, Rima A. DeFatta, and Robert T. Sataloff
5 Papilloma: A Diagnostic Near Miss 13
Courtney A. Abshier, Rima A. DeFatta, Johnathan B. Sataloff, and Robert T. Sataloff
6 Overcoming the Epiglottis When Laryngeal Examination Is Critical 15
Robert L. Eller, Mary Hawkshaw, and Robert T. Sataloff
7 The Value of Varying Vocal Frequency During Stroboscopy for Vocal Fold Masses 17
Debra Tereschuk and Robert T. Sataloff
8 Medial Margin Evaluation in Large, Overlapping Vocal Fold Lesions 18
Robert T. Sataloff, Mary Hawkshaw, and Karla Kelleher
9 Value of the 70° Telelaryngoscope in Microlaryngoscopy for Benign Pathology 19
Timothy D. Anderson and Robert T. Sataloff
10 Vocal Fold Polyps: Assessing the Vertical Dimension 21
Robert T. Sataloff and Mary Hawkshaw
Section III: Congenital 23
11 Bifid Epiglottis 25
Stefanie K. Horne, Peter G. Michaelson, and Erik Weitzel
12 Third Branchial Anomaly: Endoscopic Management Revisited 27
Mala Tanna, Monica R. Sharma, and Bijal Patel
13 Sulcus Vocalis 29
Johnathan B. Sataloff, Rima A. DeFatta, Mary J. Hawkshaw, and Robert T. Sataloff
Section IV: Idiopathic 31
14 Idiopathic Tracheal Stenosis 33
Swapna K. Chandran and Robert T. Sataloff
15 Laryngeal Melanosis 35
James R. Tate and Peter C. Belafsky
16 Saccular Cyst 36
Steven Bielamowicz and Priyanka Bhabu
17 Bilateral Saccular Cysts 37
Robert L. Eller, Mary Hawkshaw, and Robert T. Sataloff
18 Bilateral Saccular Cysts 38
Anthony M. Bianchi, Farhad R. Chowdhury, and Robert T. Sataloff
19 Ventricular Cyst of the Larynx 40
Johnathan B. Sataloff, Rima A. DeFatta, Mary J. Hawkshaw, and Robert T. Sataloff
Section V: Inflammatory 41
Laryngopharyngeal Reflux
20 A Case of Reflux Laryngitis Controlled with Proton-Pump Blockade Alone 43
David I. Rosenthal and Cesar Ruiz
21 Inferior Glottic Ridges That Prevent Vocal Fold Closure 44
Yolanda D. Heman-Ackah, Karla Kelleher, and Robert T. Sataloff
22 Grading Laryngopharyngeal Reflux by Erythema 47
Robert L. Eller, Mary Hawkshaw, and Robert T. Sataloff
Granuloma
23 Conservative Treatment of an Obstructing Vocal Fold Granuloma 49
Mark E. Boseley and Karen V. Myers
24 Recalcitrant Arytenoid Granuloma 50
Robert L. Eller, Mary Hawkshaw, and Robert T. Sataloff
25 Vocal Process Granuloma 51
Robert L. Eller, Linda Marks, Mary Hawkshaw, and Robert T. Sataloff
26 Pedunculated Granuloma of the Vocal Folds 52
Robert T. Sataloff, Karen M. Lyons, and Joseph R. Spiegel
27 Multiple Recurrent Laryngeal Granuloma 53
Robert T. Sataloff, Dahlia M. Sataloff, and Mary Hawkshaw
28 Nonoperative Treatment of Laryngeal Granuloma 54
Sara C. Scheid, Timothy D. Anderson, and Robert T. Sataloff
29 Vocal Fold Granuloma: The "Ball-Valve" Phenomenon 56
Stephen Lai, Karla Kelleher, and Robert T. Sataloff
30 Granuloma of the Aryepiglottic Fold 58
Mary Hawkshaw, Robert L. Eller, and Robert T. Sataloff
31 Bilateral Granuloma and Varicosity in the Midportion of the Vocal Folds 60
Timothy Anderson, Mary Hawkshaw, and Robert T. Sataloff
Systemic Disease
32 Laryngeal Amyloidosis: A Case of "Adidas-Stripes" Larynx 62
Gauthier Desuter, Marc Hamoir, Christophe Van Geem, and Donatienne Boucquey
33 Severe Chronic Laryngitis Mimicking a Granulomatous Disease 63
Mary Es Beaver, C. Richard Stasney, and Margarita Rodriguez
34 Amyloidosis of the Larynx 64
Robert T. Sataloff, Mona Abaza, Nabil A. Abaza, Amy Markiewicz, and Mary Hawkshaw
35 Laryngeal and Subglottic Amyloid 66
Mary Es Beaver, C. Richard Stasney, Jack B. Williams, and Margarita M. Rodriguez
36 Laryngeal Sarcoidosis and Candidiasis 67
Robert T. Sataloff, Joseph R. Spiegel, and Reinhardt J. Heuer
37 Vocal Fold Consequences of Scleroderma 68
Robert T. Sataloff, Joseph R. Spiegel, and Deborah C. Rosen
38 Rheumatoid Nodules and Reflux Disease 69
Mary Es Beaver, C. Richard Stasney, and Margarita Rodriguez
39 Multiple Rheumatoid Nodules of the Vocal Folds 70
Swapna Kartha, Robert L. Eller, Mary Hawkshaw, Xiaoli Chen, and Robert T. Sataloff
Section VI: Infectious 73
Viral
40 Acute Laryngitis in a Professional Singer 75
Robert T. Sataloff, Allyson Shaw, and Amy Markiewicz
41 Viral Supraglottitis in an Adult 76
Ali Lotfizadeh and Dinesh K. Chhetri
viii Atlas of Laryngoscopy
42 Acute Ulcerative Laryngitis 78
Mary Es Beaver, C. Richard Stasney, and Margarita Rodriguez
Bacterial
43 Epiglottic Abscess 79
Andrew Gilbert and Maj. Timothy J. Downey
44 Acute Tracheitis 81
James A. Heilman, Swapna K. Chandran, and Robert T. Sataloff
Fungal
45 Fungal Laryngitis 82
Swapna K. Chandran, Karen M. Lyons, Venu Divi, Matthew Geyer, and Robert T. Sataloff
46 Laryngeal Candidiasis 84
Venu Divi, Reena Gupta, Robert T. Sataloff, and Parmis Pebdani
47 Prolonged Ulcerative Laryngitis 85
Raymond C. Maguire, Robert L. Eller, and Robert T. Sataloff
48 Ulcerative Fungal Laryngitis 87
Sara C. Scheid, Timothy D. Anderson, and Robert T. Sataloff
49 Candida Epiglottitis 89
Kevin K. Mathur and Anthony J. Mortelliti
50 Laryngeal Aspergillosis 91
Carole M. Dean, Mary Hawkshaw, and Robert T. Sataloff
51 Histoplasmosis of the Larynx: A Case Report 92
Adam M. Klein, Jeffrey Spiro, and Denis Lafreniere
52 Laryngeal Thrush from Asthma Inhalers 94
Yolanda D. Heman-Ackah, Mary J. Hawkshaw, and Karen M. Lyons
53 Acute Fungal Pharyngolaryngitis 96
Andrew Malton, Rima A. DeFatta, Robert T. Sataloff
Section VII: Traumatic 99
54 Dual Laryngeal Foreign Bodies 101
Omar Rahmat and Narayanan Prepageran
55 Dysphagia After Strangulation 103
Jenna Briddell, Andrew Mallon, Rima A. DeFatta, Farhad Chowdhury, and
Matthew Nagorsky
56 Pediatric Foreign Body and an Unusual X-Ray Finding 105
Bart Patenaude, Steven Chase, and Marcella Bothwell
57 An Impacted Fish Bone in the Subglottis Manifesting as Protracted Stridor: 107
Photodocumentation
Omar Rahmat, Wye Keat Lim, and Narayanan Prepageran
58 Vocal Fold Tear in an Operatic Tenor 109
Joel E. Portnoy and Robert T. Sataloff
59 Mucosal Tear 111
Mark A. Ginsburg, Robert L. Eller, and Robert T. Sataloff
60 The Effects of Yelling in Loud, Smoky Bars 112
Timothy D. Anderson and Robert T. Sataloff
61 Laryngeal Foreign Body in a Former Tracheotomy Patient 114
Joseph R. Spiegel, Robert T. Sataloff, and Cheryl A. Hoover
62 Airway Foreign Body 115
D. J. Verret, Robert Todd Adelson, and John McClay
63 Vocal Fold Masses Related to Inhalation of Fumes 117
Robert T. Sataloff, Mary Hawkshaw, and Joseph R. Spiegel
64 Endolaryngeal Burns From Lye Ingestion 119
Karen M. Lyons, Robert T. Sataloff, and Mary Hawkshaw
65 Vocal Fold Avulsion 121
Robert T. Sataloff, Reinhardt J. Heuer, Mary Hawkshaw, and Joseph R. Spiegel
66 Laryngeal Trauma and Laryngeal Pain 123
Robert T. Sataloff, Mary Hawkshaw, Allyson Shaw, and Karen M. Lyons
Section VIII: Vascular 125
67 Vocal Fold Varicosities 127
Stephanie Austin, Venu Divi, Mary Hawkshaw, and Robert T. Sataloff
68 Pyriform Sinus Hemangioma with Calcifications 129
Mary Es Beaver, C. Richard Stasney, and Margarita Rodriguez
69 Hemorrhagic Polyp of the Vocal Fold 130
Cristina A. Jackson-Menaldi, Erica P. Knoll, Robert A. Fishman, and R. Wayne Holland
70 Acute Vocal Fold Hemorrhage 132
Libby J. Smith, Veeraphol Praneetvatakul, and Robert T. Sataloff
71 Vocal Fold Hemorrhage 134
Michael Neuenschwander and Jeannie Dollar
72 Vocal Fold Hemorrhage Observed During Laryngoscopy 136
Justin S. Golub, Edie Hapner, and Michael M. Johns III
73 Hemorrhage into a Vocal Fold Cyst 138
Farhad R. Chowdhury, Nishant Reddy, and Robert T. Sataloff
74 Silent Vocal Fold Hemorrhage 140
Thomas M. d'Arville, Rima A. DeFatta, and Robert T. Sataloff
75 Subtle Submucosal Hemorrhage Causing Dysphonia 142
Robert T. Sataloff, Reinhardt J. Heuer, and Mary Hawkshaw
76 Acute Vocal Fold Hemorrhage After Thyroplasty 143
Robert L. Eller, Mary Hawkshaw, and Robert T. Sataloff
77 Right Posthemorrhagic Polyp with Vocal Fold Varices 145
Timothy D. Anderson, Mary Hawkshaw, and Robert T. Sataloff
78 Hemorrhage, Varicosity, and Cysts in a Professional Singer 147
Libby J. Smith and Robert T. Sataloff
79 Vascular Abnormalities Involving the Vibratory Margin of the Vocal Fold 148
Robert T. Sataloff and Joseph R. Spiegel
80 Singing Dysfunction Following Vocal Fold Hemorrhage: The Need for Caution 150
Robert T. Sataloff, Joseph R. Spiegel, and Reinhardt J. Heuer
81 Vocal Fold Varicosity Causing Voice Fatigue 152
Robert T. Sataloff
82 Varicosities and Vascular Masses 153
Robert T. Sataloff, J. Brian Same, and Mary Hawkshaw
83 Posthemorrhagic Polyp 154
Robert L. Eller, Mary Hawkshaw, and Robert T. Sataloff
84 Posthemorrhagic Vascular Mass on the Left True Vocal Fold 155
Timothy D. Anderson, Mary Hawkshaw, and Robert T. Sataloff
85 Vocal Fold Masses and Varicosity in a Professional Singer 157
Libby J. Smith and Robert T. Sataloff
86 Hemorrhagic Polyp Following Intubation 159
Adam D. Rubin and Robert T. Sataloff
87 Acute Vocal Fold Hemorrhage During Sensory Testing 160
Robert L. Eller, Mary Hawkshaw, and Robert T. Sataloff
88 Acute Mucosal Tear and Vocal Fold Hemorrhage 162
Robert T. Sataloff, Joseph R. Spiegel, and Mary Hawkshaw
89 Vocal Fold Varicosities and Pain on Phonation 163
Robert T. Sataloff, Reinhardt J. Heuer, and Mary Hawkshaw
90 Vocal Fold Cyst, Hemorrhage, and Scar in a Professional Singer 165
Robert T. Sataloff and Mary Hawkshaw
91 Hemorrhagic Polyp With a Contralateral Contact Lesion 166
Adam D. Rubin and Robert T. Sataloff
Section IX: Benign Masses and Other Structural Lesions 169
92 The Power of Voice Therapy 173
Timothy Anderson and Robert T. Sataloff
93 Vocal Fold Cyst 175
Amy L. Rutt and Robert T. Sataloff
94 Bilateral Vocal Fold Polyps with Occult Sulcus Mucosal Bridge 176
Colleen N. Johnson and Robert L. Eller
95 Mucous Retention Cyst and Reflux Disease 178
Mary Es Beaver, C. Richard Stasney, and Margarita Rodriguez
96 Vocal Fold Cyst and Fibrosis 179
Venu Divi, Mary Hawkshaw, and Robert T. Sataloff
97 The Floppy Vocal Polyp 180
Omar Rahmat and Narayanan Prepageran
98 Arytenoid Cartilage Chondroma 182
Joel E. Portney, Johnathan B. Sataloff, Mary Hawkshaw, and Robert T. Sataloff
99 A Giant Vocal Fold Polyp Causing Dyspnea 183
Takeshi Kusunoki, Ryohei Fugiwara, Kiyotaka Murata, and Katsuhisa Ikeda
100 Vocal Fold Mucosal Bridge Without Sulcus Vocalis in a Smoker 185
Mauro Zernotti, Cristina Jackson-Menaldi, and Adam D. Rubin
101 Type 2 Sulcus Vocalis: Sulcus Vergeture 187
Edward J. Damrose
102 Asymmetric Reinke's Edema 188
Robert L. Eller, Mary Hawkshaw, and Robert T. Sataloff
103 Dense Vocal Fold Scar 189
Adam D. Rubin, Veereaphol Praneetvatakul, and Robert T. Sataloff
104 Pediatric Vocal Fold Cysts: Acute Dysphonia 191
Adam D. Rubin, Johnathan B. Sataloff, and Robert T. Sataloff
105 Vocal Fold Nodules 192
Adam D. Rubin, Shirley Gherson, and Robert T. Sataloff
106 Bilateral Vocal Fold Masses: Cysts Versus Reactive Nodules 193
Robert T. Sataloff, Anne A. McCarter, and Mary Hawkshaw
107 Small Vocal Fold Mass Causing Dysphonia in a Professional Soprano 194
Robert T. Sataloff, Margaret M. Baroody, and Allyson Shaw
108 A Large Left Vocal Fold Mass 195
Timothy D. Anderson, Mary Hawkshaw, and Robert T. Sataloff
109 Reactive Swelling and Cyst of the Vocal Fold 197
Robert T. Sataloff and Karla Kelleher
110 "Iceberg" Cyst of the Right Vocal Fold 198
Sheila Apicella and Clark A. Rosen
111 Vocal Fold Scar/Sulcus Vocalis 200
Robert L. Eller, Yolanda D. Heman-Ackah, Mary Hawkshaw, and Robert T. Sataloff
112 Vocal Fold Polyp, Scar, and Sulcus Vocalis 202
Robert T. Sataloff, Mary Hawkshaw, and Matthew Nagorsky
113 Sessile Vocal Fold Polyp, Contralateral Reactive Vocal Fold Mass, and 204
Anterior Glottic Microweb
Yolanda D. Heman-Ackah and Robert T. Sataloff
114 Vocal Fold Polyp in a Professional Singer 206
Libby J. Smith and Robert T. Sataloff
115 Large Vocal Fold Polyp 207
Venu Divi, Jackie Oxenberg, Mary Hawkshaw, and Robert T. Sataloff
116 Multiple Bilateral Vocal Fold Cysts and Recurrent Pyogenic "Granuloma" 208
Robert T. Sataloff, Mary Hawkshaw, and Amy Markiewicz
117 Bilateral Sulcus Vocalis 209
Robert L. Eller, Mary Hawkshaw, and Robert T. Sataloff
118 Vocal Fold Pseudocysts 211
Kalpana De Pasquale, Robert T. Sataloff, Joseph Anticaglia, and Jeffrey Zimmerman
119 True Vocal Fold Pseudocyst 212
Mark A. Ginsburg, Robert L. Eller, and Robert T. Sataloff
120 Vocal Fold Cyst and Contralateral Occult Sulcus Mucosal Bridge 213
Vicente J. Villagomez and Clark A. Rosen
121 Occult Mucosal Bridge of the Vocal Fold 215
Robert T. Sataloff, Clark A. Rosen, and Mary Hawkshaw
122 Subglottic Edema (Pseudosulcus) 216
Robert L. Eller, Mary Hawkshaw, and Robert T. Sataloff
123 Leukoplakia 218
Robert L. Eller, Mary Hawkshaw, and Robert T. Sataloff
124 Leukoplakia in Laryngopharyngeal Reflux 219
Robert L. Eller, Mary Hawkshaw, and Robert T. Sataloff
125 Vocal Fold Hyperkeratosis 220
Robert T. Sataloff and Mary Hawkshaw
126 Reinke's Edema: Signs, Symptoms, and Findings on Strobovideolaryngoscopy 221
Danielle Gainor, Farhad R. Chowdhury, and Robert T. Sataloff
127 Reactive Intracordal Fibrovascular Lesion 223
Matthew E. Leach, Joel H. Blumin, Chun He, and Jonathan M. Bock
Section X: Impaired Vocal Fold Mobility 227
Neurologic
128 Treatment of Postradiation Laryngeal Compromise 229
Swapna K. Chandran and Robert T. Sataloff
129 The Paresis Podule 231
Stacey L. Halum and Jamie A. Koufman
130 Vocal Fold Paralysis and Bilateral Vocal Fold Hemorrhage 233
Robert T. Sataloff, Joseph R. Spiegel, and Reinhardt J. Heuer
131 Vocal Fold Atrophy After Resection of a Parapharyngeal Space Sarcoma 235
Libby J. Smith, Mary Hawkshaw, and Robert T. Sataloff
132 Gelfoam Injection as a Treatment for Temporary Vocal Fold Paralysis 236
H. Hakan Coskun and Clark A. Rosen
133 Autologous Fat Injection: The Intraoperative End Point 238
Robert T. Sataloff, Mary Hawkshaw, and Allyson Shaw
134 Reinnervation of the Paralyzed Vocal Fold 239
Edward J. Damrose and Gerald S. Berke
Mechanical
135 Pediatric Anterior Arytenoid Dislocation 240
Robert T. Sataloff, Joseph R. Spiegel, Reinhardt J. Heuer, and Mary Hawkshaw
136 Posterior Arytenoid Dislocation 241
Robert T. Sataloff, Anne A. McCarter, and Mary Hawkshaw
137 Complex Posterior Arytenoid Dislocation 243
Rima A. DeFatta, Jenna Briddell, and Robert T. Sataloff
138 Complex Bilateral Arytenoid Dislocation 245
Robert T. Sataloff, Mary Hawkshaw, and Joseph R. Spiegel
Section XI: Neoplastic 247
Benign
139 Laryngeal Papilloma 249
Rima A. DeFatta, Johnathan B. Sataloff, Grace E. Klaris, and Robert T. Sataloff
140 Removal of Vocal Fold Papillomata and a Laryngeal Web 251
C. Richard Stasney, Margarita Rodriguez, and Jeremy Hathway
141 Recurrent Vocal Fold Papilloma: Resection Using Cold Instruments 252
Carole Dean, Robert T. Sataloff, and Mary Hawkshaw
142 Recurrent Invasive Papilloma of the Vocal Fold 254
Robert T. Sataloff, Joseph R. Spiegel, and Mary Hawkshaw
143 "Self-Treatment" for Laryngeal Papillomatosis 256
Joseph R. Spiegel, Robert T. Sataloff, and Mary Hawkshaw
144 Endoscopic Internal Stent: A New Procedure for Laryngeal Webs in the 257
Presence of Papilloma
Robert T. Sataloff and Mary Hawkshaw
145 Cidofovir and Cancer: A False Positive 259
Robert L. Eller, Mary Hawkshaw, Nikolay Popnikolov, and Robert T. Sataloff
146 Laryngeal Lipoma 261
Rima A. DeFatta, Tre Landrum, Joseph Whitten, and Robert T. Sataloff
147 Laryngeal Leiomyoma 264
Thomas Q. Gallagher and John T. Sinacori
148 Laryngeal Paraganglioma 266
Yoav Hahn, Richard Isaacs, and Peter C. Belafsky
149 Granular Cell Tumor of the Larynx 268
Robert T. Sataloff, Mary Hawkshaw, and Janette Ressue
Malignant
150 Transglottic Carcinoma 270
C. Richard Stasney and Mary Es Beaver
151 Squamous Cell Carcinoma Masquerading as a Vocal Fold Papilloma 271
Jeffrey C. Liu and Lucian Sulica
152 Cricoid Chondrosarcoma Presenting as Breathy Dysphonia 272
Scott Rickert, Robert Buckmire, and Lucian Sulica
153 Laryngeal Lymphoma 274
David O. Francis and Albert L. Merati
154 Laryngeal Keratosis with Underlying Invasive Carcinoma 275
Sampan S. Bist, Saurabh Varshney, Rakesh Kumar, Sanjeev Bhagat, and Nitin Gupta
155 Laryngeal Cancer 278
Mary Hawkshaw, Robert L. Eller, and Robert T. Sataloff
156 T1 Glottic Carcinoma 280
Robert L. Eller, Mary Hawkshaw, Yolanda D. Heman-Ackah, and Robert T. Sataloff
157 Vocal Fold Cancer Presenting as Sudden Dysphonia in the Absence of 282
Risk Factors
Robert T. Sataloff, Mary Hawkshaw, Anne A. McCarter, and Joseph R. Spiegel
158 Anterior Laryngeal Transglottic Carcinoma 283
Robert T. Sataloff, Joseph R. Spiegel, Mary Hawkshaw, and Deborah C. Rosen
159 Benign or Malignant? 284
Robert L. Eller, Karen M. Lyons, and Yolanda D. Heman-Ackah
Section XII: Complications 285
160 A Unique Complication of Microflap Surgery of the Vocal Fold 287
Clark A. Rosen and Vicente O. Villagomez
161 Vocal Fold Plaque Following Triamcinolone Injection 289
Pedro A. Andrade Filho and Clark A. Rosen
162 Subglottic Synechia 291
Ezechiel Nehus and Michael M. Johns III
163 Views of a Type I Posterior Glottic Stenosis Before and After Lysis 293
Melinda Davis-Malesevich and Albert Merati
164 Asymptomatic Anterior Glottic Web 295
Jamie Eaglin, Farhad R. Chowdhury, and Robert T. Sataloff
165 Adult-Onset Iatrogenic Tracheomalacia 297
Christopher Y. Chang and James P. Thomas
166 Anterior and Posterior Glottic Webs 299
Jennifer M. Cannady and Lee A. Reussner
167 Glottic Web at the Striking Zone 301
Adam D. Rubin and Robert T. Sataloff
168 Bilateral Ventricular Webs 302
Stacey L. Halum and Albert L. Merati
169 Complications of Vocal Fold Varicosities and Their Treatment 304
Ron L. Moses, Mary Hawkshaw, and Robert T. Sataloff
170 Managing Glottal Incompetence Following Teflon Injection 306
Vicente J. Villagomez and Clark A. Rosen
171 Teflon Granuloma 308
James R. Tate, Peter C. Belafsky, and Kristen Vandewalker
172 Laryngeal Teflon Granuloma: Endoscopy, Laryngeal Videostroboscopy, and 310
CT Imaging
Carlos M. Rivera-Serrano and Libby J. Smith
173 Interarytenoid Mucosal Bridges Complicating Endotracheal Intubation 312
John Schweinfurth
174 Postintubation Granuloma and Vocal Fold Erosion 314
Joseph R. Spiegel, Robert T. Sataloff, and Mary Hawkshaw
175 Truly False Vocal Folds: An Unusual Complication of Chemoradiation Therapy 315
Timothy D. Anderson
176 Intralaryngeal Extrusion of Thyroplasty Implant 317
Robert L. Eller, Mary Hawkshaw, and Robert T. Sataloff
Index 319