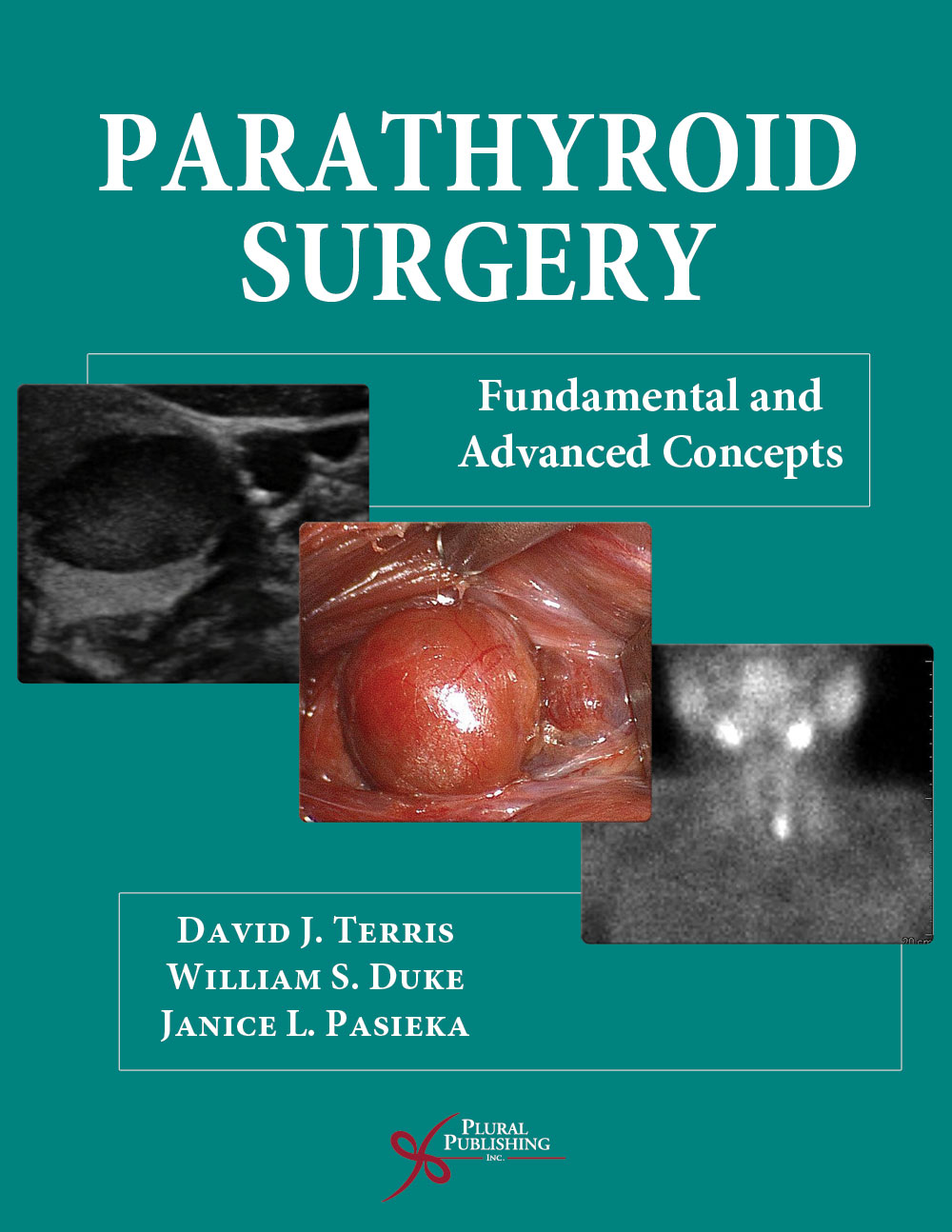 Parathyroid Surgery: Fundamental and Advanced Concepts
First Edition
David J. Terris, William S. Duke, Janice Pasieka
Details: 248 pages, Full Color, Hardcover, 8.5" x 11"
ISBN13: 978-1-59756-541-7
© 2014 | Available
With worldwide contributions from experts in the field of parathyroid disease and surgery, Parathyroid Surgery: Fundamental and Advanced Concepts is the only text devoted specifically to the surgical management of parathyroid disease. Chapters include detailed discussions of preoperative diagnosis and testing, advanced imaging techniques and state-of-the-art surgical interventions, and incorporate thorough and judicious reviews of the current medical literature. Postoperative management strategies are also addressed to ensure physicians can safely optimize patient outcomes.
As a resource that includes all of the most critical, new topics in parathyroid surgery, this book will appeal to both surgical and nonsurgical professionals, including general otolaryngologists, general surgeons, endocrine surgeons, head and neck surgeons, surgical oncologists, and endocrinologists.

From the Foreword

"Parathyroid Surgery: Fundamental and Advanced Concepts is an excellent and very valuable book which offers a comprehensive account of our state of knowledge about parathyroid disorders in 2014. Many questions have been answered and other excellent ones have been posed. I recommend this book very highly to all "students" of parathyroid disease."
Edwin L. Kaplan, MD
Professor of Surgery
University of Chicago Pritzker School of Medicine
Chicago, Illinois
Reviews
"Parathyroid Surgery: Fundamental and Advanced Concepts is a timely and welcome addition to the literature on parathyroid disease and its surgical management. The sub-speciality has undergone significant changes in recent years, both in terms of diagnosis and management strategies, and the book is a response to this. ...

By keeping the scope broad, the authors have given this book wide appeal and it represents a useful text for medical students and residents alike. In addition, the advanced sections, including investigation, surgical treatment algorithms and management of patients with complex disease make it an essential text for practicing surgeons of all abilities and from all backgrounds. The modernity of the text, with its authorship from a combination of surgical backgrounds, further illustrates its up-to date nature and forward projection.

The book is logically set out and works both as a complete text or a series of well constructed sub-sections. ... Although sub-sections are written by specialists within each field, the overall style is well maintained by the editors, ensuring flow and progression, whilst keeping the subject of parathyroid surgery at the forefront of the discussion. ... The content is well presented with appropriate and clear illustrations throughout, which augment the presented text without distracting from it. As such, it should be regarded as the complete text for the parathyroid surgeon. ...

Overall, this is a well-resourced and logical book with wide appeal to those managing patients with parathyroid disease. It achieves its ultimate goal of defining parathyroid surgery as a sub-speciality in its own right, rather than an aside in textbooks on thyroid disease. As an inaugural edition I am sure it and its future iterations will become established as a vital text for parathyroid surgeons. It is a welcome addition to the literature, bringing together recent advances in investigation and treatment and meets a demand for increasing surgical need in the populations in which we work."
—Joel A Smith FRCS (ORL-HNS), in the Journal of Laryngology and Otology (July 2014)
Foreword
Preface
Contributors
Chapter 1. History of Parathyroid Surgery

Janice L. Pasieka and Jon A. van Heerden
Chapter 2. Physiology of Calcium Regulation

Tracy S. Wang and Julie Ann Sosa
Chapter 3. Dysfunction and Pathology of Calcium Axis

Bethany A. Jackson, Anthony L. Mulloy, and René J. Harper
Chapter 4. Diagnostic and Laboratory Evaluation of Hyperparathyroidism
Chapter 5. Nonsurgical Therapy of Primary Hyperparathyroidism

Angela L. Carrelli and Shonni J. Silverberg
Chapter 6. Primary Hyperparathyroidism: Eligibility for Surgery

Justin P. Wagner and Michael W. Yeh
Chapter 7. Ultrasound of the Parathyroid Glands

Lisa A. Orloff and Ryan P. Goepfert
Chapter 8. Scintigraphic Evaluation of Parathyroid Adenomas: Techniques, Protocols, and Interpretation

Twyla B. Bartel, Tracy L. Yarbrough, and Brendan C. Stack, Jr.
Chapter 9. Adjunctive Imaging Modalities: MRI, CT, and 4D-CT

Steven E. Rodgers, Thinh H. Vu, Robert Preston Ray, Beth S. Edeiken-Monroe, and Nancy D. Perrier
Chapter 10. Conventional Parathyroid Surgery: Bilateral Exploration

Adrian M. Harvey and Janice L. Pasieka
Chapter 11. Minimally Invasive Video-Assisted Parathyroidectomy (MIVAP)

Paolo Miccoli and Michele N. Minuto
Chapter 12. Radioguided Parathyroidectomy

Rebecca S. Sippel and Herbert Chen
Chapter 13. Minimally Invasive Parathyroidectomy: North American Modifications

William S. Duke and David J. Terris
Chapter 14. Robotic Parathyroidectomy

Naciye Cigdem Arslan, Neil S. Tolley, and Eren Berber
Chapter 15. The Role of Intraoperative Parathyroid Hormone Assessment in Parathyroid Surgery
Phillip K. Pellitteri and Richard A. Hodin
Chapter 16. Renal Hyperparathyroidism

Cord Sturgeon and Peter Angelos
Chapter 17. MEN-Associated Hyperparathyroidism

Peter Stanton and Mark Sywak
Chapter 18. Post-Parathyroidectomy Management

Michael C. Singer and David L. Steward
Chapter 19. Prevention and Management of Complications

Maisie L. Shindo and Kresimira Milas
Chapter 20. Management of Refractory Disease

Jennifer L. Mariti and Gregory W. Randolph
Chapter 21. Parathyroid Carcinoma

Jonathan R. George and Gary L. Clayman
Chapter 22. The Future of Parathyroid Surgery

Wen T. Shen and Orlo H. Clark

Index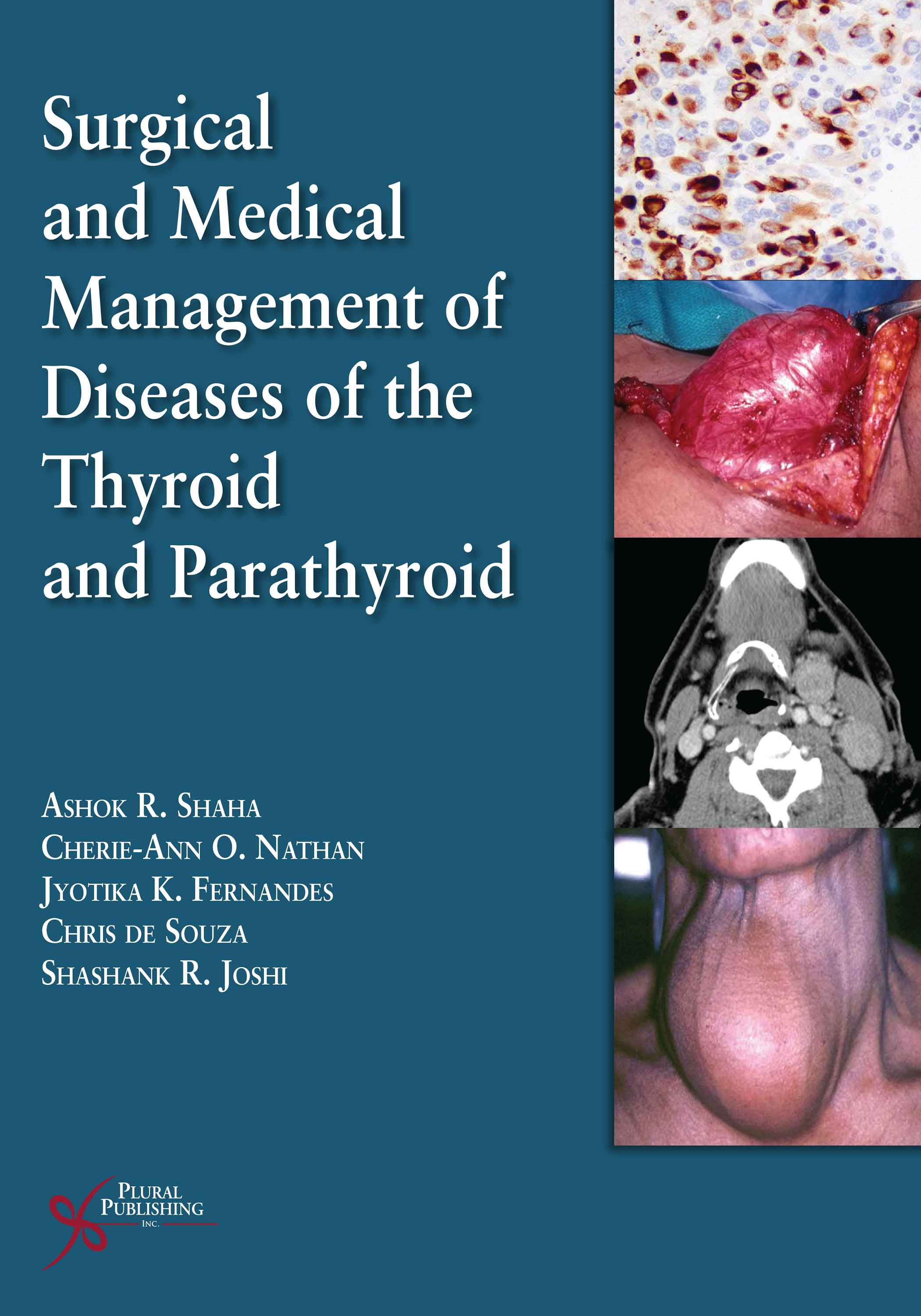 First Edition
Ashok R. Shaha, Cherie-Ann Nathan, Jyotika K. Fernandes, Chris de Souza, Shashank R. Joshi
Details: Ebook, 755 pages, Full Color
ISBN13: 978-1-59756-854-8
© 2020 | Available