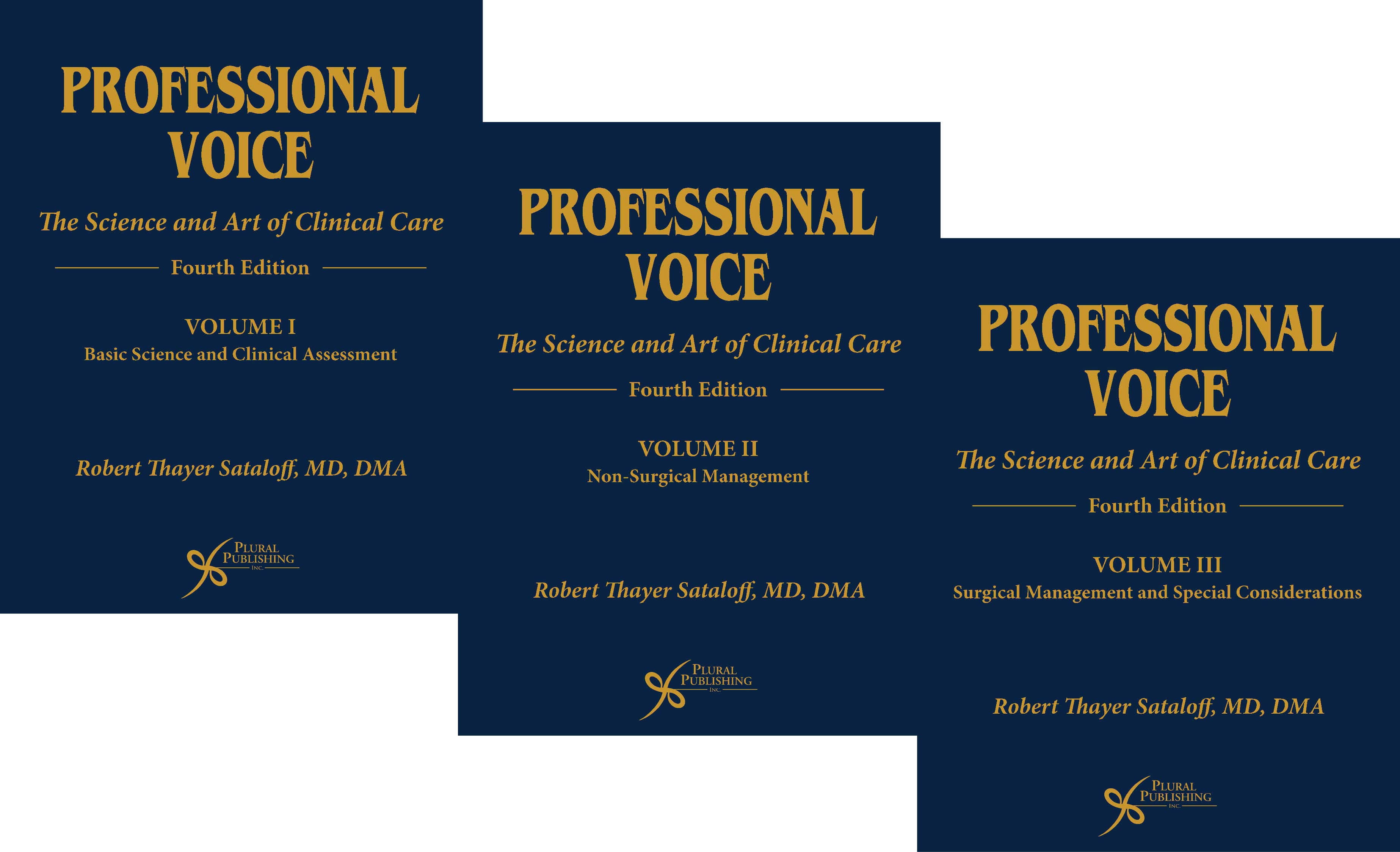 Professional Voice: The Science and Art of Clinical Care
Fourth Edition
Robert T. Sataloff
Details: 2224 pages, Full Color, Hardcover, 8.5" x 11"
ISBN13: 978-1-59756-709-1
© 2017 | Available
The most comprehensive reference on voice care and science ever published!
Substantially revised and updated since the previous edition published in 2005, Professional Voice: The Science and Art of Clinical Care, Fourth Edition provides the latest advances in the field of voice care and science. In three volumes, it covers basic science, clinical assessment, nonsurgical treatments, and surgical management. Twenty new chapters have been added. These include an in-depth chapter on pediatric voice disorders, chapters detailing how hormonal contraception, autoimmune disorders, and thyroid disorders affect the voice, as well as chapters on the evolution of technology in the voice care field, and advances in imaging of the voice production system.
The appendices also have been updated. They include a summary of the phonetic alphabet in five languages, clinical history and examination forms, a special history form translated into 15 languages, sample reports from a clinical voice evaluation, voice therapy exercise lists, and others. The multidisciplinary glossary remains an invaluable resource.
Key Features
With contributions from a Who's Who of voice across multiple disciplines
120 chapters covering all aspects of voice science and clinical care
Features case examples plus practical appendices including multi-lingual forms and sample reports and exercise lists
Comprehensive index
Multidisciplinary glossary
What's New
Available in print or electronic format
20 new chapters
Extensively revised and reorganized chapters
Many more color photographs, illustrations, and case examples
Fully updated comprehensive glossary
Major revisions with extensive new information and illustrations, especially on voice surgery, reflux, and structural abnormalities

New Chapters
1. Formation of the Larynx: From Hox Genes to Critical Periods
2. High-Speed Digital Imaging
3. Evolution of Technology
4. Magnetic Resonance Imaging of the Voice Production System
5. Pediatric Voice Disorders
6. The Vocal Effects of Thyroid Disorders and Their Treatment
7. The Effects of Hormonal Contraception on the Voice
8. Cough and the Unified Airway
9. Autoimmune Disorders
10. Respiratory Behaviors and Vocal Tract Issues in Wind Instrumentalists
11. Amateur and Professional Child Singers: Pedagogy and Related Issues
12. Safety of Laryngology Procedures Commonly Performed in the Office
13. The Professional Voice Practice
14. Medical-Legal Implications of Professional Voice Care
15. The Physician as Expert Witness
16. Laryngeal Neurophysiology
17. The Academic Practice of Medicine
18. Teamwork
19. Medical Evaluation Prior to Voice Lessons
20. Why Study Music?
Intended Audiences

Individuals
While written primarily for physicians and surgeons, this comprehensive work is also designed to be used by (and written in language accessible to) speech-language pathologists, singing voice specialists, acting voice specialists, voice teachers, voice/singing performers, nurses, nurse practitioners, physician assistants, and others involved in the care and maintenance of the human voice.
Libraries
It is a must-have reference for medical and academic libraries at institutions with otolaryngology, speech-language pathology, music, nursing and other programs related to the human voice.
Reviews
"Professional Voice: The Science and Art of Clinical Care (4th ed) represents Robert Sataloff's updated version of one of the most comprehensive laryngology references published to date. The fourth edition's offering of 120 chapters represents a significant leap from the first edition's 33 and even from the third edition's 100. This 3-volume text has been meaningfully expanded in a manner that reflects the evolution of laryngology and the voice sciences as a specialty over time. The text conveys the "great progress that has been made toward understanding the function, dysfunction, and treatment of the human voice" as achieved through the collaboration of physicians, voice scientists, speech-language pathologists, as well as those from the performing arts arena. In his preface, Dr. Sataloff highlights, chapter by chapter, exactly what content has been revised or supplemented and points out the intent and considerations behind the brand new chapters. Some of the topics covered by the newest chapters worth mentioning include pediatric voice disorders, high-speed digital imaging, magnetic resonance imaging, vocal effects of thyroid disease, hormonal contraception, and cough. The plethora of updated and new content is still organized into 3 volumes, Basic Science and Clinical Assessments, Non-Surgical Management, and Surgical Management and Special Considerations. Most chapters are accompanied by high-quality illustrations and photographs. The images and illustrations within the surgical chapters offer especially elegant depictions of both common and uncommon procedures. Readers can be certain that this reference text comprehensively covers all aspects of laryngology, voice science, and care for the professional voice. The meaningful updates and additions to this fourth edition of Professional Voice: The Science and Art of Clinical Care secure its significance to the present and future of the specialty."
—Michael Z. Lerner, MD, Bronx, New York, USA, in the Annals of Otology, Rhinology & Laryngology, Vol. 127(6) 414-415 (2018)
"The first volume contains comprehensive chapters on basic science and clinical assessment, including using latest technology. The second volume covers the non-surgical management of voice disorders and the third volume contains excellent chapters in surgical management of laryngeal disorders. Furthermore, the third volume contains useful chapters on medico-legal aspects, forensics, nursing considerations, teamwork in the management of voice-related disorders. It is evident that the author and Chief Editor, Robert Thayer Sataloff, has intentionally kept the narrative similar throughout and this makes it easier to read and navigate through the book. The book is well-illustrated and is available in both print and electronic formats.
As an otolaryngologist and head and neck surgeon, this book has provided me with greater knowledge and insight into the field of laryngology and my patients will certainly benefit as a result. It is a leading and comprehensive reference book in the field of laryngology and I would recommend it to anyone that is involved in dealing with patients that have voice-related disorders. I will also be recommending it to my hospital library."
—Amit Prasai, FRCS (ORS-HNS), in ENT & Audiology News (July 2019)
Preface to the Fourth Edition
Acknowledgments to the Fourth Edition
About the Author
Contributors
Video References
Dedications
Volume I. Basic Science and Clinical Assessment
Part I. Introduction
Chapter 1. Introduction
Robert Thayer Sataloff
Chapter 2. A Cultural History of the Larynx and Voice
Hans von Leden
Part II. Basic Science
Chapter 3. The Physics of Sound
Robert Thayer Sataloff
Chapter 4. Formation of the Larynx: From Hox Genes to Critical Periods
Jeffrey T. Laitman, Drew M. Noden, and Thomas R. Van De Water
Chapter 5. Laryngeal Embryology and Vocal Development
David H. Henick and Robert Thayer Sataloff
Chapter 6. Genetics of the Voice
Robert Thayer Sataloff and Mary J. Hawkshaw
Chapter 7. Genomics and Proteomics in Voice
Vidisha Mohad, Susan L. Thibeault, Riitta Ylitalo, and Steven D. Gray
Chapter 8. Clinical Anatomy and Physiology of the Voice
Robert Thayer Sataloff
Chapter 9. Laryngeal Neurophysiology
Christy L. Ludlow
Chapter 10. Music and the Brain
Thomas Swirsky-Sacchetti, Robert Rider, Michael E. Keesler, and Steven Mandel
Chapter 11. Arytenoid Movement
James A. Letson, Jr. and Renny Tatchell
Chapter 12. Vocal Fold Injury and Repair
Sharon S. Tang and Susan L. Thibeault
Chapter 13. Cellular and Molecular Mechanics of Aging of the Vocal Fold
Ashley P. O'Connell Ferster and Leslie T. Malmgren
Chapter 14. An Overview of Laryngeal Function for Voice Production
R. J. Baken
Chapter 15. Laryngeal Function During Phonation
Ronald C. Scherer
Chapter 16. Vocal Tract Resonance
Johan Sundberg
Chapter 17. Chaos in Voice Research
Rajeev Bhatia, Robert Thayer Sataloff, and Mary J. Hawkshaw
Chapter 18. Dynamical Disorders of Voice: A Chaotic Perspective on Vocal Irregularities
R. J. Baken
Part III. Clinical Assessment
Chapter 19. Patient History
Robert Thayer Sataloff
Chapter 20. Special Considerations Relating to Members of the Acting Profession
Bonnie N. Raphael
Chapter 21. Physical Examination
Robert Thayer Sataloff
Chapter 22. The Clinical Voice Laboratory
Jonathan J. Romak, Reinhardt J. Heuer, Mary J. Hawkshaw, and Robert Thayer Sataloff
Chapter 23. High-Speed Digital Imaging
Matthias Echternach
Chapter 24. Evolution of Technology
Jonathan J. Romak and Robert Thayer Sataloff
Chapter 25. Laryngeal Electromyography
Robert Thayer Sataloff, Steven Mandel, and Yolanda D. Heman-Ackah
Chapter 26. Laryngeal Photography and Videography
Eiji Yanagisawa, Ken Yanagisawa, and H. Steven Sims
Chapter 27. Laryngeal Computed Tomography
Jean Abitbol, Albert Castro, Rodolphe Gombergh, and Patrick Abitbol
Chapter 28. Magnetic Resonance Imaging of the Voice Production System
Matthias Echternach
Chapter 29. New Dimensions in Measuring Voice Treatment Outcomes and Quality of Life
Michael S. Benninger, Mausumi N. Syamal, Glendon M. Gardner, and Barbara H. Jacobson
Volume II. Nonsurgical Management
Part IV. Disorders Managed Commonly Without Voice Surgery
Chapter 30. Common Medical Diagnoses and Treatments in Patients With Voice Disorders: An Introduction and Overview
Robert Thayer Sataloff, Mary J. Hawkshaw, and Johnathan B. Sataloff
Chapter 31. The Effects of Age on the Voice
Robert Thayer Sataloff, Karen M. Kost, and Sue Ellen Linville
Chapter 32. Pediatric Voice Disorders
Alexander Manteghi, Amy Rutt, and Robert Thayer Sataloff
Chapter 33. Hearing Loss in Singers and Other Musicians
Robert Thayer Sataloff, Joseph Sataloff, and Brian McGovern
Chapter 34. Impact of Auditory Systems on Phonation
Morgan A. Selleck and Robert Thayer Sataloff
Chapter 35. Refractive Eye Surgery in Professional Voice Users
Frederic B. Kremer, Carol A. Smith, and George R. Pronesti
Chapter 36. Eye Care and the Performing Arts
Marcel J. Sislowitz
Chapter 37. Endocrine Function
Timothy D. Anderson, Dawn D. Anderson, and Robert Thayer Sataloff
Chapter 38. The Vocal Effects of Thyroid Disorders and Their Treatment
Julia A. Pfaff, Hilary Caruso-Sales, Aaron Jaworek, and Robert Thayer Sataloff
Chapter 39. The Effects of Hormonal Contraception on the Voice
Jennifer P. Rodney and Robert Thayer Sataloff
Chapter 40. Breast Cancer in Professional Voice Users
Dahlia M. Sataloff and Robert Thayer Sataloff
Chapter 41. Autoimmune
Robert Thayer Sataloff and Michael S. Benninger
Chapter 42. Psychological Aspects of Voice Disorders
Deborah Caputo Rosen, Reinhardt J. Heuer, David A. Sasso, and Robert Thayer Sataloff
Chapter 43. Allergy
John R. Cohn, Patricia A. Padams, Mary J. Hawkshaw, and Robert Thayer Sataloff
Chapter 44. The Nose
Karen M. Lyons and Robert Thayer Sataloff
Chapter 45. Rhinosinusitis
Timothy D. Anderson and Robert Thayer Sataloff
Chapter 46. Respiratory Dysfunction
Robert Thayer Sataloff, John R. Cohn, and Mary J. Hawkshaw
Chapter 47. Cough and the Unified Airway
Rupali N. Shah and Kenneth W. Altman
Chapter 48. Pollution and Its Effects on the Voice
Robert Thayer Sataloff
Chapter 49. Pyrotechnics in the Entertainment Industry: An Overview
Cynthia Del'Aria and David A. Opperman
Chapter 50. Pyrotechnics: Health Effects
Monona Rossol
Chapter 51. Artificial Fogs and Smokes
Monona Rossol
Chapter 52. Infectious and Inflammatory Disorders of the Larynx
Catherine F. Sinclair and Robert S. Lebovics
Chapter 53. Pharyngitis
Mona M. Abaza and Robert Thayer Sataloff
Chapter 54. Halitosis
Ronald S. Bogdasarian, Mark T. Agrama, and Robert Thayer Sataloff
Chapter 55. Laryngeal Papilloma
Kevin P. Leahy, Oren Friedman, and Robert Thayer Sataloff
Chapter 56. Sleep and the Vocal Performer
Joanne E. Getsy, Robert Thayer Sataloff, and Julie A. Wang
Chapter 57. Chronic Fatigue Syndrome in Singers
Kevin Stavrides, Robert Thayer Sataloff, and Kate Emerich
Chapter 58. Nutrition and the Professional Voice
Jennifer A. Nasser, Nyree Dardarian, Abigail D. Gilman, and Sobhana Ranjan
Chapter 59. Reflux and Other Gastroenterologic Conditions That May Affect the Voice
Robert Thayer Sataloff, Donald O. Castell, Philip O. Katz, Dahlia M. Sataloff, and Mary J. Hawkshaw
Chapter 60. Seating Problems and Vocalists
Richard N. Norris
Chapter 61. Bodily Injuries and Their Effects on the Voice
Robert Thayer Sataloff
Chapter 62. Performing Arts Medicine and the Professional Voice User: Risks of Nonvoice Performance
William J. Dawson, Robert Thayer Sataloff, and Valerie L. Trollinger
Chapter 63. Respiratory Behaviors and Vocal Tract Issues in Wind Instrumentalists
Valerie L. Trollinger and Robert Thayer Sataloff
Part V. Neurologic Disorders Affecting the Voice
Chapter 64. Neurologic Disorders Affecting the Voice in Performance
Linda Dahl, Jessica W. Lim, Steven Mandel, Reena Gupta, and Robert Thayer Sataloff
Chapter 65. Vocal Fold Paresis and Paralysis
Adam D. Rubin and Robert Thayer Sataloff
Chapter 66. Spasmodic Dysphonia
Aaron J. Jaworek, Daniel A. Deems, and Robert Thayer Sataloff
Part VI. Medications
Chapter 67. Medications and the Voice
Robert Thayer Sataloff, Mary J. Hawkshaw, Joseph Anticaglia, Michelle White, Kirsten Meenan, and Jonathan J. Romak
Chapter 68. Psychiatric Manifestations of Medications Prescribed Commonly in Otolaryngology
Steven H. Levy, Mona M. Abaza, Mary J. Hawkshaw, Robert Thayer Sataloff, and Reinhardt J. Heuer
Chapter 69. Cancer Chemotherapy: An Overview and Voice Implications
Jillian Mattioni, David A. Opperman, Dominic A. Solimando, Jr., and Robert Thayer Sataloff
Chapter 70. Botulinum Toxin in Otolaryngology
Julia A. Pfaff, Michael C. Neuenschwander, Edmund A. Pribitkin, and Robert Thayer Sataloff
Chapter 71. Medications for Traveling Voice Performers
Robert Thayer Sataloff and Mary J. Hawkshaw
Part VII. Voice Therapy and Treatment
Chapter 72. Introduction to Treating Voice Abuse
Robert Thayer Sataloff
Chapter 73. Speech-Language Pathology and the Professional Voice User: An Overview
Carol N. Wilder
Chapter 74. Voice Therapy
Bridget Rose, Michelle Horman, and Robert Thayer Sataloff
Chapter 75. Voice Rest
Adam D. Rubin, Robert Thayer Sataloff, Susan E. Cline, and Karen M. Lyons
Chapter 76. Increasing Vocal Effectiveness
Bonnie N. Raphael and Robert Thayer Sataloff
Chapter 77. The Singing Teacher in the Age of Voice Science
Richard Miller
Chapter 78. Historical Overview of Voice Pedagogy
Richard Miller
Chapter 79. The Singing Voice Specialist
Margaret M. Baroody, Robert Thayer Sataloff, and Linda M. Carroll
Chapter 80. Use of Instrumentation in the Singing Studio
Robert Thayer Sataloff
Chapter 81. Choral Pedagogy and Vocal Health
Brenda J. Smith and Robert Thayer Sataloff
Chapter 82. Amateur and Professional Child Singers: Pedagogy and Related Issues
Valerie L. Trollinger and Robert Thayer Sataloff
Chapter 83. The Role of the Acting-Voice Trainer in Medical Care of Professional Voice Users
Sharon L. Freed, Bonnie N. Raphael, and Robert Thayer Sataloff
Chapter 84. Laryngeal Manipulation
John S. Rubin, Jacob Lieberman, and Tom M. Harris
Chapter 85. The Effects of Posture on Voice
John S. Rubin, Ed Blake, Lesley Mathieson, and Hala Kanona
Chapter 86. Exercise Physiology: Perspective for Vocal Training
Mary J. Sandage and Matthew Hoch
Volume III. Surgical Management and Special Considerations
Part VIII. Structural Disorders and Surgery
Chapter 87. The Evolution of Phonosurgery
Hans von Leden
Chapter 88. The History and Development of Phonomicrosugery
Steven M. Zeitels
Chapter 89. Voice Surgery
Robert Thayer Sataloff
Chapter 90. Phonomicrosurgical Techniques
Steven M. Zeitels
Chapter 91. Laryngeal Laser Surgery
Jean Abitbol and Robert Thayer Sataloff
Chapter 92. Safety of Laryngology Procedures Commonly Performed in the Office
George Ziade, Aaron Jaworek, and Robert Thayer Sataloff
Chapter 93. Structural Abnormalities of the Larynx
Robert Thayer Sataloff
Chapter 94. Vocal Fold Hemorrhage
Robert Thayer Sataloff and Mary J. Hawkshaw
Chapter 95. Vocal Fold Scar
Jaime Eaglin Moore and Robert Thayer Sataloff
Chapter 96. Laryngotracheal Trauma
Yolanda D. Heman-Ackah and Robert Thayer Sataloff
Chapter 97. Cricoarytenoid and Cricothyroid Joint Injury: Evaluation and Treatment
Robert Thayer Sataloff
Chapter 98. Posterior Glottic Stenosis
Joseph R. Spiegel and Robert Thayer Sataloff
Chapter 99. Management of Gender Reassignment Patients
Reinhardt J. Heuer, Margaret M. Baroody, and Robert Thayer Sataloff
Chapter 100. Sleep-Disordered Breathing: Considerations in Surgical Management for the Professional Voice User
Mark S. Courey and Joseph D. DePietro
Chapter 101. Facial Plastic Surgery in Professional Voice Users
Erynne A. Faucett, Stephen A. Goldstein, Mary J. Hawkshaw, and Robert Thayer Sataloff
Chapter 102. Premalignant Lesions of the Larynx
Amanda Hu, Carole M. Dean, and Robert Thayer Sataloff
Chapter 103. Laryngeal Cancer
Timothy D. Anderson and Robert Thayer Sataloff
Chapter 104. The Professional Voice Practice
Robert Thayer Sataloff and Claudio F. Milstein
Part IX. Special Considerations
Chapter 105. Nursing Considerations in the Care of the Professional Voice
Mary J. Hawkshaw and Robert Thayer Sataloff
Chapter 106. Voice Care Professionals: A Guide to Voice Care Providers
Robert Thayer Sataloff, Yolanda D. Heman-Ackah, and Mary J. Hawkshaw
Chapter 107. Voice Impairment, Disability, Handicap, and Medical-Legal Evaluation
Robert Thayer Sataloff
Chapter 108. Medical-Legal Implications of Professional Voice Care
Robert Thayer Sataloff and Michael S. Benninger
Chapter 109. The Physician as Expert Witness
Robert Thayer Sataloff
Chapter 110. Voice: Legal Considerations
Judith A. Gic
Chapter 111. Voice and Forensics
Harry F. Hollien
Chapter 112. Controversy in the Care of Singers and Professional Voice Users
Clark A. Rosen and Kimberly M. Steinhauer
Chapter 113. Medical Evaluation Prior to Voice Lessons: Another Controversy
Aaron J. Jaworek and Robert Thayer Sataloff
Chapter 114. Voice Horizons
John S. Rubin and Robert Thayer Sataloff
Chapter 115. Education in Laryngology: Rising to Old Challenges
Robert Thayer Sataloff
Chapter 116. The Academic Practice of Medicine
Robert Thayer Sataloff
Chapter 117. Interdisciplinary Opportunities for Creativity in Medicine
Robert Thayer Sataloff
Chapter 118. Teamwork
Robert Thayer Sataloff
Chapter 119. Why Study Music?
Christin Coffee Rondeau
Chapter 120. Physicians Studying Voice and the Arts
Robert Thayer Sataloff

Glossary
Appendix I
Appendix II
Appendix III
Appendix IV
Appendix V
Appendix VI
Appendix VII
Index