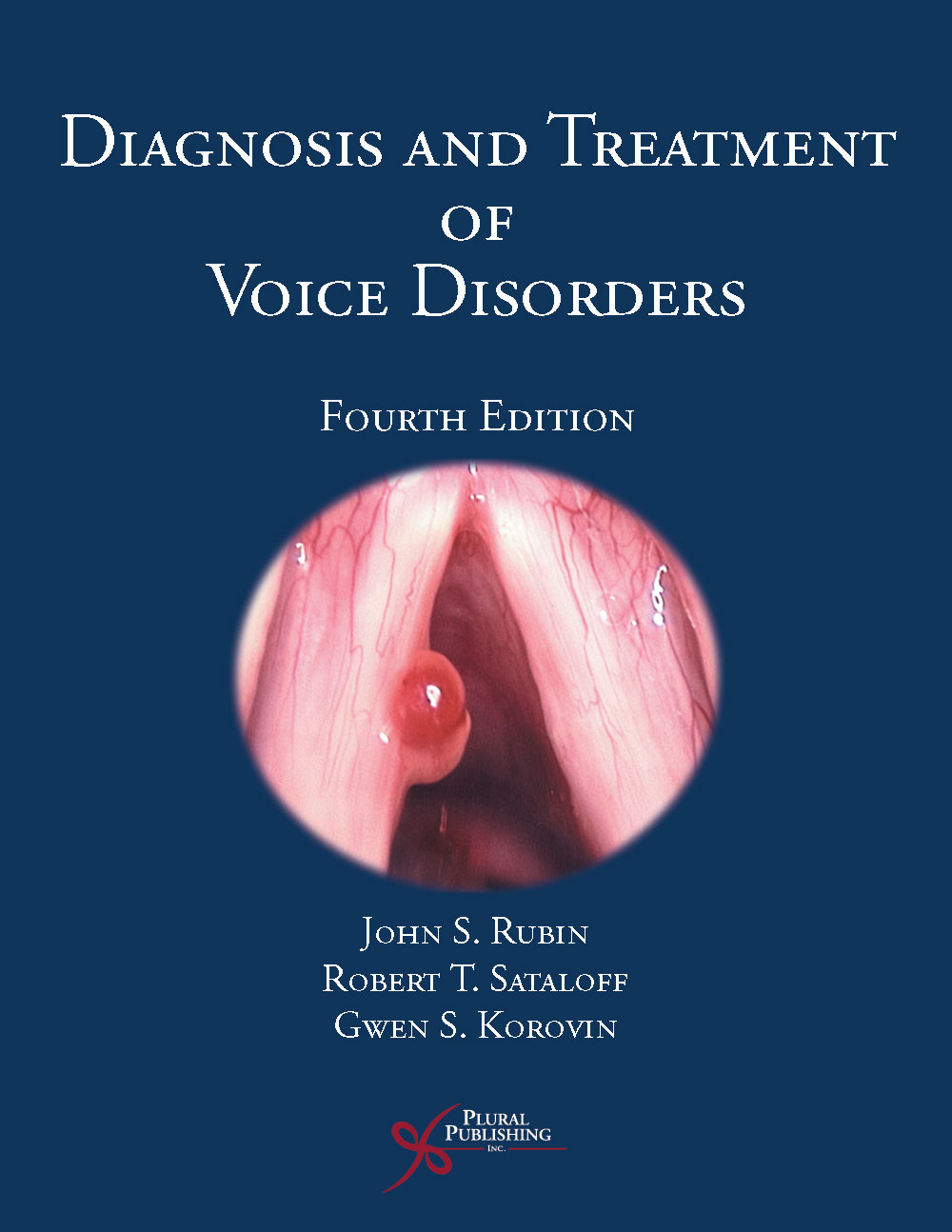 Diagnosis and Treatment of Voice Disorders
Fourth Edition
John Rubin, Robert T. Sataloff, Gwen S. Korovin
Details: 1019 pages, Full Color, Hardcover, 8.5" x 11"
ISBN13: 978-1-59756-553-0
© 2014 | Available
Diagnosis and Treatment of Voice Disorders, now in its fourth edition, continues to serve as a definitive reference for students and professionals in the fields of otolaryngology, speech-language pathology, voice and singing, and related sciences. Fifty-eight chapters—illustrated with color photos, dyed slides, and black and white figures—are divided into three parts: basic sciences, clinical assessment, and management. Each chapter has been updated with the most current and relevant information on the science of communication processes and voice disorders. With contributions from more than 60 internationally acknowledged experts, this text provides comprehensive, multidisciplinary coverage of the basic science and characteristics of voice disorders; diagnostic procedures and techniques; assessment protocols; as well as surgical and nonsurgical treatment models.
This fourth edition has been extensively updated and expanded with ten new chapters:
Vocal Fold Extracelluar Matrix and Wound Healing
COUGH and the Unified Airway
The Role of the Voice Coach in the Treatment of Vocal Disorders
Occupational Voice
Anesthesia in Laryngology
Reinnervation: New Frontiers
Emerging Approaches to Laryngeal Replacement and Reconstruction
Recurrent Respiratory Papillomatosis
Office-Based Phonosurgery
Telemedicine
From the Preface

"This 4th edition of Diagnosis and Treatment of Voice Disorders provides a vibrant, up-to-date, accessible and clear reference for the various professionals entrusted with the care of patients with voice disorders, be they laryngologists or phoniatricians, speech-language pathologists or logopeds, physical therapists, osteopaths or other practitioners of complementary medicine, singing or acting voice specialists, acoustic or voice scientists, psychiatrists or psychologists, gastroenterologists, pulmonologists, or neurologists, nurses or other allied medical specialists. It is written in language intended to be accessible to an interdisciplinary readership; and we hope that the information presented will prove not only useful, but also inspirational to all voice care professionals since each of us has the opportunity to add new knowledge to this exciting and rapidly advancing field."
Editors,
John S. Rubin,
Robert T. Sataloff, and
Gwen S. Korovin
Reviews
"Diagnosis and Treatment of Voice Disorders is an extensive and in-depth resource on understanding, assessing, and managing voice disorders. The fourth edition arrives nearly a decade after the third edition (2005) with 10 new chapters...The new edition also comes with updates and expansions on prior contents to account for the new developments in a rapidly developing field...The book is well organized, comprehensive, and easy-to-read, making it an excellent primary resource for all professionals involved in voice care.The diagrams, illustrations, and photographs complement the text and enhance the reader'\'s retention and understanding. As each chapter is fortified with current literature, evidence-based information, and an extensive reference list, the text will prove to be a versatile and a practical resource. Overall, Diagnosis and Treatment of Voice Disorders will be a great accompaniment to general otolaryngologist, laryngologist, speech-language pathologist, singing pedagogues, basic scientists, and other individuals with interest in the voice."
—Mi Jin Yoo, MD, Department of Otolaryngology-Head and Neck Surgery, Albert Einstein College of Medicine, NY, in the Annals of Otology, Rhinology and Laryngology (March 2015)
"The 4th edition of the Diagnosis and Treatment of Voice Disorders is a comprehensive reference that would be a good addition to a teaching or clinical library. For students and speech pathologists new to voice it would be a useful tool."
—Kate Baumwol, in the Journal of Clinical Practice in Speech-Language Pathology (March 2015)
Preface
Contributors
UNIT 1: BASIC SCIENCE
1. Formation of the Larynx: From Hox Genes to Critical Periods

Jeffrey T. Laitman, Drew M. Noden, and Thomas R. Van De Water

2. Laryngeal Development
3. Anatomy of the Human Larynx

Clarence T. Sasaki, Nwanmegha Young, Hiroumi Matsuzaki, and Boris Paskhover

4. Functional Fine Structures of the Human Vocal Fold Mucosa
5. Microanatomy of the Vocal Fold Musculature
6. Vocal Fold Extracellular Matrix and Wound Healing

Marie E. Jette and Susan Thibeault

7. Benign Vocal Fold Pathology Through the Eyes of the Laryngologist

John S Rubin and Eiji Yanagisawa

8. Laryngeal Function During Phonation
9. Laryngeal Neurophysiology
10. The Neurology of Stuttering

Rebecca Spain, Steven Mandel, Savita Kumari, and Robert T. Sataloff

11. Toward a Dynamical Diagnosis of Vocal Function

Ronald J Baken and Robert F Orlikoff

12. Research in Laryngology

UNIT 2: CLINICAL ASSESSMENT
13. Patient History
14. Physical Examination
15. Evaluation of Laryngeal Biomechanics by Transnasal Flexible Laryngoscopy
16. Transnasal Esophagoscopy

Nancy Solowski and Greg Postma

17. Introduction to the Laboratory Diagnosis of Vocal Disorders

Gwen S. Korovin , John S. Rubin, and Owain R Hughes

18. Measuring Vocal Fold Function

Raymond H. Colton and Peak Woo

19. Laryngeal Electromyography

Elizabeth Guardiani, Babak Sadoughi, Lucian Sulica, Tanya Meyer, and Andrew Blitzer

20. Videography and Photography of the Larynx

Eiji Yanagisawa, Ken Yanagisawa, and H. Steven Sims

21. 3D Laryngeal CT Scan for Voice Disorders: Virtual Endoscopy—Virtual Dissection

Jean Abitbol, Albert Castro, Rodolphe Gombergh, and Patrick Abitbol

22. The Evaluation of Voice Outcomes and Quality of Life

Michael S. Benninger and Glendon M. Gardner

23. Voice Impairment, Disability, Handicap, and Medical/Legal Evaluation

UNIT 3: MANAGEMENT
24. Common Medical Diagnoses and Treatments in Patients with Voice Disorders

Robert T. Sataloff and Mary J. Hawkshaw

25. Congenital Anomalies of the Larynx

Ted L. Tewfik, Steven E. Sobol, and Alyssa A. Kanaan

26. Office Based Evaluation of Children with Dysphonia
Jennifer Setlur and Christopher J. Hartnick
27. The Older Voice
28. The Larynx: A Hormonal Target

Jean Abitbol and Patrick Abitbol

29. Laryngopharyngeal Reflux and Voice Disorders
30. Infectious and Inflammatory Disorders of the Larynx

Catherine F Sinclair and Robert S. Lebovics

31. Cough and the Unified Airway

Rupali N. Shah and Kenneth W. Altman

32. Neurological Disorders and the Voice

Marshall E. Smith and Lorraine Olson Ramig

33. Unilateral Vocal Fold Paralysis

Michael S. Benninger and Glendon M. Gardner

34. Bilateral Vocal Fold Paralysis

Michael S. Benninger and Glendon M. Gardner

35. Management of the Spasmodic Dysphonias

Joel H. Blumin and Christy L Ludlow

36. Psychological Aspects of Voice Disorders

Deborah Caputo Rosen, Reinhardt J. Heuer, David A. Sasso, and Robert T. Sataloff

37. The Voice and Medications

Thomas M. Harris, Harsha H. Kariyawasam, and John S. Rubin

38. Corticosteroid Therapy in Otolaryngology

Harsha H. Kariyawasam, Giuseppina Rotiroti, and John S Rubin

39. The Role of the Speech-Language Pathologist in the Treatment of Voice Disorders

Thomas Murry and Clark A. Rosen

40. The Role of the Voice Specialist in the Non-Medical Management of Benign Voice Disorders
41. The Role of the Voice Coach in the Treatment of Vocal Disorders
42. The Effects of Posture on Voice

Lesley Mathieson, John S. Rubin, and Ed Blake

43. Special Considerations for the Professional Voice User

John S. Rubin, Gwen S. Korovin, and Ruth Epstein

44. Occupational Voice

Orietta Calcinoni, Ewa Bogusz, and Ruth Epstein

45. Anaesthesia in Laryngology

Anil Patel and John S. Rubin

46. Laryngotracheal Trauma
47. Surgical Management of Benign Voice Disorders

Mark S. Courey, Daniel S. Fink, and Robert H. Ossoff

48. Adult Acquired Laryngotracheal Stenosis
Guri S Sandhu and David J. Howard
49. Vocal fold Medialization: Injection and Laryngeal Framework Surgery
50. Laryngeal Reinnervation: Traditional Approaches
51. Reinnervation: New Frontiers
52. Emerging Approaches to Laryngeal Replacement and Reconstruction

Jonathan M. Fishman, Paolo De Coppi, and Martin A. Birchall

53. Recurrent Respiratory Papillomatosis

Craig Derkay and Salvatore Taliercio

54. Premalignant Lesions of the Larynx

Amanda Hu, Carole M. Dean, and Robert T. Sataloff

55. Glottic Carcinoma: Disease Presentation and Philosophy of Management
56. Diagnosis and Management of Postoperative Dysphonia
57. Office-based Phonosurgery

Markus Hess and Susanne Fleischer

58. Telemedicine

John S. Rubin and Robert T. Sataloff

Index