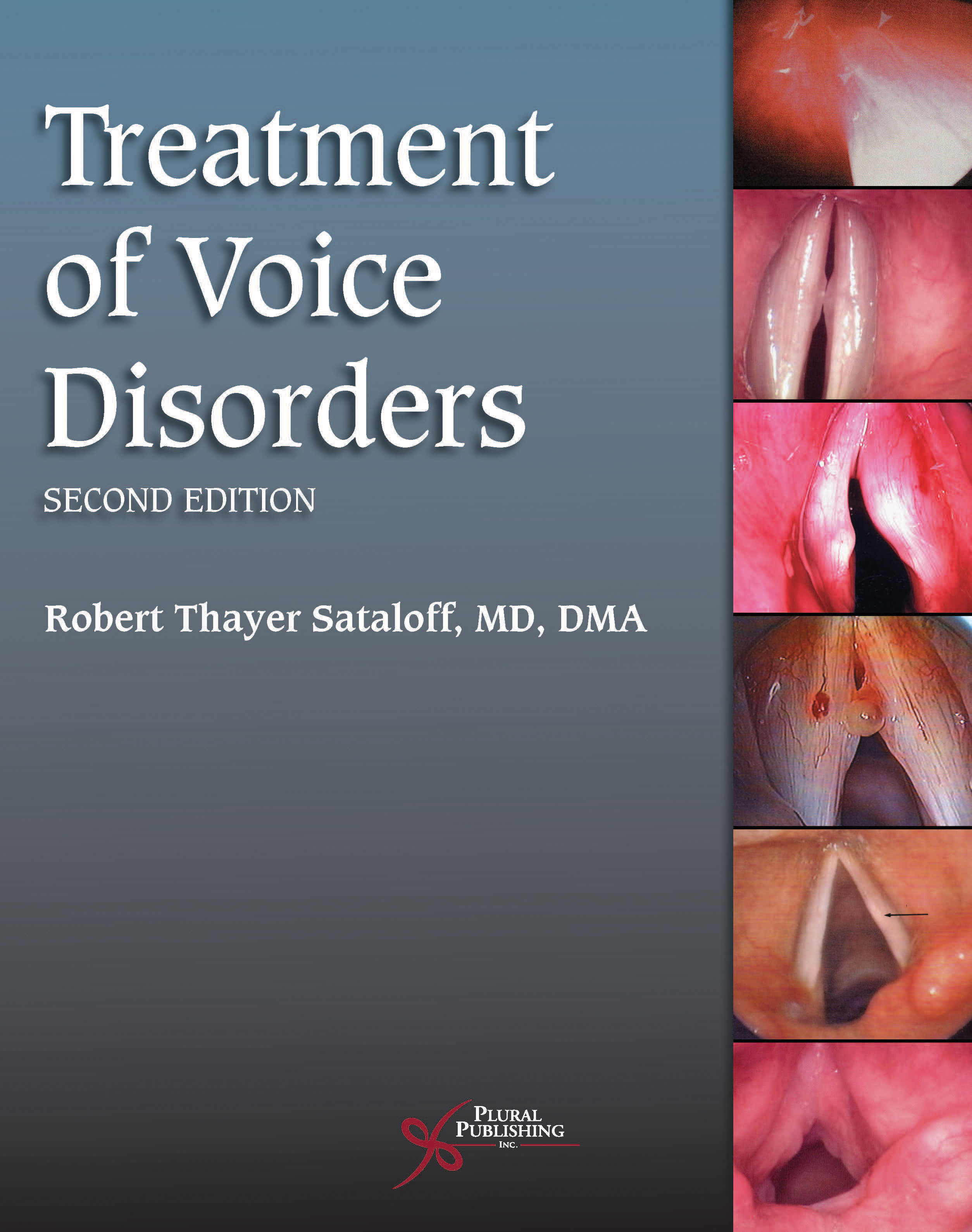 Treatment of Voice Disorders
Second Edition
Robert T. Sataloff
Details: 558 pages, Full Color, Softcover, 8.5" x 11"
ISBN13: 978-1-59756-861-6
© 2017 | Available
Treatment of Voice Disorders, Second Edition presents the entire range of behavioral, medical, and surgical voice treatment options from the perspective of a variety of specialist practitioners with exceptional breadth and clarity. As suggested in the opening chapter, contemporary treatment of voice disorders draws on interdisciplinary expertise, and the book is true to that perspective. The team approach to voice treatment is realized through the contributions of laryngologists, speech-language pathologists, singing voice specialists, nurses, physiotherapists, acting voice trainers, and others.
The reader will find discussion of various treatment procedures, including surgical, pharmacological, and behavioral. This text presents essential information that allows for the effective interaction of various specialties. For example, behavioral specialists can draw on the information that is given on surgery, trauma and injury, and medications. This book is at once a template for team-based treatment and a deep informational resource for treatment alternatives. Its scope and depth make it a book that the voice specialist will want to keep close at hand.
New to the Second Edition
New content on topics such as technology in the studio and pedagogy for children.
Many topics have been expanded to highlight current practices, to include information published since the previous edition, and to present current management approaches.
Chapters have been rewritten extensively to include the most current techniques and to reflect the latest beliefs and practices, as well as the most recent information from the evolving literature in this field.
Chapter 16 on nutrition has been completely rewritten and includes important changes in criteria and strategy, reflecting developments in nutritional science over the past decade.
New material on topics such as choral pedagogy for geriatric singers, laryngeal manipulation, and cosmetic procedures and their implications for voice professionals.

Treatment of Voice Disorders, Second Edition is ideal for speech-language pathology students and clinicians and is suitable for classroom use as well as for reference. It is an essential volume for anyone concerned with voice disorders.
Foreword by Raymond D. Kent, PhD
Preface
Acknowledgments to the Second Edition
About the Author
Contributors
Dedication
Chapter 1. Voice Care Professionals: A Guide to Voice Care Providers
Robert Thayer Sataloff, Yolanda D. Heman-Ackah, and Mary J. Hawkshaw
Chapter 2. Introduction to Treating Voice Abuse
Robert Thayer Sataloff
Chapter 3. Speech-Language Pathology and the Professional Voice User: An Overview
Carol N. Wilder
Chapter 4. Voice Therapy
Bridget Rose, Michelle Horman, and Robert Thayer Sataloff
Chapter 5. Voice Rest
Adam D. Rubin, Robert Thayer Sataloff, Susan E. Cline, Jean Skeffington, and Karen M. Lyons
Chapter 6. Increasing Vocal Effectiveness
Bonnie N. Raphael and Robert Thayer Sataloff
Chapter 7. The Singing Teacher in the Age of Voice Science
Richard Miller
Chapter 8. Historical Overview of Voice Pedagogy
Richard Miller
Chapter 9. The Singing Voice Specialist
Margaret M. Baroody, Robert Thayer Sataloff, and Linda M. Carroll
Chapter 10. Use of Instrumentation in the Singing Studio
Robert Thayer Sataloff
Chapter 11. Choral Pedagogy and Vocal Health
Brenda J. Smith and Robert Thayer Sataloff
Chapter 12. Amateur and Professional Child Singers: Pedagogy and Related Issues
Valerie L. Trollinger and Robert Thayer Sataloff
Chapter 13. The Role of the Acting-Voice Trainer in Medical Care of Professional Voice Users
Sharon L. Freed, Bonnie N. Raphael, and Robert Thayer Sataloff
Chapter 14. Laryngeal Manipulation
John S. Rubin, Jacob Lieberman, and Tom M. Harris
Chapter 15. The Effects of Posture on Voice
John S. Rubin, Ed Blake, Lesley Mathieson, and Hala Kanona
Chapter 16. Nutrition and the Professional Voice
Jennifer A. Nasser and Nyree Dardarian
Chapter 17. Medications and the Voice
Robert Thayer Sataloff, Mary J. Hawkshaw, Joseph Anticaglia, Michelle White, Kirsten Meenan, and Jonathan J. Romak
Chapter 18. Psychiatric Manifestations of Medications Prescribed Commonly in Otolaryngology
Steven H. Levy, Mona M. Abaza, Mary J. Hawkshaw, Robert Thayer Sataloff, and Reinhardt J. Heuer
Chapter 19. Botulinum Toxin in Otolaryngology
Julia A. Pfaff, Michael C. Neuenschwander, Edmund A. Pribitkin, and Robert Thayer Sataloff
Chapter 20. Voice Surgery
Robert Thayer Sataloff
Chapter 21. Vocal Fold Hemorrhage
Robert Thayer Sataloff and Mary J. Hawkshaw
Chapter 22. Vocal Fold Scar
Jaime Eaglin Moore and Robert Thayer Sataloff
Chapter 23. Laryngotracheal Trauma
Yolanda D. Heman-Ackah and Robert Thayer Sataloff
Chapter 24. Cricoarytenoid and Cricothyroid Joint Injury: Evaluation and Treatment
Robert Thayer Sataloff
Chapter 25. Management of Gender Reassignment Patients
Reinhardt J. Heuer, Margaret M. Baroody, and Robert Thayer Sataloff
Chapter 26. Premalignant Lesions of the Larynx
Amanda Hu, Carole M. Dean, and Robert Thayer Sataloff
Chapter 27. Laryngeal Cancer
Timothy D. Anderson and Robert Thayer Sataloff
Chapter 28. Nursing Considerations in the Care of Professional Voice
Mary J. Hawkshaw and Robert Thayer Sataloff
Chapter 29. Controversy in the Care of Singers and Professional Voice Users
Clark A. Rosen and Kimberly M. Steinhauer
Chapter 30. Voice Horizons
John S. Rubin and Robert Thayer Sataloff
Appendix I
Appendix II
Appendix III
Appendix IV
Glossary
Index