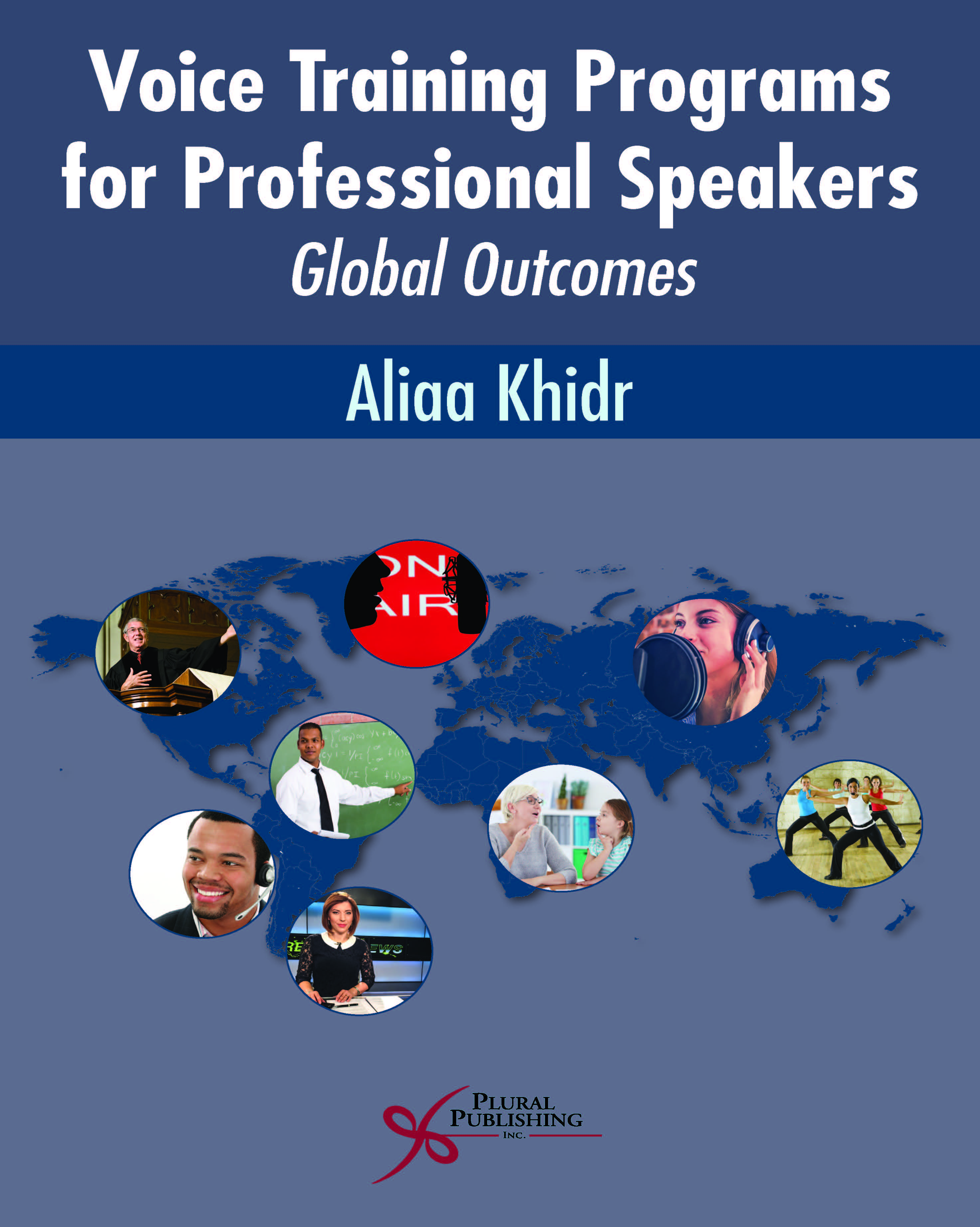 Voice Training Programs for Professional Speakers: Global Outcomes
First Edition
Aliaa Khidr
Details: 280 pages, B&W, Softcover, 7" x 10"
ISBN13: 978-1-59756-966-8
© 2017 | Available
Voice Training Programs for Professional Speakers: Global Outcomes is a professional resource for voice education and training programs used to care for the voice of different professional speakers and occupational voice users. This includes teachers, media reporters, fitness instructors, telemarketers, clergy, speech pathologists, and more. Each chapter is authored by an experienced voice clinician who provides a clear description of a target population and its challenges, as well as a detailed roadmap describing a unique global experience in developing, implementing, and advocating for these programs in academic institutions, professional unions, and workplaces.
This book provides detailed steps and outcomes of globally tested health care and voice training programs for each of the professional speaker populations addressed. Voice Training Programs for Professional Speakers can thus be used by phoniatricians, logopedists, speech-language pathologists, and vocal coaches as a comprehensive resource for tailored preventative and management programs. It can also be used by future and current professional speakers as a great self-education resource to help them better care, develop, and advocate for their own voices and careers.
Introduction
Foreword
Contributors
Section I. Practices and Outcomes of Experts From Europe
Chapter 1. Voice Ergonomics for Professional Speakers: Who Needs Them? Who Provides Them? What Do They Do?
Leena Rantala and Eeva Sala
Chapter 2. Test-Theory-Training-Transfer: Voice Training in Future Radio Presenters
Bernadette Timmermans and Marc De Bodt
Section II. Practices and Outcomes of an Expert From Africa
Chapter 3. Developing an In-Class Voice Education and Training Program for Prospective Speech-Language Pathologists
Aliaa Khidr, Meredith Roper, and Michael Hull
Section III. Practices and Outcomes of an Expert From Australia
Chapter 4. Keeping the Voice Fit: Voice Education and Training for the Fitness Industry
Anna Rumbach
Section IV. Practices and Outcomes of Experts From South America
Chapter 5. Speech-Language Pathology Services for Professional Television Broadcasters
Vanessa Pedrosa
Chapter 6. Vocal Health Program for Teachers
Fabiana Zambon, Luiz Antonio Barbagli, and Mara Behlau
Chapter 7. Vocal Health and Communication Training of Telemarketers in Brazil
Ana Elisa Moreira-Ferreira
Section V. Practices and Outcomes of an Expert From North America
Chapter 8. Speaking From the Soul: Theatre Voice and Text Work for Clergy
Kate Burke
Index