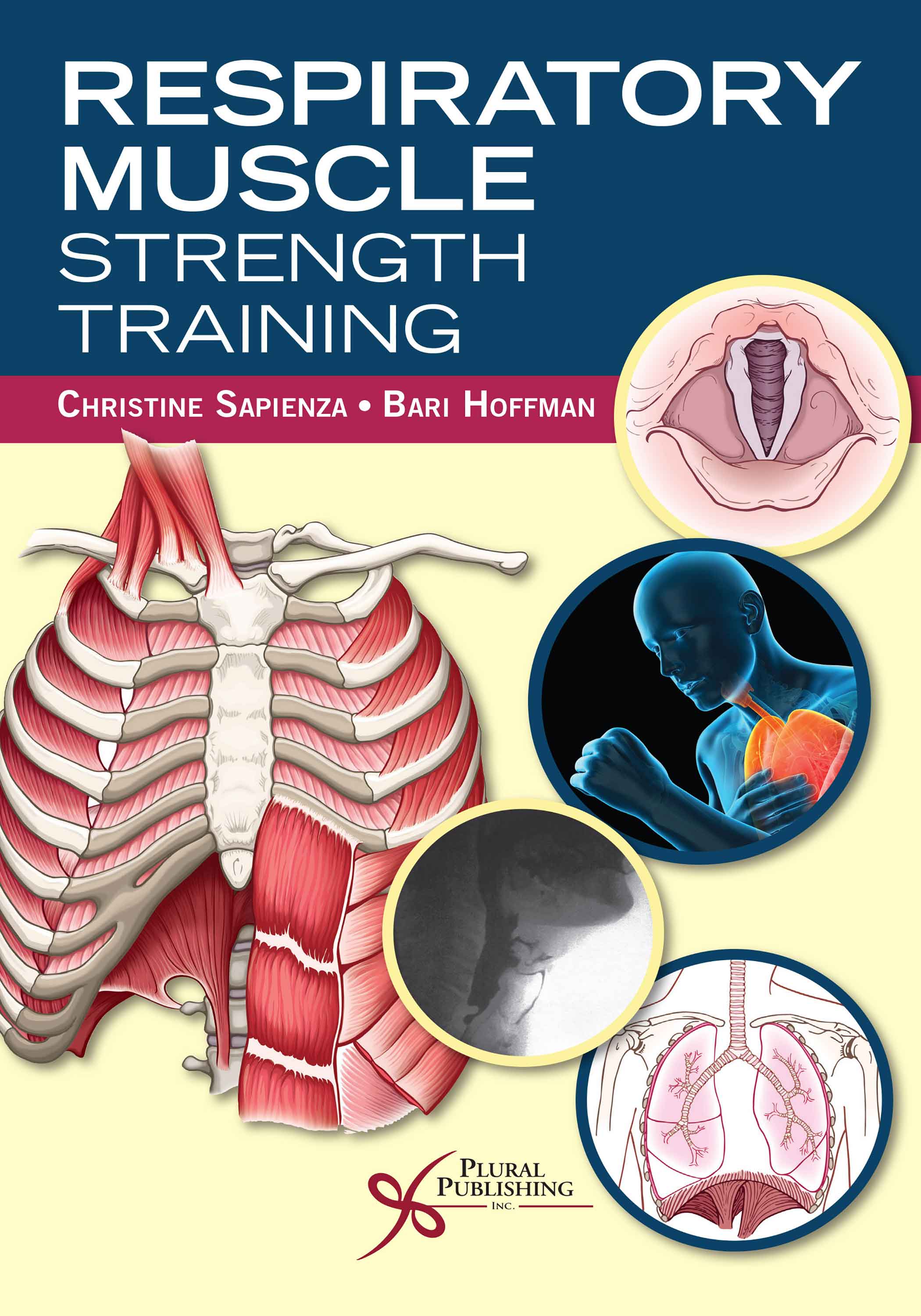 Respiratory Muscle Strength Training
First Edition
Christine Sapienza, Bari Hoffman
Details: 279 pages, B&W, Softcover, 6" x 9"
ISBN13: 978-1-63550-257-2
© 2021 | Available
Respiratory Muscle Strength Training is a clinical guide, intended to provide clinicians with the background information they need to understand respiratory muscle strength training (RMST). With a variety of case studies provided by well-known authors and clinicians, this text acts as a guidebook to the RMST protocol and provides practical information for use in the field of healthcare.
In addition to real-world case studies, Respiratory Muscle Strength Training includes a chapter devoted to Frequently Asked Questions, a representative sample of the devices commonly used for respiratory training, and instructions for using them in patient care.
Review
"The purpose of the book is to provide historical background on the development and use of RMST protocols relevant to practice in speech-language pathology. This book is very relevant and needed as use of RMST is rapidly expanding in the field of speech-language pathology. The authors meet their objectives, providing a strong historical background and evidence base regarding practical application of RMST.
[...] it is an excellent resource for practitioners in speech-language pathology who are wanting to learn more about RMST in order to start or expand use of RMST with their patients. The authors are known experts in the area of RMST and have extensive experience with research and education on this topic.
The book contains a thorough review of anatomy and physiology relevant to RMST, the background and history of RMST, a description of what RMST is and how it works, information about RMST devices, and practical information and case studies that offer guidance on how to use RMST with various patient populations. The authors write on a complex topic in a way that is clear and accessible for professionals at different levels of knowledge in this area. Appendix A provides a comprehensive list of available RMST devices and appendix B provides specific instructions on how to use RMST devices. Chapter 18 includes a very helpful 'frequently asked questions' list.
This book is practical and helpful. I most appreciated the case studies, which make the book content feel relevant and useful. The FAQ chapter was also very helpful and addressed several of the questions I had while reading."
—Teri A. Clemons, SLPD, Biola University, in Doody's Book Reviews (May 2021)
Preface
About the Editors
Contributors
Chapter 1. Respiratory Anatomy and Physiology
Christine Sapienza
Chapter 2. Neuroanatomy and Neurophysiology of the Respiratory Muscle System
Christine Sapienza
Chapter 3. The Laryngeal Valve
Gayle Woodson
Chapter 4. Skeletal Muscle Structure and Function
David Hooper, Catherine Saenz, and Carena Winters
Chapter 5. Respiratory Muscle Training
Scott K. Powers, Mustafa Ozdemir, Matthew P. Bomkamp, and Hayden Hyatt
Chapter 6. Respiratory Muscle Strength Training Devices
Christine Sapienza
Chapter 7. Respiratory Training for Special Populations
Christine Sapienza and Michelle Troche
Chapter 8. Case: Inspiratory Muscle Strength Training in an Adolescent With Grade 1 Subglottic Stenosis
Susan Baker Brehm and Barbara D. Weinrich
Chapter 9. Exercise-Induced Laryngeal Obstruction and Inspiratory Muscle Training
Astrid Sandnes, Hege Havstad Clemm, Tiina Andersen, Thomas Halvorsen, and Ola Drange Røksund
Chapter 10. Using Expiratory Muscle Strength Training With Velopharyngeal Insufficiency (VPI) Conditions
Yaser S. Natour and Wesam B. Darawsheh
Chapter 11: Incorporating RMST Into Voice Therapy for a Patient with Vocal Fold Paresis
Adam T. Lloyd, Michelle M. Bretl, and Jennylee Diaz
Chapter 12. Using EMST for Treatment of Dysphagia for a Complex Patient in the Acute Care Setting
Vicki Lewis
Chapter 13. The Use of Expiratory Muscle Strength Training in the Treatment of Chronic Refractory Cough and Presbyphonia
Austin Collum and Emily Dunn
Chapter 14. Respiratory Muscle Strength Training for Treatment of Communication and Swallowing Deficits in Tracheostomy and Ventilator-Dependent Patients
Maribel Ciampitti
Chapter 15. Respiratory Muscle Strength Training for a Patient with Head and Neck Cancer
Irene de Pedro Netto Vartanian, Jose Guilherme Vartanian, and Renan Bezerra Lira
Chapter 16. RMST Case: Late Radiation-Associated Dysphagia (Late-RAD) in Head and Neck Cancer Survivorship
Carly E. A. Barbon and Katherine A. Hutcheson
Chapter 17. Expiratory Muscle Strength Training (EMST) in the Laryngectomized Patient
Bari Hoffman, Vicki Lewis, and Henry Ho
Chapter 18. Frequently Asked Questions
Christine Sapienza
Appendix A. Representative Sample of Devices Used for Respiratory Training
Appendix B. Instructions for Using Respiratory Training Devices
Index