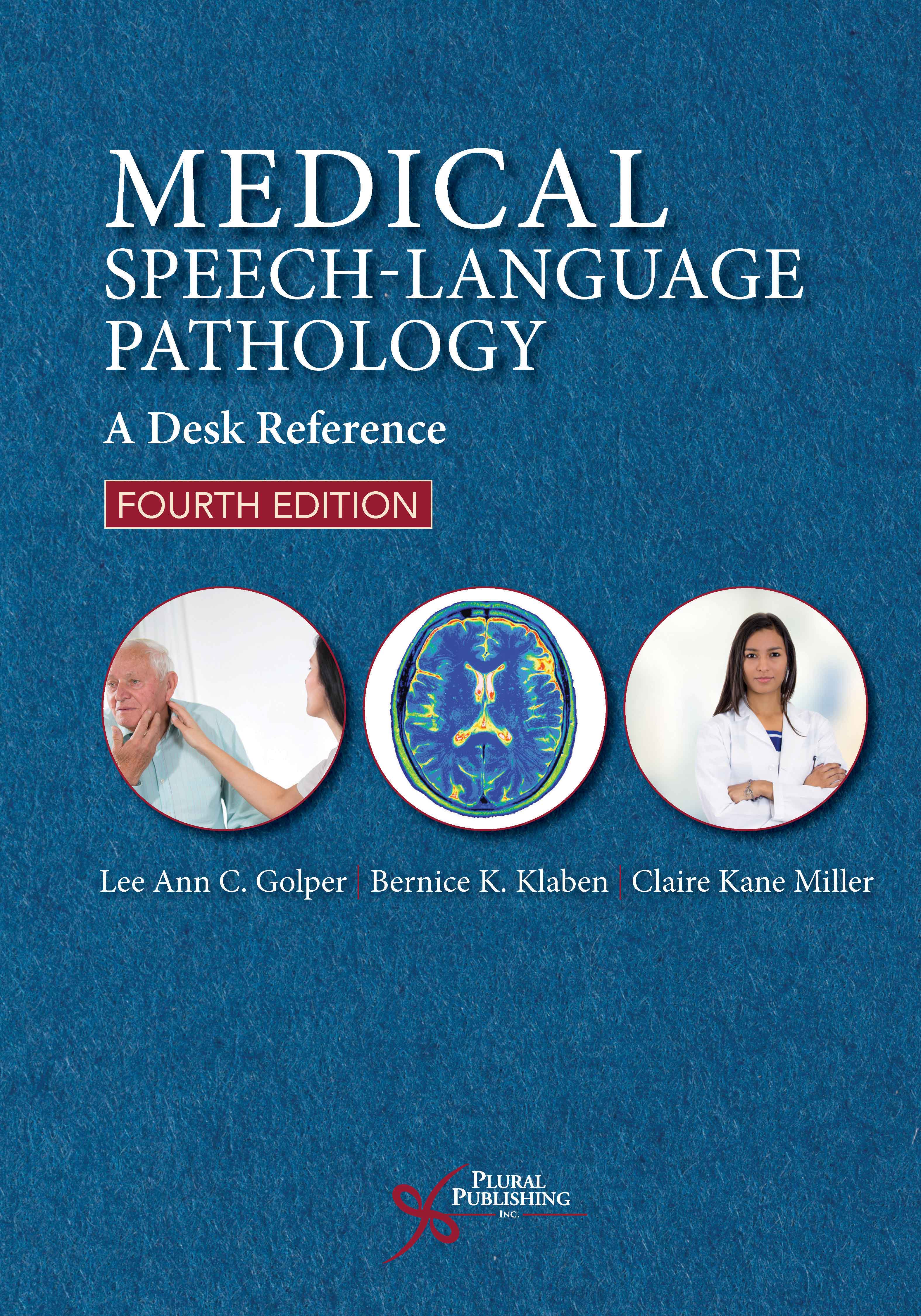 Medical Speech-Language Pathology: A Desk Reference
Fourth Edition
Lee Ann C. Golper, Bernice K. Klaben, Claire Kane Miller
Details: 663 pages, B&W, Spiral Bound, 7" x 10"
ISBN13: 978-1-94488-376-8
© 2019 | Available
Medical Speech-Language Pathology: A Desk Reference, Fourth Edition is an easily accessible quick reference providing brief definitions, descriptions, and explanations into the vernacular that is integral to those who work in a health care setting. The purpose of this text is to advance the competencies and confidence of speech-language pathology (SLP) clinicians working in medically related settings by familiarizing them with the language, principles, practices, and procedures they will encounter.
New to This Edition
Contributions and editing by coauthors Bernice K. Klaben, PhD, and Claire Kane Miller, PhD. Each of these authors brings a master clinician level of knowledge and experience as medical speech-language pathologists.
New terminology, abbreviations, and medical tests and procedures.
Expanded in this fourth edition is the vastly changed role of the SLP in the neonatal intensive care unit and inpatient services in children's hospitals. Information related specifically to newborns and young children has been added to nearly every chapter.
Material has been added related to medical genetics (Chapter 6).
The discussion of oncology (Chapter 12) has been expanded to include the current tumor classifications and therapies.
The SLP's role with geriatric medicine has expanded in recent decades; thus, a chapter on rehabilitation medicine and geriatrics (Chapter 14) has been given greater attention as clinicians are increasingly participating in palliative care teams.

Key Features
Concise, comprehensive, contextual, and well-organized definitions about medical terminology, principles, and practices.
Information related to working with children and newborns infused throughout the text.
Explanations about how speech-language pathology expertise is integrated into health care services across the gamut of medical disciplines.
Knowledge about health care and health services delivery to advance career development.

In medical settings, the SLP's treatment decisions are directly related to health and safety as well as communication; thus, clinicians who work in medical speech-language pathology must have a basic understanding of the conditions that have brought patients to the hospital or clinic and what is being done to manage them. This text is intended to provide that basic understanding as a desk reference for practicing clinicians in health care-related facilities, such as hospitals, rehabilitation programs, private practice, outpatient clinics, nursing homes, and home health agencies. It is also intended as a handy reference for clinicians who work in school and preschool settings, providing services to children with medically related communication and swallowing disorders within their caseloads, to better understand the medical histories, conditions, and the medical management of these children.
Reviews
"Named to Doody's Core Titles in the Health Sciences - Speech, Language & Hearing 2020 list."
—Doody's (May 2020)
Preface
Acknowledgments
About the Authors
Chapter 1. Speech-Language Pathology in Medical Settings
I. Chapter Focus
II. Speech-Language Pathology in Medical Settings
III. Health Care Personnel
IV. Training and Education for Health Care Personnel
V. Health Services Administration
VI. Health Services Organizations
VII. Health Care Services Locations and Settings
VIII. Rounds and Conferences
IX. Medical Staff Privileges, Credentials, and Hierarchies
X. States of Illness
XI. Clinical Competencies
XII. References and Resources Consulted
Chapter 2. Communicating Information and Record Keeping
I. Chapter Focus
II. Sources for Medical Terminology
III. Common Medical Terminology
IV. Roots, Prefixes, Suffixes, Plurals, and Pronunciation
V. Purposes, and Formats of Medical Records
VI. Electronic Records
VII. Guidelines for Provider Entries in Progress Notes
VIII. Patient and Family Education
IX. Organization of Information
X. Notes in Medical Center Training Programs
XI. Symbols, Prescriptions, and Administration of Drugs
XII. Administrative Terminology and Abbreviations
XIII. Right to Privacy, Confidentiality, and Informed Consent
XIV. Medical Ethics and Ethical Reviews
XV. Clinical Competencies
XVI. References and Resources Consulted
Chapter 3. Vital Signs and the Physical Examination
I. Chapter Focus
II. Vital Signs and the Physical Examination
III. Medical History, Review of Systems, and Physical Examination
IV. Commonly Ordered Tests and Procedures
V. Monitoring and Recording Vital Signs
VI. Apgar Scores and Estimation of Gestational Age
VII. Normal Growth, Respiratory Rates, and Blood Pressure in Children
VIII. Clinical Competencies
IX. References and Resources Consulted
Chapter 4. Mental Status and the Neurologic Examination
I. Chapter Focus
II. Terminology and Abbreviations
III. Mental Status Examination
IV. Confusion, Coma, Delirium, and Dementia
V. Commonly Ordered Neurologic Studies
VI. DSM–5 Classification
VII. Pain and Sleep
VIII. Clinical Competencies
IX. References and Resources Consulted
Chapter 5. Nutrition, Hydration, Feeding, and Swallowing
I. Chapter Focus
II. Terminology and Abbreviations
III. Procedures, Tests, and Therapies
IV. Enteral and Parenteral Nutrition
V. Nutrition, Hydration, and Oral Feeding in Infants and Children
VI. Special Feeding Devices for Infants and Children
VII. Adult Nutrition and Hydration
VIII. Iatrogenic Malnutrition in the Elderly
IX. Prescribed Diets
X. Nutrition and Hydration Notes
XI. Clinical Competencies
XII. References and Resources Consulted
Chapter 6. Medical Genetics
I. Chapter Focus
II. Terminology and Abbreviations
III. Basic Concepts in Human Genetics
IV. Pedigree
V. Clinical Competencies
VI. References and Resources Consulted
Chapter 7. Imaging Studies and Radiologic Oncology
I. Chapter Focus
II. Terminology and Abbreviations
III. Fundamental Concepts
IV. Radiation Oncology
V. Clinical Competencies
VI. References and Resources Consulted
Chapter 8. Infectious Diseases and Infection Control
I. Chapter Focus
II. Terminology and Abbreviations
III. Universal Precautions
IV. Prevention and Personal Protection
V. Infection Control Practitioners
VI. Common Infections and Diseases
VII. Neurologic Infections
VIII. Nosocomial Infections
IX. HIV–AIDS
X. Infections in Newborns
XI. Clinical Competencies
XIII. References and Resources Consulted
Chapter 9. Cardiac, Pulmonary, and Hematologic Functions
I. Chapter Focus
II. Cardiology: Terminology, Abbreviations, Fundamental Principles, and Procedures
III. Pulmonology: Terminology, Abbreviations, Fundamental Principles, and Procedures
IV. Hematology: Terminology, Abbreviations, Fundamental Principles, and Procedures
V. Cardiopulmonary Resuscitation (CPR)
VI. Clinical Competencies
VII. References and Resources Consulted
Chapter 10. Neurologic and Psychiatric Disorders and Syndromes
I. Chapter Focus
II. Neurologic Disorders
III. Psychiatric Disorders
IV. Clinical Competencies
V. References and Resources Consulted
Chapter 11. Acute and Critical Illnesses
I. Chapter Focus
II. Acute and Critical Conditions
III. Clinical Competencies
IV. References and Resources Consulted
Chapter 12. Oncology
I. Chapter Focus
II. Terminology and Abbreviations
III. Types of Cancer
IV. Classification and Staging of Cancer
V. Cancer Therapies
VI. Clinical Competencies
VII. References and Resources Consulted
Chapter 13. Surgeries and Other Invasive Procedures
I. Chapter Focus
II. Surgical Terminology and Abbreviations
III. Surgeries and Other Invasive Procedures
IV. Surgical Instruments
V. Clinical Competencies
VI. References and Resources Consulted
Chapter 14. Rehabilitation Medicine and Geriatrics
I. Chapter Focus
II. Terminology and Abbreviations
III. Fundamental Principles
IV. Functional Ratings in Pediatric and Geriatric Rehabilitation
V. Biomedical Ethics
VI. End of Life
VII. Clinical Competencies
VIII. References and Resources Consulted
Appendix. Anatomical Figures
Index