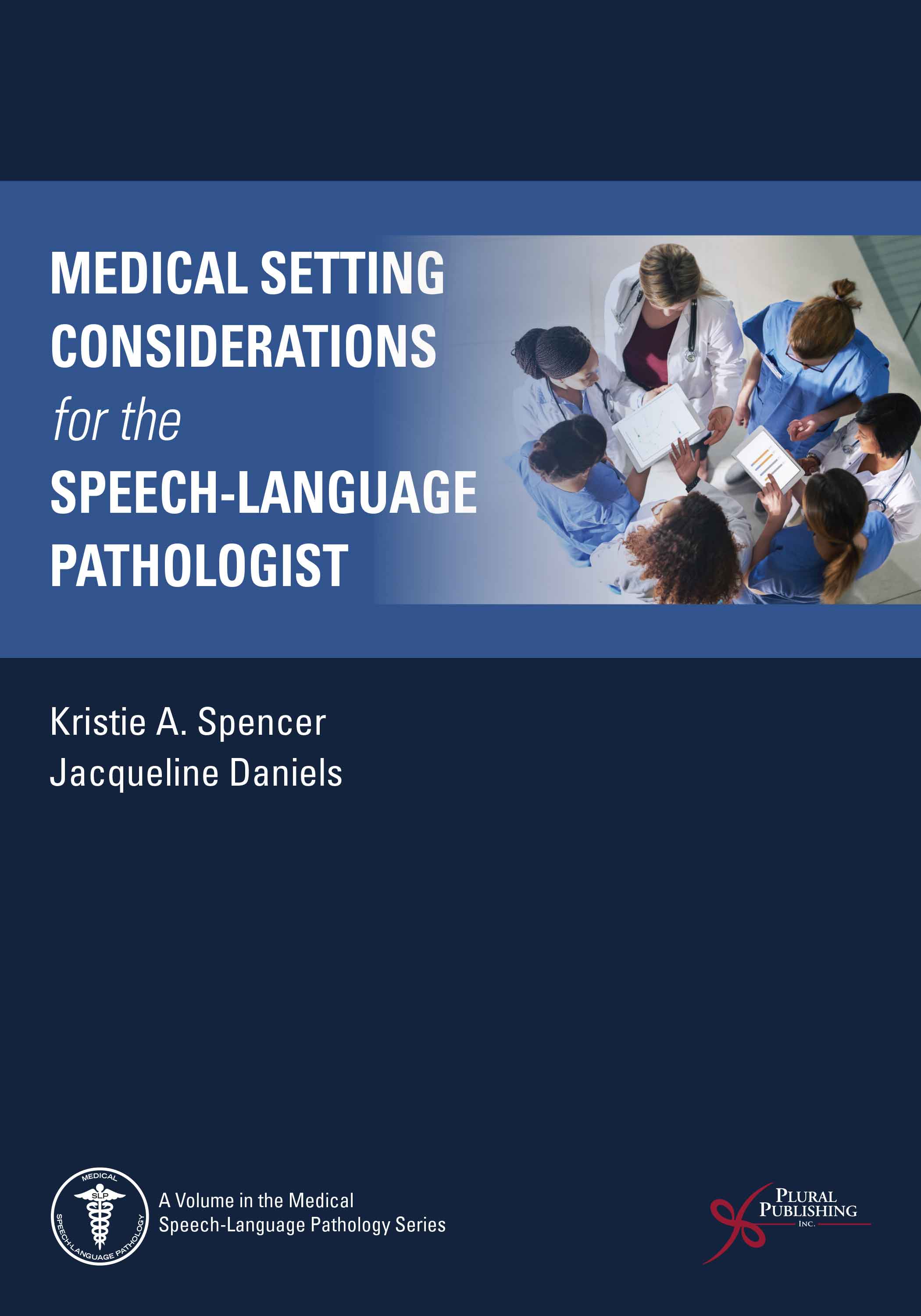 Medical Setting Considerations for the Speech-Language Pathologist
Kristie A. Spencer, Jacqueline Daniels
Details: 154 pages, B&W, Softcover, 7" x 10"
ISBN13: 978-1-63550-103-2
© 2020 | Available
A Volume in Plural's Medical Speech-Language Pathology Book Series
Medical Setting Considerations for the Speech-Language Pathologist is the first volume in the "Medical Speech-Language Pathology" book series. The series provides graduate students, clinicians, and clinical researchers with functional, comprehensive material to enhance practice in a medical setting. This first book in the series will foster an appreciation of the unique skill set and knowledge base needed by a medical speech-language pathologist.
The chapters contain information applicable to a broad range of medical and rehabilitation settings, while delving deeper into complex topics that merit extra attention, such as neuroimaging methods and medication side effects. Readers will come to appreciate the many roles and responsibilities of the speech-language pathologist in the medical setting, across the continuum of care. They will gain familiarity with broader organizational issues, such as accreditation, billing, and medical team members, as well as the specific clinical populations often encountered in medical settings, such as individuals with Parkinson's disease, delirium, or tongue cancer. Throughout the book, case studies are used to highlight the role of the medical SLP, and to underscore the remarkably dynamic and complex caseloads encountered by the medical SLP.
Medical Setting Considerations for the Speech-Language Pathologist is authored by experienced professionals and content experts who transform the research literature into clinically applicable and digestible information, with the series editors Kristie A. Spencer and Jacqueline Daniels leading the cohort.
Reviews
"This book provides introductory information about medical speech-language pathology on a variety of topics and it introduces the role of the SLP among the members of the medical and rehabilitation team. The sections addressing various disorders, their potential impact on communication and/or swallowing, and the role of the SLP are great features. This information becomes even more meaningful when the authors present case studies at the end of the chapters, which integrate the information and would likely generate questions and discussions in classrooms and among supervisors and students. The other sections of the book regarding neuroimaging, pharmacology, and infection control all contain information that is essential to understand for SLPs who interact in these settings."
—Jonelyn Langenstein, MM, MS, CCC-SLP, BCS-S, Northwestern University Feinberg School of Medicine, in Doody's Book Reviews (July 2019)
"Medical Setting Considerations for the Speech-Language Pathologist is an excellent resource for graduate students, new clinicians, SLPs looking to change medical settings, and seasoned clinicians who wish to learn more about neuroimaging or the impact of specific medications on their patients' overall function. This book provides information including; the different team members with which the med SLP may come into contact, the types of patients med SLPs may encounter in various settings as well as assessments and interventions which may be considered based on the specific impact on communication, swallowing, and cognition, various neuroimaging techniques, medications which may impact overall patient function, and precautions to ensure the safety of the SLP and their patients. Often in SLP forums, there are many frequently posted questions by new and experienced clinicians alike such as the role of the SLP in treating patients with delirium or the long term effects of altered mental status on cognitive function. Medical Setting Considerations for the Speech-Language Pathologist should answer many of those frequently asked questions. Case studies are also provided at the end of the chapters to tie the information presented in real-life contexts. Prior to reading this book, I had not considered the role of the med SLP in working with hospitalized or institutionalized patients with developmental disorders who are typically managed by pediatric or school-based SLPs. As a result of reading this book, I feel more empowered to help these other patient populations. The detailed charts are also invaluable reference materials for SLPs at all stages of their careers."
—Ainsley Martin, MS, CCC-SLP on The SLP Revolution Blog
Series Overview
Preface
Contributors
Acknowledgments
Chapter 1. The Medical Environment: Team Members and Organizational Issues
Jacqueline Laures-Gore
Chapter 2. Clinical Populations Encountered by the Medical Speech-Language Pathologist
Rene Ruzicka Kanadet, Doreen Kelly Izaguirre, Matina Balou, and Kristie A. Spencer
Chapter 3. A Guide to Neuroimaging for the Medical Speech-Language Pathologist
Linda I. Shuster
Chapter 4. Clinical Considerations of Medication Use in Patients With Swallowing and Communication Disorders
Angela M. Hill, Katlynd Marie Sunjic, Alexandra E. Brandimore, and Sheeba Varghese Gupta
Chapter 5. Infection Control Precautions for the Speech-Language Pathologist
Jacqueline Daniels and Kristie A. Spencer
Index