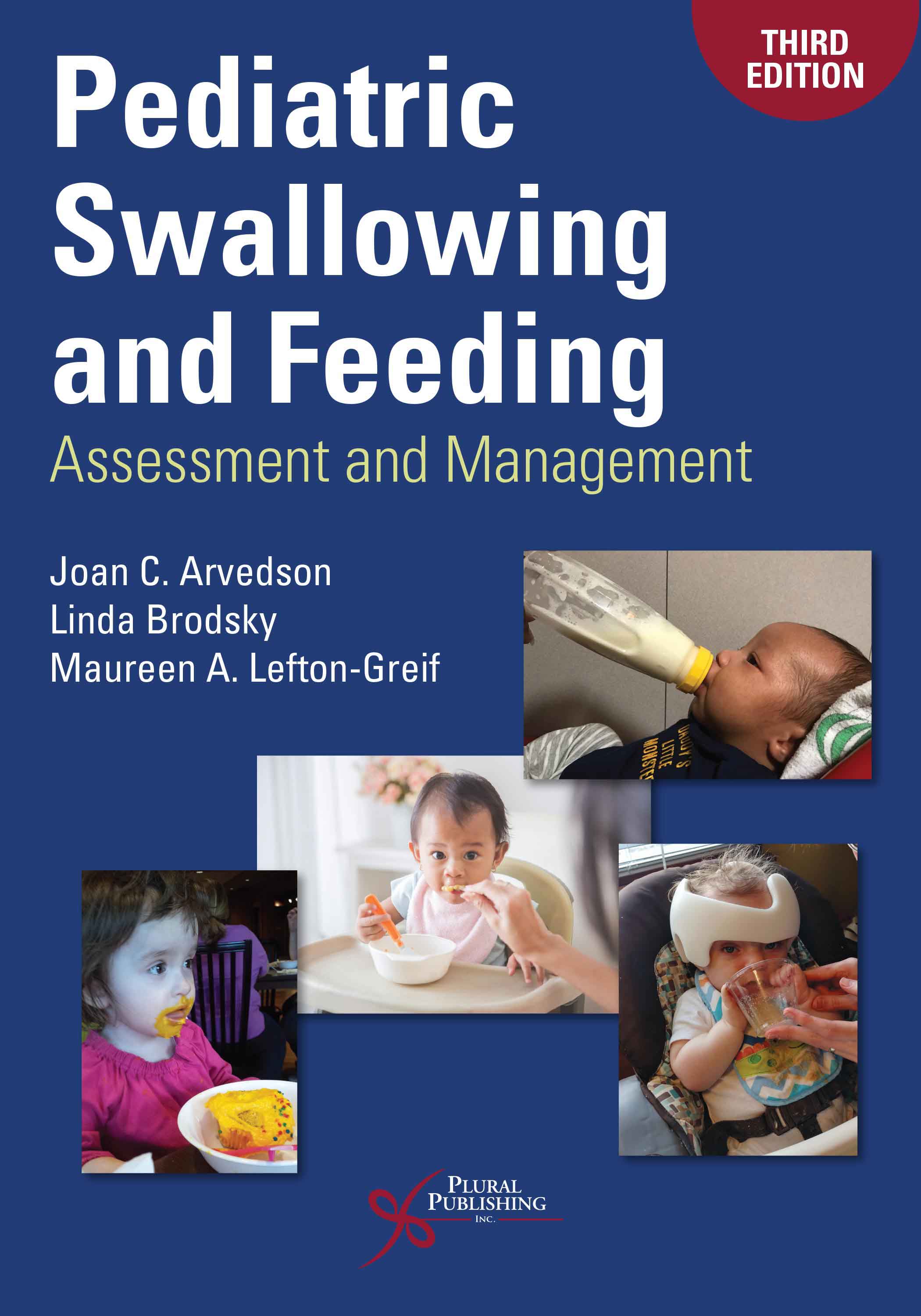 Pediatric Swallowing and Feeding: Assessment and Management
Third Edition
Joan C. Arvedson, Linda Brodsky, Maureen A. Lefton-Greif
Details: 602 pages, B&W, Softcover, 7" x 10"
ISBN13: 978-1-94488-351-5
© 2020 | Available
Pediatric Swallowing and Feeding: Assessment and Management, Third Edition provides information to practitioners interested in and involved with children who demonstrate swallowing and feeding disorders. Since the 2002 publication of the second edition, there has been an exponential increase in the number of medically fragile and complex children with swallowing/feeding disorders. A corresponding proliferation in the related basic and clinical research has resulted in the increased appreciation of the complicated inter-relationships between structures and systems that contribute to swallowing/feeding development, function, and disorders. Case studies throughout the book provide examples for decision making and highlight salient points.
New to the Third Edition
Maureen A. Lefton-Greif, PhD, CCC-SLP, BCS-S, is welcomed as co-editor. She brings extensive research expertise and clinical practice in pediatric dysphagia and feeding.
All chapters contain significant updated evidence-based research and clinical information.
New chapters focus on the genetic testing and conditions associated with swallowing and feeding disorders, and the pulmonary manifestations and management of aspiration.
World Health Organization (WHO) description of an International Classification of Functioning, Disability, and Health (ICF) sets the stage for an in-depth discussion of clinical feeding evaluation procedures, interpretation, and management decision making.
Pediatric Swallowing and Feeding continues to be the leading text on pediatric dysphagia that provides practical information for clinicians seeing children with swallowing and feeding disorders. The overall importance of an appropriate fund of knowledge and shared experience employing team approaches is emphasized throughout this third edition as in the earlier editions of this book.
From the Foreword
"The Editors have recognized the advances and changes in the understanding in the information now available for the care of pediatric swallowing and feeding challenges. They have recruited an outstanding group of contributors for this newest edition. There are numerous critically important updates and additions in the third edition. They have included World Health Organizations International Classification of Functioning, Disability and Health is the functional basis in all areas of the book. This text has its importance as there has been an increased number of children with complex medical and healthcare conditions which are risk for feeding and swallowing disorders. This edition stresses the need for team approaches and also documents the use of "virtual" teams ...Pediatric Swallowing and Feeding: Assessment and Management, Third Edition is the fundamental holistic source for all healthcare providers providing the care for swallowing and feeding in children. This book will be utilized by all caring for children with feeding and swallowing problems throughout the world. The previous editions have been and now this updated third edition continues to be the standard source for the information concerning diagnosis and care of these children."
—Robert J. Ruben, MD, FAAP, FACS
Distinguished University Professor
Departments of Otorhinolaryngology – Head and Neck Surgery and Pediatrics
Albert Einstein College of Medicine
Montefiore Medical Center
Bronx, New York
Reviews
"Named to Doody's Core Titles in the Health Sciences - Speech, Language & Hearing 2020 list."
—Doody's (May 2020)
Originally published in German and translated to English:
"The present book is a comprehensive standard work in its 3rd edition, which was published more than 25 years after the first edition. It is aimed at all professional groups dealing with paediatric dysphagia, eating/drinking and feeding disorders. The content is divided into 13 chapters [...] The chapters are supplemented by study sheets, templates for documentation and observation, and case studies. Of particular interest here is the approach as a "team evaluation" with a clear presentation from the different areas, whereby the team is composed differently depending on the case and inpatient and outpatient teams are also differentiated."
—Annette Münsterer, in Forum Logopädie (July 2020)
"Its contents inform speech and language specialists on the nature of swallowing, the etiology of relevant diseases, methods to evaluate disorders, and evidence-based therapies in the interventions for feeding problems in infants and children. In addition, the book could be useful for the pediatrician, gastroenterologist, otorhinolaryngology, occupational therapist, psychiatrist, nurses, lactation consultants, and families of children with feeding/swallowing problems. Intervention approaches are illustrated with case reports. In the third edition of this book, novel approaches and evaluation methods are discussed. In Chapters three to eight, the most important screening methods and instrumental evaluation (for example FEES, VFSS and ultrasound), as well as clinical evaluation of swallowing are presented. The advantages, disadvantages, implementation of each method is discussed in the ninth to thirteenth chapters, mainly focusing on interventions."
—Shamim Ghaz, Department of Speech Therapy, School of Paramedical Sciences, Mashhad University of Medical Sciences, Mashhad, Iran, in World Nutrition journal (March 2021)
Foreword
Preface
About the Editors
Contributors
Chapter 1. Overview of Diagnosis and Treatment
Joan C. Arvedson and Maureen A. Lefton-Greif

Chapter 2. Anatomy, Embryology, Physiology, and Normal Development
Joan C. Arvedson and Maureen A. Lefton-Greif

Chapter 3. Neurodevelopmental Assessment of Swallowing and Feeding
Brian Rogers and Shannon M. Theis

Chapter 4. The Upper Airway and Swallowing
Robert Chun and Margaret L. Skinner
Chapter 5. Pediatric Gastroenterology
Ellen L. Blank
Chapter 6. Pediatric Nutrition
Mary Beth Feuling and Praveen S. Goday
Chapter 7. Clinical Swallowing and Feeding Assessment
Joan C. Arvedson, Maureen A. Lefton-Greif, and Donna J. Reigstad
Chapter 8. Instrumental Evaluation of Swallowing
Maureen A. Lefton-Greif, Joan C. Arvedson, Robert Chun, and David C. Gregg
Chapter 9. Management of Swallowing and Feeding Disorders
Joan C. Arvedson, Maureen A. Lefton-Greif, and Donna J. Reigstad
Chapter 10. Pulmonary Manifestations and Management Considerations for Aspiration
J. Michael Collaco and Sharon A. McGrath-Morrow

Chapter 11. Drooling and Saliva/Secretion Management
Joan C. Arvedson and Maureen A. Lefton-Greif

Chapter 12. Clinical Genetics: Evaluation and Management of Patients With Craniofacial Anomalies Associated With Feeding Disorders
Julie E. Hoover-Fong and Natalie M. Beck
Chapter 13. Behavioral Feeding Disorders: Etiologies, Manifestations, and Management
Meghan A. Wall and Alan H. Silverman
Index