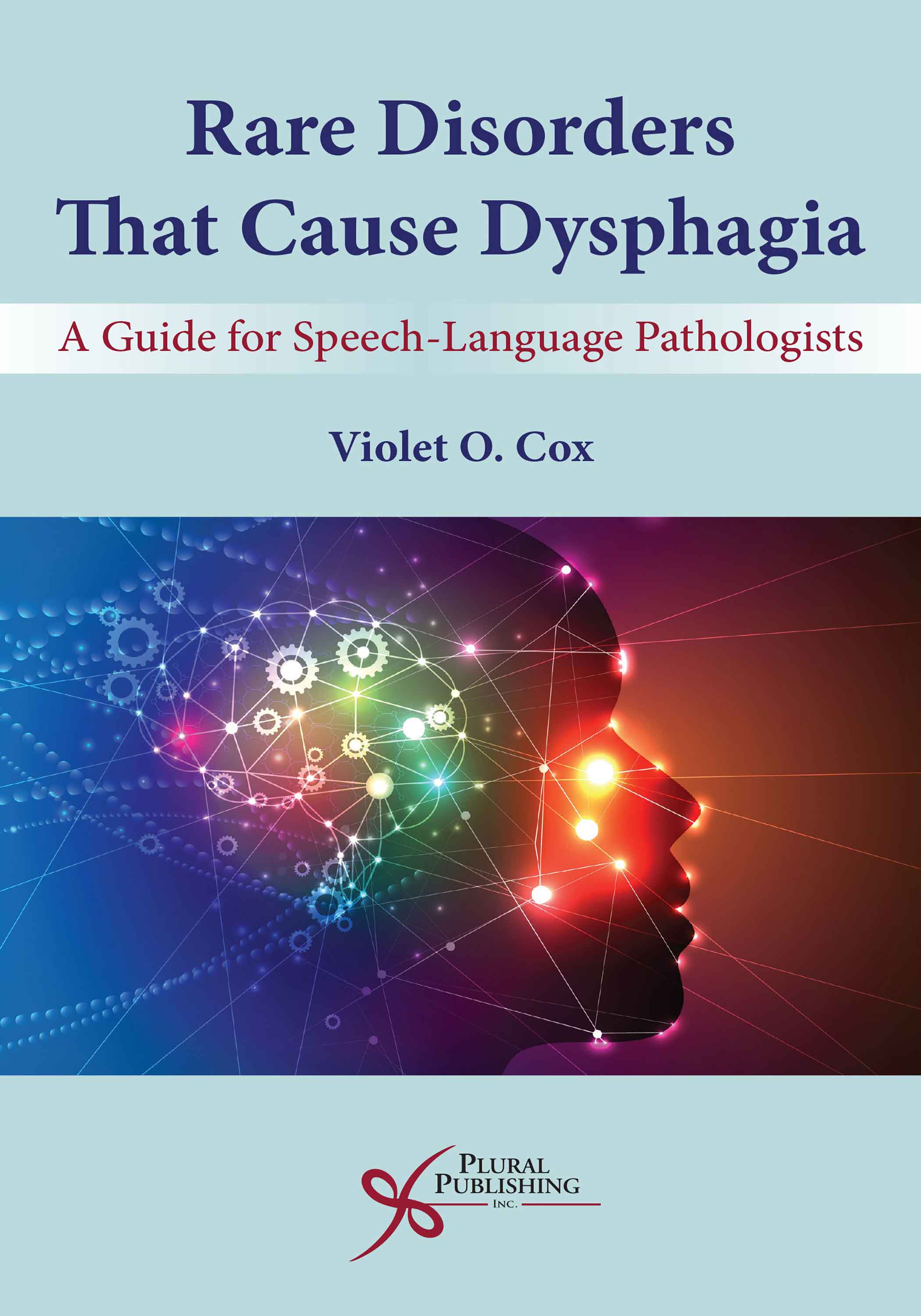 Rare Disorders that Cause Dysphagia: A Guide for Speech-Language Pathologists
First Edition
Violet O. Cox
Details: 217 pages, B&W, Softcover, 6" x 9"
ISBN13: 978-1-63550-142-1
© 2020 | Available
Rare Disorders That Cause Dysphagia: A Guide for Speech-Language Pathologists is a resource manual to help medical speech-language pathologists identify the rare disorders that cause dysphagia and offer practical, therapeutic approaches to treatment. Most medical speech-language pathologists are acquainted with common etiologies of dysphagia, such as strokes, head injury, brain tumors, etc. However, there are less common disorders and syndromes that contribute to dysphagia that are not included in most textbooks and reference guides. Consequently, many clinicians who specialize in swallowing disorders are unaware of the impact that most uncommon diseases can have on swallowing.
Clearly organized, each chapter is divided into six sections: Definition, History, Etiology, Epidemiology, Clinical Presentation, and Management of Dysphagia. Each chapter begins with a list of key terms that are bolded throughout the text and included in a glossary.
Review
Originally published in German and translated to English:
"Each chapter explains the definition, the etiology, the epidemiology, the symptomatology and also treatment approaches for one disorder, especially for disorders related to dysphagia. The descriptions of the respective pathologies, like Moebius Syndrome, Pontocerebellar hypoplasia, congenital esophageal stenosis and atresia, are very interesting.
The book is written in a simple and understandable way. […] It's compelling because of its currentness. Studies published in 2019 are cited. For my work as a teaching therapist, this current literature research from the author is extremely helpful. […] The glossary at the end of the book is great. It quickly and precisely identifies keywords."
—Cordula Dehmel in Forum Logopädie (September 2020)
Introduction: Overview of Rare Disorders
Acknowledgments
Reviewers
Chapter 1. Plummer-Vinson Syndrome
Definition
History
Etiology
Epidemiology
Clinical Presentation
Management of Dysphagia
Summary
References
Chapter 2. Niemann-Pick Disease Type C
Definition
History
Etiology
Epidemiology
Clinical Presentation
Management of Dysphagia
Summary
References
Chapter 3. Stuve-Wiedemann Syndrome
Definition
History
Etiology
Epidemiology
Clinical Presentation of Dysphagia
Management of Dysphagia
Summary
References
Chapter 4. Congenital Esophageal Stenosis
Definition
History
Etiology
Epidemiology
Clinical Presentation
Management of Dysphagia
Summary
References
Chapter 5. Sporadic Inclusion Body Myositis
Definition
History
Etiology
Epidemiology
Clinical Presentation
Management of Dysphagia
Summary
References
Chapter 6. Moebius Syndrome
Definition
History
Etiology
Epidemiology
Clinical Presentation
Management of Dysphagia
Summary
References
Chapter 7. Ataxia Telangiectasia
Definition
History
Etiology
Epidemiology
Clinical Presentation
Management of Dysphagia
Summary
References
Chapter 8. Pontocerebellar Hypoplasia
Definition
History
Etiology
Epidemiology
Clinical Presentation
Management of Dysphagia
Summary
References
Chapter 9. Fahr's Syndrome
Definition
History
Etiology
Epidemiology
Clinical Presentation
Clinical Manifestations
Management of Dysphagia
Summary
References
Chapter 10. Biotin-Responsive Basal Ganglia Disease
Definition
History
Etiology
Epidemiology
Clinical Presentation
Management of Dysphagia
Summary
References
Chapter 11. Pompe Disease
Definition
History
Etiology
Epidemiology
Clinical Presentation
Management of Dysphagia
Summary
References
Chapter 12. Nemaline Myopathy
Definition
History
Etiology
Epidemiology
Clinical Presentation
Management of Dysphagia
Summary
References
Chapter 13. Immunoglobulin G4-Related Disease
Definition
History
Etiology
Epidemiology
Clinical Presentation
Management of Dysphagia
Summary
References
Chapter 14. Esophageal Atresia
Definition
History
Etiology
Environmental Factors
Epidemiology
Clinical Presentation
Management of Dysphagia
Summary
References
Chapter 15. Wallenberg's Syndrome
Definition
History
Etiology
Epidemiology
Clinical Presentation
Management of Dysphagia
Summary
References
Glossary
Index