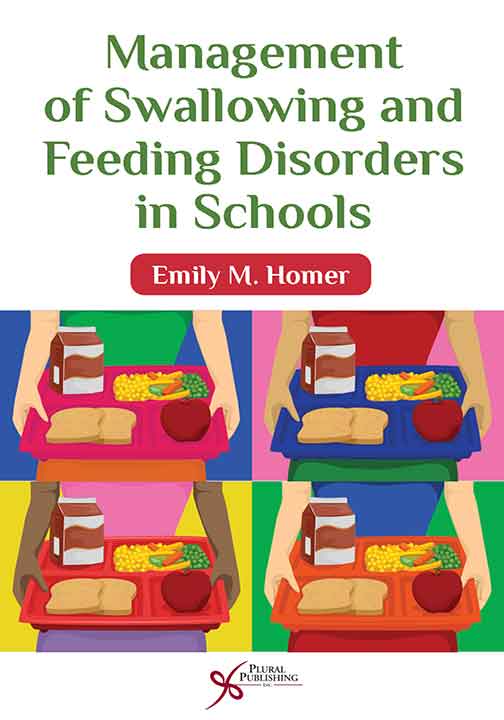 Management of Swallowing and Feeding Disorders in Schools
First Edition
Emily M. Homer
Details: 318 pages, B&W, Softcover, 6" x 9"
ISBN13: 978-1-59756-515-8
© 2016 | Available
Management of Swallowing and Feeding Disorders in Schools examines the most significant issues in swallowing and feeding facing school-based speech-language pathologists (SLPs). Topics addressed are unique to the school setting, ranging from organizing a team procedure in a district to serving children with complex medical issues, behavioral feeding disorders, and neurological feeding disorders. Ethical, legal, and cultural issues are also addressed.
Many students in school districts across the country exhibit the signs and symptoms of dysphagia, and children who were originally treated for dysphagia in hospitals and other settings often begin attending public schools at three years old. The difficulty they had with swallowing and feeding frequently follows them to the school setting. Further, there are many students who develop swallowing and feeding disorders as a result of traumatic brain injury, neurological disorders and syndromes, behavioral disorders, and so forth. The range of students needing services for swallowing and feeding disorders in the school setting can be from three to twenty-two years of age and from mild dysphagia to tube feeding.
The identification and treatment of swallowing and feeding disorders in schools is relatively new. There are still many districts in the country and internationally that do not address the needs of children with dysphagia. As school-based SLPs take on the challenge of this population there is a need for information that is current, accurate, and thorough. University programs include very little training, if any, at this time in the area of swallowing and feeding in the school setting. This text is appropriate for both a dysphagia course as well as courses that train SLP students to work with school-aged students.
From the Foreword
"I am privileged to be asked to write this foreword to Management of Swallowing and Feeding Disorders in Schools. This book is anticipated to become a major resource for speech-language pathologists (SLPs) and other professionals in a variety of school settings as they are increasingly being faced with children demonstrating a range of swallowing problems (dysphagia) as well as broader-based feeding problems. The American Speech-Language-Hearing Association has developed guidelines for SLPs that include knowledge and skills needed, roles and responsibilities, and also stresses the need for interdisciplinary teams. A major strength of this book is that it provides guidance in practical ways that cover a wide range of topics important to optimizing evaluation and intervention for these children, so they can function in their educational environments in the best ways possible."
—Joan C. Arvedson, PhD, CCC-SLP, BC-NCD, BRS-S, ASHA Fellow, Board Recognized Specialist in Swallowing and Swallowing Disorders, Program Coordinator, Feeding and Swallowing Services, Children's Hospital of Wisconsin-Milwaukee, Milwaukee, Wisconsin
Foreword by Joan C. Arvedson, PhD, CCC-SLP, BC-NCD, BRS-S, ASHA Fellow
Introduction
Acknowledgments
Contributors
Chapter 1. Getting Started: Addressing Swallowing and Feeding in the School Setting
Emily M. Homer
Chapter 2. Legal, Regulatory, and Ethical Considerations
Lissa A. Power-deFur
Chapter 3. A Time-Tested Procedure for Addressing Swallowing and Feeding in the School Setting
Emily M. Homer
Chapter 4. Recognizing Swallowing Impairment in the School Setting
Memorie M. Gosa
Chapter 5. Management of Swallowing and Feeding in the Schools: Preschool Through 12th Grade
Emily M. Homer
Chapter 6. Working With Children With Behavioral and/or Sensorimotor Feeding Disorders
Emily M. Homer
Chapter 7. Addressing Nutrition in the School Setting
Emily M. Homer
Chapter 8. Working With Parents/Guardians of Students With Swallowing and Feeding Disorders in the School Setting
Emily M. Homer
Chapter 9. Providing Swallowing and Feeding Services in the Schools: Training and Competency Issues
Emily M. Homer
Appendix A. Swallowing and Feeding Team Referral Form
Appendix B. Swallowing and Feeding Plan Form
Appendix C. Swallowing and Feeding Team Case Manager Transfer Form
Appendix D. Parental/Guardian Interview Form
Appendix E. Interdisciplinary Observation Form
Appendix F. Pre-IEP Conference Form
Appendix G. Prescription of School Meal Modification Form
Appendix H. Pre-Instrumental Examination Information Form
Appendix I. Swallowing and Feeding Team Procedure Checklist
Appendix J. Communication With Medical Providers Tool
Appendix K. School-Based Swallowing and Feeding Team Daily Feeding Log
Index