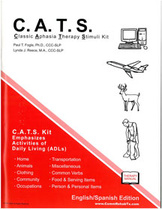 Classic Aphasia Therapy Stimuli Kit
First Edition
Paul Fogle, Linda J. Reece
ISBN13: 978-1-59756-288-1
© 2005 | Available
Purchase Print Book
Price: $99.00
The Classic Aphasia Therapy Stimuli (CATS) kit serves speech-language pathologists working in hospitals, clinics, rehabilitation centers, home health, and private practice.
Provided are simple, clear, bold, black and white illustrations of common objects and basic verbs to use as visual stimuli for patients and clients, with printed words in large, bold, black print to add reading tasks to the therapy. Included are ninety common nouns and twenty common verbs--with corresponding printed word cards in English and Spanish--that can be used at most all levels of therapy, from the lowest levels of attention to the highest levels of cognitive therapy for reasoning, judgment, and problem solving.
The limits of how the CATS kit can be used in therapy are determined by the limits of creativity of the therapist. The therapy manual provides countless suggestions for how the CATS kit can be used for receptive aphasia, expressive aphasia, and the numerous components of cognitive disorders. The initial pages of the therapy manual provide a review of receptive aphasia, expressive aphasia, and cognition.
Tested and used daily with clients over a number of years, this new resource is a valuable addition to the neurogenic therapist's toolkit.
Box set includes therapy manual, illustration cards, and word cards.