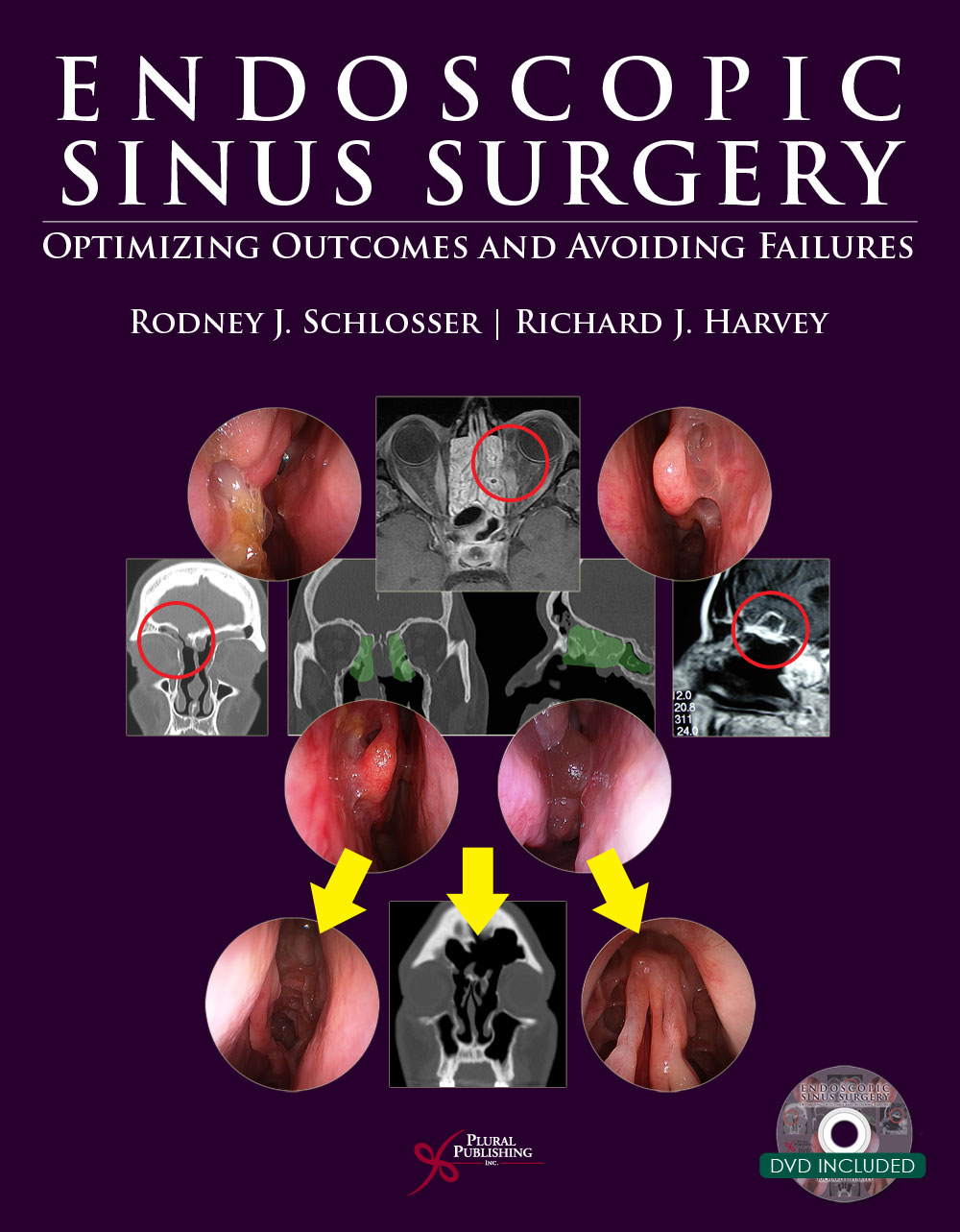 Endoscopic Sinus Surgery: Optimizing Outcomes and Avoiding Failures
First Edition
Rodney J. Schlosser, Richard Harvey
Details: 384 pages, Full Color, Hardcover, 8.5" x 11"
ISBN13: 978-1-59756-430-4
© 2012 | Available
The goal of this book is to highlight areas from the broad spectrum of rhinology, beginning with the initial history and physical examination through the diagnostic work up, medical and surgical management and identification of potential pitfalls that may arise in order to minimize treatment failures. The authors of these chapters represent a generation of dedicated rhinologists who build upon the contribution to the field by pioneers in rhinology. They have provided their expertise and insight into common mistakes in order to aid the reader in improving treatment outcomes for their patients.
This book comes with a DVD of surgical videos. View a sample video here.
From the Preface
Since the 1990s, the subspecialty of rhinology has evolved faster than any other area within otolaryngology. Only in recent history, the primary pathophysiology of chronic rhinosinusitis was be believed to be primarily a result of structural obstruction of the osteomeatal complex with subsequent bacterial infection. Treatment algorithms revolved around systemic antibiotics and medical failures were treated with removal of diseased mucosa using non-physiologic surgical approaches. We have now gained a better understanding of the heterogeneous nature of chronic rhinosinusitis and the complex interaction between local and systemic immunity, impaired mucociliary clearance and the potential role for a variety of external insults to include bacteria, fungi, and other noxious stimuli. While surgery still plays a major role in the treatment of inflammatory disease, it is now performed in a physiologic fashion and its role as an adjuvant to aid in the delivery of novel topical therapies is better appreciated.
In parallel with technological advancements for use in inflammatory disorders, rhinologists pushed the envelope in the surgical treatment of neoplastic disorders of the skull base and paranasal sinuses. Minimally invasive approaches in collaboration with other specialities, notably ophthalmologists and neurosurgeons, have resulted in the nascent field of neurorhinology, which is still in its infancy and will undoubtedly continue to evolve.
In spite of these tremendous advances in rhinology and greatly improved success, doctors are still faced with difficult patients and failures of standard approaches. If we do not learn from our failures, we are destined to repeat them.
Reviews
"This is a very well produced hardback textbook....The authors are quite explicit in their aims. They set out to produce a book to highlight potential pitfalls in ESS, and to give advice on avoiding problems and optimising patient outcomes. The book is well written, and each chapter is populated with numerous tables, clinical photos, and radiological images. A nice feature of some chapters is a table of common pitfalls and errors and how to avoid them, culminating in an evidence-based summary of the chapter author's principles of evaluation, management and therapy. Other chapters include case studies to illustrate salient points."
—Kim Ah-See, Aberdeen, Scotland, UK, The Journal of Laryngology & Otology (January 2013)

"This is a great book, joining my list of books I wish I had written right at the top - it is a great credit to the authors, and will be of benefit to trainees and more experienced ESS surgeons alike. This does what it says on the tin - it will help to improve outcomes and avoid failures - it is full of useful tips, good quality images and relevant case studies."
—Claire Hopkins, DM, FRCS, (ORL-HNS), Consultant ENT Surgeon, Guy's and St. Thomas', London, UK, ENT & Audiology News, January/February 2013, Vol 21 (No 6)
"[Endoscopic Sinus Surgery] is a thorough instruction manual to the sinuses with evidence. Each chapter ends with case scenario but most importantly ends with a chart reviewing the level of evidence in the medical literature for each management and treatment recommendation.... The video attachment is very comprehensive and helpful. There are clear videos discussing advanced techniques such as anterior and maxillary artery ligation, but there are videos that also demonstrate proper and efficient operative techniques in preparation and intraoperatively....
Endoscopic Sinus Surgery: Optimizing Outcomes and Avoiding Failures is a comprehensive textbook that focuses on technique, management, and evidence based recommendations. It is won-derful textbook to educate the learner and solidify the knowledge of an attending."
—Robert Chun, Medical College of Wisconsin, Children's Hospital, International Journal of Pediatric Otorhinolaryngology
Table of Contents
Chapter
1. History and examination
Luke Rudmik and Timothy L. Smith
2. The CRS Triangle: Understanding the Causes of Chronic Rhinosinusitis
Richard J. Harvey and Peter Earls
3. Contribution of Systemic Disease
Richard Douglas and Andrew Wood
4. Radiologic evaluation
Katrina Chaung, Randy M. Leung, and Rakesh K. Chandra
5. Pre-ESS medical therapy
Wytske J. Fokkens and Lefteris Margaritis
6. Topical therapies and Chronic Rhinosinusitis: The Role of Topical Therapies in Improving Sinus Surgical Outcomes
Alkis J. Psaltis and Richard Harvey
7. Systemic Medical Therapies
Thomas S. Higgins and Joseph K. Han
8. Advances in Surgical Navigation and New Technology for Rhinologic Surgery
Ryan Manz and Raj Sindwani
9. Balloon Catheter Dilation
Nithin D. Adappa, Jeremy Reed, and James N. Palmer
10. Perioperative Bleeding and Vascular Control
Daniel Timperley
11. Proficient ESS
Richard J. Harvey and Rodney J. Schlosser
12. Common Errors in Sinus Surgery
Zachary M. Soler and Michael P. Platt
13. Managing Intraoperative Complications in Endoscopic Sinus Surgery
Sarah K. Wise and John M. DelGaudio
14. Septal and Turbinate Surgery
Dan Robinson and Raymond Sacks
15. Postoperative Care Regimens
Luke Rudmik and Timothy L. Smith
16. Use of Modified Lothrop/Frontal Drillout/Draf 3 for Failed Frontal Sinusotomy
Yuresh S. Naidoo and Peter-John Wormald
17. Surgical Salvage of the Dysfunctional Sinus
Eric W. Wang and Rodney J. Schlosser
18. Failures in pediatric Chronic Rhinosinusitis
David Chin and Richard J. Harvey
19. Cystic Fibrosis Sinusitis
Alexandra E. Kejner and Bradford A. Woodworth
20. Orbital and Lacrimal Surgery
Raymond Sacks and Dan Robinson
21. Optimizing outcomes in endoscopic skull base surgery
Adam M. Zanation
22. Avoiding ESS related litigation
Rodney J. Schlosser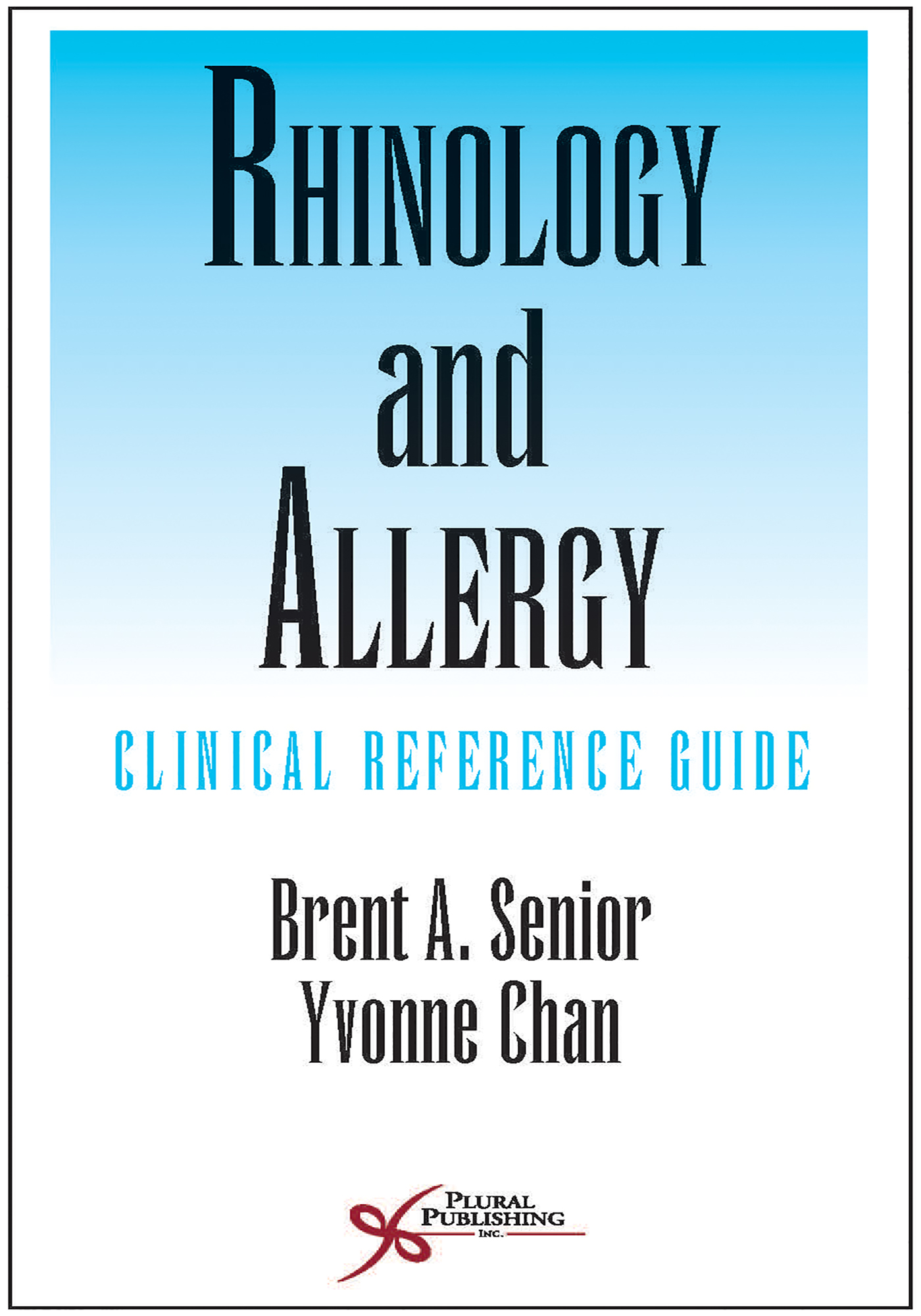 First Edition
Brent A. Senior, Yvonne Chan
Details: 562 pages, B&W, Softcover, 4.5" x 8"
ISBN13: 978-1-59756-965-1
© 2018 | Available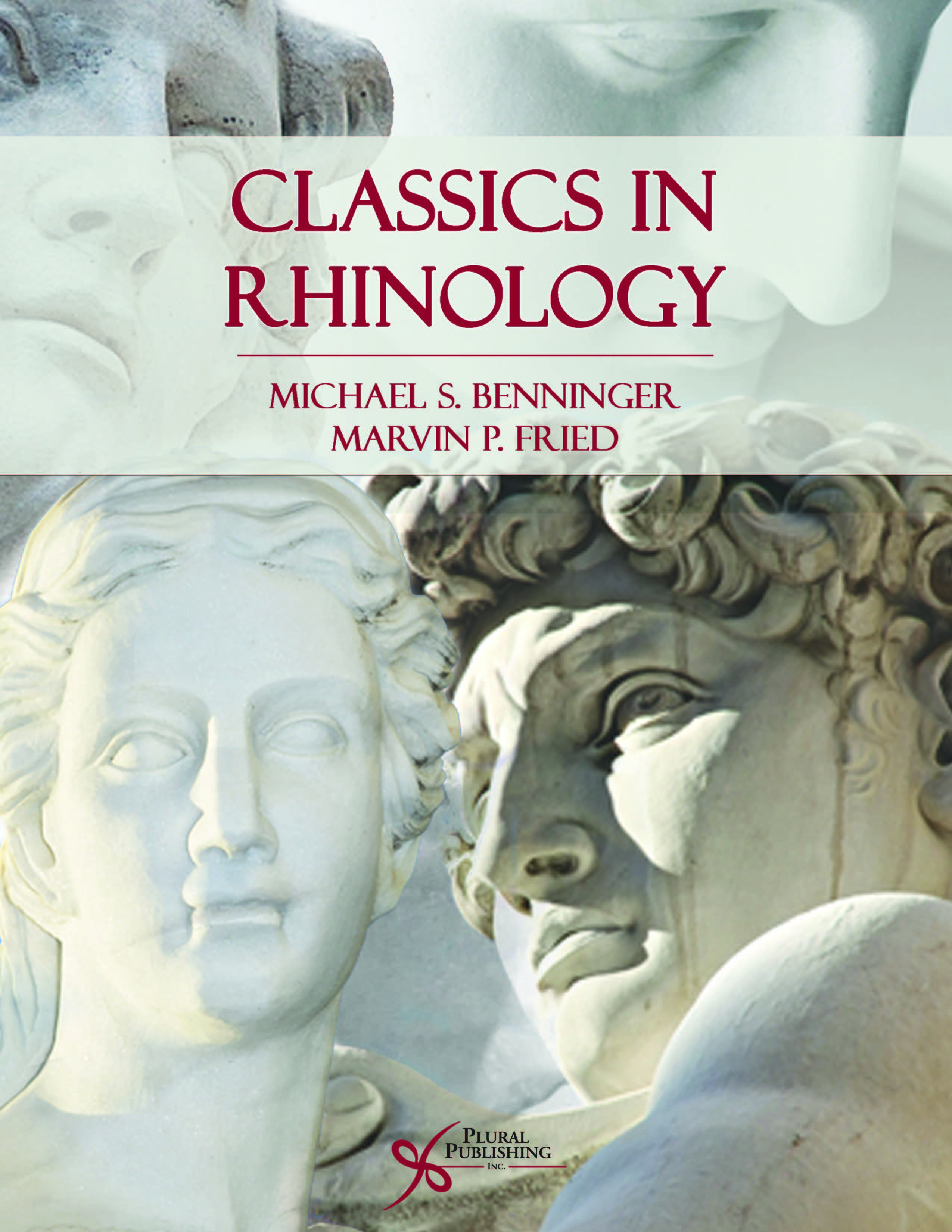 First Edition
Michael S. Benninger, Marvin P. Fried
Details: 480 pages, B&W, Softcover, 8.5" x 11"
ISBN13: 978-1-59756-406-9
© 2015 | Available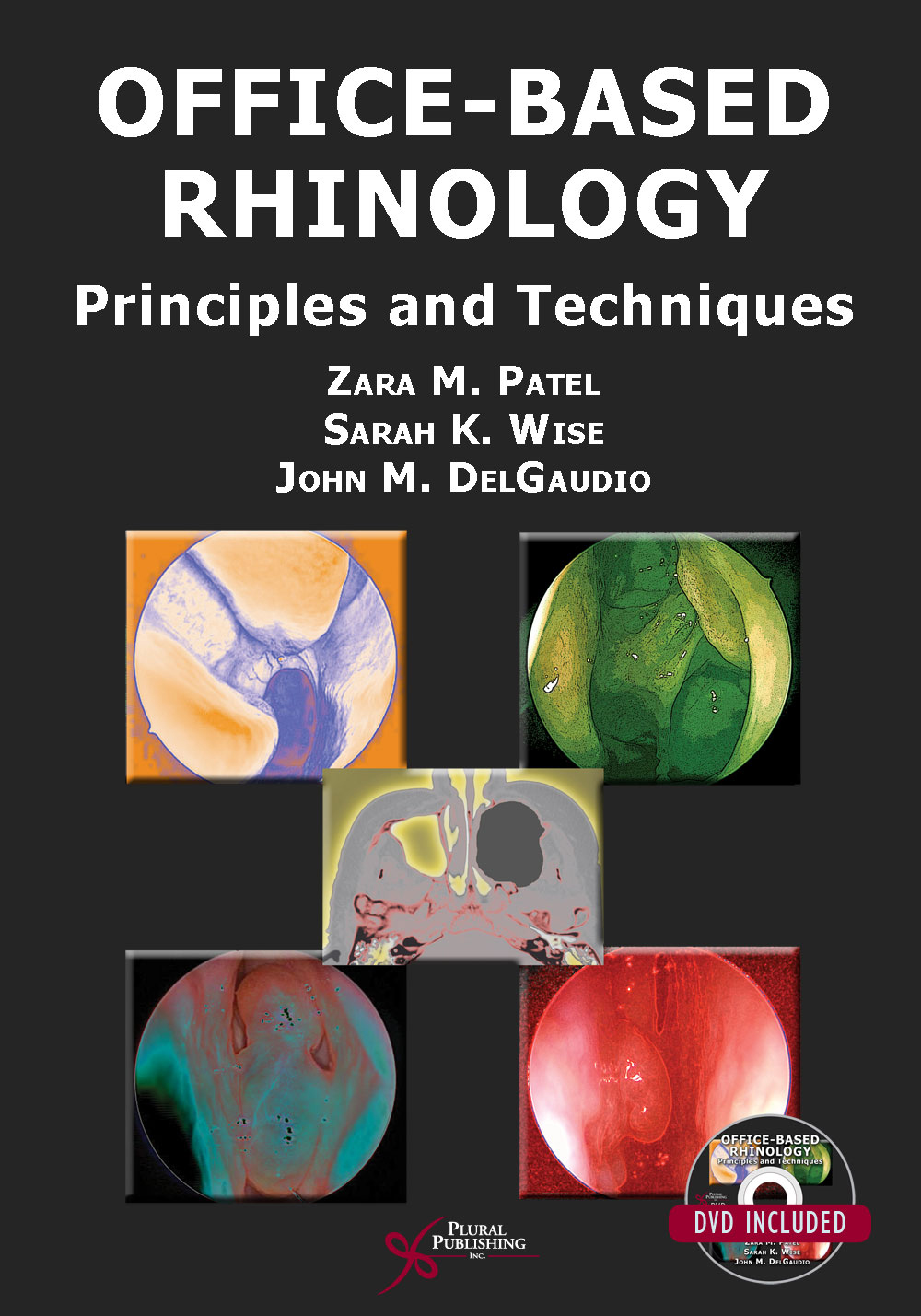 First Edition
Zara Patel, Sarah Wise, John DelGaudio
Details: 168 pages, Full Color, Hardcover + DVD, 7" x 10"
ISBN13: 978-1-59756-475-5
© 2013 | Available