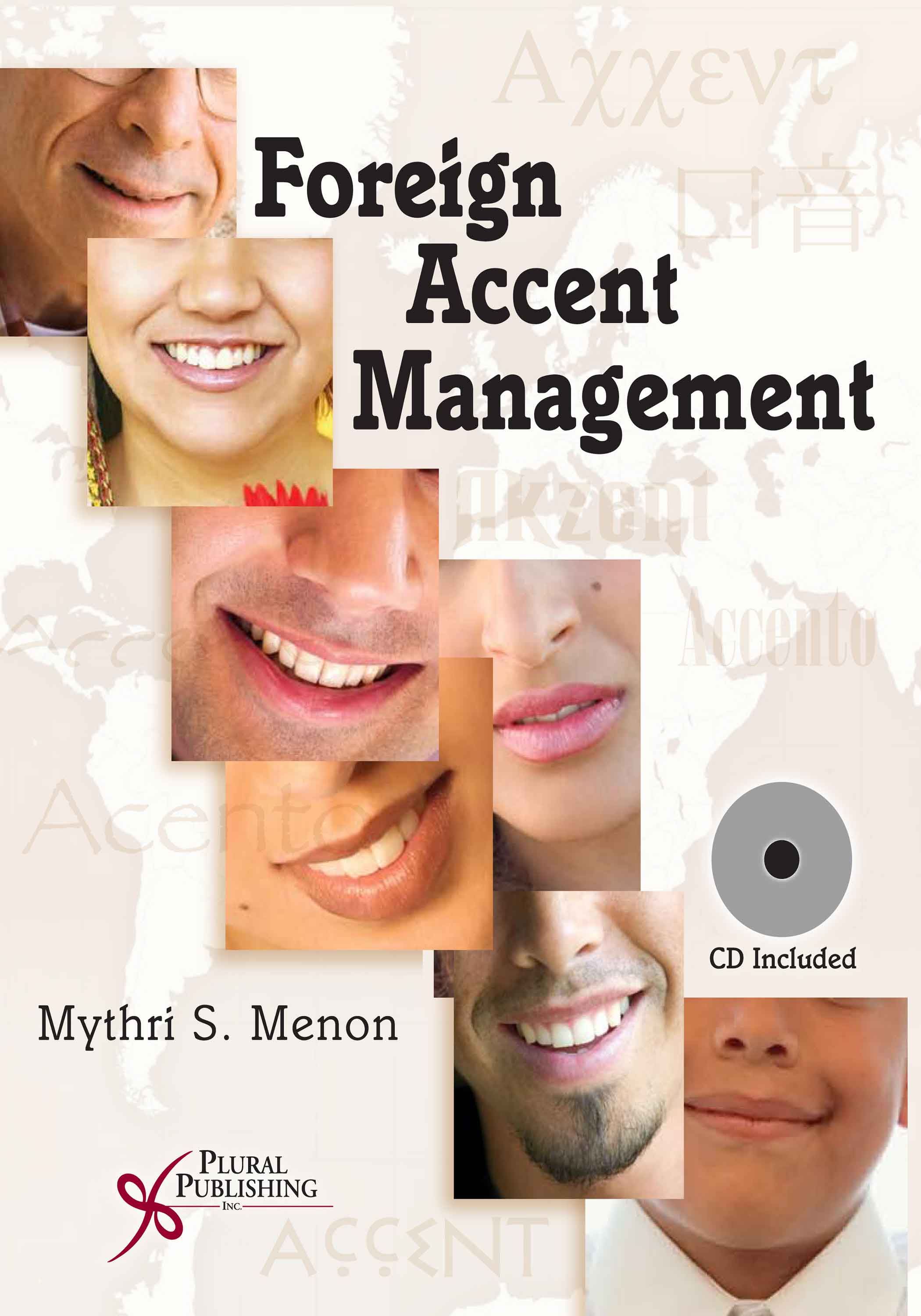 Foreign Accent Management
First Edition
Mythri S. Menon
Details: 314 pages, Illustrated (B/W), Softcover, 8.5 x 11"
ISBN13: 978-1-59756-068-9
© 2007 | Available
Foreign Accent Management is a guide to the management of accents for non-native speakers of the English language of European, African, Asian, or Indian origin. The author has compiled numerous valuable techniques in Speech-Language Pathology that have been in use for many years along with practical ideas gathered from workshops, tutoring, and speech therapy practice. While this book will not erase one's accent, it can increase the readers awareness of accent modification and provide the tools and techniques to enhance and manage one's accent long-term.
Six audio CDs are included with the book to lead the reader through the exercises contained in all 12 chapters. In addition to reinforcing and clarifying the exercises, the audio CDs provide a clear model for the correct pronunciation of all speech sounds in the English language.
Reviews
"Offers very readable and attractive material for speakers of English as a second language to improve their communication skills and also for clinicians that see nonnative of English speakers."
—Mara Behlau and Gisele Oliveira, Center of Voice Studies, Federal University of Sao Paulo, Folia Phoniatrica et Logopaedica (2008)
"...The author is very thorough in addressing different aspects of good communication, eg. useful chapters on prosodic features, listening skills and non-verbal aspects of communication."
—Annabel Bosanquet, Speech & Language Therapy in Practice (2008)
"Named to Doody's Core Titles in the Health Sciences 2013 list"
—Doody's
Acknowledgments vii
Preface: An Immigrant's Perspective ix
Introduction xi
CHAPTER 1 Communication: He Said, She Said, and Finally They Said! 1
CHAPTER 2 Oral-Motor Movements: Lip and Tongue Antics 13
CHAPTER 3 Language and Speech: Nuts and Bolts 23
CHAPTER 4 Phonetic Transcription: The DNA of the International
Phonetic Alphabet 41
CHAPTER 5 Speech Sounds: Vowels 61
CHAPTER 6 Speech Sounds: Consonants 107
CHAPTER 7 Accent on Accents 185
CHAPTER 8 Auditory Discrimination: The Art of Listening 199
CHAPTER 9 Intonation: The Music of Language 213
CHAPTER 10 Nonverbal Communication: The Mime of Language 235
CHAPTER 11 Pronunciation: Eloquently Speaking 251
CHAPTER 12 Conversation: Communication at its Best 283
Conclusion: Some Final Thoughts . . . and a Look Ahead 301
Postscript: Musings of an Immigrant 303
Glossary 305
References and Suggested Reading 309
Index 311

CD Contents:
Disc 1
Introduction & Chapter 1 Exercises - 7:15
Chapter 2 Exercises: Oral-Motor Movements - 6:50
Chapter 3 Exercises: Language and Speech - 3:25
Chapter 4 Exercises: Phonetic Transcription - 9:52
Chapter 5 Exercises, part 1: Vowels - 46:21

Disc 2
Chapter 5 Exercises, part 2: Vowel Sounds - 1:05:49

Disc 3
Chapter 6 Exercises, part 1: Consonants - 1:12:57

Disc 4
Chapter 6 Exercises, part 2: Constant Sounds - 1:17:01

Disc 5
Chapter 7 Exercises: Accents - 1:17:01
Chapter 8 Exercises: Auditory Discrimination - 25:58
Chapter 9 Exercises: Intonation - 27:38
Chapter 10 Exercises: Non-Verbal Communication - 1:16

Disc 6
Chapter 11 Exercises: Pronunciation - 1:17:01
Chapter 12 Exercises: Conversation - 2:32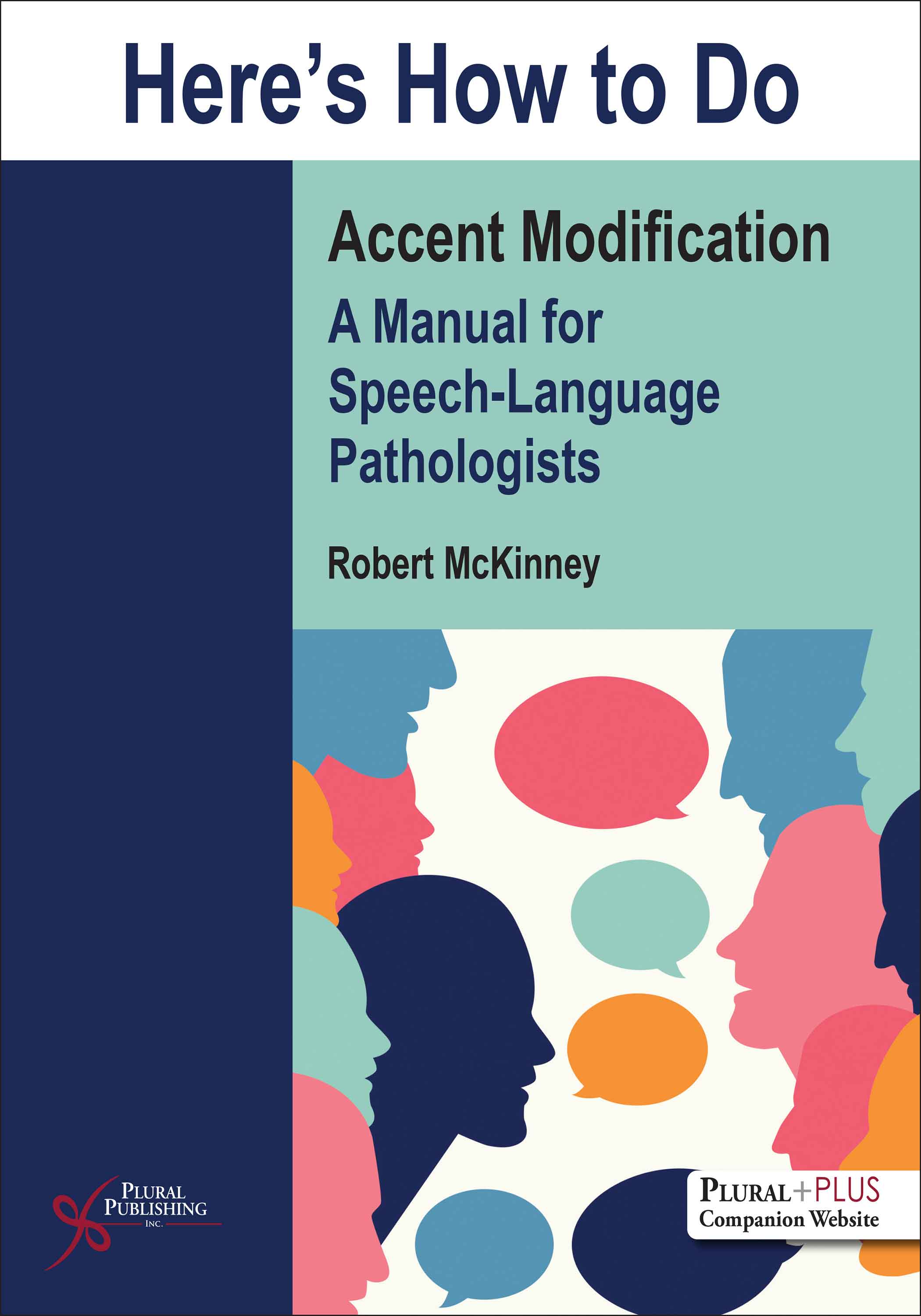 First Edition
Robert (Bob) McKinney
Details: 306 pages, B&W, Softcover, 8.5" x 11"
ISBN13: 978-1-63550-007-3
© 2019 | Available