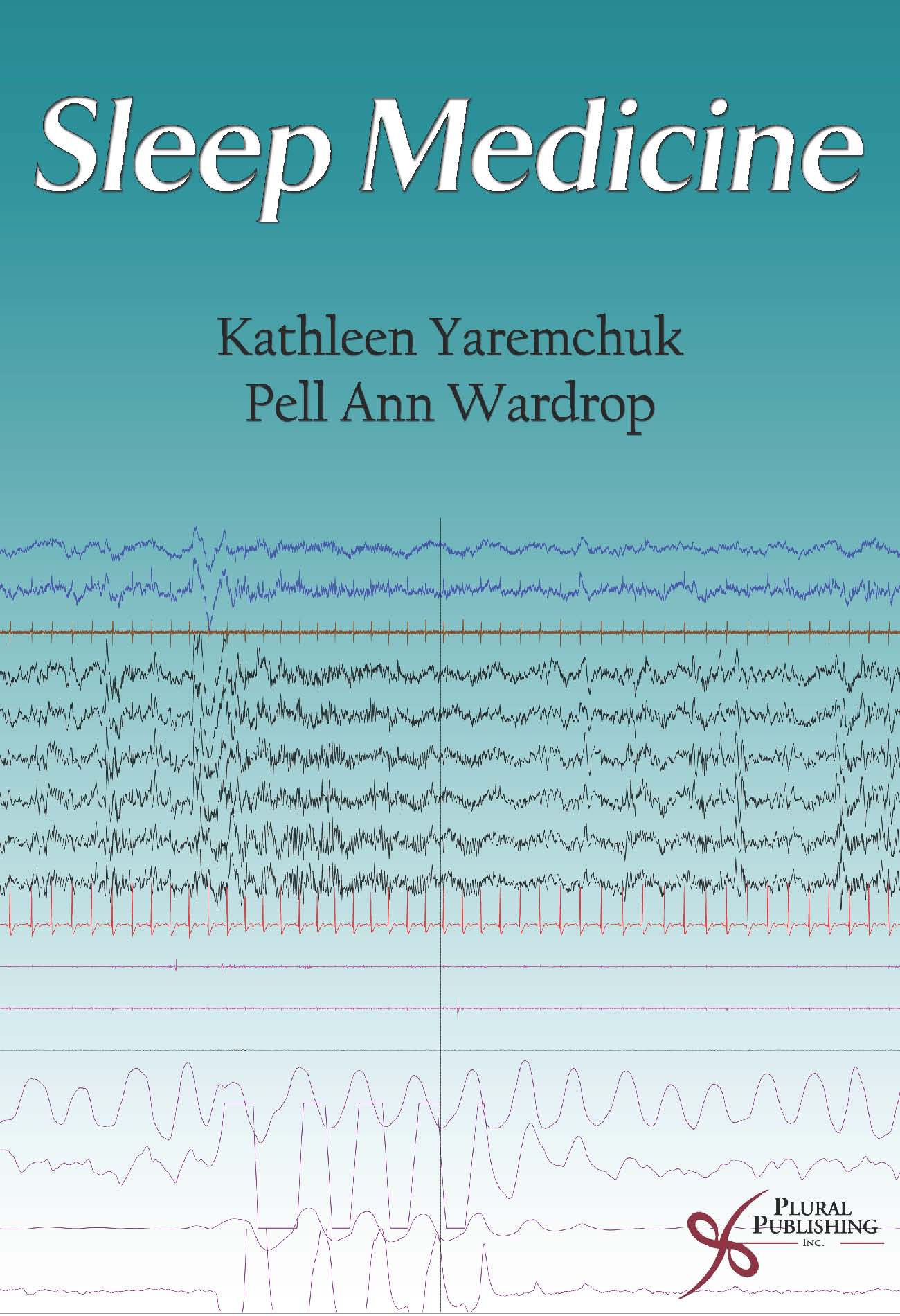 Sleep Medicine
First Edition
Kathleen Yaremchuk, Pell Ann Wardrop
Details: 446 pages, 2-Color, Softcover, 7" x 10"
ISBN13: 978-1-59756-355-0
© 2011 | Available
One of the fastest growing areas in Otolaryngology today is sleep medicine. More than one third of all adults and children with sleep disorders present initially to an otolaryngologist for diagnosis and treatment, but there is a paucity of available educational material written from and for the ENT perspective.
Designed for clinicians, residents, and otolaryngologists wanting to sit for the American Board of Medical Specialties' conjoint Board Certification in Sleep Medicine which, on implementation in 2007, allowed Board Certified Pediatricians, Otolaryngologists, Neurologist/Psychiatrists and Pulmonologists to sit for the exam, this new book was put together by 2 of the only 49 Otolaryngologists who were board certified in sleep disorders in 2008.
Sleep Medicine features chapters from experts in other related fields, provides materials necessary to practice sleep medicine, covering the basics of both adult and pediatric sleep medicine as it applies to the clinical practice of Otolaryngology. It is the only book to provide an in-depth review of clinical sleep medicine with coverage of sleep testing modalities and to focus on the clinical sleep disorders that an otolaryngologist is likely to see in the office.
The evaluation, including history, examination and testing, are detailed with clinical examples; Treatment options, including Positive Airway Pressure, Mandibular Advancement Devices and Surgical Treatments are discussed with regard to efficacy, patient selection and appropriate follow-up; and an extended section focuses on the evaluation of the sleepy or fatigued patient, a group frequently seen by otolaryngologists with etiologies possibly due to causes other than obstructive sleep apnea.
Reviews
"The volume Sleep Medicine by doctors Yaremchuk and Wardrop is an excellent addition to the medical literature on the subject of sleep apnea. Written by otolaryngologists primarly for otolargngologists, it provides a comprehensive overview of the sleep, sleep disorders and the treatment of obstructive sleep apnea. In addtion to addressing the surgical interventions for the condition, the text also provides information on the other treatment modalities - Positive Airway Pressure (PAP), Oral Appliances and Cognitive Behavioral Therapy. The added section on pediatric sleep disorders is also very useful in treating sleep apnea in children. "Sleep Medicine" is a valuable resource for the ENT surgeon interested in recognizing and treating sleep apnea in adults and children."
—Edward Grandi, Executive Director, American Sleep Apnea Association, review (December 2010)
"ONE OF THE MOST ENJOYABLE ASPECTS OF PRACTICING SLEEP medicine, aside from helping patients overcome problems that significantly affect their quality of life, is its interdisciplinary nature. Because sleep medicine is a relatively new field, it has attracted practitioners from a variety of specialties specialties: pediatrics, internal medicine, pulmonology, psychiatry,psychology, otolaryngology, neurology, maxillofacial surgery,and dentistry. In each of these disciplines, patients and their conditions are approached from different angles, and using the varying perspectives on how to diagnose and treat the different disorders not only reveals what may have been overlooked but also complements and enriches the treatments prescribed. This is what makes sleep medicine conferences so interesting: one learns of advances in the field as well as new ways of approaching old problems. This applies to published material as well. Sleep Medicine, edited by otolaryngology sleep specialists Kathleen Yaremchuk and Pell Ann Wardrop, and with many chapters written by other otolaryngology sleep specialists, is a perfect example. A large portion of the book is dedicated to the thorough examination of the upper airway of patients suspected of having obstructive sleep apnea (OSA) and to describing in detail many of the treatment options for that condition, specifically many of the surgical interventions that can be used when other approaches are unsuccessful. However, this is by no means the sole focus of the book, which succeeds in providing a comprehensive overview of sleep disorders as well as their evaluation,diagnosis, and treatment. The in-depth examination of surgical alternatives to continuous positive airway pressure (CPAP) as treatment for OSA is especially valuable when one considers that studies have shown that only 50% of patients prescribed CPAP actually use it on a regular basis. Thus, this resource, which presents these alternatives and includes illustrations and explanations of the surgical techniques, enables the nonsurgical sleep specialist to understand and then present them to patients unable to tolerate CPAP who need a different solution for their OSA. This in turn allows patients to make informed decisions about which options to pursue—especially important when this involves specialty care that may not be available in their own geographic area. The user-friendly text is easy to read and includes many photographs and diagrams as well as tools that can be used in practice. One example is the Kentucky positive airway pressure questionnaire, which appears in the chapter on the role of psychology in the treatment of sleep disorders and which underscores the importance of integrating multiple disciplines to successfully treat patients. A good portion of the book is also dedicated to pediatric sleep disorders, including not only OSA but many of the other sleep problems encountered in children, such as behavioral insomnia of childhood. Because textbooks addressing disorders that span the entire life span often overlook the unique aspects of the pediatric patient, it is satisfying to see this area of sleep medicine covered so prominently. Because Sleep Medicine provides such a good overview of the field as a whole, it will be useful for family and pediatric physicians as well as nurse practitioners. And because of the exceptionally detailed and well-presented overview of the structural and mechanical aspects of the upper air-way, how these aspects contribute to the development of OSA, and the thoroughness with which the different treatment options are discussed, this text will likewise prove to be an excellent resource for trainees as well as practicing specialists in sleep medicine."
—Dennis Rosen, MD, JAMA (2/16/11)
"...the book covers all major areas of sleep medicine thoroughly and succinctly. The chapters are relatively short, easy to read, and filled with practical information on every page. There are numerous tables, charts, and illustrations that are clear and easy to interpret."
—Steven Y. Park, MD, Annals of Otology, Rhinology, & Laryngology (2012)
Section 1: Background and Patient Evaluation
1. Sleep Physiology - Normal
Sam Mickelson
2. The Evaluation of Upper Airway Structure for Obstructive Sleep Apnea
B. Tucker Woodson and Omer Karakoc
3. Evaluation of Patients with Sleep Disorders
Kathleen Yaremchuk
4. Evaluation of Sleepiness
Pell Ann Wardrop
5. Sleep Testing
Noah Seigel
6. Imaging of the Airway
Shehanaz Ellika and Suresh Patel
Section 2: Sleep Disorder Overview
7. Sleep Disordered Breathing
Iee Ching Anderson and Nancy A. Collop
8. Cardiovascular Effects of Sleep Disordered Breathing
Andrew D. Calvin and Virend K. Somers
9. Insomnia, Circadian Rhythm Disorders and Sleep Deprivation
Russell Rosenberg
10. Narcolepsy and Other Hypersomnias
Neeraj Kaplish and Shelley Hershner
11. Movement Disorders in Sleep
Nancy F. Fishback
12. Drugs that Affect Sleep and Cause Sleepiness
Surilla Randall and Timothy A. Roehrs

Section 3: Medical Management for Sleep Apnea

13. Treatment of Sleep Apnea with Positive Pressure Therapy: The nuts and bolts of nasal CPAP
Willane Krell and M. Safwan Badr
14. Oral Appliances for Snoring and Sleep Apnea
Bryan A. Williams and Samuel Zwetchkenbaum
15. The Role of Sleep Psychology in the Treatment of Sleep Disorders
Jonathon Cole and Ryan Wetzler
16. Weight Management for Patients with Obstructive Sleep Apnea
Jonathan K. Ehrman and David C. Murdy
17. Position Restriction Therapy and Nasal EPAP in the Treatment of Obstructive Sleep Apnea
Rajiv Doshi and Philip Westbrook
Section 4: Surgical Treatment for Sleep Apnea
18. Patient Selection for Sleep Apnea Surgery and Nasal Surgery for Sleep Apnea Treatment
Edward Weaver

19. Soft Tissue Surgery for Sleep Apnea and Snoring
Michael Friedman and Tanya Pulver
20. Expansion Sphincter Pharyngoplasty for Obstructive Sleep Apnea
Tucker Woodson and Omer Karakoc
21. Skeletal Surgery for Obstructive Sleep Apnea
Lamont R. Jones and Sherard A. Tatum
22. Perioperative Management of Patients with Sleep-related Breathing Disorder
Ofer Jacobowitz MD PhD
Section 5: Pediatrics
23. Overview of Pediatric Sleep Disorders
Macario Camacho and Scott E. Brietzke
24. Neurobehavioral Morbidity in Childhood Sleep Disorders
Susan L. Garetz, Louise M. O'Brien and Ronald D. Chervin
25. Pediatric Sleep Disordered Breathing
Stacey L. Ishman, Rose Stavinoha and Margaret L. Skinner
26. Pediatric OSA Surgery Beyond Adenotonsillectomy-Skeletal Intervention
Kasey K. Li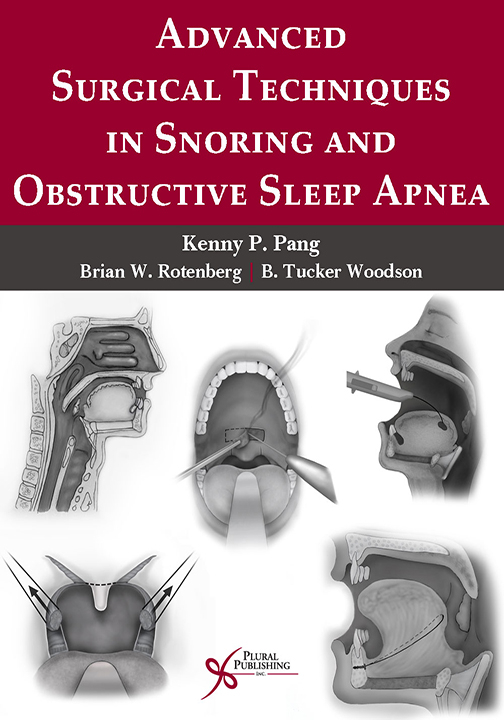 First Edition
Kenny P. Pang, Brian Rotenberg, B. Tucker Woodson
Details: 368 pages, B&W, Hardcover + DVD, 8.5" x 11"
ISBN13: 978-1-59756-471-7
© 2013 | Available