Publication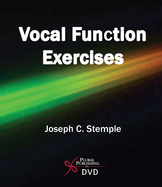 Vocal Function Exercises
Details:

DVD
ISBN13:

978-1-59756-144-0
Release Date:

08/01/2006
$99.95
Overview
This How To Series provides specific and programmatic information on how to complete Vocal Function exercises and incorporate them in your clinical care of voice patients. Watch Stemple work one on one with detailing every step of the exercises.
Chapter 1

Intro Physiologic Voice Therapy
Chapter 4

Warm Up
Stretching
Contracting
Adduction
Chapter 5

Considerations for VFE: Time frame, Advantages, Maintenance
About The Author
Joseph C. Stemple, PhD, is professor of communication sciences and disorders in the College of Health Sciences at the University of Kentucky, where he specializes in the study of voice production and disorders. His current research interests include the biology of laryngeal muscles during exercise, the aging voice, and the central neural control of voice production. Dr. Stemple is an active national and international speaker and lecturer. Dr. Stemple is a Fellow of the American Speech-Language-Hearing Association.