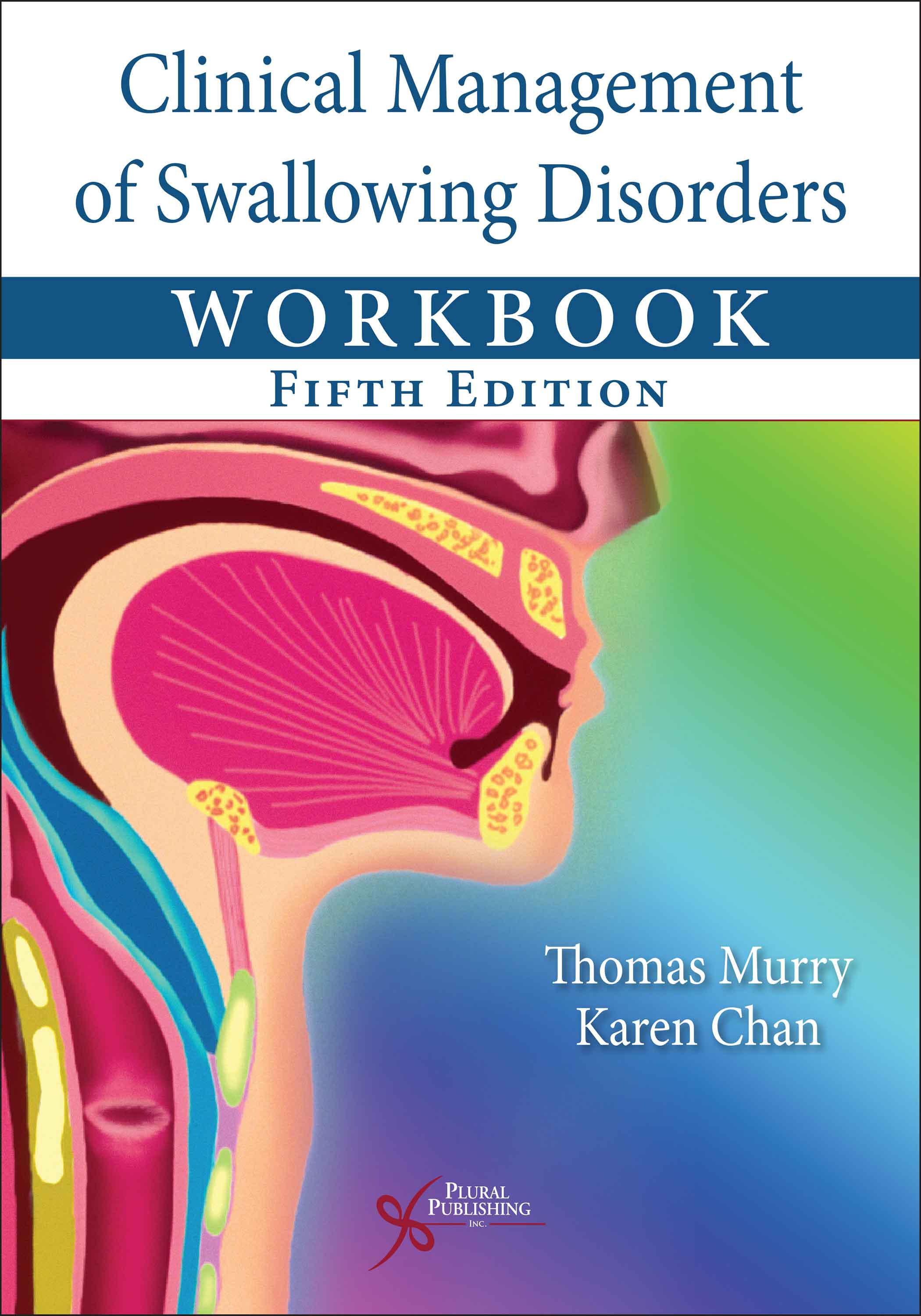 Clinical Management of Swallowing Disorders Workbook
Fifth Edition
Thomas Murry, Karen Chan
Details: 157 pages, B&W, Spiral Bound, 8.5" x 11"
ISBN13: 978-1-63550-253-4
© 2022 | Available
Clinical Management of Swallowing Disorders Workbook, Fifth Edition is designed to aid instructors in the delivery of content and to enhance and reinforce student comprehension alongside the graduate-level textbook, Clinical Management of Swallowing Disorders, Fifth Edition. The textbook addresses the needs of students who will treat swallowing disorders as well as clinicians who currently treat swallowing disorders in hospitals, rehabilitation centers, nursing homes, and private outpatient clinics. The fifth edition has been extensively revised and includes one new chapter and major updates on two other chapters.
The workbook reflects these updates and covers all chapters in the textbook. The workbook contains true or false, multiple-choice, and fill-in-the-blank questions, along with study topics related to each chapter of the textbook. The questions are closely connected to the textbook, allowing students to review chapter material and quiz themselves in an efficient manner. Once the chapter answers are filled in, the workbook chapters can be used as a study guide or a quick refresher for those in practice. The workbook offers students another opportunity to remain current with their understanding of swallowing disorders.

Preface
Part I. Questions
Chapter 1. Introduction to and Epidemiology of Swallowing Disorders
Chapter 2. Anatomy and Physiology of the Swallowing Mechanism
Chapter 3. Swallowing Disorders Arising from Neurologic Disorders and Other Diseases
Chapter 4. Swallowing Disorders Following Surgical Treatments
Chapter 5. Clinical Evaluation of Swallowing Disorders
Chapter 6. Instrumental Evaluation of Swallowing Disorders
Chapter 7. Treatment of Swallowing Disorders
Chapter 8. Nutrition and Diets
Chapter 9 Swallowing in the Aging Population
Chapter 10. Pediatric Dysphagia: Assessment of Disorders of Swallowing and Feeding
Chapter 11. Treatment of Feeding and Swallowing Disorders in Infants and Children
Chapter 12. Surgical Treatment and Prosthetic Management of Swallowing Disorders
Chapter 13. Case Studies
Part II. Answers to Questions
Chapter 1. Introduction to and Epidemiology of Swallowing Disorders
Chapter 2. Anatomy and Physiology of the Swallowing Mechanism
Chapter 3. Swallowing Disorders Arising From Neurologic Disorders and Other Diseases
Chapter 4. Swallowing Disorders Following Surgical Treatments
Chapter 5. Clinical Evaluation of Swallowing Disorders
Chapter 6. Instrumental Evaluation of Swallowing Disorders
Chapter 7. Treatment of Swallowing Disorders
Chapter 8. Nutrition and Diets
Chapter 9. Swallowing in the Aging Population
Chapter 10. Pediatric Dysphagia: Assessment of Disorders of Swallowing and Feeding
Chapter 11. Treatment of Feeding and Swallowing Disorders in Infants and Children
Chapter 12. Surgical Treatment and Prosthetic Management of Swallowing Disorders
Chapter 13. Case Studies