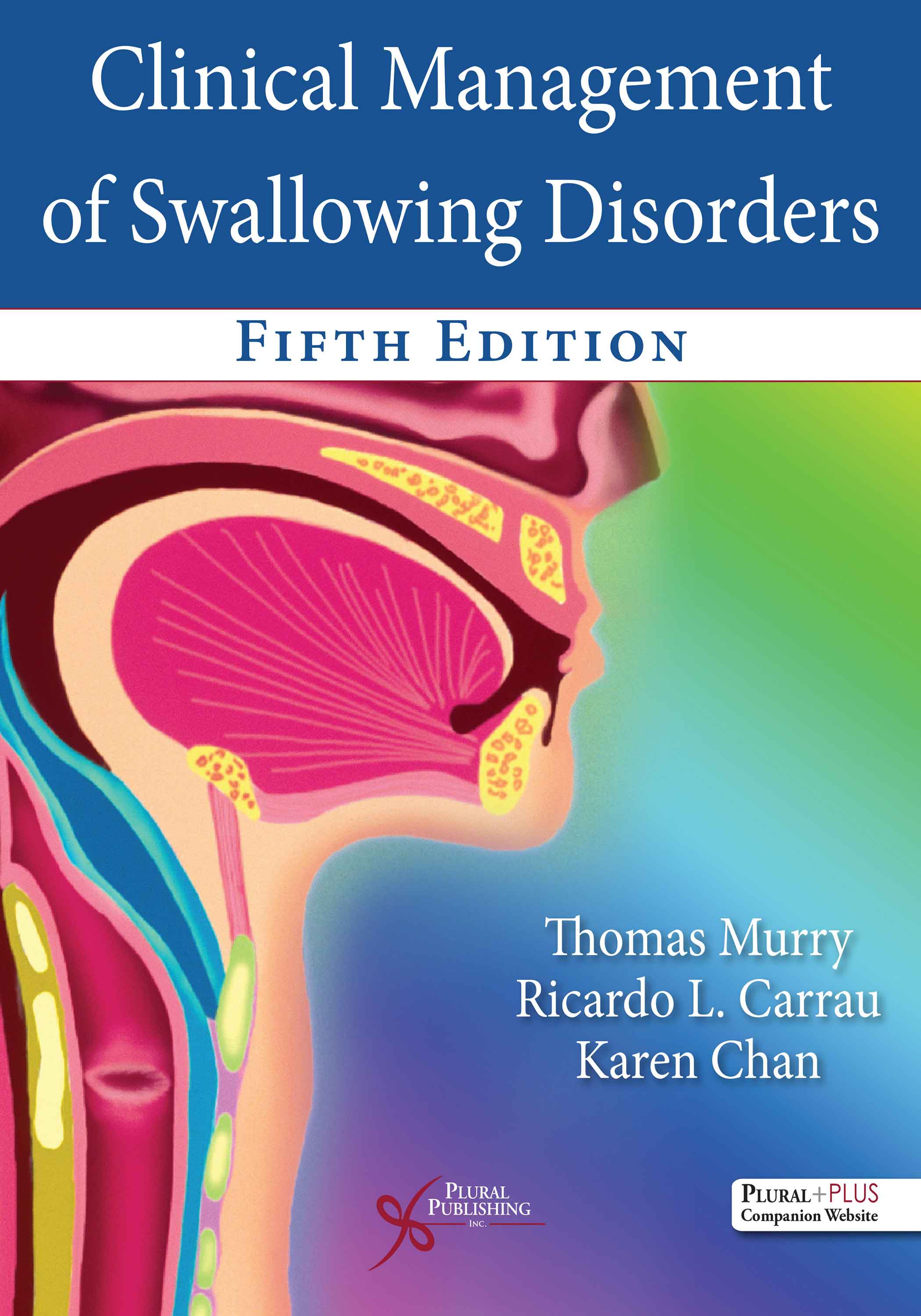 Clinical Management of Swallowing Disorders
Fifth Edition
Thomas Murry, Ricardo L. Carrau, Karen Chan
Details: 350 pages, Full Color, Hardcover, 8.5" x 11"
ISBN13: 978-1-63550-228-2
© 2022 | Available
For Instructors
Purchase
Price: $129.95
Clinical Management of Swallowing Disorders, Fifth Edition is a textbook for speech-language pathology programs that examines the diagnosis and treatment of swallowing disorders in children and adults. Thoroughly updated, this popular text emphasizes evidence-based practice, multidisciplinary team management, swallowing safety, nutrition, behavioral treatments, and management following surgical options. Authored by two speech-language pathologists and an otolaryngologist for a multidisciplinary approach, the Fifth Edition continues to be easy-to-understand text for students and also serves as an up-to-date reference for practicing clinicians who treat swallowing disorders in hospitals, rehabilitation centers, nursing homes, and private outpatient clinics.
The text comes with online supplementary materials, including instructor lecture slides, study flash cards, and downloadable versions of the appendicies.
New to the Fifth Edition
New chapter on the aging population
The Anatomy and Physiology chapter has been thoroughly updated and 15 beautiful, new full color illustrations have been added
More images and enhanced figures, including additional FEES and fluoroscopy video studies of swallowing disorders in head and neck cancer and stroke patients
Many new references, easy-to-read tables, and "treatment hints"
Information on pediatric feeding and swallowing has been updated and expanded
Evidence-based practice methods have been updated
Content has been edited to be more concise, applicable, and reader friendly
The text features numerous pedagogical aids to reinforce student understanding
Case study inserts in many chapters and 9 extended case studies in the final chapter
32 videos
Discussion questions and answers for each chapter
Bolded and boxed key terms throughout with an end-of-book glossary
Clinical tips, clinician's roles, areas of emphasis, and key learning points highlighted in boxes throughout the chapters
8 appendices featuring helpful tests and tools for clinicians
NEW full clinical swallowing examination record form included in appendix
Also Available
Clinical Management of Swallowing Disorders Workbook, Fifth Edition
The companion workbook contains true/false, multiple-choice, and fill-in-the-blank questions, along with study topics related to each chapter of the textbook.
Reviews
"This is a very attractive book, with glossy pages, sharp printing of images, high-quality colour illustrations and clear labelling. It is very nicely set out, with boxed tables, highlighted bullet points and case studies, and even the textbook carries many a question and answer session. As a simple ex-otologist, I learnt much from this book, having had quite an insight into the symptom during the past year, but I am confident trainees will derive great benefit from it. [...] The textbook is a very comprehensive review of the subject, with impressively updated content. It should appeal to the senior laryngologist as much as the trainee, and is, of course, essential reading for speech and language pathologists, dieticians, and all in the multidisciplinary team."
—Liam M. Flood, FRCS, FRCSI, in Journal of Laryngology & Otology (February 2021)
"The book is intended for use as a training tool for students in the field of speech-language pathology studying swallowing and swallowing disorders. The authors state that the fifth edition provides updated information from previous editions and includes a new chapter on aging and swallowing. This book meets its objectives as a comprehensive tool for training students in the topic of dysphagia. The addition of the online material adds great value to the textbook. The videos of MBS and FEES exams in particular add great value to the learning experience of the students and the quality of instruction for professors.
This book is intended for undergraduate and graduate level students in speech-language pathology training programs. It is appropriate for the intended audience as it provides foundational background information in anatomy and physiology of swallowing as well as assessment and treatment of swallowing disorders. Dr. Murry is a well-known expert in the field of swallowing disorders, and his coauthors' experience in otolaryngology and swallowing research support their expertise in this area.
The book is comprehensive as an educational tool on the topic of swallowing and swallowing disorders. The writing is clear and an appropriate level for the audience it is intended for. The detailed diagrams included are clear and helpful, and the study questions at the end of each chapter help students summarize what they read in the chapter. [...]
For me, the highlight of the book under review is its online resources. The videos in particular are very helpful for student learning."
—Teri A. Clemons, SLPD, Biola University, in Doody's Book Reviews (May 2021)
Preface
Acknowledgments
Video List
Chapter 1. Introduction to and Epidemiology of Swallowing Disorders
Introduction
Need for Early Intervention
Epidemiology
Summary
Discussion Questions
Study Questions
References
Chapter 2. Anatomy and Physiology of the Swallowing Mechanism
Introduction
Central Nervous System
Peripheral Nervous System
Anatomy of the Swallowing Mechanism
The Normal Swallow
Cranial Nerves Involved in Swallowing
Sphincters
Central Neural Control of Swallowing
Respiration and Deglutition
Summary
Discussion Questions
Study Questions
References
Chapter 3. Swallowing Disorders Arising From Neurologic Disorders and Other Diseases
Introduction
Neurologic Disorders
Swallowing Disorders Found in Critical Care Patients
Esophageal Swallowing Disorders
Infectious Diseases
Medications and Swallowing Disorders
Swallowing Disorders Following Radiation Therapy
Autoimmune Disorders and Diseases
Summary
Discussion Questions
Study Questions
References
Chapter 4. Swallowing Disorders Following Surgical Treatments
Introduction
Anterior Cervical Spine Surgery
Neoplasms
Head and Neck Surgery
Skull Base Surgery
Tracheotomy
Zenker Diverticulum
Summary
Discussion Questions
Study Questions
References
Chapter 5. Clinical Evaluation of Swallowing Disorders
Introduction
Evidence-Based Practice
Multidisciplinary Dysphagia Team
Swallowing Screening
Clinical Swallow Evaluation
Silent Aspiration and the Clinical Swallow Examination
Summary
Discussion Questions
Study Questions
References
Chapter 6. Instrumental Evaluation of Swallowing Disorders
Introduction
Flexible Endoscopic Evaluation of Swallowing
Modified Barium Swallow
Modified Barium Swallow, Flexible Endoscopic Evaluation of Swallowing, and Silent Aspiration
Manometry and High-Resolution Manometry
Tongue Pressure/Strength Measurement
Other Instrumental Tests Associated With Swallowing Disorders
Summary
Discussion Questions
Study Questions
References
Chapter 7. Treatment of Swallowing Disorders
Introduction
Evidence-Based Practice
Multidisciplinary Approach to Swallowing Therapy
Oral Hygiene
Compensatory Swallowing Therapy
Rehabilitative Swallowing Therapy
Preventive Swallowing Therapy for Head and Neck Cancer Survivors
Other Swallowing Treatment Methods
Summary
Discussion Questions
Study Questions
References
Chapter 8. Nutrition and Diets
Introduction
Dietitian and Dysphagia
Properties of Liquids and Foods
Oral Nutrition and Dysphagia Diets
Nonoral Diets
Malnutrition and Dehydration
Summary
Discussion Question
Study Questions
References
Chapter 9. Swallowing in the Aging Population
Introduction
Aging Process Related to Swallowing
Changes in Swallowing
Dementia
Feeding Assistance
Nutrition in the Aging Population
Ethical Considerations
Summary
Discussion Question
Study Questions
References
Chapter 10. Pediatric Dysphagia: Assessment of Disorders of Swallowing and Feeding
Introduction
Definition
Etiology
Epidemiology
Anatomy of Swallowing and Feeding
Physiology of Swallowing and Feeding
Coordination of Apnea in Pediatric Swallowing
Classification of Dysphagia
Diagnosis
Assessment of Early Reflexes
Summary
Discussion Questions
Study Questions
References
Chapter 11. Treatment of Feeding and Swallowing Disorders in Infants and Children
Introduction
Pediatric Feeding Disorders
Feeding and Swallowing Behaviors
Treatment for Specific Disorders
Options and Considerations in the Treatment of Feeding Disorders in Infants and Children
Nonoral Feeding
Additional Factors in Infant Feeding and Swallowing
Summary
Discussion Questions
Study Questions
References
Chapter 12. Surgical Treatment and Prosthetic Management of Swallowing Disorders
Introduction
Rehabilitative Surgical Procedures
Palliative Surgical Procedures
Surgical Conclusions
Prosthetics
Prosthetics Conclusions
Summary
Discussion
Study Questions
References
Chapter 13. Case Studies
Introduction
Diagnosis
Instrumentation
Personnel
Facilities
Case Studies From Voice and Swallowing Centers
Summary
Discussion Questions
Study Questions
References
Glossary
Appendix 1. Reflux Symptom Index (RSI)
Appendix 2. Reflux Finding Score (RFS)
Appendix 3. Burke Dysphagia Screening Test
Appendix 4. The MD Anderson Dysphagia Inventory
Appendix 5. Eating Assessment Tool (EAT-10)
Appendix 6. Dysphagia Handicap Index (DHI)
Appendix 7. Voice Handicap Index-10 (VHI-10)
Appendix 8. Clinical Swallowing Examination Sample Form
Answers to Study Questions
Index