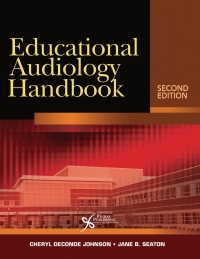 Educational Audiology Handbook.
Second Edition
Cheryl DeConde Johnson, Jane B. Seaton
Details: ebook
ISBN13: 978-1-63550-166-7
© 2012 | Available

PLURAL HAS MADE THE SECOND EDITION AVAILABLE AS AN EBOOK ON VITALSOURCE. CLICK THE VITALSOURCE BUTTON ABOVE TO PURCHASE THE EBOOK. PRINT COPIES OF THE SECOND EDITION ARE NOT AVAILABLE.

THE THIRD EDITION WILL BE RELEASED IN APRIL 2020 AND WILL BE AVAILABLE IN BOTH PRINT AND EBOOK FORMATS.

Educational Audiology Handbook is the gold standard text for school-based audiology in the field today. Providing blueprints for creating and maintaining high-quality programs and guidance to achieve full integration into a school staff, this text offers a roadmap for school-based audiology. Within this resource, you will find practice tools such as assessments, parent handouts, and legal and reference documents for the audiologist whose practice includes children.

New to the Second Edition
Every chapter has been updated to reflect current research, technology, and legislation affecting the practice of educational audiology.
Four new chapters covering classroom acoustics, counseling, early intervention, and education of the deaf and hard of hearing.
Unique combination of topics not typically discussed in traditional pediatric audiology textbooks, including: amplification, FM amplification applications, functional hearing assessments, and central auditory processing.
Extensive appendices contain legal and reference documents, forms, test protocols, handouts, and other materials pertinent for every audiologist whose practice includes children.
Preface
Foreword

Section I
CHAPTER 1 Educational Audiology: How Did We Get Here? Historical and Current Policy Perspectives
HISTORICAL PERSPECTIVE
GUIDING POLICIES OF THE TWENTY-FIRST CENTURY: YEARS 2000–2010
SUMMARY
SUGGESTED READINGS
APPENDIX 1-A Comparison of Pertinent Areas of the Individuals with Disabilities Education Act
APPENDIX 1-B IDEA 2004 Key Regulations Pertaining in Audiology and
APPENDIX 1-C Comparison of Pertinent Part B and Part C IDEA Requirements Related to Children and You
APPENDIX 1-D Summary of Regulations Pertaining to Persons Who Are Deaf and Hard of Hearing

CHAPTER 2 Roles and Responsibilities of Educational Audiologists
ROLES OF EDUCATIONAL AUDIOLOGISTS
RESPONSIBILITIES OF EDUCATIONAL AUDIOLOGISTS
ETHICAL CONSIDERATIONS
EDUCATIONAL AUDIOLOGY SERVICE DELIVERY MODELS
ESTABLISHING AND EXPANDING EDUCATIONAL AUDIOLOGY SERVICES IN THE SCHOOLS
TRAINING FOR EDUCATIONAL AUDIOLOGISTS
SUMMARY
SUGGESTED READINGS
APPENDIX 2-B Suggested Discipline Responsibilities for Identification, Evaluation, Referral, and Ser
APPENDIX 2-C Educational Audiology Association: EDUCATIONAL AUDIOLOGISTS AND COCHLEAR IMPLANTS
APPENDIX 2-D Educational Audiology Association: Minimum Competencies for Educational Audiologists
APPENDIX 2-E Educational Audiology Association: RECOMMENDED PROFESSIONAL PRACTICES
APPENDIX 2-H Educational Audiology Association: GUIDELINES OF THE CONSENSUS PANEL

CHAPTER 3 Hearing Screening and Identification
STATE MANDATES FOR HEARING SCREENING
PURPOSES OF HEARING SCREENING AND IDENTIFICATION PROGRAMS
RESOURCES FOR HEARING SCREENING AND IDENTIFICATION PROGRAMS
SCREENING AND IDENTIFICATION CONCEPTS AND CONSIDERATIONS
SCREENING AND IDENTIFICATION PROCEDURES
SCREENING AND IDENTIFICATION PROTOCOLS
SCREENING CHILDREN WHO CANNOT RESPOND TO TRADITIONAL TECHNIQUES
SCREENING PERSONNEL
SCREENING EQUIPMENT AND MAINTENANCE
SCREENING ENVIRONMENT
ORGANIZATION OF SCREENING AND IDENTIFICATION PROGRAMS
FOLLOW-UP PROCEDURES
RECORDKEEPING AND REPORTING
DETERMINING THE EFFECTIVENESS OF HEARING SCREENING AND IDENTIFICATION PROGRAMS
SUMMARY
SUGGESTED READINGS
APPENDIX 3-A Common Behaviors Frequently Exhibited by Children with Hearing Loss
APPENDIX 3-B RECORD OF EAR AND HEARING PROBLEMS
APPENDIX 3-C Basic Hearing Problems Questionnaire for Children with Developmental Delays
APPENDIX 3-D Preparation Checklist for Preschool and School Hearing Screening
APPENDIX 3-E Parent Notification and History Letter for Hearing Screening
APPENDIX 3-F Individual and Class Hearing Screening Record Forms
APPENDIX 3-G Hearing Rescreening Record Form
APPENDIX 3-H Sample Teacher Notification of Screening Results
APPENDIX 3-I Sample Parent Notification of Screening Results—Pass
APPENDIX 3-J Sample Parent Letter To Refer Child for Further Audiological Evaluation
APPENDIX 3-K Sample Medical Referral Letter and Return Medical Referral Form
APPENDIX 3-L Sample Medical Referral Form
APPENDIX 3-M Sample Database for Tracking Screening and Follow-Up
APPENDIX 3-N State Hearing and Vision Screening Requirements

CHAPTER 4 Assessment
THE CROSS-CHECK PRINCIPLE IN EDUCATIONAL AUDIOLOGY
BASIC ASSESSMENT OF HEARING LOSS
MODIFICATIONS FOR SPECIAL POPULATIONS
MONITORING HEARING SENSITIVITY
ADDITIONAL AUDIOMETRIC INFORMATION AND FUNCTIONAL HEARING ASSESSMENT
ASSESSMENT OF THE EDUCATIONAL EFFECTS OF HEARING LOSS
COMMUNICATION OF ASSESSMENT RESULTS
PERSONAL VULNERABILITY AND SAFETY
SUMMARY
SUGGESTED READINGS
APPENDIX 4-A Audiology Case History
APPENDIX 4-B Audiogram with Familiar Sounds
APPENDIX 4-C Sample Audiogram
APPENDIX 4-D Ordering Information for Selected Assessment Products
APPENDIX 4-E Common Functional Outcome Measures for Children and Youth with Hearing Loss
APPENDIX 4-F Adaptations for Assessing Children and Youth Who Are Blind or Visually Impaired
APPENDIX 4-G Cumulative Record of Thresholds
APPENDIX 4-H Phrase and Sentence Lists
APPENDIX 4-I The Functional Listening Evaluation
APPENDIX 4-J Classroom Participation Questionnaire
APPENDIX 4-K C.H.A.P.S.: Children's Auditory Performance Scale
APPENDIX 4-L S.I.F.T.E.R.: Preschool, Secondary, Elementary
APPENDIX 4-M L.I.F.E.: Listening Inventory For Education
APPENDIX 4-N Relationship of Hearing Loss to Listening and Learning Needs
APPENDIX 4-O Functional Assessment for Students Who Are Deaf and Hard of Hearing
APPENDIX 4-P Fisher's Auditory Problems Checklist
APPENDIX 4-Q Evaluation of Children with Suspected Listening Disorders
APPENDIX 4-R General Teacher Letter

CHAPTER 5 Auditory Processing Deficits
BASICS OF AUDITORY PROCESSING DEFICITS
PARADIGM SHIFT: RESPONSE TO INTERVENTION MODEL FOR AUDITORY PROCESSING DEFICITS
IMPLEMENTING A SCHOOL-BASED AUDITORY PROCESSING DEFICITS PROGRAM
SUMMARY
SUGGESTED READINGS
APPENDIX 5-A Classroom and Auditory Behaviors Observation Tools
APPENDIX 5-B Referral for Auditory Processing Assessment
APPENDIX 5-C Auditory Processing Case History
APPENDIX 5-D Auditory Processing Diagnostic Assessments
APPENDIX 5-E Multidisciplinary Tests of Auditory Processing
APPENDIX 5-F Auditory Processing Assessment Profile
APPENDIX 5-G Accommodations and Modifications Checklist for APD
APPENDIX 5-H Therapy and Remediation Techniques for Students with APD
APPENDIX 5-I Compensatory and Metacognitive Strategies for Students with APD
APPENDIX 5-J Classroom Acoustics and Instructional Interventionsfor Students with APD

CHAPTER 6 Classroom Acoustics
CLASSROOM ACOUSTICS AND AT-RISK CHILDREN
PROPERTIES OF CLASSROOM ACOUSTICS
EFFECTS OF CLASSROOM ACOUSTICS ON SPEECH PERCEPTION
CLASSROOM ACOUSTICAL STANDARDS
CLASSROOM ACOUSTICS RESOLUTIONS AND GUIDELINES
MEASURING CLASSROOM ACOUSTICS
ROLE OF THE EDUCATIONAL AUDIOLOGIST
SUGGESTED READINGS
APPENDIX 6-A Classroom Acoustical Screening Survey Worksheet
APPENDIX 6-B Frequently Asked Questions About Classroom Acoustics
APPENDIX 6-C Resources for Classroom Acoustics

CHAPTER 7 Personal Hearing Instruments and Hearing Assistance Technology
RATIONALE FOR PERSONAL HEARING INSTRUMENTS AND HEARING ASSISTANCE TECHNOLOGY
RECENT TRENDS AND REGULATORY CONSIDERATIONS
ASSESSMENT OF THE PERSONAL HEARING INSTRUMENT AND HEARING ASSISTANCE TECHNOLOGY NEEDS OF CHILDREN
PERSONAL HEARING INSTRUMENTS AND HEARING ASSISTANCE TECHNOLOGY OPTIONS
IMPLEMENTATION AND MANAGEMENT OF HEARING TECHNOLOGY
OTHER ASSISTIVE TECHNOLOGIES
SUMMARY
SUGGESTED READINGS
APPENDIX 7-A Comments from Final Regulations IDEA 2004, Federal Register August 14, 2006
APPENDIX 7-B Hearing Aid Adjustment Program
APPENDIX 7-C FM Listening Evaluation
APPENDIX -D Hearing Aid/FM Listening Evaluation for Children
APPENDIX 7-E Personal Amplification Monitoring Plan
APPENDIX 7-F Instructions for Hearing Aid Checks
APPENDIX 7-G Instructions for Cochlear Implant Checks
APPENDIX 7-H Instructions for Baha® Checks
APPENDIX 7-I Instructions for Personal FM System Checks
APPENDIX 7-J Hearing Aid, Cochlear Implant, Baha® and Personal FM System Monitoring Chart
APPENDIX 7-K The Ling Six Sound Check
APPENDIX 7-L Tips to Enhance FM and Infrared (IR) Use
APPENDIX 7-M Remote Microphone HAT Implementation Worksheet In-School Form
APPENDIX 7-N Remote Microphone HAT Implementation Worksheet Out-of-School Form

CHAPTER 8 Case Management and Habilitation
PLANNING CASE MANAGEMENT AND HABILITATION
IMPLEMENTING AUDIOLOGICAL HABILITATION
SERVICES FOR SPECIAL POPULATIONS
INCLUSION
SUMMARY
SUGGESTED READINGS
APPENDIX 8-A Student Services and Service Provider Information
APPENDIX 8-B Form to Facilitate Written Collaboration Between Teacher or School Provider
APPENDIX 8-C Auditory and Tactile Assessment and Curricula
APPENDIX 8-D Listening Development Profile
APPENDIX 8-E Parent Letter About Speechreading
APPENDIX 8-F Speechreading Resources for Children
APPENDIX 8-G Functional Auditory Performance Indicators (FÁPI)
APPENDIX 8-H Communications Options Reference Chart
APPENDIX 8-J Auditory Learning Program Parent/School/Student Contract
APPENDIX 8-K Early Auditory Skill Development for Special Populations
APPENDIX 8-L Auditory Response Data Sheet
APPENDIX 8-M Classroom–at-a-Glance: Observation Checklist
APPENDIX 8-N Teaching Strategies and Classroom Activities for Selected Listening Difficulties

CHAPTER 9 Student Counseling and Self-Advocacy
COUNSELING STUDENTS WITH HEARING LOSS
INFORMATIONAL COUNSELING
PERSONAL ADJUSTMENT COUNSELING
NETWORKING FOR STUDENTS
TRANSITION PLANNING
WHEN TO REFER
SUMMARY
SUGGESTED READINGS
APPENDIX 9-A My Personal Profile and Accommodations
APPENDIX 9-B Self-Assessment of Communication—Adolescent (SAC-A)
APPENDIX 9-C Stories and Books about Hearing Loss and Online Resources for Student Networking
APPENDIX 9-D Self-Advocacy Competencies Checklist
APPENDIX 9-E MyGAP Self-Assessment: Understanding and Using Hearing and Hearing Assistance Technology
APPENDIX 9-F Hearing Loss Notification Card

CHAPTER 10 Hearing Loss Prevention
PLANNING A HEARING LOSS PREVENTION PROGRAM
MANAGEMENT OF MATERIALS AND INFORMATION
DOCUMENTATION AND SUPPORT
STUDENTS WHO ARE DEAF OR HARD OF HEARING
HEARING LOSS PREVENTION CURRICULA
SUMMARY
SUGGESTED READINGS
APPENDIX 10-A Hearing Loss Prevention Parent Letter (Preschool)
APPENDIX 10-B Hearing Loss Prevention Handout for Middle/High School Students
APPENDIX 10-C Hearing Loss Prevention References for High School Students
APPENDIX 10-D Ordering Information for Hearing Loss Prevention Materials

CHAPTER 11 Early Intervention: Serving Infants and Toddlers
HISTORICAL PERSPECTIVE
CREATING AN EARLY HEARING DETECTION AND INTERVENTION SYSTEM IN YOUR STATE
DESIGNING AND IMPLEMENTING EARLY INTERVENTION
ROLES AND RESPONSIBILITIES OF EDUCATIONAL AUDIOLOGISTS
SUMMARY
SUGGESTED READINGS
APPENDIX 11-A Part C Lead Agencies in States and U.S. Territories
APPENDIX 11-B Early Detection and Intervention of Hearing Loss: Roles and Responsibilities for Educators
APPENDIX 11-C Natural Environments for Infants and Toddlers Who Are Deaf or Hard of Hearing
Section II
CHAPTER 12 Educational Considerations for Students Who Are Deaf and Hard of Hearing
CURRENT ISSUES IN DEAF EDUCATION
THE "NEW" RESEARCH: WHAT IS IT SAYING?
NATIONAL AND STATE INITIATIVES IN DEAF EDUCATION
EDUCATIONAL ASSESSMENT
BEST PRACTICES IN EDUCATING CHILDREN AND YOUTH WHO ARE DEAF AND HARD OF HEARING
SUMMARY
SUGGESTED READINGS
APPENDIX 12-A Colorado Deaf Child's Bill of Rights: Communication Plan
APPENDIX 12-B Colorado Quality Standards for Programs and Services for Students Who Are Deaf and Hard of Hearing
APPENDIX 12-C Assessment Terminology
APPENDIX 12-D Summary of Psychoeducational Assessments
APPENDIX 12-E Accountability Plan Summary: Programs and Services for Children and Youth Who Are Deaf
APPENDIX 12-F Deaf and Hard of Hearing Program and Service Review Checklist

CHAPTER 13 Developing Individual Plans
THE SPECIAL EDUCATION PROCESS
THE INDIVIDUALIZED EDUCATION PROGRAM
THE 504 PLAN
THE SERVICES PLAN (PRIVATE SCHOOLS)
THE INDIVIDUAL FAMILY SERVICE PLAN
THE ROLE OF CASE LAW
SUMMARY
SUGGESTED READINGS
APPENDIX 13-A Individualized Education Program/504 Plan Checklist: Accommodations and Modifications
APPENDIX 13-B Individualized Education Program Team Responsibilities for Educational Audiologists
APPENDIX 13-C Communication Considerations Worksheet
APPENDIX 13-D PARC: Placement And Readiness Checklists for Students Who Are Deaf and Hard of Hearing
General Education Inclusion Readiness Checklist
Interpreted/Transliterate Education Readiness Checklist
Captioning/Transcribing Readiness Checklist
Instructional Communication Access Checklist
Placement Checklist for Children Who Are Deaf and Hard of Hearing: PRESCHOOL/KINDERGARTEN
Placement Checklist for Students Who Are Deaf and Hard of Hearing: ELEMENTARY
Placement Checklist for Students Who Are Deaf and Hard of Hearing: SECONDARY
APPENDIX 13-E Sample 504 Plan
APPENDIX 13-F Case Law Summary: Legal Interpretations Relating to Audiology and Deaf Education Services

CHAPTER 14 Professional Collaboration within Communities

IDENTIFYING AND INTERFACING WITH COMMUNITY RESOURCES
ESTABLISHING AND MAINTAINING RELATIONS WITH COMMUNITY RESOURCES
LEGAL AND ETHICAL ISSUES
SUMMARY
SUGGESTED READINGS
APPENDIX 14-A Community Needs Assessment Form
APPENDIX 14-B Sample Letter to Community Resources
APPENDIX 14-C CI Center/School/Therapist/Parent Information Exchange Form
APPENDIX 14-D NOCCCI Information Exchange & Release of Information Form
APPENDIX 14-E Service Clubs That Support Programs for Persons with Disabilities

CHAPTER 15 Relationships with Families
POSITIVE ATTITUDES
EFFECTIVE COMMUNICATION
INFORMATIONAL GUIDANCE
PARENT INVOLVEMENT
HANDLING DIFFICULT SITUATIONS
SUMMARY
SUGGESTED READINGS
APPENDIX 15-A WELCOME TO HOLLAND!
APPENDIX 15-B Family Needs Interview for Families of Children Who Are Deaf or Hard of Hearing
APPENDIX 15-C Resources for Parents of Children Who Are Deaf or Hard of Hearing

CHAPTER 16 Inservice
PREPARATION
PRESENTATION
FOLLOW-UP
SUMMARY
SUGGESTED READINGS
APPENDIX 16-A Sample Inservice Outlines
APPENDIX 16-B Inservice and Hearing Loss Simulation Resources
APPENDIX 16-C Teacher Needs Assessment: Support for Students with Auditory Impairments
APPENDIX 16-D Inservice Evaluation Form

CHAPTER 17 Marketing and Advocacy
GOALS FOR MARKETING EDUCATIONAL AUDIOLOGY
TARGET AUDIENCES
INFORMATION TO BE DISSEMINATED
MARKETING STRATEGIES
ASSESSMENT OF MARKETING EFFECTIVENESS
SUMMARY
SUGGESTED READINGS
APPENDIX 17-A 16 Reasons Why Your School Needs an Educational Audiologist
APPENDIX 17-B School-Based Audiology Advocacy Series
APPENDIX 17-C Marketing Letter to Parents and Teachers
APPENDIX 17-D Sample Student Marketing Letter
APPENDIX 17-E Index Card Information for Marketing and Advocacy
APPENDIX 17-F Consumer Feedback: Educational Audiology Services
APPENDIX 17-G Marketing/Advocacy Outcomes Log
APPENDIX 17-H Community Education and Marketing Resources

CHAPTER 18 Program Development, Evaluation, and Management
PROGRAM DEVELOPMENT
PROGRAM EVALUATION
PROGRAM MANAGEMENT
SUMMARY
SUGGESTED READINGS
APPENDIX 18-A Self-Assessment: Effectiveness Indicators for Audiology Services in the Schools
APPENDIX 18-B School and Community Survey of Educational Audiology Services
APPENDIX 18-C Goal Prioritization Worksheet
APPENDIX 18-D Long-Range Planning Form
APPENDIX 18-E Educational Audiology Work Load Analysis Form

CHAPTER 19 Reflections: Where Are We Headed?
TECHNOLOGY
SERVICE DELIVERY AND REIMBURSEMENT
LEGISLATION
DEMOGRAPHICS
PROFESSIONAL DEVELOPMENT, CREDENTIALLING, AND STANDARDS
RESEARCH
SUMMARY

References
Index