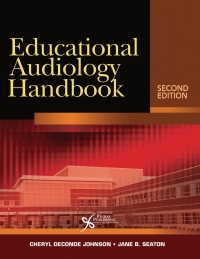 Educational Audiology Handbook
Second Edition
Cheryl DeConde Johnson, Jane B. Seaton
Details: ebook
ISBN13: 978-1-63550-166-7
© 2012

PLURAL HAS MADE THE SECOND EDITION AVAILABLE AS AN EBOOK ON VITALSOURCE. CLICK THE VITALSOURCE BUTTON ABOVE TO BE TAKEN TO VITALSOURCE TO PURCHASE THE EBOOK. PRINT COPIES OF THE SECOND EDITION ARE NOT AVAILABLE. THE THIRD EDITION OF THIS TEXT IS PLANNED FOR DECEMBER 2019 AND WILL BE AVAILABLE IN BOTH PRINT AND EBOOK FORMATS. MORE INFORMATION WILL BE AVAILABLE ON OUR WEBSITE IN JUNE 2019.

Educational Audiology Handbook is the gold standard text for school-based audiology in the field today. Providing blueprints for creating and maintaining high-quality programs and guidance to achieve full integration into a school staff, this text offers a roadmap for school-based audiology. Within this resource you will find practice tools such as assessments, parent handouts, and legal and reference documents for the audiologist whose practice includes children.

New to the Second Edition
Every chapter has been updated to reflect current research, technology, and legislation affecting the practice of educational audiology.
Four new chapters covering classroom acoustics, counseling, early intervention, and education of the deaf and hard of hearing.
Unique combination of topics not typically discussed in traditional pediatric audiology textbooks, including: amplification, FM amplification applications, functional hearing assessments, and central auditory processing.
Extensive appendices contain legal and reference documents, forms, test protocols, handouts, and other materials pertinent for every audiologist whose practice includes children.