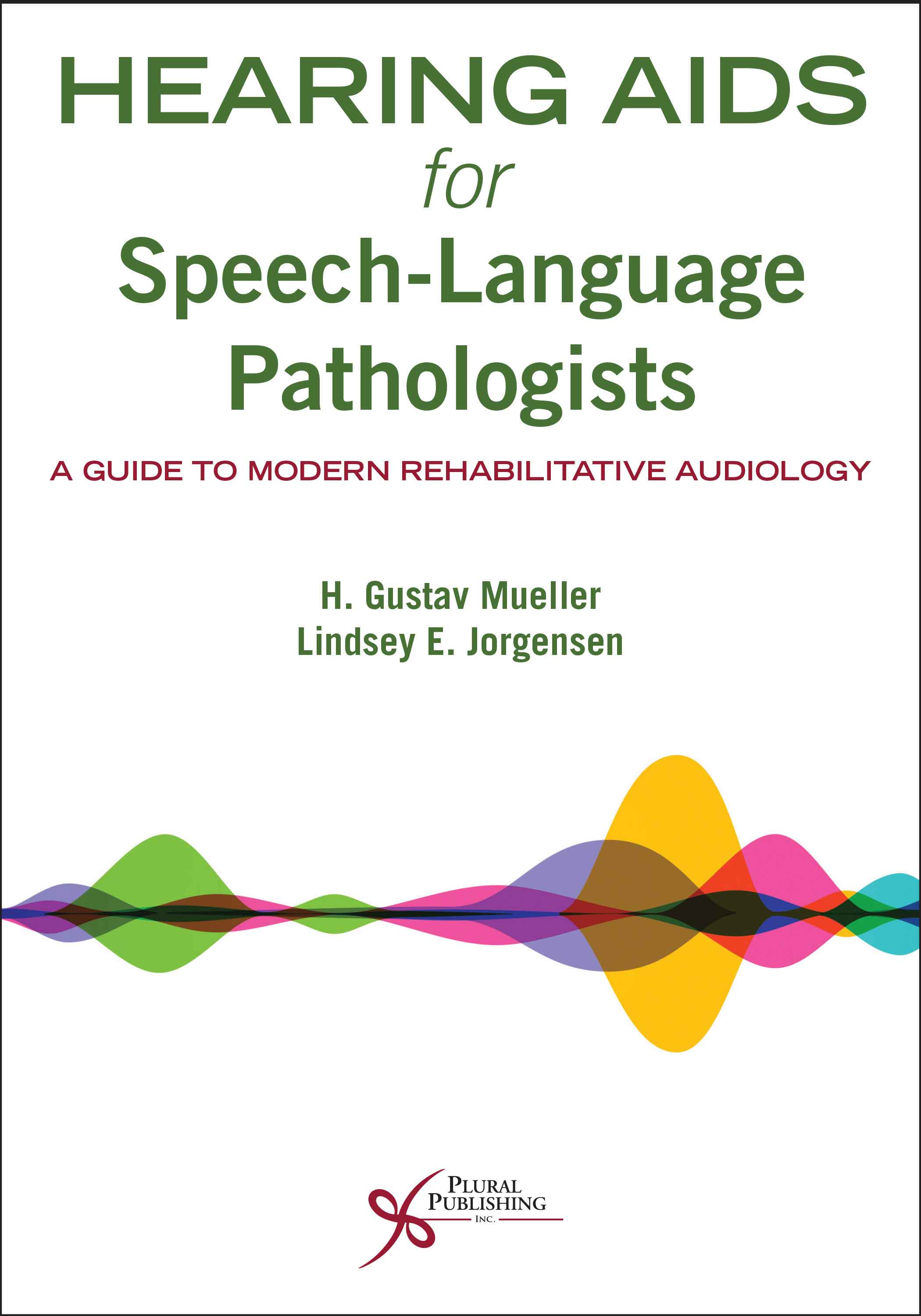 Hearing Aids for Speech-Language Pathologists: A Guide to Modern Rehabilitative Audiology
First Edition
H. Gustav Mueller, Lindsey E. Jorgensen
Details: 445 pages, B&W, Softcover, 7" x 10"
ISBN13: 978-1-63550-214-5
© 2020 | Available
Hearing aid technology changes at a rapid pace. For speech-language pathologists who work with individuals using hearing instruments, keeping up with the new technology can be challenging, and sometimes even intimidating. Hearing Aids for Speech-Language Pathologists is designed to remove the mystery and the confusing high-tech terms of the many hearing aid algorithms and features, by simply laying out the need-to-know aspects in an organized, easy to read and understand manner.
The core of this text focuses on how modern hearing aids work, and the tests associated with the fitting of these instruments. Attention is given to both the school age and adult hearing aid user. Recent developments such as situation detection, rechargeability and wireless connectivity are reviewed in detail, as well as the popular use of smartphone apps to allow the user to control the processing. Amplification is not just hearing aids, and therefore chapters also have been dedicated to implantable amplification strategies, FM and Bluetooth solutions.
Hearing aid fitting cannot be studied in isolation, but rather, how it fits into the complete treatment of the patient with hearing loss, including the audiologic rehabilitative process. For this reason, the beginning chapters of the book are devoted to a review of the basics of the modern audiologic evaluation and the associated auditory pathologies. Readers will also find portions of the book that address hearing screening in the schools, rehabilitative techniques and auditory training.
Practicing speech-language pathologists and graduate students will find that this text provides the latest in concise and practical information in the areas of hearing aids and rehabilitative audiology. Hearing Aids for Speech-Language Pathologists is authored by two of the industry's leading authorities on adult amplification, who have carefully crafted a text that provides speech-language pathologists with the essential information to work comfortably with hearing instruments and their accessories for individuals of all ages.
Reviews
"Written with speech pathologists in mind, this well-researched book covers the most up-to-date information about hearing aids, assistive technology, cochlear implants, and rehabilitative audiology. [...] The best parts of this book are the summary areas, such as who is selling hearing aids, the table with all causes of hearing loss listed with type of loss, and the "in closing" sections at the end of each chapter. The appendices with the audiology scope of practice is helpful, as is the ASHA Guidelines for Childhood Hearing Screening and Self-Advocacy Competency Skills Checklist (when working with kids with hearing loss). The book is also notable for its up-to-date information and the interesting way in which it is written, supported by both peer-reviewed studies and conversations with potential users. As is typical for this author, the book is both entertaining and educational; in fact, it is fascinating. As an audiologist, I enjoyed it thoroughly."
—Lori J. Newport, AuD, Biola University, in Doody's Book Reviews (March 2020)
Originally published in German and translated to English:
"The authors use very clear and easy to understand diagrams, checklists and flow charts for a possible sequence for therapy. Also current topics like teletherapy, multilingualism or the use of apps find their deserved place here. The content part of the book ends with the appendix, which contains a lot of valuable information on practical implementation from the perspective of AAA and the ASHA guidelines for newborn hearing screening as well as checklists for children and adults. I am enthusiastic about this work and see it as a useful addition to the specialist books on the topic of hearing impairment published so far for children and adults."
—Dr. Bianka Wachtlin in Forum Logopädie (September 2020)
"…The first half is a synopsis of wisdom, derived through enquiry and experience, and applied to current technology and clinical practice. The style of writing is very engaging, and succinct, requiring some familiarity and knowledge of audiology protocols.
The first four chapters cover the basics of audiology practice with a North American focus on regulation and ethics, which highlights the role of SLP practitioners in the USA. Chapter 5 focuses on hearing aid features, including compression profiles, beam-forming microphones, data logging, movement detection and connectivity options….
The chapter on Hearing Aid Fitting A to Z has some of the best sections I've come across on speech signals, measurement in dBHL/dBA, speech intelligibility index (SII) scores and outcome measures. The validation section considers how best to measure whether the client's communication goals are being met.
…The first half of this book is informative for senior and lead-audiologists to inspire review of audiology practice with a very human touch. Specific chapters and sections could usefully be given to junior/trainee staff members to implement new practice. This is an accessible and aspirational section of the book for the audiology professional."
–Josephine Marriage & Martha Mann, Chear Ltd, UK, in ENT & Audiology News (November/December 2021)
20Q: Modern Hearing Aids - A Primer for Speech-Language Pathologists
Read Gus Mueller's interview from SpeechPathology here.
Preface
Chapter 1. Provision of Hearing Aids: Who, What, and Where
Chapter 2. The Routine Audiologic Evaluation: A Review
Chapter 3. Common Causes of Hearing Loss
Chapter 4. Hearing Aid Styles and Fitting Applications
Chapter 5. Hearing Aids: How They Work!
Chapter 6. The Hearing Aid Fitting A to Z
Chapter 7. Implantable Amplification Devices
Chapter 8. Hearing Assistive Technologies and Classroom Considerations
Chapter 9. Hearing Loss, Hearing Aids, and Children
Chapter 10. Rehabilitation
Appendix A. AAA Scope of Practice
Appendix B. ASHA Scope of Practice
Appendix C. AAA Code of Ethics
Appendix D. SII 2010 Revision of the 1990 Mueller and Killion Count-the-Dots Audiogram
Appendix E. Abbreviated Profile of Hearing Aid Benefit (APHAB)
Appendix F. Expected Consequences of Hearing Aid Ownership (ECHO)
Appendix G. ASHA Guidelines for Childhood Hearing Screening
Appendix H. Self-Advocacy Competency Skills Checklist
Glossary
References
Index