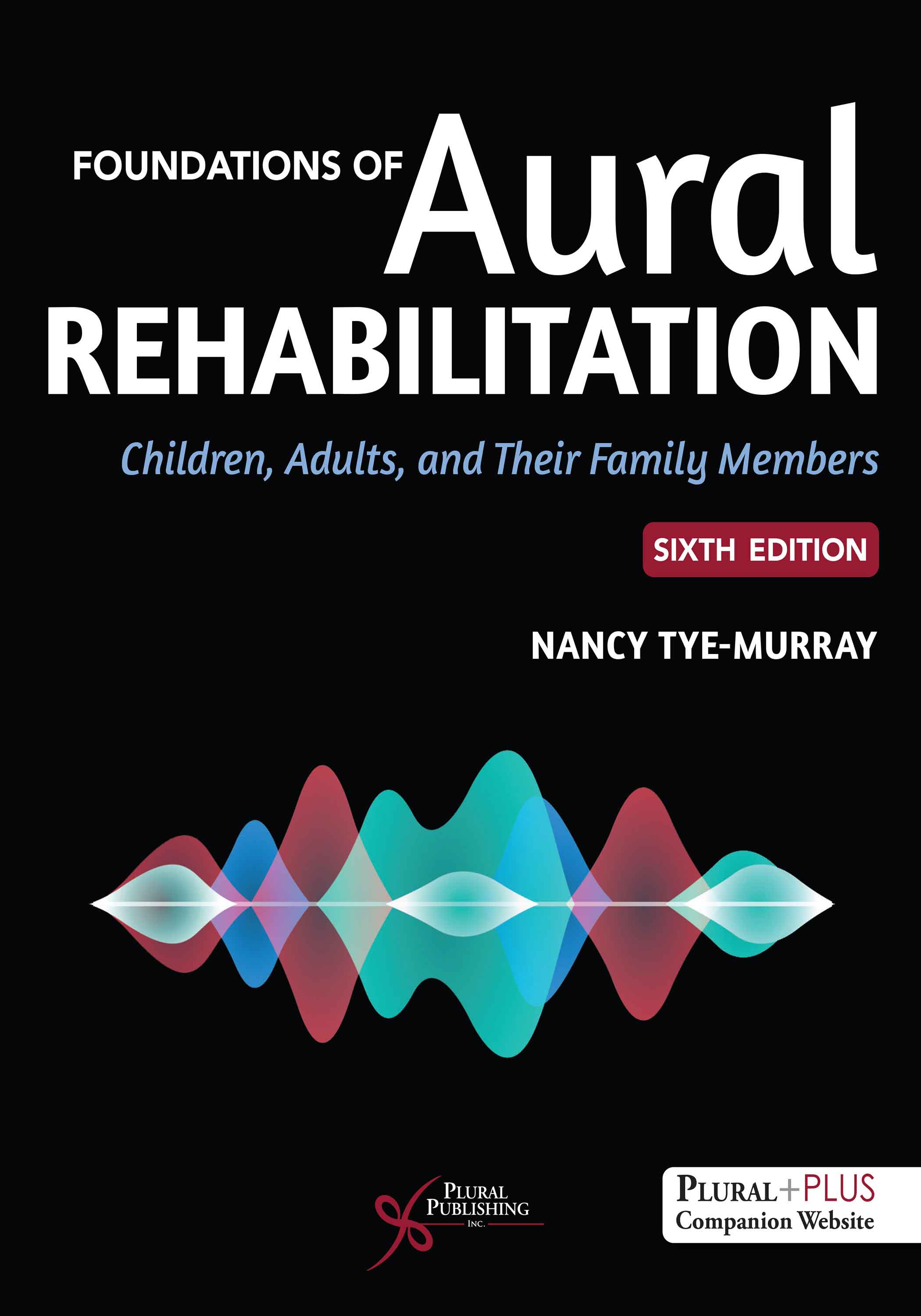 Foundations of Aural Rehabilitation: Children, Adults, and Their Family Members
Sixth Edition
Nancy Tye-Murray
Details: 575 pages, 2-Color, Softcover, 8.5" x 11"
ISBN13: 978-1-63550-420-0
© 2024 | Coming Soon
Release Date: 11/15/2022
For Instructors
Purchase
Available for purchase starting 10/18/2022
Print Book: $164.95
eBook: $164.95
Thoroughly updated with three new chapters, Foundations of Aural Rehabilitation: Adults, Children, and Their Family Members, Sixth Edition introduces the fundamentals of audiologic rehabilitation and hearing-related speech-language pathology in an easy-to-read, concise resource for the field of communication sciences and disorders. The text offers creative coverage of theory, clinical practice, and research-based approaches for identifying, diagnosing, and treating hearing-related communication disorders in children and adults. The book includes case studies, and general demographic, medical, and pop-cultural trends are considered in parallel with corresponding developments in aural rehabilitation.
The text is separated into three sections for the most comprehensive coverage of each topic: Part 1 describes the components of an aural rehabilitation plan, Part 2 concerns adults and their family members, and Part 3 concerns children and their parents. Important topics throughout include patient-centered services, counseling, diagnostics, selection and fitting of listening devices, conversational fluency and communication strategies training, auditory training, speechreading, language and speech acquisition, and literacy.
New to the Sixth Edition
Reorganization of chapters combine shared themes and streamline learning:

Audiological Examination and Listening Devices chapters have been combined into Chapter 2

Assessing Conversational Fluency and Communication chapters are now combined into Chapter 6
A new chapter on auditory training for children, with detailed guidance for developing training objectives and activities (Chapter 13)
A new chapter devoted exclusively to language development and language therapy (Chapter 14)
A new chapter on speech and literacy acquisition, along with practical examples of lessons (Chapter 15)
Inclusion or expansion of special topics, including auditory processing disorder, hidden hearing loss, unilateral hearing loss, and cultural competency
Improved and expanded number of figures that illustrate and illuminate key concepts and ideas
Key Features
Focus on evidence-based approaches to aural rehabilitation
Written in an engaging and clear style
Chapters begin with Chapter Outlines and end with Key Chapter Points and Terms and Concepts to Remember
Case studies in each chapter
Numerous illustrations, tables, sidebars, and text boxes enrich the presentation of concepts
Bolded key terms throughout with definitions in the margins and a comprehensive glossary make for easy review
Chapter Key Resources and Appendices provide tools that can be used in clinical practice
PluralPlus Ancillary Materials
Online supplementary resources for instructors and students indlude PowerPoint lecture slides,additional case studies, learning activities, teaching tips, exam review sheets, practice quizzes, and exams.
Preface
Chapter 1: Introduction
The World Health Organization (WHO) And Hearing-Related Disability
Services Included in the Aural Rehabilitation Plan
Where Does Aural Rehabilitation Occur?
Who Provides Aural Rehabilitation?
Hearing Loss
Service Needs
Culture and Cultural Competence
Evidence-Based Practice
Case Study: Applying the WHO's International Classification of Functioning, Disability and
Health
Case Study: Evidence-Based Practice Decision Making
Final Remarks
Key Chapter Points
Terms and Concepts to Remember
Appendix 1–1
Appendix 1–2
Appendix 1–3
Part I The Components of an Aural Rehabilitation Plan
Chapter 2: Diagnostics and Listening Devices
Hearing Testing and the Audiogram
Speech Recognition Testing and Speech Audiometry
Listening Devices
Hearing Aids
Teleaudiology
Over-The-Counter (OTC) Hearing Aids and Personal Sound Amplification Products (PSAPs)
Cochlear Implants
Hearing Assistive Technology Systems (HATS) And Assistive Listening Devices (ALDs)
Case Study: Listen to the Music
Final Remarks
Key Chapter Points
Terms and Concepts to Remember
Key Resources
Chapter 3: Auditory-Only Speech Perception and Auditory Training
Listening to Speech With a Hearing Loss
Goals of Auditory Training
Historical Notes
Candidacy for Auditory Training
Brain Plasticity and Auditory Training
Theoretical Underpinnings for Auditory Training
Auditory Training to Improve Speech Recognition
Auditory Training to Improve Music Perception
Benefits of Auditory Training
Case Study: Learning to Hear Again
Final Remarks
Key Chapter Points
Terms and Concepts to Remember
Chapter 4: Audiovisual Speech Perception and Speechreading Training
Speechreading for Communication
Characteristics of a Good Lipreader
What Happens When Someone Lipreads?
The Difficulty of the Lipreading Task
What Happens When Someone Speechreads?
Factors That Affect the Speechreading Process
Assessing Vision-Only and Audiovisual Speech Recognition
Speechreading Training
Benefits of Speechreading Training
Oral Interpreters
Case Study: An Exceptional Lipreader
Final Remarks
Key Chapter Points
Terms and Concepts to Remember
Chapter 5: Communication Strategies and Conversational Styles
Conversation
Facilitative Communication Strategies
Repair Strategies
Stages of Communication Breakdown
Research Related to Repair Strategy Usage and Communication Breakdowns
Conversational Styles and Behaviors
Case Study: A Couple Conversing
Final Remarks
Key Chapter Points
Terms and Concepts to Remember
Chapter 6: Communication Strategies Training and Digital Therapeutics (DTxs)
Conversational Fluency
Self-Efficacy
Issues to Consider When Developing an In-person Training Program
Getting Started
Model for Training
An Example of the Communication Training Model in Practice: Acknowledgement Tactics
Program Evaluation
Communication Strategies Training for Frequent Communication Partners
Digital Therapeutics (DTxs)
Benefits of Training
Case Study: A Digital Chat
Final Remarks
Key Chapter Points
Terms and Concepts to Remember
Key Resources
Chapter 7: Counseling, Psychosocial Support, and Assertiveness Training
Who Provides Counseling, Psychosocial Support, and Assertiveness Training?
The Patient's Story and Narrative Therapy
Counseling
Psychosocial Support
Assertiveness Training
Related Research
Case Study: Solving Challenging Situations
Final Remarks
Key Chapter Points
Terms and Concepts to Remember
Key Resources
Part II Aural Rehabilitation for Adults
Chapter 8: Aural Rehabilitation for Adults
Prevalence of Hearing Loss Among Adults
Who Is This Person?
Where Is the Patient in the Journey?
A Patient-Centered Approach
The Aural Rehabilitation Plan
Tinnitus Intervention
Case Study: One Size Doesn't Fit All
Final Remarks
Key Chapter Points
Terms and Concepts to Remember
Key Resources
Appendix 8–1
Chapter 9: Older Adults
Overview of the Population
An Aural Rehabilitation Blueprint
Activity Limitations and Participation Restrictions
Audiological Status and Otologic Health
Life-Situation Factors
Health Variables
The Effects of Untreated Hearing Loss
Aural Rehabilitation Intervention
Other Services
The Frequent Communication Partner's Journey
Aural Rehabilitation in the Institutional Setting
Case Study: Staying Active
Final Remarks
Key Chapter Points
Terms and Concepts to Remember
Key Resources
PART III Aural Rehabilitation for Children
Chapter 10: Detection and Confirmation of Hearing Loss in Children
Overview
Detection of Hearing Loss
Confirmation of Hearing Loss
Health Care Follow-Up
Parent Counseling
Case Study: A Memorable Journey
Final Remarks
Key Chapter Points
Terms and Concepts to Remember
Key Resources
Appendix 10–1
Appendix 10–2
Chapter 11: Infants and Toddlers
Legislation Concerning Children Who Have Hearing Loss
The Individualized Family Service Plan (IFSP)
Communication Mode
Listening Device
Early-Intervention Programs
Parental Support
Case Study: A Mother's Journey
Final Remarks
Key Chapter Points
Terms and Concepts to Remember
Appendix 11–1
Appendix 11–2
Chapter 12: School-Age Children
The Transition from Early Intervention Services to Elementary School
Creation of an Individual(ized) Education Plan (IEP)
The Multidisciplinary Team
School and Classroom Placement
Amplification and Assistive Listening Devices
Classroom Acoustics
Other Services
Children Who Have Mild or Moderate Hearing Loss
Children Who Have Auditory Processing Disorder (APD)
Children Who Have Unilateral Hearing Loss
Case Study: IDEA(s) for All Children
Final Remarks
Key Chapter Points
Terms and Concepts to Remember
Key Resources
Appendix 12–1
Chapter 13: Auditory Training for Children
Four Design Principles
Developing Analytic Training Objectives
Developing Synthetic Training Objectives
Formal and Informal Auditory Training
Interweaving Auditory Training With Other Components of Aural Rehabilitation
Example Programs
Case Study: Listening With a New Cochlear Implant
Final Remarks
Key Chapter Points
Terms and Concepts to Remember
Appendix 13-1
Appendix 13-2
Chapter 14: Language
Overview
Content
Syntax
Pragmatics
Language Evaluation
Approaches for Teaching Language
Language Instruction
Case Study: Vocabulary Gains Following a Speech Perception Training Program With Structured Input
Final Remarks
Key Chapter Points
Terms and Concepts to Remember
Chapter 15: Speech and Literacy
Speech Characteristics
Assessing Speech Skills
Speech Therapy
Literacy Characteristics
Literacy Evaluation
Literacy Instruction
Case Study: Writing Samples from 10- and 11-Year-Old Children
Final Remarks
Key Chapter Points
Terms and Concepts to Remember
Key Resources
Appendix 15-1

Glossary
References
Index