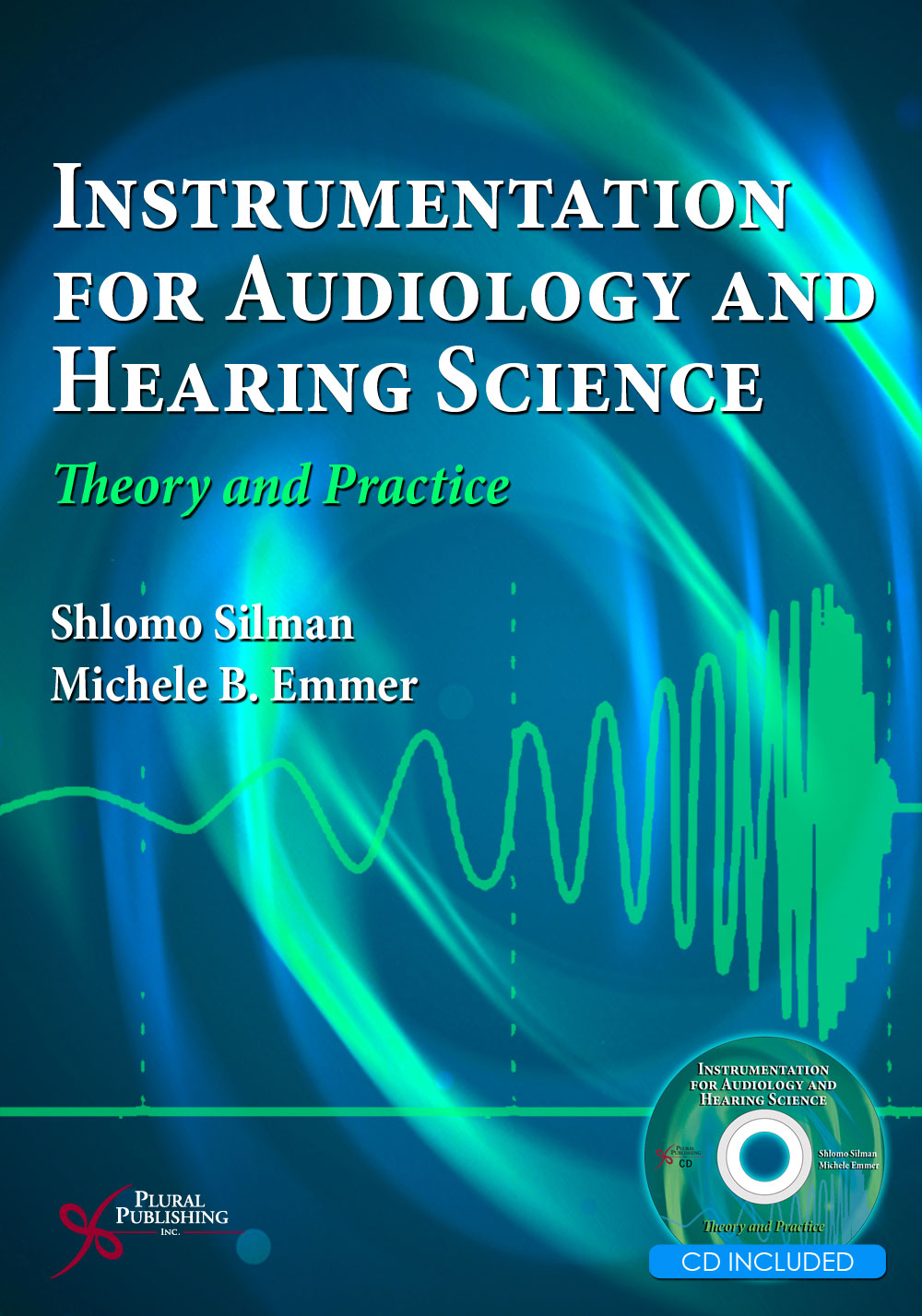 Instrumentation for Audiology and Hearing Science: Theory and Practice
First Edition
Shlomo Silman, Michele B. Emmer
Details: 288 pages, B&W, Softcover + DVD, 7" x 10"
ISBN13: 978-1-59756-381-9
© 2012 | Available
Understanding the array and complexity of instrumentation available to audiologists and hearing scientists is important to students, beginning clinicians and even seasoned professionals. This book is a comprehensive and accessible look at instrumentation used in these fields. The expert authors introduce the laws of physics as they relate to audiology and hearing science and explain concepts in electronics directly related to instrumentation used in audiology and hearing science (filtering, immittance, digital signal processing including FFT, power reflectance, microphones, receivers, amplifiers, and so forth). They also provide an invaluable introduction to digital technology and further cover details on the calibration of equipment (ANSI standards, audiometer, otoacoustic emissions, and other evoked potentials). The book, reviewed by internationally renowned experts and with a foreword by Dr. James Jerger, is abundantly illustrated with analog and digital models and also includes instrumentation demonstrations on an accompanying DVD.
View a sample video from the DVD here.
Reviews
"This book takes the reader from basic chapters on physical concepts, up to instrumentation to perform audiological tests, and finally calibration standards and procedures.
[W]e begin with well written chapters on the concepts of force, work and powers, Newton's laws and the decibel scale and then electrical concepts of resistance, current, inductors and capacitors, leading to frequency filter circuits.The approach is mostly quite readable and descriptive. . . . [T]he main content of the book is relatively timeless and so should remain of use for many years.
...Undoubtedly a useful text for audiology students and those looking to develop a deeper understanding of their clinical equipment, devise non-standard tests for research applications or conduct their own calibration. I would score the book 4 out of 5."
—Richard Knight, MSc, PhD CS, Addenbrooke's Hospital, Cambridge University Hospitals NHS Foundation Trust, ENT & Audiology News (Sept/Oct. 2013)
"I have been using the text for several semesters in my doctoral audiology course in electronics and instrumentation, and have found it to be an excellent resource in all aspects of the course. It covers the basic physical principles and builds upon them to elucidate the more advanced and complex concepts presented later. Students find the book highly readable and comment favorably on its many figures and illustrations. Difficult topics, such as acoustic immittance and power reflectance, are clearly described and students are able to apply the information to clinical situations. Using this text has also made my teaching of calibration easier thanks to the authors' clear explanation of the standards, instrumentation, and procedures. I look forward to using ''Instrumentation for Audiology and Hearing Science: Theory & Practice'' by Silman and Emmer for many more semesters."
—Janet R. Schoepflin, PhD, Associate Professor and Chair, Department of Communication Sciences and Disorders, Adelphi University
Foreword by James Jerger
Reviewers
Introduction
Acknowledgments
Dedication
CHAPTER 1. General Physics and Introduction to Sound Energy
CHAPTER 2. Concept of Mechanical Impedance and Admittance
CHAPTER 3. Electrical Energy — Direct Current
CHAPTER 4. Electrical Energy — Alternating Current
CHAPTER 5. Filtering and Electrical Impedance
CHAPTER 6. Building Communication Systems
CHAPTER 7. Acoustic Immittance and Power Reflectance
CHAPTER 8. Signal Processing and Digital Technology
CHAPTER 9. Test Equipment Used in Audiology and Hearing Science
CHAPTER 10. Instrumentation for Calibration and Calibration of Test Stimuli
Appendix A: Students' Experiments
Appendix B: Digital Integrated Circuits
Index

CD CONTENTS:
CHAPTER 1. General Physics and Introduction to Sound Energy
CHAPTER 2. Concept of Mechanical Impedance and Admittance
CHAPTER 3. Electrical Energy — Direct Current
CHAPTER 4. Electrical Energy — Alternating Current
CHAPTER 5. Filtering and Electrical Impedance
CHAPTER 6. Building Communication Systems
CHAPTER 7. Acoustic Immittance and Power Reflectance
CHAPTER 8. Signal Processing and Digital Technology
CHAPTER 9. Test Equipment Used in Audiology and Hearing Science
CHAPTER 10. Instrumentation for Calibration and Calibration of Test Stimuli