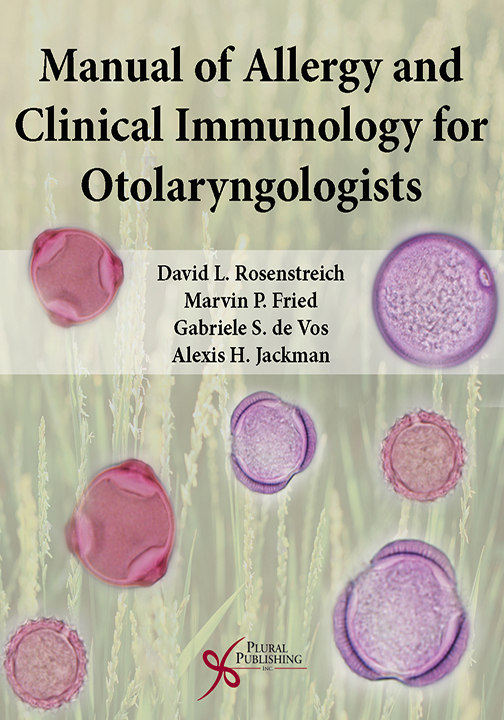 Manual of Allergy and Clinical Immunology for Otolaryngologists
First Edition
David L. Rosenstreich, Marvin P. Fried, Gabriele S. de Vos, Alexis H. Jackman
Details: 442 pages, Full Color, Hardcover, 8.5 x 11"
ISBN13: 978-1-59756-623-0
© 2016 | Available
Manual of Allergy and Clinical Immunology for Otolaryngologists presents the most up-to-date knowledge related to allergy and immunology and is directed toward the unique needs of otolaryngologists. Many of the clinical conditions treated by otolaryngologists have an allergic or immunologic pathogenesis--including sinusitis, rhinitis and otitis--and otolaryngologists are often required to use allergic methodology to treat these conditions. This text serves as a resource for physicians in the diagnosis and management of allergic aspects of common ENT problems.
This must-have reference begins with an introduction to the fundamental immunologic processes necessary to understand allergic mechanisms and diseases and goes on to address food and drug allergies, anaphylaxis, immune deficiencies, occupational allergic diseases, and tumor immunology among other topics. Otolaryngologists across all specialties as well as residents will benefit from the text's presentation of the most important aspects of each topic in a concise, easy-to-reference format.
From the Foreword
"The fields of allergy, immunology, and otolaryngology are inextricably linked. Immunologic dysregulation is recognized to be the underpinning of a wide variety of diseases of the head and neck, and on a daily basis the practicing otolaryngologist must draw upon principles of allergy and immunology in the diagnosis and treatment of patients. For example, it is a rare patient presenting with a sinonasal complaint in whom consideration of allergic etiologies is not relevant. The otolaryngologist must also have a strong understanding of autoimmune illnesses to recognize the unique array of potential head and neck manifestations associated with autoimmune disease. Equally important, a deeper understanding of immunopathology may be the key to unlocking the mechanisms of major diseases ranging from chronic rhinosinusitis to head and neck cancer. Thus, it is imperative for the otolaryngologist to master principles of allergy and immunology in order to provide optimal patient care.
The body of knowledge encompassed by allergy and immunology is rapidly evolving and expanding, posing a great challenge for otolaryngologists seeking to keep up with diagnostic and treatment advances in the field. This splendid textbook offers a comprehensive, multidisciplinary encapsulation of contemporary allergy and immunology for the otolaryngologist. Drs. Rosenstreich, Fried, de Vos, and Jackman have assembled an illustrious group of authors who have managed to distill the essentials of allergy and immunology for the otolaryngologist without sacrificing scientific content or detail. The reader will appreciate clear elucidation of basic science concepts and the practical translation of basic science principles to the clinical management of otolaryngologic illnesses. Diagnostic and treatment guidelines are presented with a comprehensive and pragmatic approach. This book is essential reading for all otolaryngologists, from trainees looking to grasp the breadth of overlap between otolaryngology and allergy/immunology, to seasoned otolaryngologists seeking to update their fund of knowledge with the latest developments in immunophysiology and clinical treatment. The knowledge gained from this expertly edited volume will benefit our patients tremendously."
—Peter H. Hwang, MD, Professor and Chief, Division of Rhinology and Endoscopic Skull Base Surgery, Department of Otolaryngology-Head & Neck Surgery, Stanford University School of Medicine
Reviews
"Named to Doody's Core Titles in the Health Sciences - Allergy/Clinical Immunology 2020 list."
—Doody's (May 2020)
Foreword by Peter H. Hwang, MD
Preface
Contributors
Chapter 1. Fundamentals of Immunity
Denisa E. Ferastraoaru, Robert Tamayev, and Harris Goldstein

Chapter 2. Immunological Hypersensitivity Reactions
Denisa E. Ferastraoaru, Manish Ramesh, and David L. Rosenstreich
Chapter 3. Skin Testing and Laboratory Evaluation of Hypersensitivity
Gabriele S. de Vos and Joseph E. Jones
Chapter 4. Genetics of Allergic Disorders
C. Doriene van Ginkel, Anthony E.J. Dubois, and Gerard H. Koppelman
Chapter 5. Rhinitis and Rhinosinusitis
Judd H. Fastenberg and Alexis H. Jackman
Chapter 6. Asthma, Pulmonary Diseases, and Vocal Cord Dysfunction
Sunit Jariwala, Sumita Sinha, and Deepa Rastogi
Chapter 7. Urticaria and Angioedema
Luz Fonacier and Mark Davis-Lorton
Chapter 8. Drug Hypersensitivity
Juliane A. Pichler, Marco D. Caversaccio, and Werner J. Pichler
Chapter 9. Anaphylaxis and Mast Cell Disorders
Gabriele S. de Vos and Marianne Frieri
Chapter 10. Allergic Skin Diseases
Luz Fonacier, Melanie Chong, Ryan Steele, and Marcella R. Aquino
Chapter 11. Food Allergy and Food-Related Disorders
Antonella Cianferoni, Laura M. Gober, and Jonathan M. Spergel
Chapter 12. Environmental and Occupational Allergies
Kristin Schmidlin and Jonathan A. Bernstein
Chapter 13. Rheumatic Diseases and Vasculitides
Jennifer Guttman, Irene Blanco, and Clement E. Tagoe
Chapter 14. Tumor Immunology
Thomas J. Ow and Missak Haigentz, Jr.
Chapter 15. Primary Immunodeficiency
Tatyana Gavrilova and Arye Rubinstein
Chapter 16. Acquired Immune Deficiencies
Jasmeen S. Dara, Arye Rubinstein, and Jenny Shliozberg
Chapter 17. Allergen Immunotherapy
Ma. Lourdes B. de Asis and William R. Reisacher
Chapter 18. Immunomodulator Therapies: Monoclonal Antibodies, Fusion Proteins, and Immunoglobulins
Anna Rossovsky Smith and Larry Borish
Index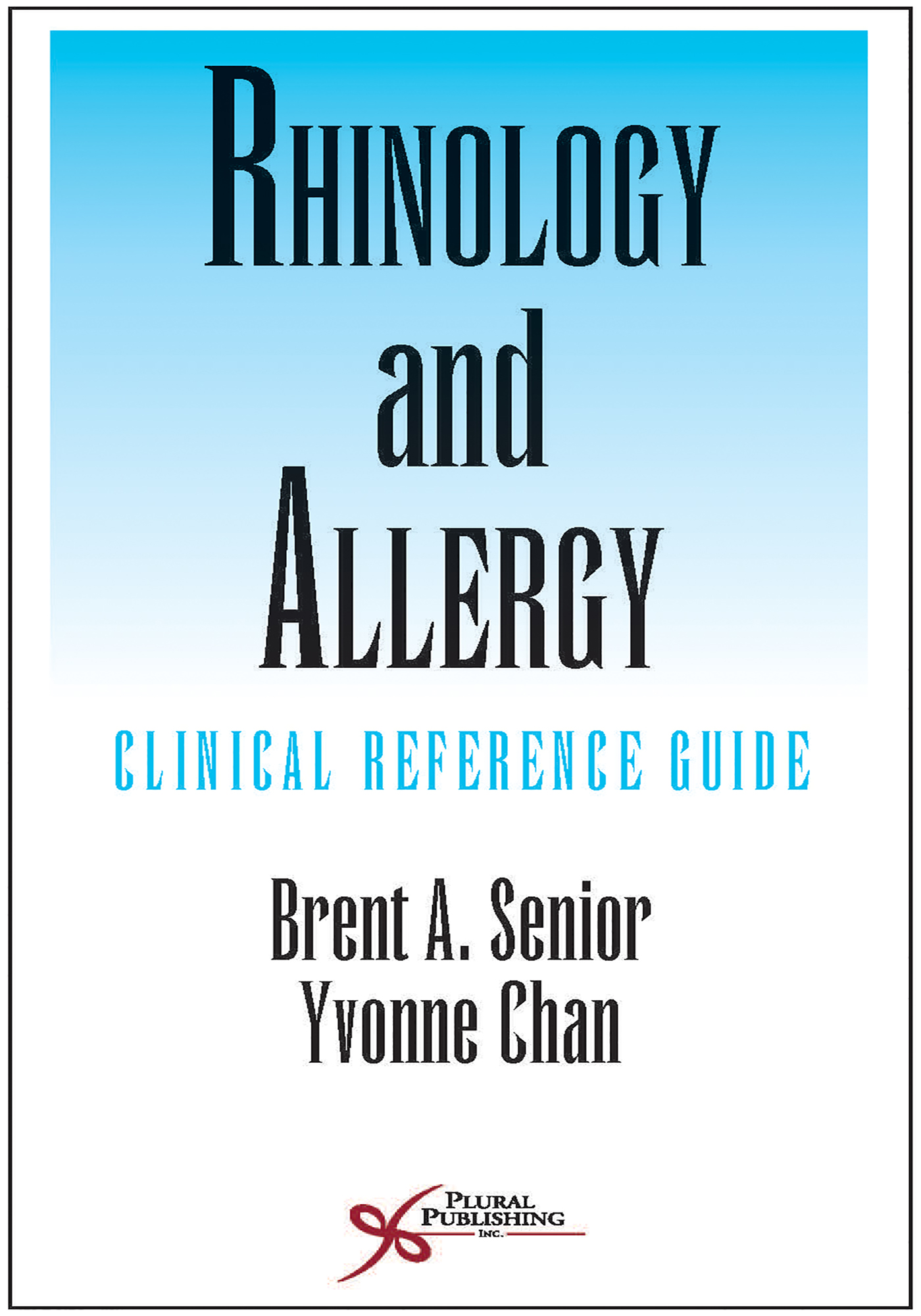 First Edition
Brent A. Senior, Yvonne Chan
Details: 562 pages, B&W, Softcover, 4.5" x 8"
ISBN13: 978-1-59756-965-1
© 2018 | Available