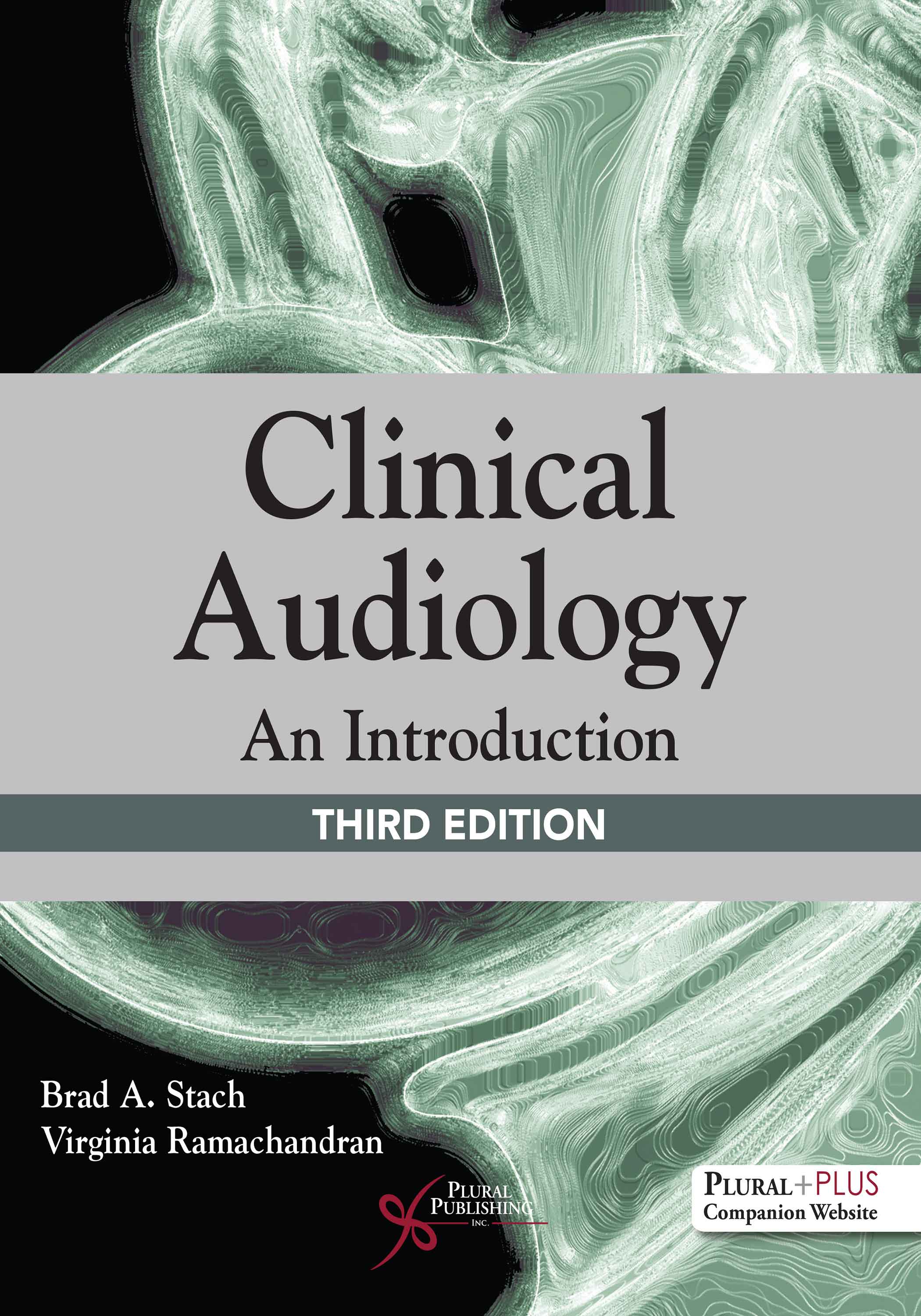 Clinical Audiology: An Introduction
Third Edition
Brad A. Stach, Virginia Ramachandran
Details: 575 pages, 2-Color, Hardcover, 8.5" x 11"
ISBN13: 978-1-94488-371-3
© 2022 | Available
For Instructors
Purchase
Price: $139.95
The third edition of Clinical Audiology: An Introduction provides a comprehensive enhancement of all the introductory material available in previous editions of this stimulating textbook. Students can gain an understanding of the scope of the field of audiology and feel prepared to dive deeper into the subject as they progress through their courses. This essential book, now with even more exciting content and features, focuses on the clinical nature of audiology to familiarize students with the many challenging questions encountered by an audiologist. This textbook is intended primarily for beginning-level students in the fields of audiology and speech-language pathology. It is intended for the first major courses in audiology, whether it be at the undergraduate or graduate level. Whether your goal is to pursue a career as an audiologist or a speech-language pathologist, Clinical Audiology: An Introduction, Third Edition is the most comprehensive, accessible book available to provide you with the clinical understanding to advance in your chosen field.
New to the Third Edition
New coauthor: Virginia Ramachandran, MSW, AuD, PhD
Two new chapters on implantable hearing technology and hearing assistive and connectivity technologies
New case studies and enhanced perspectives on avoiding clinical errors
Updated descriptions of hearing disorders and their causes
Expanded focus on diagnostic approach strategies
Expanded audiological treatment section
Updated hearing aid technology and verification approaches
An introduction to vestibular system assessment
PowerPoint lecture slides for instructors and sketch notes and flashcards for students
Key Features
Learning objectives at the beginning of each chapter preview the concepts to be discussed.
End of chapter discussion questions aid students in applying concepts.
End of chapter summaries outline the key points from the chapter improve retention
Margin notes provide key terms and definitions.
Clinical notes describe particular techniques students might consider using
Comprehensive glossary and index
Review
"Clinical Audiology: An Introduction – Third Edition is intended as a course book for students in audiology. [...] It is substantial volume (645 large pages) that is copiously illustrated and that covers a wide range of topics in clinical audiology, including a new chapter on vestibular system function and assessment.
Each chapter starts with a summary of learning objectives. This is followed by the 'meat' of the chapter, and then a summary, discussion questions and a list of resources. The pace is gently and the authors have made a considerable effort not to get too technical. Tricky concepts are introduced with analogies and examples. […]"
— Brian CJ Moore, University of Cambridge, in ENT & Audiology News (September 2021)
Preface
Acknowledgments
Contributors
Chapter 1. The Profession of Audiology in the United States
Learning Objectives
What Is an Audiologist?
What Is an Audiologist's Role?
Identification of Hearing Loss
Assessment and Diagnosis of Hearing Loss
Treatment of Hearing Loss
Assessment and Treatment of Balance Function
Education
Prevention
Research
Related Activities
Scope of Practice
Where Do Audiologists Practice?
Private Practice
Physician's Practices
Hearing and Speech Clinics
Relation to Other Professions
Otolaryngology
Other Medical Specialties
Speech-Language Pathology
Non-Audiologist Hearing Aid Dispensers
The Evolution of Audiology
The Professional Heritage of Audiology
The Clinical Heritage of Audiology
Professional Requirements
Becoming an Audiologist
Academic and Clinical Requirements
Summary
Discussion Questions
Information Sources
Resources
Organizations
Section I. Hearing and Its Disorders
Chapter 2. The Nature of Hearing
Learning Objectives
The Nature of Sound
What Is Sound?
Properties of Sound
The Auditory System
Outer Ear
Middle Ear
Inner Ear
Auditory Nervous System
Anatomy Physiology
How We Hear
Absolute Sensitivity of Hearing
Differential Sensitivity
Properties of Pitch and Loudness
Summary
Discussion Questions
Resources
Chapter 3. The Nature of Hearing Disorder
Learning Objectives
Degree and Configuration of Hearing Sensitivity Loss
Ear Specificity of Hearing Disorder
Type of Hearing Loss
Conductive Hearing Loss
Sensorineural Hearing Loss
Mixed Hearing Loss
Suprathreshold Hearing Disorder
Functional Hearing Loss
Timing Factors Impacting Hearing Disorder
Summary
Discussion Questions
Resources
Chapter 4. Causes of Hearing Disorder
Learning Objectives
Auditory Pathology
Conductive Hearing Disorders
Congenital Outer- and Middle-Ear Anomalies
Impacted Cerumen
Other Outer-Ear Disorders
Otitis Media with Effusion (OME)
Complications of OME
Otosclerosis
Other Middle-Ear Disorders
Sensory Hearing Disorders
Congenital and Inherited Sensory Hearing Disorders
Acquired Sensory Hearing Disorders
Neural Hearing Disorders
Auditory Neuropathy Spectrum Disorder
VIIIth Nerve Tumors and Disorders
Brainstem Disorders Temporal-Lobe Disorders
Other Nervous System Disorders
Summary
Discussion Questions
Resources
Section II. Audiologic Diagnosis
Chapter 5. Introduction to Audiologic Diagnosis
Learning Objectives
The First Question
Referral-Source Perspective
Importance of the Case History
The Audiologist's Challenges
Evaluating Outer- and Middle-Ear Function
Measuring Hearing Sensitivity
Determining Type of Hearing Loss
Measuring Speech Recognition
Measuring Auditory Processing
Measuring the Impact of Hearing Loss
Screening Hearing Function
Summary
Discussion Questions
Resources
Chapter 6. Audiologic Diagnostic Tools: Pure-Tone Audiometry
Learning Objectives
Equipment and Test Environment
The Audiometer
Transducers
Calibration
Test Environment
The Audiogram
Threshold of Hearing Sensitivity
Modes of Testing
Audiometric Symbols
Audiometric Descriptions
Establishing the Pure-Tone Audiogram
Patient Preparation
Audiometric Test Technique
Air Conduction
Bone Conduction
Masking
Audiometry Unplugged: Tuning Fork Tests
Summary
Discussion Questions
Resources
Chapter 7. Audiologic Diagnostic Tools: Speech Audiometry
Learning Objectives
Speech Audiometry
Uses of Speech Audiometry
Speech Audiometry Materials
Clinical Applications of Speech Audiometry
Predicting Speech Recognition
Summary
Discussion Questions
Resources
Chapter 8. Audiologic Diagnostic Tools: Immittance Measures
Learning Objectives
Immittance Audiometry
Instrumentation
Measurement Technique
Basic Immittance Measures
Tympanometry
Acoustic Reflexes
Principles of Interpretation
Clinical Applications
Middle-Ear Disorder
Cochlear Disorder
Retrocochlear Disorder
Summary
Discussion Questions
Resources
Chapter 9. Audiologic Diagnostic Tools: Physiologic Measures
Learning Objectives
Auditory Evoked Potentials
Measurement Techniques
The Family of Auditory Evoked Potentials
Clinical Applications
Summary
Otoacoustic Emissions
Types of Otoacoustic Emissions
Relation to Hearing Sensitivity
Clinical Applications
Summary
Discussion Questions
Resources
Chapter 10. The Test-Battery Approach to Audiologic Diagnosis
Learning Objectives
Determination of Auditory Disorder
The Test-Battery Approach in Adults
Value of a Comprehensive Test Battery
The Audiometric Test Battery
Diagnostic Thinking and Avoiding Errors
The Test Battery in Action
The Test-Battery Approach in Pediatrics
Diagnostic Challenges
The Test Battery
The Test Battery in Action
Different Approaches for Different Populations
Infant Screening
Auditory Processing Assessment
Functional Hearing Loss
Summary
Discussion Questions
Resources
Chapter 11. Communicating Audiometric Results
Learning Objectives
Talking to Patients
Information to Convey
Matching Patient and Provider Perspectives
Writing Reports
Documenting and Reporting
Report Destination
Nature of the Referral
Information to Convey
Sample Reporting Strategy
Making Referrals
Summary
Discussion Questions
Resources
Section III. Audiologic Treatment
Chapter 12. Introduction to Audiologic Treatment
Learning Objectives
The First Questions
The Importance of Asking Why
Assessment of Treatment Candidacy
The Audiologist's Challenge
Amplification — Yes or No?
Amplification Strategies
Approaches to Fitting Hearing Instruments
Approaches to Defining Success
Treatment Planning
Summary
Discussion Questions
Resources
Chapter 13. Audiologic Treatment Tools: Hearing Aids
Learning Objectives
Hearing Instrument Anatomy
Microphone
Other Sound Input Sources
Amplifier
Loudspeaker
Hearing Instrument Styles
Hearing Instrument Physiology
Audibility
Hearing in Background Noise
Consideration for Hearing Aid Options
Acoustic Considerations
Instrumentation Considerations
Patient Factors
Special Considerations: Conductive Hearing Losses and Single-Sided Deafness
Summary
Discussion Questions
Resources
Chapter 14. Audiologic Treatment Tools: Implantable Hearing Technology
Learning Objectives
Cochlear Implants
Internal Components
External Components
Signal Processing
Candidacy for Cochlear Implants
Hybrid Cochlear Implants
Bone-Conduction Implants
Internal Components
External Components
Signal Processing
Candidacy for Bone-Conduction Implants
Middle-Ear Implants
Types of Middle-Ear Implants
Candidacy for Middle-Ear Implants
Summary
Discussion Questions
Resources
Chapter 15. Audiologic Treatment Tools: Hearing Assistive and Connectivity Technologies
Learning Objectives
The Challenges of Complex Environments
Hearing Assistive Technology
Alerting Devices
Remote Microphone Systems
Telecommunication Access Technologies
Assistive Listening Devices
Personal Amplifiers
Personal Sound Amplification Products
Over-the-Counter Hearing Aids
Summary
Discussion Questions
Resources
Chapter 16. Audiologic Treatment: The Hearing Aid Process
Learning Objectives
Hearing Aid Selection and Fitting
The Prescription of Gain
Hearing Instrument Selection
Hearing Instrument Fitting and Verification
Orientation, Counseling, and Follow-up
Assessing Outcomes
Post-Fitting Rehabilitation
Auditory Training and Speechreading
Educational Programming
Summary
Discussion Questions
Resources
Chapter 17. Different Treatment Approaches for Different Populations
Learning Objectives
Adult Populations
Adult Sensorineural Hearing Loss
Geriatric Sensorineural Hearing Loss
Pediatric Populations
Pediatric Sensorineural Hearing Loss
Auditory Processing Disorder
Other Populations
Conductive Hearing Loss
Severe and Profound Sensorineural Hearing Loss
Summary
Discussion Questions
Resources
Section IV. Vestibular System Function and Assessment
Chapter 18. Introduction to Balance Function and Assessment
Kathryn F. Makowiec and Kaylee J. Smith
Learning Objectives
The Vestibular System
Anatomy & Physiology
The Vestibulo-ocular Reflex
Disorders of Dizziness and Balance
Benign Paroxysmal Positional Vertigo
Superior Canal Dehiscence
Vestibulotoxicity
Vestibular Neuritis/Labyrinthitis
Ménière's Disease
Vestibular Migraine
Central Balance Disorders
Falls Risk in the Elderly
The Balance Function Test Battery
Importance of Case History
Videonystagmography/Electronystagmography (ENG/VNG)
Rotary Chair
Video Head Impulse Test (vHIT)
Vestibular Evoked Myogenic Potential (VEMP)
Posturography
The Test Battery in Action
Expected Outcomes in Vestibular Disorders
Illustrative Cases
Summary
Discussion Questions
Resources
Glossary
Appendix A. Audiology Scope of Practice: American Academy of Audiology
Appendix B. Audiology Standards of Practice: American Academy of Audiology
Appendix C. Answers to Discussion Questions
Index