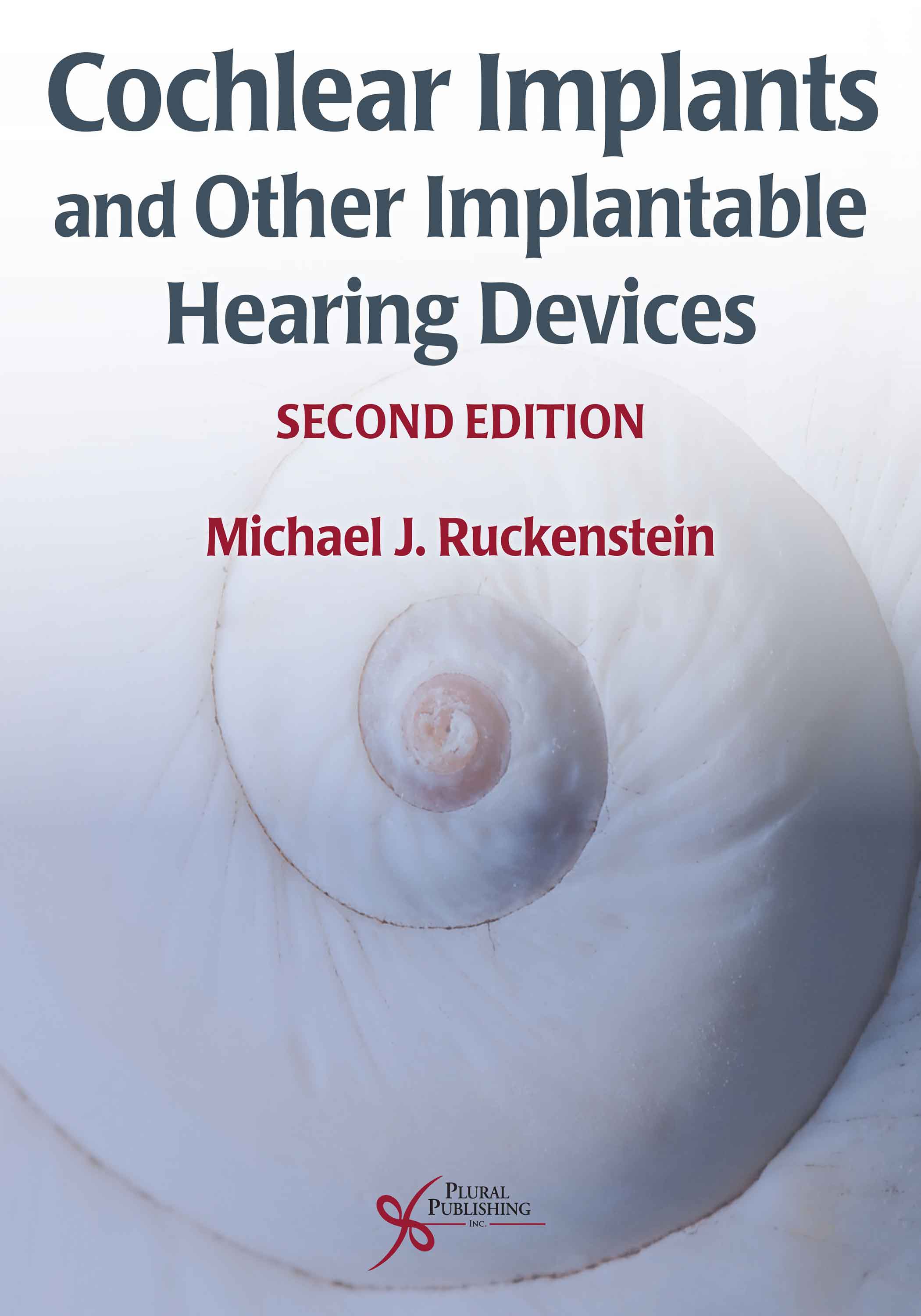 Cochlear Implants and Other Implantable Hearing Devices
Second Edition
Michael J. Ruckenstein
Details: 383 pages, Full Color, Hardcover, 8.5" x 11"
ISBN13: 978-1-63550-126-1
© 2020 | Available
Cochlear Implants and Other Implantable Hearing Devices, Second Edition remains a fundamental text for hearing professionals. Cochlear implants and other implantable hearing mechanisms have become increasingly prevalent solutions to modern-day hearing trauma, making it imperative for clinicians to gain expertise on the subject. This text provides hearing professionals with the knowledge necessary to wholly understand these implantable mechanisms so that they can incorporate them into their practices.
New to the Second Edition
o Chapter 10. Single-Sided Deafness by Margaret Dillon and Kevin Brown
o Chapter 17. Auditory Neuropathy, Cochlear Nerve Deficiency, and Other Challenges in the Pediatric Population by Thierry Morlet and Robert C. O'Reilly
o Chapter 22. Cochlear Implants—The Future by Editor Michael J. Ruckenstein
Updated references and chapter content throughout
New 8.5''x11'' trim size and full color design
Reviews
"Cochlear Implants and Other Implantable Hearing Devices edited by Michael J. Ruckenstein (2020) is a comprehensive guide to implantable Otologic devices. The authorship team is comprised of numerous leaders in their respective fields of Audiology, Auditory/Communication sciences, and Otology/Neurotology. Their unique perspectives collectively shape one of the more well-rounded texts on cochlear and otologic implants.
The guide's first several chapters form foundational knowledge that leads to higher level topics encountered later. Each is accompanied by sub-headings, which provide quick reference points and carefully selected figures complement the text. Every facet of cochlear implantation is examined including device technology (Ch. 3), candidate selection (Ch. 5), diagnostic imaging considerations (Ch. 6), surgical techniques (Ch. 8), programming in adult and pediatric patients (Ch.'s 11-12), and audiometric outcomes (Ch. 13-14). Later chapters focus on more nuanced topics of revision cochlear implantation (Ch. 18), auditory neuropathy spectrum disorder (Ch. 17), and music appreciation in CI patients (Ch. 16). Furthermore, less commonly employed technologies such as auditory brainstem implantation and middle ear implants are reviewed (Ch.'s 19-21).
Each chapter does an effective job in referencing primary literature while providing pertinent applications to the real-world patient. For example, the unique challenges of preoperative counselling around bone conduction devices in single-sided deafness are highlighted in Chapter 20. Another prime example of how this textbook has shaped my learning as a Fellow is a list of succinct, critical points for assessing preoperative imaging in preparation for a patient's cochlear implantation.
This text serves as a valuable reference for Otolaryngology–Head & Neck Surgeons, Speech Language Pathologists, Audiologists, Nurse Practitioners and Neuroscientists. It provides detailed insights into understanding the historical context, current landscape, and future direction of this unique field. I've had the unique opportunity of referencing this textbook on countless occasions and would encourage anyone involved in this field to consider acquiring it."
—Justin T. Lui, MD, FRCSC, in Canadian Audiologist (Vol. 7, Issue 6, 2020)
"The second edition of Cochlear Implant Patient Assessment aims to become a point of reference for all professionals involved in assessing cochlear implant candidacy and interested in broadening their knowledge to maximise the hearing capabilities of their patients.
This book offers the reader a chance to explore Gifford's reflections and recommendations onto an often-overlooked topic. The strength of this book is its focus on everyday clinical practice and guided advice for local clinics to derive their own science-based protocols to suit their clinical needs. Professor Rene Gifford is the current Director of the Cochlear Implant Program at the Vanderbilt Bill Wilkerson Center. She has published extensive peer-reviewed articles and book chapters, and her special interests are in hearing preservation, electro-acoustic stimulation, preoperative prediction of postoperative outcomes and image guided programming.
This resource encompasses all aspects of candidacy, from funding and regulation to the different roles of the multidisciplinary team, including surgery and insights on new research. Included in the book is a companion website with access to sample protocols and test batteries. I particularly enjoyed reading about electrode array positioning and the consequences of mapping blindly without postoperative imaging, with advice on how to navigate this dilemma using new tools. The holistic vision to include input from a wider range of professionals such as clinical psychologist and imaging experts to drive the field of cochlear implantation forward was compelling. The degree of visual takeover of auditory cortical areas as a predictor of outcomes as part of cross-modal plasticity experiments was thought provoking. [...]
This book is a must-have resource for inquisitive clinicians and serves as a repository for concise summaries of up to date scientific publications."
—Unai Martinez de Estibariz, Audiologist, The Richard Ramsden Centre for Hearing Implants, Manchester Royal Infirmary, in ENT & Audiologist News (January 2021)
Foreword by Robert V. Harrison
Preface
Contributors
Chapter 1. History of Implantable Hearing Devices
Marc D. Eisen
Chapter 2. Designing and Building a Cochlear Implant Program
Linda S. Burg, David R. Friedland, and Christina L. Runge
Chapter 3. Cochlear Implant Electrodes: Design and Characteristics
Jason A. Brant and Steven J. Eliades
Chapter 4. Signal Processing Strategies for Cochlear Implants
Blake S. Wilson and Michael F. Dorman
Chapter 5. Cochlear Implant Candidate Selection
René H. Gifford
Chapter 6. Imaging of Cochlear Implantation
Suyash Mohan, Ellen G. Hoeffner, and Laurie A. Loevner
Chapter 7. Cochlear Implants: Surgical techniques, Special Considerations—Pediatric and Malformed Cochleae
Tiffany Chao and Luv Javia
Chapter 8. Surgical Technique for Cochlear Implants in Adults
James G. Naples, Jason Brant, D. C. Bigelow, and Michael J. Ruckenstein
Chapter 9. Hearing Preservation Cochlear Implantation and Electro-Acoustic Stimulation
Sandra Prentiss, Athanasia Warnecke, and Hinrich Staecker
Chapter 10. Single-Sided Deafness
Margaret Dillon and Kevin Brown
Chapter 11. Adult Cochlear Implant Programming: A Basic Introduction
Natalie R. Watts and Michelle L. Montes
Chapter 12. Perspectives in Pediatric Cochlear Implant Programming
Michael Jackson
Chapter 13. Measuring Auditory Outcomes of Cochlear Implant Use in Children with Behavioural and Electrophysiological Tests
Karen A. Gordon and Blake C. Papsin
Chapter 14. Treatment Outcomes of Adult Cochlear Implantation
David Low, Paul Mick, David Shipp, and Joseph Chen
Chapter 15. Factors Influencing Cochlear Implant Performance
Saikrishna C. Gourishetti and Ronna Hertzano
Chapter 16. Cochlear Implant-Mediated Perception of Environmental Sounds and Music
Yell Inverso
Chapter 17. Auditory Neuropathy, Cochlear Nerve Deficiency, and Other Challenges in the Pediatric Population
Thierry Morlet and Robert C. O'Reilly
Chapter 18. Cochlear Implant Reliability and Reimplantation
Cameron C. Wick and Craig A. Buchman
Chapter 19. Advances in Auditory Brainstem Implantation
Elliott Kozin, Harrison W. Lin, and Daniel J. Lee
Chapter 20. Bone-Conduction Hearing Devices
Jennifer W. Lee, Robert B. A. Adamson, and Manohar L. Bance
Chapter 21. Middle Ear Implantable Hearing Devices: Present and Future
Hossein Mahboubi, Autefeh Sajjadi, Jeffery J. Kuhn, and Hamid R. Djalilian
Chapter 22. Cochlear Implants – The Future
Michael J. Ruckenstein
Index