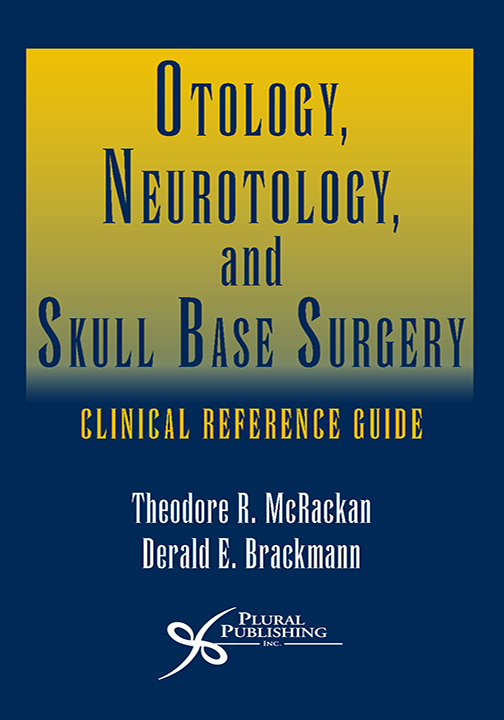 Otology, Neurotology, and Skull Base Surgery: Clinical Reference Guide
First Edition
Theodore R. McRackan, Derald E. Brackmann
Details: 593 pages, B&W, Softcover, 4.5" x 8"
ISBN13: 978-1-59756-651-3
© 2016 | Available
Otology, Neurotology, and Skull Base Surgery: Clinical Reference Guide is a comprehensive guide designed for rapid clinical review. Written in a concise and approachable outline format, this text provides a condensed amount of high-yield information. This clinically relevant resource is organized into 12 sections that are broken down into their most important and fundamental parts by chapter, with key topics such as anatomy and embryology, hearing loss, cochlear implantation, skull base tumors, vestibular disorders, and pediatric otology.
Formatted like the bestselling "Pasha" (Otolaryngology-Head and Neck Surgery) pocket guide, this text serves as both a study resource for qualifying exams and a portable reference guide. Otology, Neurotology, and Skull Base Surgery can be used by otolaryngology residents on their neurotology rotations, neurotology fellows throughout their training, and otologists and neurotologists looking for a portable reference guide that covers the entire breadth of the field. Audiologists and speech-language pathologists will also benefit from having a convenient reference guide to better understand their patients' diagnoses.
Key Features
Contributions by leaders in the field
Tabs for each section for quick access
Key terms and notes in bold and italics
From the Foreword
"This remarkable text, edited by Drs. McRackan and Brackmann, is a significant addition to our armamentarium of references in the field of otology, neurotology, and skull base surgery. The chapters are well-written and encompass the scope of the subspecialty. Each author is a well-recognized expert in their field and the format of the chapters by outline is extremely easy to follow. It is an outstanding reference for residents, fellows, and practicing otolaryngologists as well as neurotologists. The text is simplistic and easily addresses any question that may arise in the mind of the reader. This is clearly a reference guide. No attempts have been made to increase the prose to describe the topics, but that is not to say that the key issues are hard to assess using the format. The editors are to be commended in formulating a text that is extremely user-friendly to the reader. In these days where the majority of information we seek is available on the Internet, this particular book will be a completely different offering that will be a welcome addition to anyone's library."
—Harold C. Pillsbury, MD, Professor and Chief, Otolaryngology—Head and Neck Surgery, The University of North Carolina at Chapel Hill
Reviews
"...Just for once, this is a pocket book that might just fit into one's jacket. It is indeed a handy reference guide...The multi-author (a Who's Who of US Neurotology and Skull Base Surgery) text provides 55 chapters, ranging from the first, the History of this speciality, to the last one, intriguingly entitled, 'On the Horizon'..."
—Liam M Flood FRCS FRCSI, in the Journal of Laryngology and Otology (August 8, 2015)
"Overall, Otology, Neurotology, and Skull Base Surgery: Clinical Reference Guide is a very well done text that fills its intended role of being a quick reference for otology, neurotology, and skull base surgery. We would recommend it to senior residents with an interest in otology and neurotology, or neurotology fellows, and those who desire a quick reference for qualifying exams. For medical students and junior residents, it can serve as a guide for in-depth study and a quick reference for clinical discussions on rounds or surgery."
—Joshua M. Sappington, MD and Moses A. Arriaga, MD, MBA, in Otology & Neurotology, Vol. 37, Issue 5 (June 2016)
"This concise pocket-sized textbook aims to provide a practical reference that clinicians can use in every day otological and skull base practice. The senior author, Derald Brackmann, is one of the leading neurotologists of the modern era and, together with his co-author who was previously one of Dr Brackmann's fellows, has brought together a group of predominantly American authors of varying seniority from residents to professors to cover a wide range of otological conditions...
The content of each chapter is well-presented and very easy to read and assimilate, with most chapters divided up in to concise bullet points. The size of the book belies the depth of information held within it. There are very few diagrams included but this is born out of the necessity to keep the book to a manageable size. Throughout the book, the authors consistently provide a balanced, comprehensive and up-to-date approach to the management of ear disease."
—Simon Lloyd, MBBS, BSc (Hons), MPhil, FRCS (ORL-HNS), University of Manchester/Central Manchester NHS Foundation Trust and Salford Royal NHS Foundation Trust in ENT & Audiology News
Foreword by Harold C. Pillsbury, MD
Introduction
Acknowledgments
About the Editors
Contributors
Section I. History of Neurotology
Chapter 1. History of Neurotology and Skull Base Surgery
Lawrence R. Lustig

Section II. Embryology Anatomy Physiology
Chapter 2. Embryological Development of the Ear
Theodore R. McRackan and George B. Wanna

Chapter 3. Anatomy and Physiology of the Auditory System
Gregory J. Basura and Steven A. Telian

Chapter 4. Anatomy and Physiology of the Vestibular System
Gregory T. Whitman and Timothy C. Hain

Section III. Evaluation
Chapter 5. The Neurotologic Examination
Stanley Pelosi

Chapter 6. Hearing Assessment
René H. Gifford

Chapter 7. Vestibular Testing
Yuri Agrawal

Chapter 8. Intra-Operative Monitoring
Christopher K. Giardina and Oliver F. Adunka

Section IV. Common Otologic Symptoms
Chapter 9. Tinnitus
Theodore R. McRackan and John C. Goddard

Chapter 10. Otalgia and Temporomandibular Joint Disorders
Jason A. Beyea and Aaron C. Moberly

Section V. Hearing Loss
Chapter 11. Congenital and Genetic Hearing Loss
Seiji B. Shibata and Richard J. Smith

Chapter 12. Otosclerosis
Felipe Santos and Michael J. McKenna

Chapter 13. Presbycusis
Simon I. Angeli

Chapter 14. Noise Induced Hearing Loss
Brian S. Chen and William M. Luxford

Chapter 15. Traumatic Injuries to the Ear
Bradley W. Kesser

Chapter 16. Autoimmune Inner Ear Disease
M. Jennifer Derebery

Chapter 17. Sudden Sensorineural Hearing Loss
David S. Haynes and Jacob B. Hunter

Chapter 18. Ototoxicity
Joseph T. Breen and Jeffrey T. Vrabec

Chapter 19. Rare Causes of Hearing Loss
Oliver F. Adunka and Craig A. Buchman

Section VI. Otologic Infections
Chapter 20. Otitis Externa
Theodore R. McRackan and Marc L. Bennett

Chapter 21. Otitis Media
Sujana S. Chandrasekhar

Chapter 22. Cholesteatoma
Brendan P. O'Connell and Ted A. Meyer

Chapter 23. Petrous Apicitis and Intracranial Infection
Anthony Myint, Joel Lavinsky, John L. Go and Rick A. Friedman

Section VII. Hearing Rehabilitation
Chapter 24. Hearing Aids
Monica M. Andriacchi and John W. House

Chapter 25. Implantable Hearing Devices
Sohit Kanotra and Moises A. Arriaga

Chapter 26. Cochlear Implants
Robert F. Labadie

Chapter 27. Auditory Brainstem Implants
Daniel S. Roberts and Eric P. Wilkinson

Section VIII. Skull Base Disorders
Chapter 28. Skull Base and Intracranial Anatomy
C. Eduardo Corrales and Robert K. Jackler

Chapter 29. Vestibular Schwannoma
Theodore R. McRackan and Derald E. Brackmann

Chapter 30. Meningiomas
Colin L. W. Driscoll

Chapter 31. Neurofibromatosis Type II
Brian S. Chen and William H. Slattery III

Chapter 32. Stereotactic Radiosurgery in Neurotology
P. Ashley Wackym, Andrew Y. Kee and Norman Jed Schroeder

Chapter 33. Temporal Bone Malignancy
Paul W. Gidley

Chapter 34. Jugular Foramen Lesions
Theodore R. McRackan and James L. Netterville

Chapter 35. Lesions of the Cerebellopontine Angle and Petrous Apex
David R. Friedmann, J. Thomas Roland, Jr. and Sean O. McMenomey

Chapter 36. Cerebrospinal Fluid Leaks and Encephaloceles
Jeffrey D. Sharon and Howard W. Francis

Chapter 37. Complications from Neurotologic Surgery
Marc S. Schwartz

Section IX. Vestibular Disorders
Chapter 38. Bedside Vestibular Evaluation
Evan Graboyes and Joel Goebel

Chapter 39. Meniere Disease
Cameron C. Wick, Maroun T. Semaan and Cliff A. Megerian

Chapter 40. Benign Paroxysmal Positional Vertigo
Judith A. White

Chapter 41. Superior Semicircular Canal Dehiscence Syndrome
Heather M. Weinreich and John P. Carey

Chapter 42. Labyrinthitis and Vestibular Neuronitis
Edward I. Cho

Chapter 43. Vestibular Migraine
Michael Thomas Teixido

Chapter 44. Non-Otologic Causes of Dizziness
Timothy C. Hain and Marcello Cherchi

Chapter 45. Vestibular Therapy
Elizabeth Grace Georgelos

Section X. Facial Nerve
Chapter 46. Embryology and Anatomy of the Facial Nerve
Matthew L. Carlson and Alex D. Sweeney

Chapter 47. Electrodiagnostic Testing of the Facial Nerve
Joseph P. Roche and Marlan R. Hansen

Chapter 48. Acute Facial Nerve Palsy
Joseph P. Roche and Bruce J. Gantz

Chapter 49. Primary Facial Nerve Tumors
Alejandro Rivas and Theodore R. McRackan

Chapter 50. Facial Nerve Rehabilitation
Caroline A. Banks and Tessa A. Hadlock

Section XI. Pediatric Otology
Chapter 51. Hearing Loss Syndromes
Lourdes Quintanilla-Dieck and Steven Goudy

Chapter 52. Congenital Aural Atresia
Paul R. Lambert

Section XII. Other Otologic Considerations
Chapter 53. Otologic Manifestations of Systemic Disorders
J. Eric Lupo

Chapter 54. External Auditory Canal Lesions
Elliott D. Kozin and Daniel J. Lee

Chapter 55. On the Horizon
Justin S. Golub and Ravi N. Samy

Index