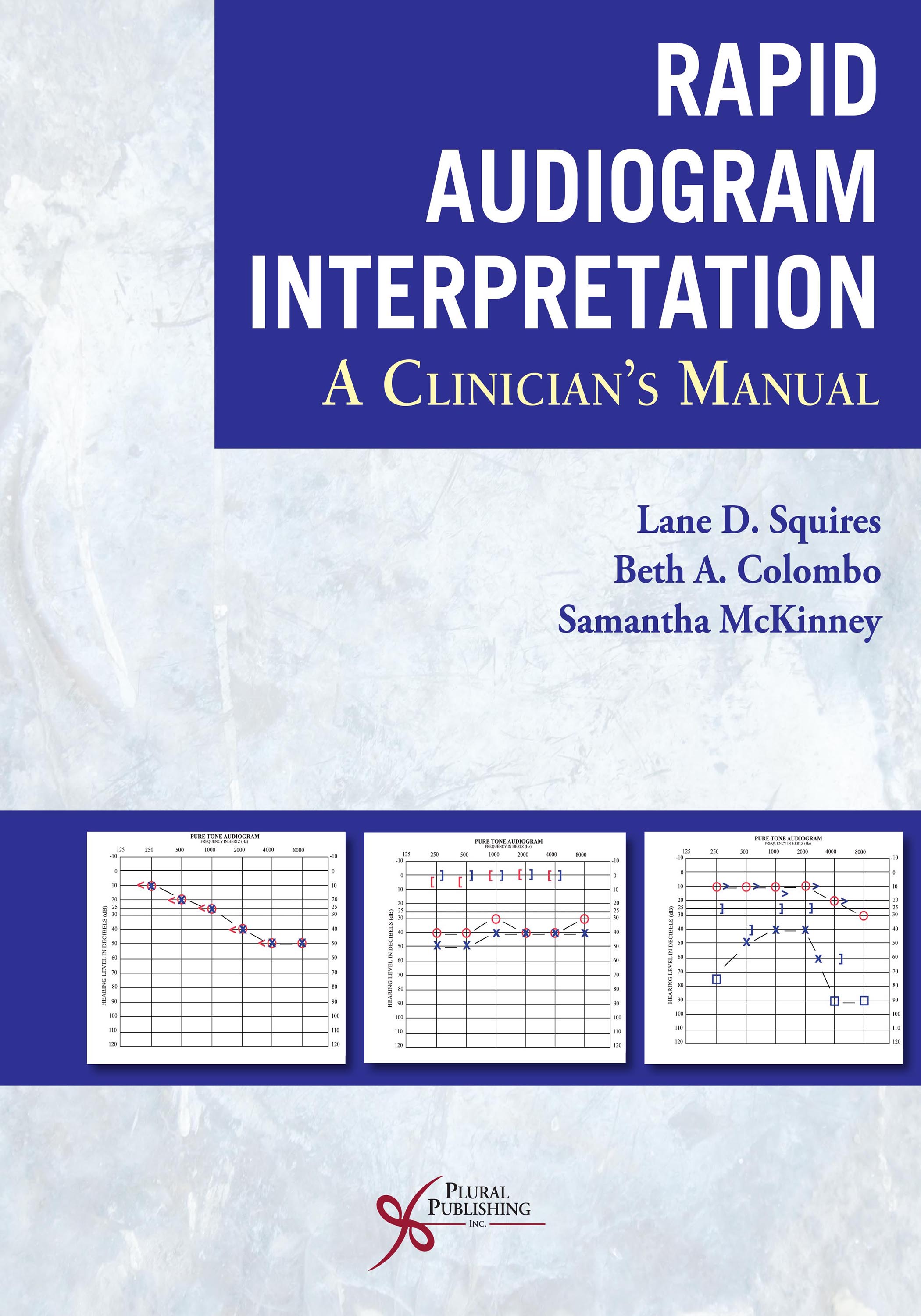 Rapid Audiogram Interpretation: A Clinician's Manual
First Edition
Lane D. Squires, Beth Colombo, Samantha McKinney
Details: 216 pages, B&W, Spiral Bound, 8.5" x 11"
ISBN13: 978-1-63550-115-5
© 2019 | Available
Rapid Audiogram Interpretation: A Clinician's Manual provides a methodical, step-by-step approach for interpreting audiograms. Training and experienced clinicians, as well as non-audiologists in related fields, will benefit from this unique workbook and easy-to-remember interpretation process.
The manual includes audiogram examples on a varying level of complexity (basic, intermediate, and advanced), accompanied by official interpretations, matching the specific interpretation method recommended by the authors. This specific interpretation process allows the reader to learn the method and apply it to every future audiogram interpretation, making it an invaluable resource.
Otolaryngology trainees (graduate medical students, residents, fellows) are expected to have a working knowledge of audiogram interpretation, however, few, if any, have direct lectures or mentored clinical experiences designed to provide this knowledge within their first few years of training. This resource fills that gap and provides a means for beginners to master interpretation of the audiogram. It also serves as a general review for more experienced clinicians.
Key Features
Includes 65 audiogram examples!
Uses an 8-step method that can be easily learned and universally applied to future audiogram interpretations
A searchable index by diagnosis for each audiogram aids the learner in seeing disease-specific examples
Spiral-bound format allows readers to easily test themselves on audiogram and interpretation examples
Blank interpretation sheets for audiogram practice
Includes a Glossary for quick reference of key terms
Written by otolaryngologists and an audiologist for comprehensive expertise and coverage
Rapid Audiogram Interpretation will also be helpful for students and professionals in related fields, such as audiology, speech-language pathology, and deaf/hard of hearing education.
Reviews
"The Eight Step guide to interpretation is particularly good, taking the reader from recognition of any hearing loss up to use of acoustic reflexes. Masking strategies (never an easy topic) are particularly well covered, but the greatest attraction must be the pattern recognition in audiometry, often at a glance with increasing maturity (i.e. age!). We are presented with twelve classical appearances ranging from noise induced hearing loss, congenital sensorineural deafness to Meniere's Disease. Immittance testing is particularly well explained and I was glad to see the cautions suggested in interpretation. This book represents a very clever idea. The guide to interpretation is of great value to any novice."
—Liam M. Flood, FRCS, FRCSI, in Journal of Laryngology and Otology
"This text is a wonderful primer for medical students, allied health students and starting otolaryngology residents presented in a didactic and clinical case format. The authors first present an 8-step approach ("Method"): 1. Assess for hearing loss, 2. Determine the type of hearing loss, 3. Check if audiogram fits a classic pattern, 4. Compare speech thresholds to pure-tone audiometry, 5. Assess word recognition scores, 6. Determine tympanometry type, 7. Check ear canal volume, 8. Review acoustic reflexes. Classic diagnoses are presented under each of these steps. The high point of the book is a series of audiometric cases presented as Basic Audiograms, Intermediate Audiograms, and Advanced Audiograms each viewed in the context of the authors' 8-step approach. The format of the text is a wirebound workbook with page-length audiograms presented in a manner similar to clinical audiogram which make the practice sessions quite realistic. This book is an excellent introduction to clinical interpretation of audiograms and is highly recommended."
—Moises A. Arriaga, MD, MBA, FACS, in Otology & Neurotology
"A significant component of our role as audiologists is to communicate technical information clearly and in a manner that can be easily understood. We attempt to present clinical reports logically and succinctly, but we also expect our clinical reasoning to be understood, so that our recommendations will be accepted and acted on. The problem with this assumption is that the non-audiological professionals who receive our reports may lack the prerequisite knowledge. Existing information on audiology, particularly audiometric interpretation, tends to be either too specialised and aimed at audiology professionals or oversimplified and intended for public consumption. It is perhaps of no surprise that during their residency, American otolaryngologists Lane Squires and Beth Colombo were overwhelmed when faced with the complexity of audiometric interpretation. They subsequently joined forces with audiologist Samantha McKinney to equip themselves with the necessary tools to interpret the audiology reports they received, and thus this book, Rapid Audiogram Interpretation: A Clinician's Manual was born. [...]
An ambitious range of clinical presentations and patterns were outlined in this text. They included common cases, audiological emergencies and some rare cases and terms such as "Kabuki Syndrome", "Autoimmune inner ear disease" (AIED) and "Anacusis" (dead ear) that were new to the reviewers. [...]
The simple layout of the book also lends itself well to acting as a companion textbook to audiology/ audiometry students and interns because each case study is clearly explained, and key points are accessible in tables and summaries throughout the book. The text could certainly contribute to students or interns making sense of what they saw in their clinical placements and to help structure their ideas when drafting clinical reports, particularly for those working remotely without close supervision. [...]
In summary, this book outlines a logical approach to understanding an audiology report and arms the reader with the knowledge and management strategies that should be considered when working with people with hearing or ear health concerns. I hope that non-audiology professionals recognise the value in accessing this information and that as audiologists we might have the confidence to recommend it to a colleague in need."
—Monica Maghiar & Nadia Lahfe, in Audiology Now
"This book is a manual and a workbook to systematically understand and interpret an audiogram for those who are new to audiometry such as residents, trainees and students. It is a worthy reference guide even to well-established practicing clinicians.
The authors describe an eight-step guide to interpreting a person's hearing status. To explain these, it is divided into four sections, namely Pure-Tone Audiometry, Speech Audiometry, Immittance Testing (Tympanometry and Acoustic Reflexes) and finally in Audiogram Workbook section.
This book explains the basics of PTA, Speech tests, Tympanometry and Acoustic Reflexes in simple and easy-to-understand language and diagrams. It has 65 audiograms with short case examples along with speech test, tympanometry and acoustic reflex data. It is spiral bound with an audiogram example and its interpretation on facing page, so that the reader can test themselves on their interpretation skills, making it a good revision manual before sitting exams. This attempt to summarize a variety of basic-to-advanced scenarios gets a very good rating! […]
In general, the book achieves its aim to provide a rapid reference manual to those learning otology and audiology and provides value-for-money purchase in a trainee's library."
— Sudhira Ratnayake, Alder Hey Children's Hospital, in ENT & Audiology News (September 2021)
Preface
Acknowledgements
Introduction to Our Method
Section 1: Pure Tone Audiometry
Step 1: Assess for Hearing Loss
Step 2: Determine the Type of Hearing Loss
Step 3: Check if the Audiogram Fits a Classic Pattern
Section 2: Speech Audiometry
Step 4: Compare Speech Thresholds to Pure Tone Audiometry
Step 5: Assess Word Recognition Scores
Section 3: Immittance Testing
Step 6: Determine Tympanometry Type
Step 7: Check Ear Canal Volume
Step 8: Evaluate Acoustic Reflexes
Section 4: Audiogram Workbook
Quick Reference Guide to the Method
Basic Audiograms
Intermediate Audiograms
Advanced Audiograms
Appendix A: Audiogram Index by Diagnosis
Appendix B: Bedside Hearing Tests
Appendix C: Other Audiometric Tests
Appendix D: Common Audiologic Acronyms
Blank Interpretation Sheets
Glossary
Index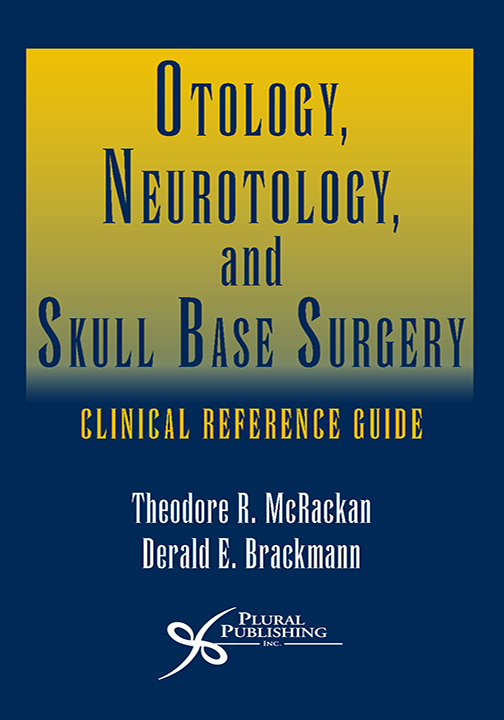 First Edition
Theodore R. McRackan, Derald E. Brackmann
Details: 593 pages, B&W, Softcover, 4.5" x 8"
ISBN13: 978-1-59756-651-3
© 2016 | Available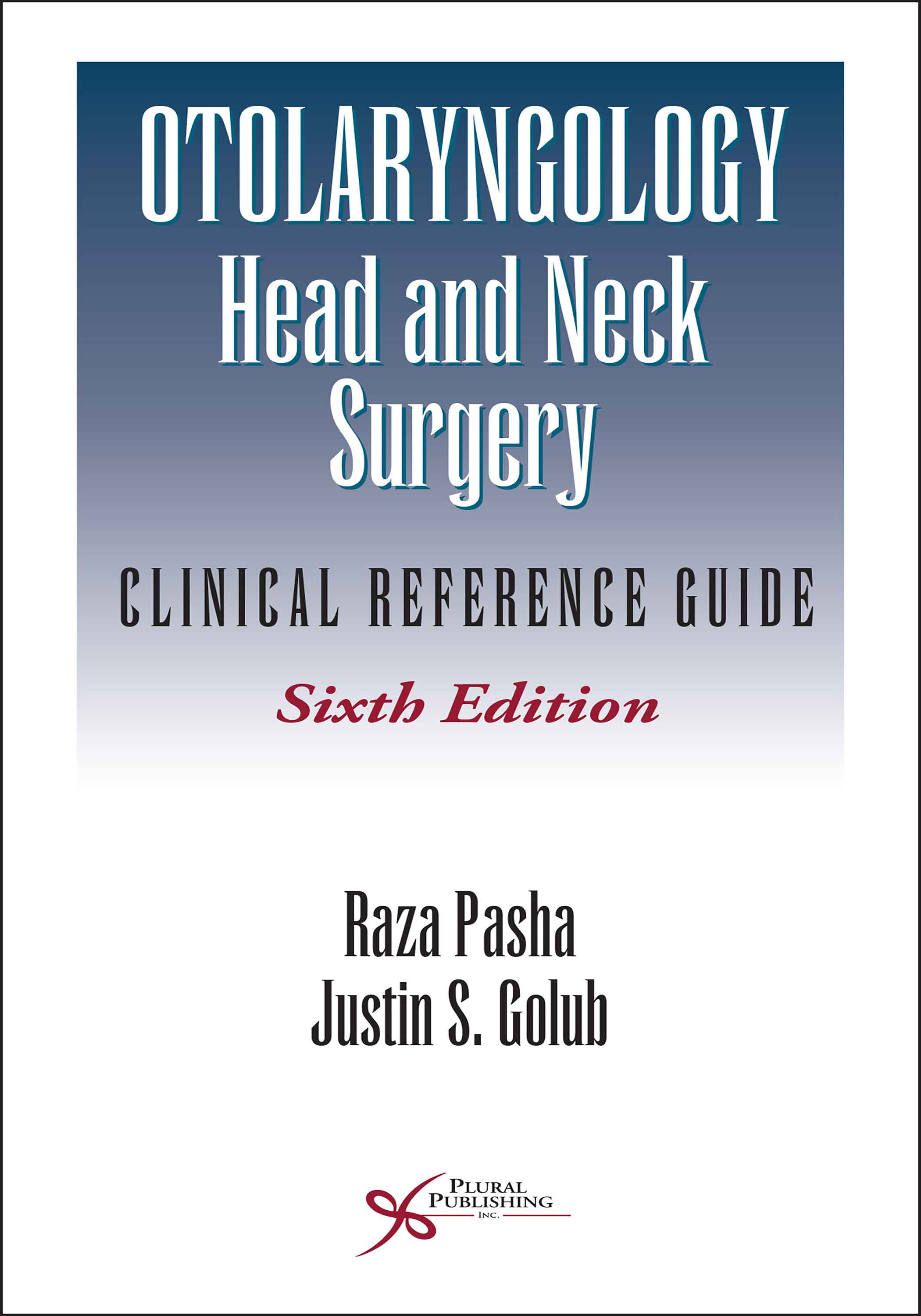 Sixth Edition
Raza Pasha, Justin S. Golub
Details: 769 pages, B&W, Softcover, 4.5" x 8"
ISBN13: 978-1-63550-337-1
© 2022 | Available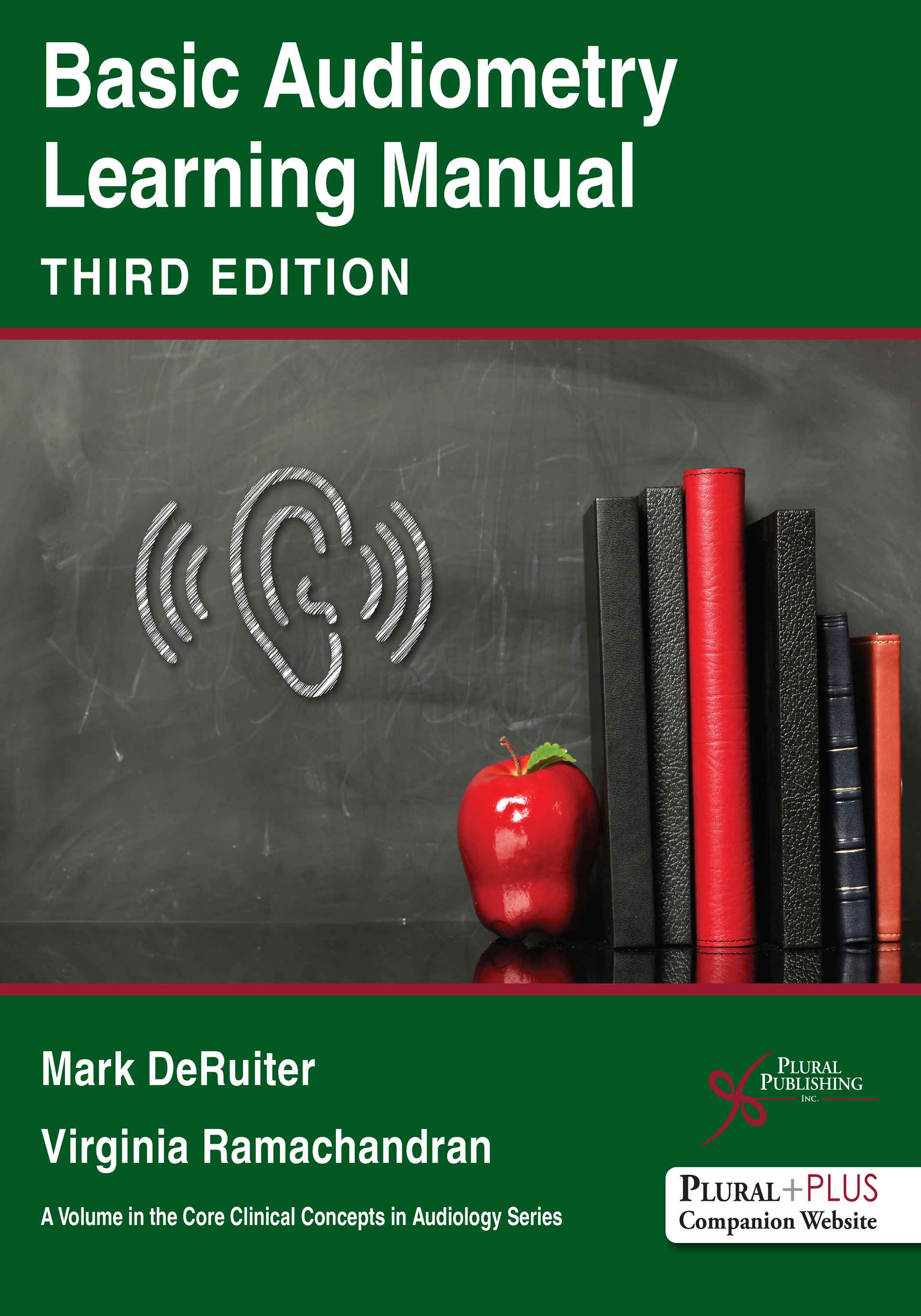 Third Edition
Mark DeRuiter, Virginia Ramachandran
Details: 231 pages, 2-Color, Softcover, 8.5" x 11"
ISBN13: 978-1-63550-371-5
© 2023 | Available