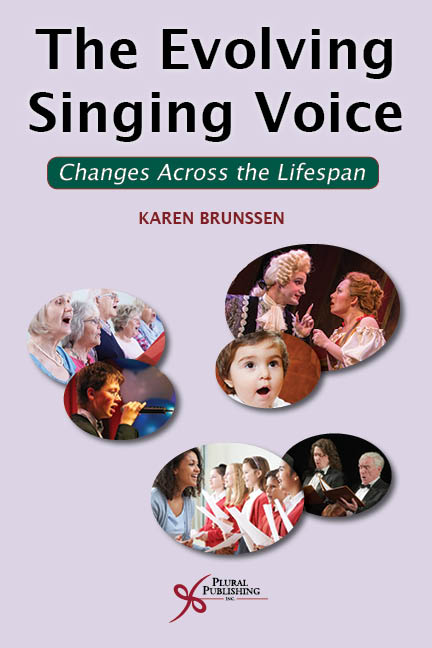 The Evolving Singing Voice: Changes Across the Lifespan
First Edition
Karen Brunssen
Details: 331 pages, B&W, Softcover, 6" x 9"
ISBN13: 978-1-63550-043-1
© 2018 | Available
The Evolving Singing Voice: Changes Across the Lifespan examines how the human vocal instrument transforms from infancy through old age. Synthesis of this unique and comprehensive approach is beneficial to singers, voice teachers, and voice professionals across a broad spectrum of ages.
At every age, vocal function is dependent upon how the body is progressively and constantly changing. The Evolving Singing Voice discusses these changes and their direct impact on the singing voice. A deeper understanding of chronological development offers a "lifetime perspective" for optimal, realistic potential at every age.
With the information available in The Evolving Singing Voice, singers and voice pedagogues can begin to see logical and useful correlations between age, vocal function, and vocal expectations over the course of an individual's singing life.
Key Features
Coverage of respiration, vibration, resonation, and expectations for each stage of life
Practical, age-related exercises and concepts
"Vocal Bundles" to encourage self-evaluation and improve vocal facility. Each bundle includes:

Sign of the Vocal Age
Technical Issue or Normal Age-Related Issue
Exercise
Mindful Concept
5 day Mini-Challenge consideration
In this episode of VocalFri, guest Karen Brunssen talks about her path in singing, the challenges of serving as NATS President during COVID-19, why she loves her 5-Day Mini-Challenge, and much more. Listen here.
Reviews
"Now a recognized leader with a remarkable record of publications and presentations on the topic, Brunssen has written a comprehensive book titled The Evolving Singing Voice: Changes Across the Lifespan. Tracking the natural, chronological order of human voice development, the book includes sections devoted to newborns, infants, children, adolescents, young adults, adults, and the "senescent" (or aging) singer. Chapters highlight the structural changes
that occur within the body and larynx at each stage. The book also offers training guidelines as well as reasonable expectations for appropriate vocal sound based on the specific needs, capabilities, and limitations determined by each stage of development.

The Evolving Singing Voice is well-referenced and up-to-date, as we have come to expect from the resources put out by Plural Publishing. Indeed, though the book was released in June 2018, many citations come from sources published as recently as 2017.

The book is steeped in reliable voice science, but Brunssen makes no assumptions about each reader's background. By defining pertinent terms and concepts along the way, she ensures that a wide audience can access and understand the information presented.
. . . Although change of any kind can be both terrifying and exhilarating, especially when it is related to something as personal as the human voice, Brunssen's writing may change the mind of anyone who feels that high quality, sustainable, enjoyable singing can only occur during the limited years of
peak performance capabilities. By outlining the most common and predictable vocal changes that occur over a lifetime and offering reliable training regimens for each stage, The Evolving Singing Voice is a dependable resource for singers and those entrusted with guiding their vocal development."
—Brian Manternach, in VOICEPrints Vol. 16, no. 3, January-February 2019 © NYSTA
"[…]The book is well-organised with contributions from clinicians as well as information gathered from singing teachers working in the field. The first thing I appreciated when opening the book was the organisation of functional elements of voice under the four headings of Respiration, Vibration, Resonance, Expectations. Vibration is a newish buzz word that allows a more intuitive understanding of the elements of phonation in singing, including register mechanisms. […]
For me the standout sections of the book are The Adolescent Years and Young Adult. There is a wealth of practical information here that will be useful to any teacher working with these age-groups. The Adolescent Years, co-written by Chadley Ballantyne, includes excellent, reader friendly information on the acoustics of resonance and source-filter interaction – a topic that can frighten many singing teachers. Ballantyne makes it simple, understandable and relevant. There is also a sub-heading on orthodontics and a useful sample 'Vocal Evaluation' checklist.
The Young Adult section includes a self-evaluation checklist for students and recommendations for choir singing, Musical Theatre and CCM styles. I especially liked 'Tying it all together with language and speech motor control'. […]
I very much liked the unpacking of SOVT – how and why it works – and the variations from semi-occluded to fully occluded transitory postures. I'd recommend this section to any singing teacher who is experimenting with SOVT, getting results but perhaps not understanding why. […]
Overall, there is a lot of useful information in the book. It's clear that the main contributors are highly knowledgeable, and the many excellent references to voice science are well-explained. Relevant aspects of vocal physiology and function are set out in an accessible manner and the information from clinical practice that a singing teacher or voice educator might need is also good. References are also given at the end of each chapter which readers will find useful for further research. […] I would recommend this book for serious singing teacher to have on their shelves as a reference and resource and for the book to be on the reading list of generalist vocal pedagogy courses."
—Dr Gillyanne Kayes, in Communicating Voice (Autumn/Winter 2019)
Acknowledgments
Contributors
Reviewers
Chapter 1. Introduction
Chapter 2. Newborn, Infant, and Child
Respiration
Vibration
Resonance
Expectations
From the Teachers
Summary
References
Chapter 3. Adolescence
Chadley Ballantyne and Karen Brunssen
Hormones
Respiration
Vibration
History
Resonance
Expectations
From the Teachers
References
Chapter 4. Young Adult
Education
Respiration
Vibration
Resonance
Expectations
Many Styles-Many Techniques
From the Students
References
Chapter 5. Adult
Avocation or Career
Respiration
Vibration
Resonance
Expectations
References
Chapter 6. The Senescent Singer
Aaron M. Johnson and Karen Brunssen
Introduction
Respiration
Vibration
Resonance
Presbyphonia
Expectations
From the Teacher
References
Chapter 7. Medical Assessment Across the Lifespan: Laryngeal Imaging, Perceptual and Acoustic/Aerodynamic Assessment
Michiel Bové, Nathan Waller, and Peter Wagreich
A Review of Anatomy and Physiology Across the Lifespan
Presbyphonia
Clinical Assessment and Laryngeal Imaging of the Aging Voice
Adult Voice Disorders Assessment: The Role of the Speech-Language Pathologist
Pediatric Voice Disorders Assessment: The Role of the Speech-Language Pathologist
References
Chapter 8. Training Tools Across the Lifespan
The 5-Day Mini-Challenge
Five Day and Six-Week Rule
Onset Exercises
Pharyngeal Stretches
Support Feedback from a Chair
Falsetto/Giggedy-Gaggedy-Goo Sequence
Creaking
Learning and Teaching Styles
The 5 Textures of Singing
SOVTE - Semi-Occlusive Vocal Tract Exercises (By Chadley Ballantyne and Karen Brunssen)
Chadley's "Weird" Exercise
50 Quick Comments for Singers Through the Lifespan
Vocal Evaluation
Exercises
Vocal Bundling
References
Index