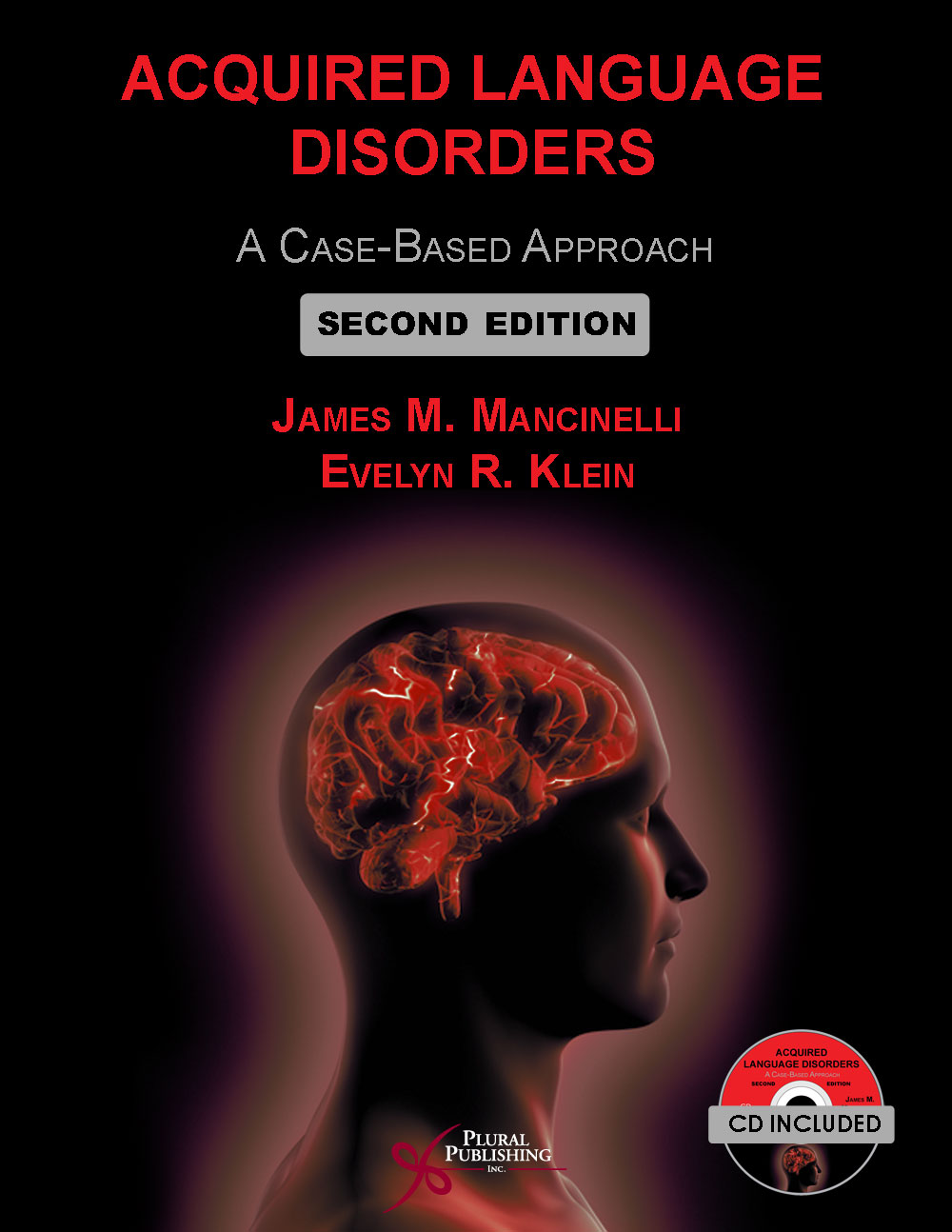 Acquired Language Disorders: A Case-Based Approach.
Second Edition
James M. Mancinelli, Evelyn R. Klein
Details: 312 pages, B&W, Softcover + CD, 8.5" x 11"
ISBN13: 978-1-59756-571-4
© 2014 | Available
A new edition of this text will be released in December.

Acquired Language Disorders: A Case-Based Approach, now in its second edition, is a practical, easy-to-follow, informative guide for students and clinicians. The authors present each case from a holistic perspective, encouraging clinicians to consider executive functions, attention, memory, and visuospatial skills of the person with aphasia during the assessment process and throughout treatment.
This edition begins with a review of the basics of brain-behavior relationships and pertinent medical terminology for treating individuals who have a neurological impairment. Each disorder is then introduced in a case-based format with a Target Model that includes a diagnostic profile along with treatment considerations and a functional analysis of the case.
New to the Second Edition
Current therapeutic information and strategies with a review of recent research pertaining to individuals with acquired language disorders and individuals with cognitive communication deficits secondary to mild brain injury
Resources for cognitive assessments of people with aphasia, and new directions and interventions for patients with dementia
Twenty-three treatment programs including 11 new approaches such as Speech Entrainment; A Program for Phonological Alexia/Agraphia; Oral Reading for Language in Aphasia with Virtual Therapist (ORLA-VT); and more
Discussion of innovative approaches for treating aphasia such as Repeated Transcranial Magnetic Stimulation (rTMS); Anodal Transcranial Direct Current Stimulation (A-tDCS); and Cathodal Transcranial Direct Current Stimulation (C-tDCS)
A "Test Your Knowledge" section with questions based on 10 patient scenarios that instructors can also use as a professional discussion tool
Color inserts and a Quick Reference Diagnostic Chart for Acquired Language Disorders (ALD) that addresses and provides diagnostic information for the major nonfluent and fluent aphasias as well as other ALDs.
A sample, completed Functional Communications Connections Worksheet included in the color insert and a blank version included in the appendix for treatment planning purposes
An accompanying CD with updated PowerPoint slides to complement other pedagogical materials

By providing a variety of ALD patient cases along with critical thinking activities for students and a review for clinicians, Acquired Language Disorders: A Case-Based Approach, Second Edition demonstrates its relevance in both the classroom and clinical settings.
Reviews
"This book endeavours to cater for all. It reviews neuroanatomy and neurophysiology, assessment methods and treatment approaches for aphasia, right hemisphere disorders, TBI, dementia and encephalopathy. The final chapter considers how the assessment and treatment of acquired language disorders will develop, including discussion about bio/pharmacological treatments and AAC.
The authors make an avid effort to bridge the gap between theory and practice. The examples given include a description of the client, a functional analysis, pointers for critical thinking, treatment considerations and discussion about appropriate therapeutic methods. What we liked about the examples is that they have not overlooked factors, such as cognition and family/carer implications. ..."
—Laura Wrangles and Kate Mackay, Adult SLTs, Hertfordshire Community NHS Trust, Royal College of Speech & Language Therapists (2014)
"Acquired Language Disorder: A Case-based Approach could not be more relevant considering the current and future states of healthcare in our country. Healthcare reform calls us to practice based on evidence, produce clinically significant changes as a result of the care we deliver and reserves payment for the right therapy, in the right dose, by the right professional in the right setting. A case-based approach provides clinicians with that evidence."
—Garry Pezzano, MS/CCC-SLP, Senior Vice President of Clinical Practice Genesis Rehab Services
Preface
Acknowledgments
Chapter 1. An Overview of Neuroanatomy and Neurophysiology Related to Acquired Language Disorders (ALD)
The Neuron
Neurotransmitters
The Brain: A Brief Review of Structures and Functions

The Coverings of the Brain, Ventricles, and Cerebrospinal Fluid
Cerebral Cortex
The Brainstem
Subcortical Structures
The Cerebellum
Neural Pathways

Cerebral Blood Flow
Cerebrovascular Accidents
Brain Imaging and Selected Medical Tests for Acquired Language Disorders

CAT Scan or CT Scan
MRI
fMRI
PET Scan
SPECT Scan
ASL
Examination of the Carotids: Doppler Ultrasound or Audculation of the Carotids
Endocardiography
Angiography

References

Chapter 2. Elements of Assessment in Acquired Language Disorders
Assessment
Areas of Language Function
Characteristics of Major Aphasic Syndromes

Definitions of the Clinical Characteristics of the Major Aphasic Syndromes

Extralinguistic and Paralinguistic Consideration in Assessment
Types of Assessment

Functional Assessment
Bedside Assessment

Cognition, Aphasia, and the ALD Target Model™

The Target Model and Cognitive Assessment in Acquired Language Disorders
Modifications to Standard Approaches to Assessment
Use of Standardized Tests for Individuals with Cognitive-Communication Disorders

Commonly Used Assessments for Acquired Language Disorders:

Arizona Battery for Communication Disorders of Dementia
Addenbrooke's Cognitive Examination
Assessment of Language-Related Functional Activities
Mini Mental State Exam
Global Deterioration Scale
Boston Diagnostic Aphasia Examination-3
Burns Brief Inventory of Communication and Cognition
Cognitive Linguistic Evaluation
Cognitive Linguistic Quick Test
Coma Recovery Scale-Revised
Comprehensive Aphasia Test
Communication Activities of Daily Living, Second Edition
The Kentucky Aphasia Test
Psycholinguistic Assessments of Language Processing in Aphasia
Reading Comprehension Battery for Aphasia
Ross Information Processing Assessment-2
The Scales of Cognitive and Communicative Ability for Neurorehabilitation
Scales of Cognitive Ability for Traumatic Brain Injury
Western Aphasia Battery-Revised

Selected Assessments for Aphasia by Category

Comprehensive Language Batteries
Functional Tests of Communication
Tests Bases on a Cognitive Neuropsychological Model
Tests Examining Specific Areas of Language Performance

Treatment and Goal Setting
Documentation of Progress
Service Delivery to People with Acquired Language Disorders

The Acute Care Setting
The Rehabilitation Setting
The Home Care Setting
The Outpatient Setting
The Long-Term Care Setting

Summary
References
Appendix 2-A. Quick Reference Diagnostic Chart for Acquire Language Disorders
Appendix 2-B. Functional Communication Connections

Chapter 3. The Major Nonfluent Aphasias
Introduction
Broca's Type Aphasia

Characteristics
A Functional Case Analysis of Maurice
Critical Thinking/Learning Activity
Treatment Considerations
Some Therapeutic Options

Transcortical Motor Aphasia

Characteristics
Functional Case Analysis of Vincent
Critical Thinking/Learning Activity
Treatment Considerations
Some Therapeutic Options

Global Aphasia

Characteristics
A Functional Case Analysis for Elizabeth
Critical Thinking/Learning Activity
Treatment Considerations
Some Therapeutic Options

References

Chapter 4. The Fluent Aphasias
Introduction
Wernicke's Type Aphasia

Characteristics
A Functional Case Analysis of Mildred's Wernicke's Aphasia
Critical Thinking/Learning Activity
Treatment Considerations
Some Therapeutic Options

Transcortical Sensory Aphasia (TSA)

Characteristics
A Functional Case Analysis of John's TSA
Critical Thinking/Learning Activity
Treatment Considerations
Some Therapeutic Options

References

Chapter 5. Other Aphasic Syndromes
Subcortical Aphasia

Introduction
Characteristics of the Subcortical Aphasias
A Functional Case Analysis of Winnie's Subcortical Aphasia
Critical Thinking/Learning Activity
Treatment Considerations
Some Therapeutic Options

Primary Progressive Aphasia

Introduction
Characteristics
A Functional Case Analysis of Luis's Primary Progressive Aphasia
Critical Thinking/Learning Activity
Treatment Considerations
Some Therapeutic Options

Acquired Alexia and Agraphia

Characteristics
A Functional Case Analysis of Sue's Alexia
Critical Thinking/Learning Activity
Treatment Considerations
Some Therapeutic Options

References

Chapter 6. Right Hemisphere Disorder
Introduction
Characteristics

RHD and Pragmatic Impairment
Visual-Perceptual Deficits
Visuomotor Deficits
Auditory Perceptual Deficits
Cognitive Deficits
A Functional Case Analysis of Debra
Critical Thinking/Learning Activity
Treatment Considerations
Some Therapeutic Options

References

Chapter 7. Traumatic Brain Injury
Introduction
Characteristics

Types of Brain Injury
Symptoms Related to Localization of the TBI
Prognostic Consideration in Head Injury
Premorbid Intelligence
Age at the Time of Injury
Duration of Coma
Posttraumatic Seizures
Hydrocephalus
Spasticity

Cognitive-Linguistic Impairment Due to TBI

Establishing Goals for the Theraputic Course

Postconcussive Syndrome
Mild TBI
Rating Scales for Functional Outcomes

A note about Generalization in People with TBI
A Functional Analysis of Samuel's TBI
Critical Thinking/Learning Activity
Treatment Considerations
Therapeutic Options

References

Chapter 8. Dementia
Introduction
Characteristics

Diagnostic Factors
Stages of Dementia
Memory Systems and Dementia

Types of Dementia

Vascular Dementia
Parkinson's Dementia
Fronto-Temporal-Parietal Dementias
Creutzfielt-Jakob Disease
Huntingon's Disease

Overview of Research on Treatment for Dementia

A Functional Case Analysis of Max's Dementia
Critical Thinking/Learning Activity
Treatment Considerations
Some Therapeutic Options

References

Chapter 9. Encephalopathy
Introduction
Characteristics

Drug and Alcohol Intoxication
A Functional Case Analysis of Tommy
Critical Thinking/Learning Activity
Treatment Considerations
Some Therapeutic Options

References

Chapter 10. Past, Present and Future Considerations in Acquired Language Disorders
Historical Overview of Efficacy and Evidence in the Treatment of Acquired Language Disorders in Adults

Randomized Controlled Trials and Aphasia Treatment

Treatment Approaches and Future Trends

Biological and Pharmacologic Interventions
Intensity of Treatment
Computer-Assisted Technology and Treatment of Aphasia

AAC for Adults with ALD: Aphasia, Primary Progressive Aphasia, TBI, and Dementia
The Use of Applications (Apps) in the Rehabilitation of the ALD Patient
The Use of Video Games in the Rehabilitation of the ALD Patient
References

Appendix A. Case History Form
Background Information
Health and Medical History
Educational History
Psychosocial and Family History

Appendix B. Skills Assessment Inventory

Appendix C. Cognitive-Linguistic Evaluation
Appendix D. Selected Treatment Programs and Approaches
A Treatment Sequence for Phonological Alexia/Agraphia
Anagram, Copy, and Recall Therapy
Concurrent Treatment for Reading and Spelling in Aphasia
Constraint-Induced Language Therapy
Divergent Word Retrieval
Life Participation Approach to Aphasia
Lingraphica
Mapping Treatment
Melodic Intonation Therapy
MossTalk Words
Narrative Story Cards
Nonsymbolic Movements for Activation of Intention
Normal Sentence Production
Oral Reading for Language in Aphasia with Virtual Therapist
Promoting Aphasics' Communicative Effectiveness
Response Elaboration Training
Schuell's Stimulation Approach
Semantic Feature Analysis
Sentence Production Program for Aphasia
Sentence Shaper
Speech Entrainment
Treatment of Underlying Forms
Visual Action Therapy

Appendix E. The World Health Organization and the International Classification of Functioning, Disability, and Health
Body Functions and Structures
Activities and Participation
Contextual Factors (Environmental Factors and Personal Factors)
The ICF and the Rehabilitation of the Person with an Acquire Language Disorder
Reference

Appendix F. The Octagon Worksheet for Functional Communication
Appendix G. Test Your Knowledge
Case #1
Case #2
Case #3
Case #4
Case #5
Case #6
Case #7
Answer Key

Index

Accompanying PowerPoint slides and CD include lecture material for:
Review of Neuroanatomy
The Target Model
Assessment in Acquired Language Disorders (ALD)
Nonfluent Aphasia
Fluent Aphasia
Subcortical Aphasia
Primary Progressive Aphasia (PPA)
Acquired Dyslexia and Dysgraphia
Right Hemisphere Disorder (RHD)
Traumatic Brain Injury (TBI) and Post Concussive Syndrome (PCS)
Dementia
Encephalopathy