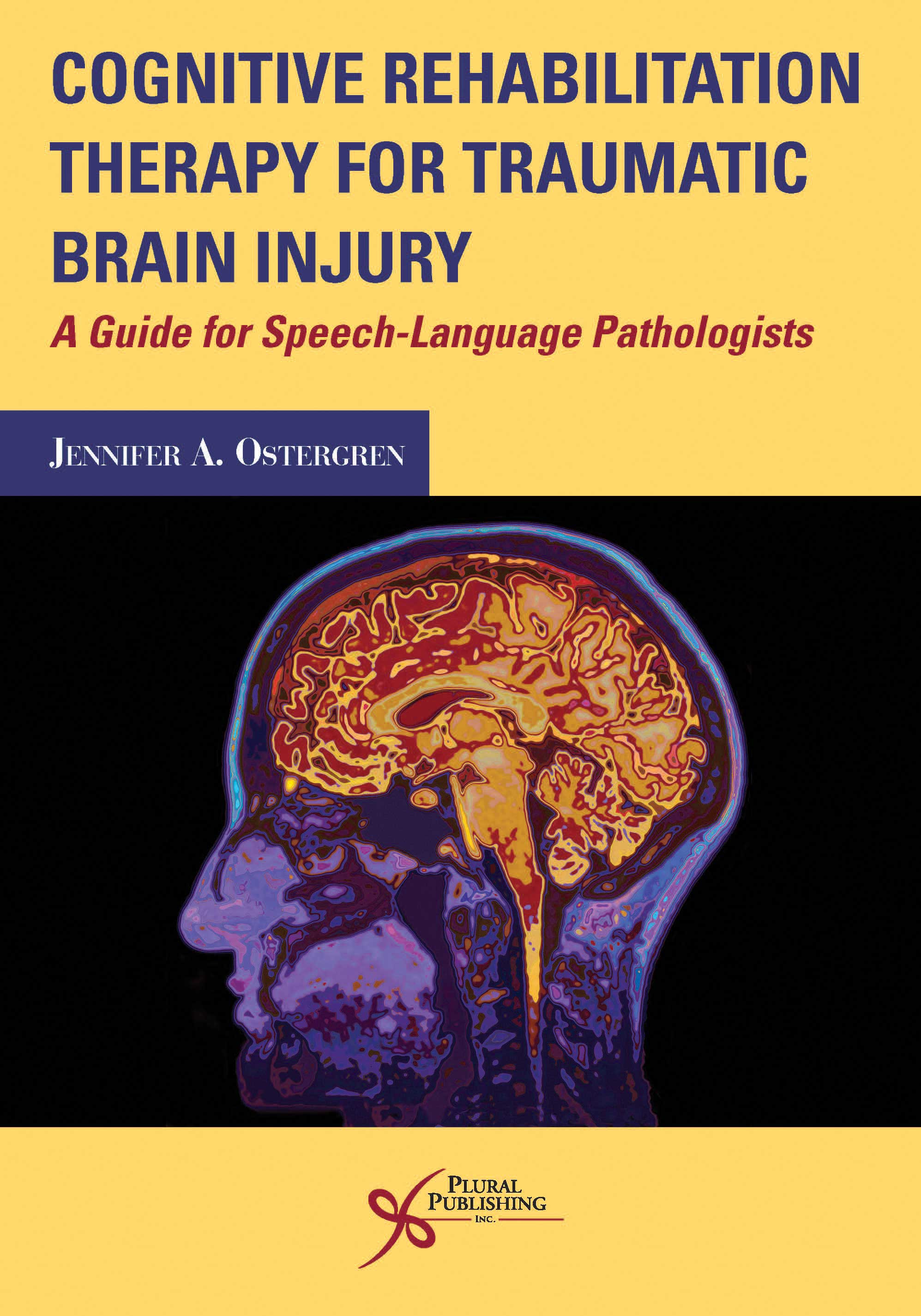 Cognitive Rehabilitation Therapy for Traumatic Brain Injury: A Guide for Speech-Language Pathologists
First Edition
Jennifer A. Ostergren
Details: 321 pages, B&W, Softcover, 7" x 10"
ISBN13: 978-1-59756-789-3
© 2018 | Available
Cognitive Rehabilitation Therapy for Traumatic Brain Injury: A Guide for Speech-Language Pathologists is designed for speech-language pathologists (SLPs) treating adults with cognitive-communicative impairments following traumatic brain injury (TBI). Cognitive impairments are one of the cardinal features of TBI, affecting communication and activities of daily living. This book integrates scientific information into a user friendly and practical application tool for practicing SLPs and students in training to become SLPs.
Section I contains chapters that serve as background for understanding the treatment of TBI. Included are chapters addressing mechanisms of injury, neuropathology, recovery patterns, and applicable classification and outcome measures following TBI. An overview of cognitive-communicative impairments is also included, as are sections devoted to common compounding and concomitant conditions that impact individuals with TBI and their rehabilitation. Section I also contains chapters describing the rehabilitation process following TBI from the broader landscape of interdisciplinary and patient-centered rehabilitation and specific to cognitive rehabilitation treatment (CRT) for adults with TBI.
Section II contains chapters devoted to describing CRT in the areas of attention and information processing speed impairments, memory, executive function and awareness, and social communication. Chapters in section II focus on treatment approaches that have an established base, described in a clinically useable format.
Each chapter includes a summary of the research evidence, recommended candidates, and background on a specific treatment approach. They also include a section devoted to 'Treatment in Action,' designed to explain applicable steps, procedures, and needed materials for implementation of a specific approach. Charts, figures, tables, and appendices are also included to facilitate the use of a specific approach.
Cognitive Rehabilitation Therapy for Traumatic Brain Injury can serve as a supplemental textbook for graduate courses on neurologic communication disorders. It is also a valuable resource for students during clinical practicum with adults with TBI. This book is also a professional resource that summarizes information in a way that is applicable to practicing SLPs who work with adults with TBI and their families.
Introduction
Acknowledgments
Contributor
Reviewers
Section I. Foundational Knowledge
Chapter 1. Mechanisms of Injury and Neuropathology
Chapter 2. Classification and Recovery
Chapter 3. Compounding and Concomitant Conditions
Chapter 4. Cognition and Communication
Chapter 5. Coordinated Care
Chapter 6. Cognitive Rehabilitation Therapy (CRT) Principles
Section II. Treatment in Action
Chapter 7. Attention and Information Processing Speed
Chapter 8. Memory
Chapter 9. Executive Function and Awareness
Chapter 10. Social Communication
Index