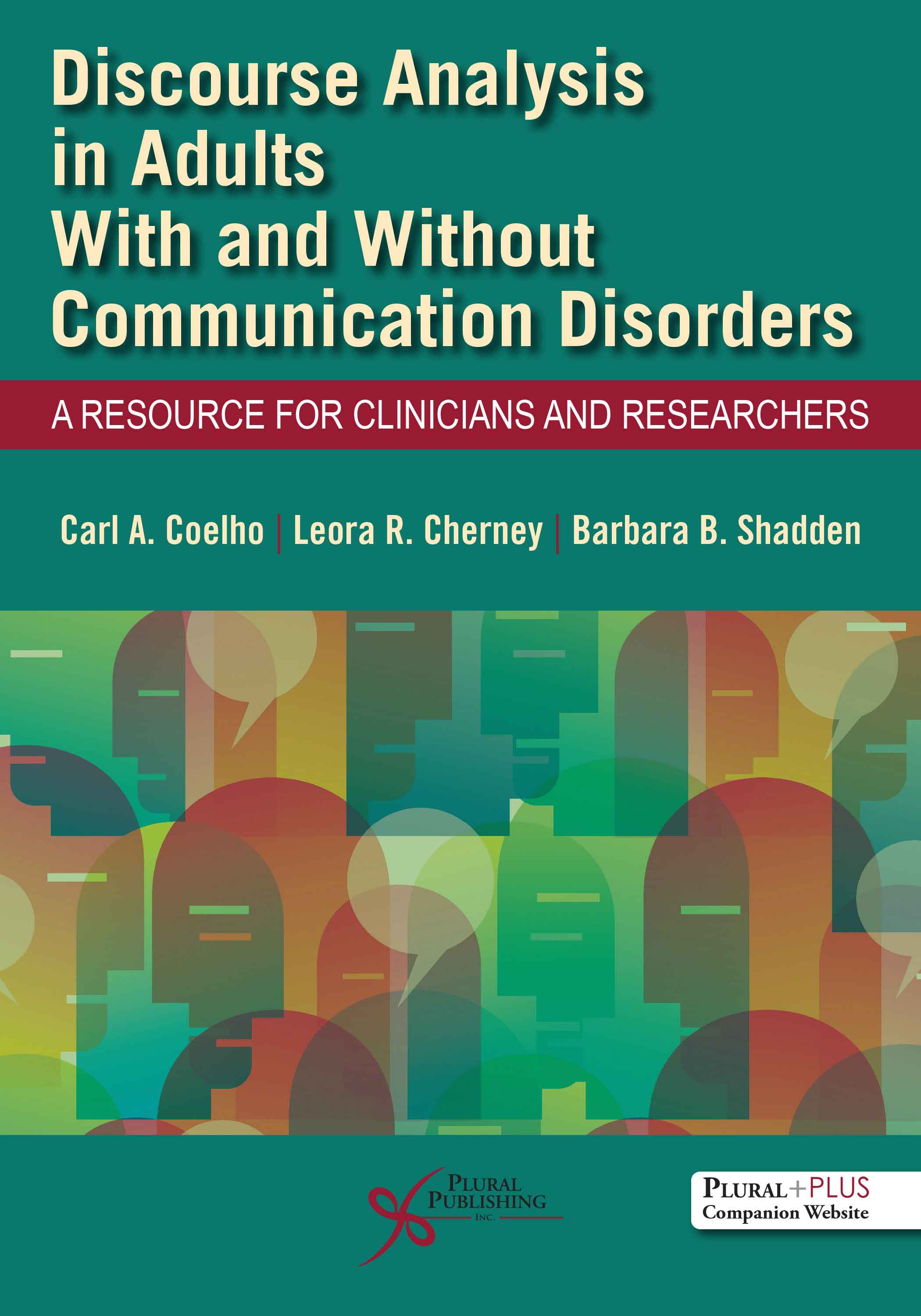 Discourse Analysis in Adults With and Without Communication Disorders: A Resource for Clinicians and Researchers
First Edition
Carl Coelho, Leora R. Cherney, Barbara B. Shadden
Details: 300 pages, B&W, Softcover, 7" x 10"
ISBN13: 978-1-63550-375-3
© 2023 | Coming Soon
Release Date: 09/15/2022
Purchase
Available for purchase starting 08/25/2022
A Resource for Clinicians and Researchers provides state-of-the-art information about discourse analysis with sections on Aging, Aphasia, Cognitive Communication Disorders, and Neurodegenerative Diseases. The three renowned editors are actively engaged in the area of discourse. Expert clinical researchers introduce and organize each section, and chapters are authored by leaders involved in discourse research worldwide.
Discourse is considered the most natural unit of language. Effective production of discourse requires complex interactions among linguistic, cognitive, and social abilities that are sensitive to even mild disruption in any one of these elements. This book covers the examination of discourse in adults with acquired communication disorders, including selecting elicitation tasks, streamlining transcription processes, expanding analysis methods, and translating findings for treatment application.
Key Features
• Provides a global perspective on discourse assessment for clinicians
• Dedicated chapters on aging, aphasia, traumatic brain injury, right hemisphere disorder, primary progressive aphasia, Alzheimer's dementia, Parkinson's disease, and amyotrophic lateral sclerosis

Preface
Acknowledgements
Contributors
Chapter 1. Discourse Analysis in Adults With and Without Communication Disorders: An Overview
Carl Coelho, Barbara Shadden, and Leora R. Cherney\
Discourse and Typical Aging – Introduction to Chapters 2–4
Heather Harris Wright, Topic Chair, Typical Aging Section
Chapter 2. Cognitive and Linguistic Characteristics of Narrative Discourse Production in Healthy Aging
Andrea Marini
Chapter 3. Discourse Processing in Older Adults: Considering Discourse Elicitation Tasks
Stephen Kintz and Hana Kim
Chapter 4. Conversation and Typical Aging
Marion Leaman and Aviva Lerman
Discourse in Aphasia – Introduction to Chapters 5–8
Mary Boyle, Topic Chair for Aphasia
Chapter 5. Analysing Linguistic Features of Discourse in People with Aphasia
Lucy Bryant
Chapter 6. Weaving Research Evidence and Clinical Expertise Together in Discourse Analysis of Spoken Personal Narratives in Aphasia
Lucy Dipper and Madeline Cruice
Chapter 7. Clinical Application of Conversation Analysis in Aphasia
Jamie H. Azios and Nina Simmons–Mackie
Chapter 8. Cross–Cultural Perspectives on Conversational Assessment and Treatment in Aphasia: Learnings From A First Nations Context
Elizabeth Armstrong, Tara Lewis, Alice Robins, Ian Malcolm, and Natalie Ciccone
Discourse of People with Cognitive Communication Disorders – Introduction to Chapters 9–12
Leanne Togher, Topic Chair, Cognitive Communication Disorders
Chapter 9. Discourse Assessment Across the Recovery Continuum of Traumatic Brain Injury (TBI)
Elise Elbourn, Joanne Steel, and Elizabeth Spencer
Chapter 10. Assessing Conversation After Traumatic Brain Injury
Louise C. Keegan, Nicholas Behn, Emma Power, Susan Howell & Rachael Rietdijk
Chapter 11. Assessing Discourse In People With Right Hemisphere Disorders
Melissa D. Stockbridge, Jamila Minga, Alexandra Zezinka Durfee, and Melissa Johnson
Chapter 12. Using Technology and Telepractice to Evaluate Discourse After TBI
Rachael Rietdijk and Peter Meulenbroek
Discourse of People Living With Neurodegenerative Disorders – Introduction to Chapters 13–16
J.B. Orange, Topic Chair, Neurodegenerative Disorders
Chapter 13. Clinical Implications of Discourse Analysis for Individuals With Primary Progressive Aphasia
Sarah Grace Dalton, H. Isabel Hubbard, and Jessica D. Richardson
Chapter 14. What Discourse Analysis Reveals About Conversation and Language Processing in the Context of Dementia of the Alzheimer's Type
Jackie Guendouzi
Chapter 15. Multi–Level Discourse Analysis in Parkinson's Disease and Related Disorders
Katharine Aveni and Angela Roberts
Chapter 16. Discourse in ALS: Interplay of Language, Motor, and Executive Factors
Sharon Ash and Sanjana Shellikeri
Discourse Databases for Use With Clinical Populations – Introduction to Chapter 17
Carl Coelho, Co–Editor
Chapter 17. Discourse Databases for Use With Clinical Populations
Davida Fromm and Brian MacWhinney