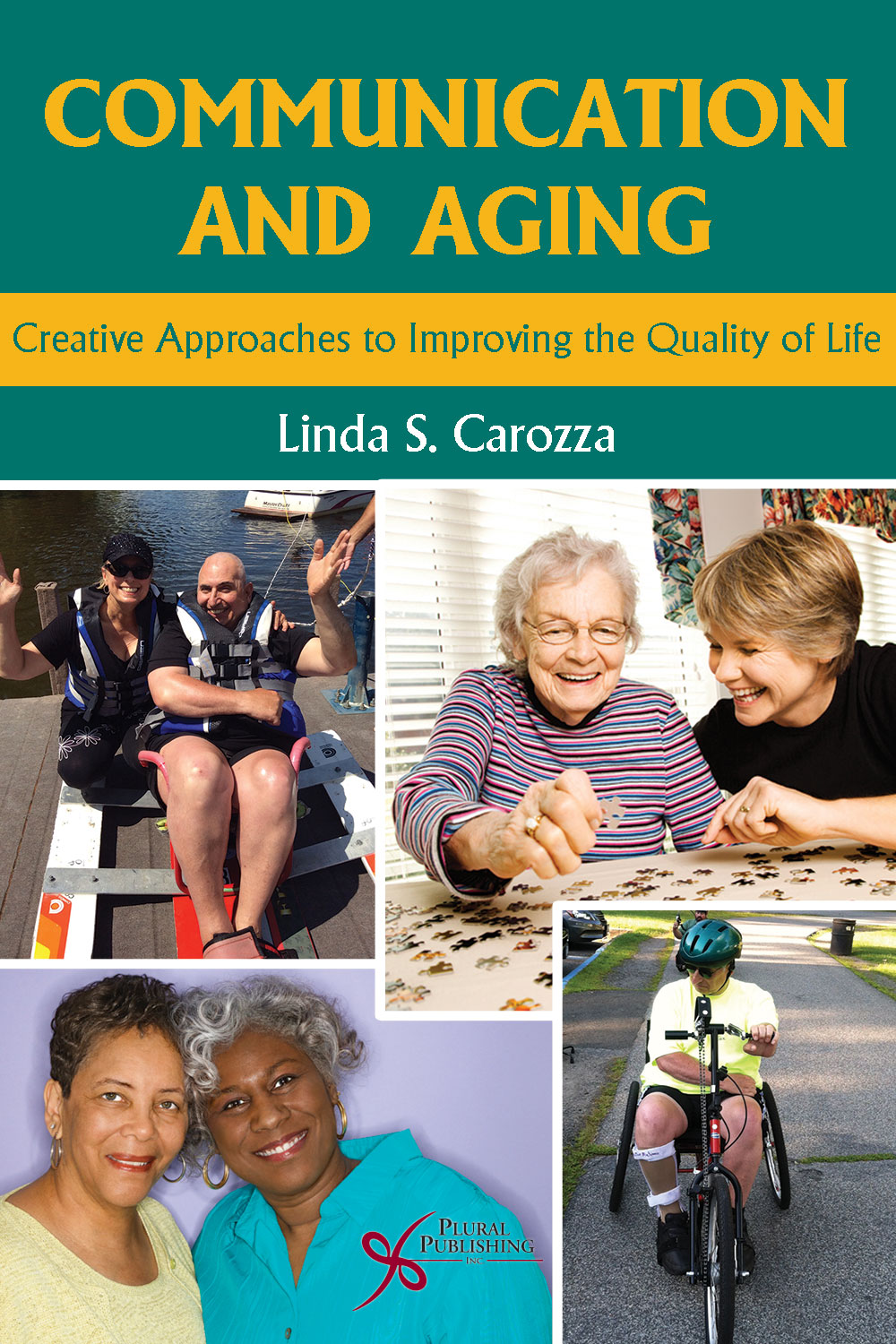 Communication and Aging: Creative Approaches to Improving the Quality of Life
First Edition
Linda S. Carozza
Details: 319 pages, B&W, Softcover, 6" x 9"
ISBN13: 978-1-59756-612-4
© 2016 | Available
Communication and Aging: Creative Approaches to Improving the Quality of Lifeprovides an overview of alternative approaches used to improve the quality of life of individuals with long-term chronic communication diseases associated with aging and neurogenic diseases. This text examines how professionals can inspire and develop programs that allow patients to live successfully with their disorders.
Key Features
Detailed descriptions of successful therapeutic modalities (such as art, music and drama) and the ability of patients and families to participate and benefit
Real-life examples of programs that combine nondirective strategies with outcome measure assessment
Discussion of social models and contrast theories of medical models of patient rehabilitation
Examination of the effect of social integration on patient quality of life and wellness

Communication and Aging is a source for innovative therapeutic planning and is ideal for professionals seeking to stretch the boundaries of support to patients who may have maximized private pay and directive therapy options.
Review
"...This contributed volume offers the reader the expertise from a range of professionals in the communication field. It is timely: Our population is aging, and so is the rise in cases of dementia, Alzheimer's, and other age-related disorders. The book presents the treatment of communicative conditions associated with aging not only in an inter-professional way, emphasizing teamwork, but in a holistic way. That is, we do not see isolated impairments but quality of life concerns for the individual and his/her loved ones. As we are rightly told, the aim is adding life to the years, not just years to life. The book also offers information to a range of readers: those in the aging population, their family, friends and caregivers, as well as the students in communication sciences and disorders and the active practitioner. We all need to better understand the process of aging, what is normal and what are the signs of disease, what treatments are available, and how the field can continue to improve by focusing on the quality of life for all involved..."
—Susan J. Behrens, Ph.D., Professor of Communication Sciences and Disorders (October 2015)
20Q: Dementia - Evidence-Based Strategies for Quality of Life Interventions
Read Linda Carozza's interview with Ann Kummer from SpeechPathology here.
Part I.
Chapter 1. Introduction
Tanya Budilovskaya
Chapter 2. Perspectives on Communication and Aging
Noel Shafi and Linda S. Carozza
Chapter 3. Cognitive Changes in Aging: Implications for Discourse Processing
Tricia Olea Santos
Chapter 4. The Effect of Aging and Neurogenic Conditions on Speech Production: Recent Advances
Linda S. Carozza
Chapter 5. Language Comprehension and Production in Dementia and Aphasia
Linda S. Carozza
Chapter 6. Hearing and Aging
Abbey L. Berg and Yula C. Serpanos
Chapter 7. Swallowing Functions Across the Lifespan
Matina Balou
Chapter 8. Social Language Enhancement in Dementia and Aphasia
Linda S. Carozza with contribution by Noel Shafi

Part II.
Chapter 9. Psychosocial and Creative Approaches to Dementia Care
Lauren Volkmer
Chapter 10. Creating the Climate for Contact and Positive Change in the Social Adult Day Program Setting: An Interview with Elizabeth Hartowicz, Director of CARE Program at Lenox Hill Neighborhood House
Elizabeth Hartowicz
Chapter 11. Color My Words: How Art Therapy Creates New Pathways of Communication
Raquel Chapin Stephenson
Chapter 12. Music Therapy in Neurologic Dysfunction to Address Self-Expression, Language, and Communication: The Impact of Group Singing on Stroke Survivors and Caregivers
Joanne V. Loewy, Jamee Ard, and Naoko Mizutani