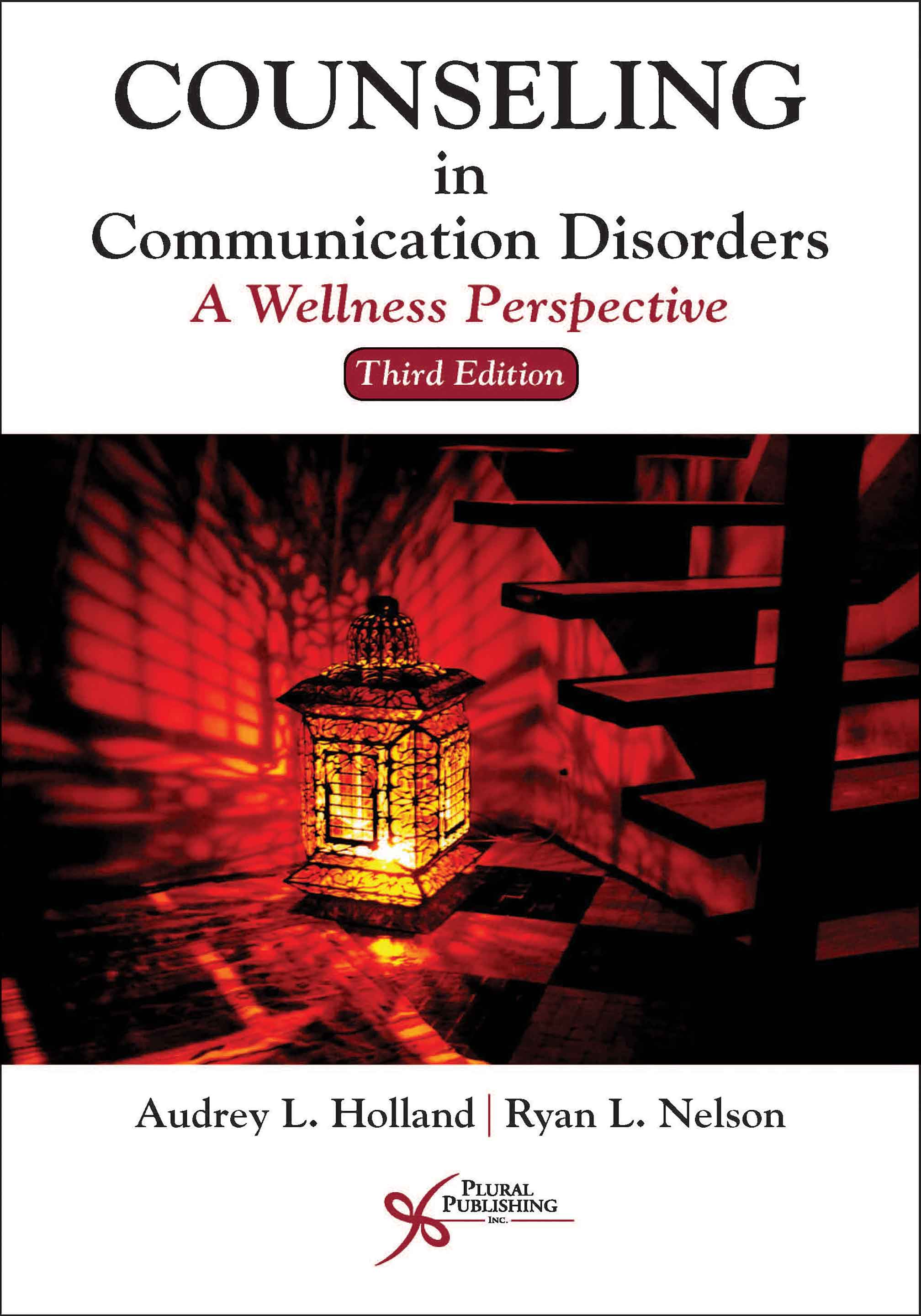 Counseling in Communication Disorders: A Wellness Perspective
Third Edition
Audrey L. Holland, Ryan L. Nelson
Details: 370 pages, B&W, Softcover, 6" x 9"
ISBN13: 978-1-63550-045-5
© 2020 | Available
Now in its third edition, Counseling in Communication Disorders: A Wellness Perspective continues to be an essential and admired text for counseling related courses in graduate speech-language pathology and audiology programs. The counseling skills introduced in this book are based on the model of positive psychology, a rapidly growing branch of psychology that focuses on mental health and well-being and how to achieve and maintain these states. By incorporating the key elements of positive psychology into clinical practice, clinicians can more effectively help patients live productively and successfully with their communication disorders.
The authors offer examples, exercises, and specific techniques for working with individuals and their families across the spectrum of communication disorders, from infancy through end-of-life needs. In addition, they also feature one-on-one activities and model workshop examples for use in teaching counseling strategies to groups or classes.
New to the Third Edition
Expanded information on issues concerning cultural diversity, especially in regard to children and their families
Expanded strategies for recognizing and growing strengths in family dynamics including early intervention.
Extended considerations for counseling individuals and families when deterioration of abilities is expected.
More in-depth information on the unique problems of persons with mild cognitive impairment, primary progressive aphasia, and chronic traumatic encephalopathy.
Updates on findings and issues in Positive Psychology
Information introducing clinicians and students to Posttraumatic Growth and its relevance to the field
Updated counseling literature throughout

With its updates and additions, Counseling in Communication Disorders: A Wellness Perspective, Third Edition, is destined to remain a popular resource and teaching tool for developing speech-language pathologists and audiologists.
Reviews
"Named to Doody's Core Titles in the Health Sciences - Speech, Language & Hearing 2020 list."
—Doody's (May 2020)
"**Description** This is the third edition of a book that explains the fundamental reasoning for speech-language pathologists and audiologists to provide counseling services, gives an introduction to the concept of positive psychology, and identifies specific techniques for counseling clients of all ages with communication disorders.
**Purpose** The authors seek to differentiate between mental illness and the unique mental stressors persons experiencing communication disorders and the people around them experience. They identify what is within the scope of practice of speech pathologists and audiologists and when to refer to mental health specialists. The authors emphasize that, while speech pathologists and audiologists are not qualified to address mental illness, they can help clients and caregivers maintain a focus on positive elements in their lives despite experiencing "catastrophe." This book is a needed resource in our field as counseling is a common element in therapy services that is frequently provided by practitioners without clear guidelines or training.
**Audience** The audience is practicing speech-language pathologists and audiologists as well as students in the field. Audrey Holland, PhD, is a Regents' Professor Emeriti at the University of Arizona who has received numerous clinical and professional awards throughout her career. Ryan L. Nelson, PhD, is a Doris B. Hawthorne-BORSF Endowed Professor at the University of Louisiana in Lafayette who has been recognized for his work on language and literacy in children and has prior experience working as a speech pathologist in public schools. The authors have thoroughly researched each chapter topic and provide an extensive reference list.
**Features** The book is divided into nine chapters. The first three focus on introducing the concept of positive psychology and making a case for effective counseling as part of a speech pathologist's or audiologist's treatment plan. Each of the subsequent six chapters focuses on providing insights into and techniques for effective counseling with specific populations across the human lifespan. The authors direct readers to numerous publicly available resources for further education regarding counseling as well as tools to use when providing counseling.
**Assessment** I highly recommend this book. It is insightful and pertinent to my practice, both as a speech pathologist and as a clinical instructor of graduate students in the field. Counseling is an inescapable and inherent element of therapy when treating clients and family members experiencing a loss of ability or expectations. This book provides an effective framework to improve and diversify our skills as clinicians, thereby helping our clients achieve a better quality of life. 4 STARS!"
—Brent L. Wiles, MS, CCC-SLP, University of South Alabama, in Doody's (August 2018)
Foreword by Shirley Morgenstein
Preface
Acknowledgments
Chapter 1. Counseling in Clinical Practice: Overview
Chapter 2. Positive Psychology: In Brief
Chapter 3. Good Counselors: Knowledge, Skills, Characteristics, and Attitudes
Chapter 4. Communication Counseling With Parents of Children With or At Risk for Disability
With Holly Damico and Jack Damico
Chapter 5. Counseling Issues with Children Who Have Communication Disorders
Chapter 6. Communication Counseling with Adult Clients and Their Families for Whom Progression is Toward Improvement
Chapter 7. Communication Counseling with Adult Clients and Their Families for Whom Progression is Toward Deterioration
Chapter 8. There's an Elephant in the Room: Issues in Death and Dying
Stan Goldberg
Chapter 9. Teaching Resilience and Optimism to Families and Persons with Communication Disorders: Some Workshop Formats
Index