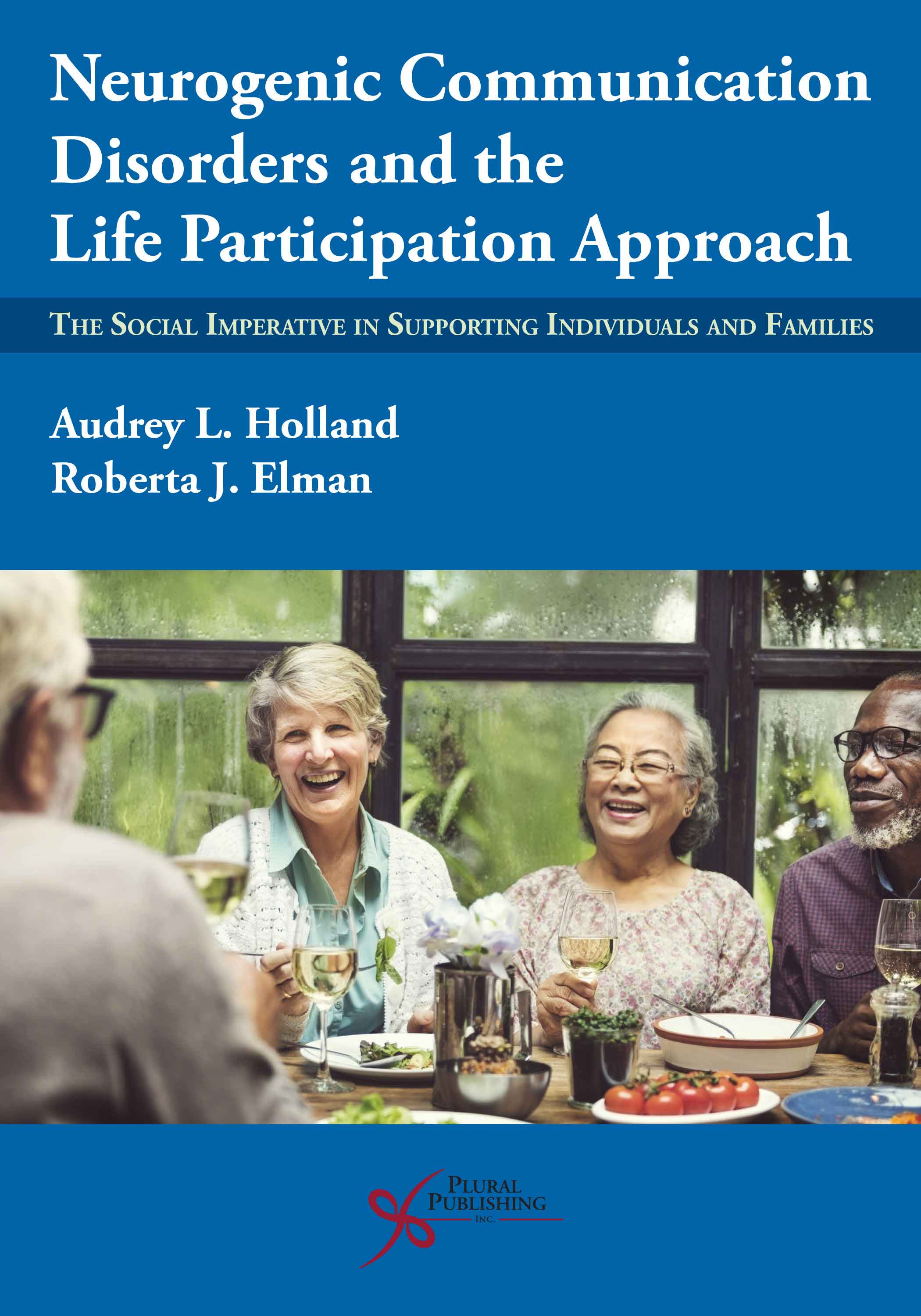 Neurogenic Communication Disorders and the Life Participation Approach: The Social Imperative in Supporting Individuals and Families
First Edition
Audrey L. Holland, Roberta J. Elman
Details: 242 pages, Softcover, B&W, 6" x 9"
ISBN13: 978-1-63550-295-4
© 2021 | Available
The Life Participation Approach to Aphasia (LPAA) is an evolutionary change in the way practitioners view aphasia intervention. By focusing on meeting the needs of individuals affected by aphasia, LPAA can produce real, meaningful enhancement to the quality of life.
Neurogenic Communication Disorders and the Life Participation Approach: The Social Imperative in Supporting Individuals and Families breaks down the past, present, and future of the LPAA movement with contributions from a range of new and experienced practitioners. In addition, this text provides a roadmap for professionals interested in incorporating person-centered intervention for aphasia and other neurogenic communication disorders, including primary progressive aphasia, dementia, and traumatic brain injury.
Within this book, clinicians will find tips, tools, and guidance for integrating a life participation approach into their practice, as well as first-hand descriptions of the positive benefits this approach can have for those living with neurogenic communication disorders.
Editors Holland and Elman participated in an ASHA Live Online Chat on the topic "Broadening the Reach of the Life Participation to Aphasia (LPAA) to Other Neurogenic Communication". Over the course of two hours, a lively and informative discussion took place. Read the full transcript here.
Reviews
"This is a unique and helpful resource in the area of aphasiology and related neurogenic communication disorders. There are various articles, chapters, and websites about LPAA, but this is the first book I know of that takes a comprehensive look at this approach. The book is well written and organized and will be a tremendous help to any clinician wanting to integrate this approach into his or her clinical practice in order to get patients participating in life again and increasing their overall quality of life."
—Matthew H. Rouse, MS, SLP.D, CCC-SLP, Biola University, in Doody's Book Reviews (January 2021)
"In Neurogenic Communication Disorders and the Life Participation Approach: The Social Imperative in Supporting Individuals and Families, Audrey Holland and Roberta Elman – supported by a new generation of clinicians and researchers – make a case for the Life Participation Approach to Aphasia (LPAA), 'a consumer-driven service-delivery approach that supports individuals with aphasia and others affected by it in achieving their immediate and longer-term life goals' (xvi). The editors explain that LPAA places the life concerns of people with aphasia at the centre of all decision making, empowering them to participate in the recovery process, and to collaborate in designing the rehabilitation process that aims for a more rapid return to active life. The editors invited both new and experienced clinicians and researchers to contribute to the book sharing knowledge, experience, tips, tools, and guidance for integrating LPAA into clinical practice. They expanded the scope beyond aphasia from stroke by also incorporating neurogenic disorders such as primary progressive aphasia, dementia, and traumatic brain injury. This initiative resulted in an up-to-date, versatile and complete text that is relevant for both clinicians and researchers. …Holland and Elman's initiative has resulted in a pleasantly readable book describing LPAA and the Social Imperative in a variety of contexts and from different perspectives. The discussions of the current state of affairs in the literature, the recognisable examples, the overviews and descriptions of measurement and treatment tools and materials, and the practical and feasible ideas and recommendations provided by the authors resulted in a complete overview of LPAA's evolution so far…"
—Rimke Groenewold, University Medical Centre Groningen, in Aphasiology journal (June 2021)
"I want to start this off by first stating that Dr. Audrey Holland is one of my aphasia idols, and therefore, I would read anything published by her. Even if that wasn't the case, I am incredibly pleased that I purchased this book. I am all about person-centered care and life participation in my private practice. This book highlights the history and development of the Life Participation Approach to Aphasia (LPAA) and showcases just how important it is to our patient's outcomes and satisfaction. This book mingles well-known aphasiologists with up-and-coming trailblazers and delivers a fresh perspective for any clinician looking to learn more about life participation."
—Katie Brown, MA, CCC-SLP, CBIS, Speech-Language Pathologist & Owner of Neuro Speech Solutions
Preface
Acknowledgments
Contributors
Prologue. Life Participation Approach to Aphasia: A Statement of Values for the Future by LPAA Project Group (In alphabetical order: Roberta Chapey, Judith Duchan, Roberta J. Elman, Linda Garcia, Aura Kagan, Jon Lyon, and Nina Simmons-Mackie)
Chapter 1. The Social Imperative for Aphasia Rehabilitation: A Personal History
Audrey L. Holland
Chapter 2. C.A.P.E.: A Checklist of Four Essential and Evidence-Based Categories for Aphasia Intervention
Roberta J. Elman
Chapter 3. Discovering Functional Needs in Speech-Language Therapy
Sarah Baar
Chapter 4. The Role of the Environment: Supporting Language, Communication, and Participation
Thomas W. Sather and Tami J. Howe
Chapter 5. Stories at the Heart of Life Participation: Both the Telling and Listening Matter
Katie A. Strong and Barbara B. Shadden
Chapter 6. Primary Progressive Aphasia: A Practical Roadmap for Navigating Person-Centered Evaluation and Treatment
Rebecca Khayum and Aimee R. Mooney
Chapter 7. Life Participation for People with Dementia
Natalie F. Douglas and Delainey Smyth
Chapter 8. The Life Participation Approach and Social Reintegration After Traumatic Brain Injury
Peter Meulenbroek and Louise C. Keegan
Chapter 9. The Life Participation Approach to Aphasia: Looking Back and Moving Forward
Nina Simmons-Mackie
Index