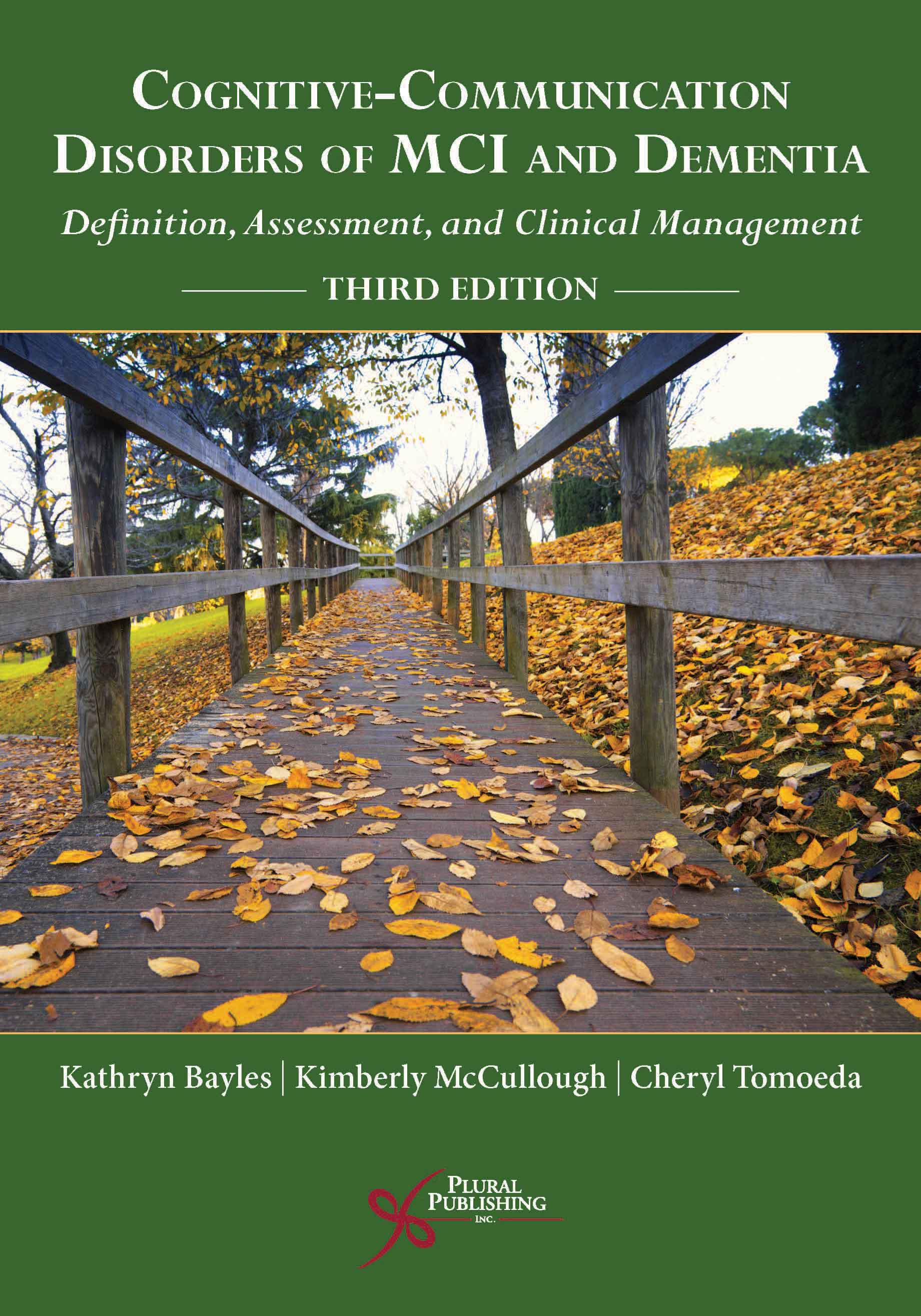 Cognitive-Communication Disorders of MCI and Dementia: Definition, Assessment, and Clinical Management
Third Edition
Kathryn Bayles, Kimberly McCullough, Cheryl K. Tomoeda
Details: 265 pages, B&W, Softcover, 7" x 10"
ISBN13: 978-1-63550-060-8
© 2020 | Available
A Must-Have Resource for Clinicians, Instructors, and Students in Training!
Written by internationally recognized experts, Cognitive Communication Disorders of MCI and Dementia, Third Edition provides professionals and students the most up-to-date research on the clinical assessment and management of individuals with dementia and those with mild cognitive impairment (MCI), the fastest growing clinical population. Dr. Kimberly McCullough, an expert on MCI and cognitive stimulation, joined Bayles and Tomoeda as co-author and this edition has an increased coverage of MCI, its characteristic features, the diagnostic criteria for its diagnosis, and treatment options.
Students and practicing professionals will appreciate the authors' overview of the relation of cognition to communicative function and the characterization of how both are affected in MCI and the common dementia-related diseases including Alzheimer's, Lewy Body, Vascular, Parkinson's, Huntington's, Frontotemporal and Down Syndrome. A summary of important points at the end of chapters highlights essential clinical information and guides student learning. An all-new Clinical Guide comprises the second half of the book providing an extensive discussion of the process of assessment and evidence-based treatments for individuals in all stages of dementia.
Features of the New Clinical Practice Guide
Assessment: The authors provide a step-by-step discussion of the assessment process, an overview of reputable tests, and how to differentiate cognitive-communication disorders associated with MCI and dementing diseases.
Treatment: This section includes comprehensive and detailed instructions for implementing evidence-based interventions for individuals in all stages of dementia. Additional topics include:
A person-centered model for successful intervention
Cognitive stimulation programming for MCI
Clinical techniques supported by the principles of neuroplasticity
Indirect interventions that facilitate communication, quality of life, and the safety of individuals with dementia
Caregiver counseling
Care planning, goal setting, reimbursement and required documentation

Case Examples: Includes restorative and functional maintenance plans.
Cognitive-Communication Disorders of MCI and Dementia: Definition, Assessment, and Clinical Management was written by individuals dedicated to the study and treatment of cognitive-communicative disorders associated with dementia. Their research has received support by the NIH, the Alzheimer's and Related Disorders Association, the Andrus Foundation, as well as the University of Arizona, Appalachian State University and the University of Central Arkansas.
Reviews
"Named to Doody's Core Titles in the Health Sciences - Speech, Language & Hearing 2020 list."
—Doody's (May 2020)
Preface
Acknowledgements
Chapter 1. Speech-Language Pathology, Mild Cognitive Impairment, and Dementia
Chapter 2. Cognition, Memory, and Communication
Chapter 3. MCI: Mild Cognitive Impairment
Chapter 4. Alzheimer's Dementia
Chapter 5. Dementia and Down Syndrome
Chapter 6. Vascular Dementia
Chapter 7. Parkinson's Disease and Dementia
Chapter 8. Dementia and Lewy Body Disease
Chapter 9. Dementia and Huntington's Disease
Chapter 10. Frontotemporal Dementia
Clinical Guide: Assessments and Interventions for Cognitive-Communication Disorders of Dementia
Section I. Assessment
Section II. Cognitive Intervention
Section III. Treatment: Direct Interventions for Individuals with MCI and Dementia
Section IV. Indirect Interventions for Individuals with Dementia
Section V. Reimbursement and Care Planning for Persons with Dementia
References for Clinical Guide
Index