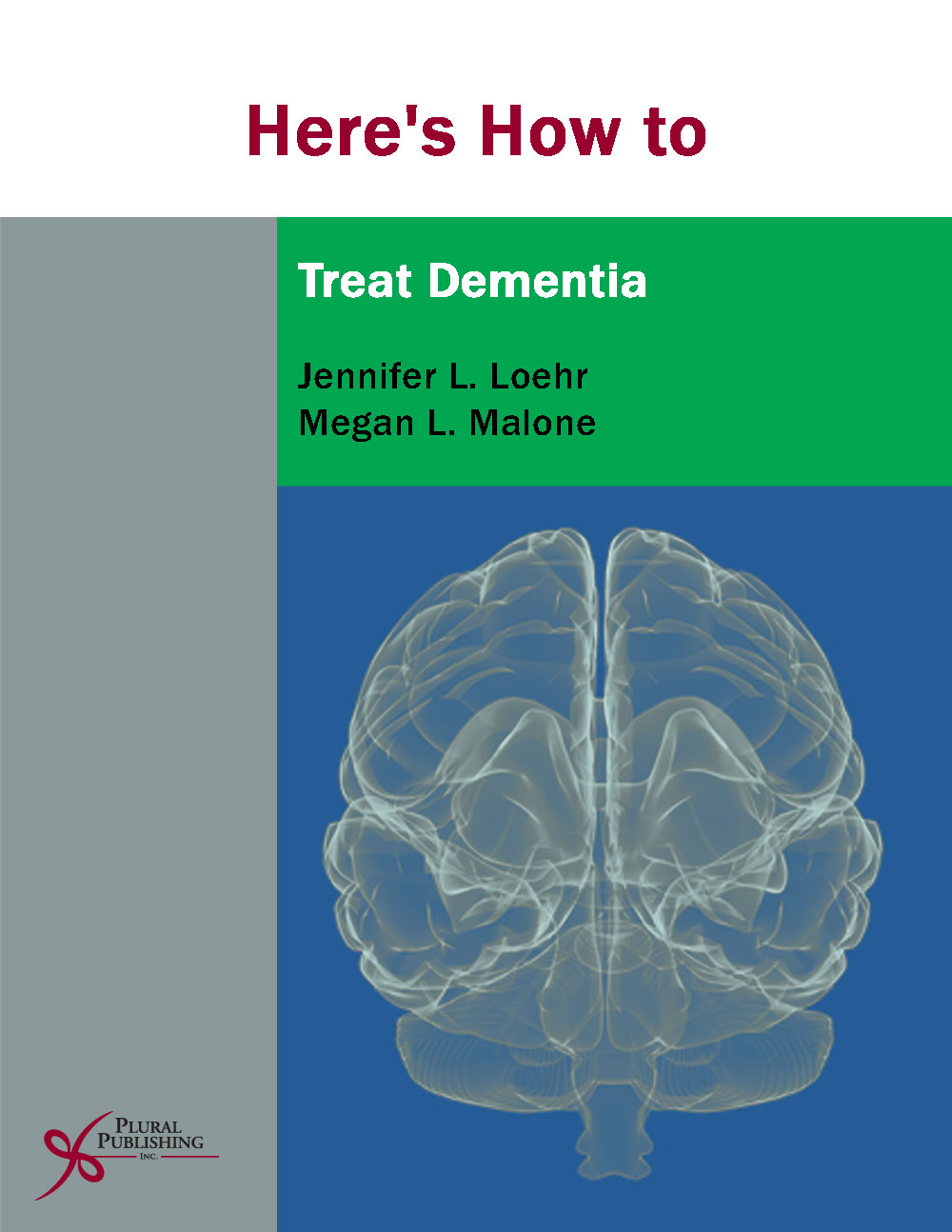 Here's How to Treat Dementia
First Edition
Jennifer L. Loehr, Megan L. Malone
Details: 200 pages, B&W, Softcover, 8.5" x 11"
ISBN13: 978-1-59756-448-9
© 2014 | Available
Covering assessment to plan of care and discharge, Here's How to Treat Dementia is the only comprehensive field manual speech-language pathologists need while working with individuals with dementia. With this timely resource, therapists can readily access the information needed to assess, treat, and document care. Far from a cookbook approach to dementia care, this manual offers valuable information on staging of dementia, goal setting (including documentation), and treatment trends. The authors provide functional tips and intervention strategies that encourage clinicians to utilize critical thinking to formulate personalized care plans specific to a patient's strengths and weaknesses. This user-friendly manual also includes reproducible forms and handouts for patient/family education, documentation, and data collection.

Foreword
Preface
Part I: Understanding Dementia
Chapter 1. How Memory Works

Memory Systems
Declarative Memory
Nondeclarative Memory
Applying Knowledge of Memory Systems to Treatment
Summary
References

Chapter 2. What Causes Dementia

How Is Dementia Diagnosed?
Classifications
Common Diagnoses
What Is Not Dementia?
Conclusion
References

Chapter 3. Demographics of Dementia

Why Do We Need to Understand the Demographics of Dementia?
What Does the Face of Dementia Look Like?
What About the Caregivers?
Summary
References

Chapter 4. Common Symptoms of Dementia

Introduction
Most Common Symptoms
Symptoms Related to Specific Diagnosis
Summary
References

Chapter 5. Physical Considerations: Look Beyond the Diagnosis

Dysphagia
Malnutrition
Dehydration
Gum/Dental Disease
Infection
Gait Dysfunction
Heart Disease
Sleep Disturbance
Depression
Summary
Reference

Part II: Effective Therapeutic Interventions
Chapter 6. Dementia Staging

Early Stage
Middle Stage
Late Stage
Staging Tools
Summary
References

Chapter 7. Evaluation Tools and Techniques

Referrals
Screening
Evaluation Considerations
Chart Review and Case History
Selected Formal Tests for Evaluating Dementia
Functional Evaluation
Summary
References

Chapter 8. Goal Setting and Writing 101

Goal Writing Step One: Prioritize!
Anatomy of a Goal
Additional Elements of a Strong Goal
Additional Elements of a Strong Goal
Short-Term and Long-Term Goals
Goal Examples
Case Study
Summary
References

Chapter 9. Treatment Trends

The Spaced Retrieval Technique
Montessori-Based Dementia Programming
Validation Therapy
Reminiscence Therapy
Use of Visual/Graphic Cues and Memory Books
Compensatory Strategies and Communication/Controversial Approaches
Choosing Treatment Strategies
Summary
References

Part III: Additional Considerations in Treatment of Dementia
Chapter 10. Counseling, Teaching, and Supporting

Introduction
Understanding Grief
The Approach
Counseling
Take Care of Yourself
Summary
References

Chapter 11. Documentation: Connecting the Dots

Introduction
Why Do We Have to Document?
The Who, What, When, Where, Why, and How of Dementia Documentation
A Quick Word About Denials
Show Me the Data!
Get Out of Your Rut
Conclusion
References

Chapter 12. Behavioral Issues

Common Behavioral Symptoms Associated with Dementia
Understanding Behavioral Symptoms
Analyzing Behavioral Symptoms
Developing Treatment Solutions for Behavioral Challenges
Summary
References
Appendixes

Chapter 13. Drugs and Supplements

Pharmacological Intervention
Non-Pharmacological Intervention
Be Cautiously Supportive
Clinical Trials
References

Chapter 14. The Holistic Approach

Dementia Care Team Members
Collaboration and Co-Treatment
Collaborative Treatment Guide
Summary
References

Chapter 15. Special Considerations for the Home Health Therapist

What Is Home Health Care?
The OASIS and Reassessment Requirements
Plan of Care and Goal Considerations
Challenges of Home Care Environment
Noncompliance and Family Considerations
Carryover
Summary
References

Appendices
Index