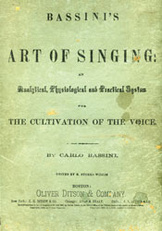 Bassini's Art of Singing: An Analytical, Physiological and Practical System for the Cultivation of the Voice
First Edition
Stephen F. Austin
Details: 168 pages, B&W, Hardcover, 8.5" x 11"
ISBN13: 978-1-59756-192-1
© 2008 | Available
Purchase Print Book
Price: $59.95
This hardbound book with dust jacket makes for a lovely coffee table book and is a great gift for singers.
Even though 150 years have passed since The Art of Singing was first published, Bassini's method is just as valid today as it was when it was written. The book is not just a historically interesting document, it defines a method of bel canto. It contains the vocal wisdom of the 18th and 19th centuries. The principles illuminated here were those used to train the great singers who were the first to sing the operas of Donizetti, Bellini, Rossini, and many others.
This classic volume brings back to life Bassini's original vocal method, and it couldn't be more current today than it was over 150 years ago. In this volume, Carlo Bassini, one of the most influential teachers of singing of the 19th century, describes his practical and theoretical ideas, which are given a 21st century freshness by the editor. Many of today's texts on singing neglect to explain the practical process of voice building, therefore abandoning the methodical approach to singing first developed by Bassini. With Bassini's Art of Singing, editor Steven Austin brings one of the seminal works in the field back to the voice profession, enabling study by new students so that their own work is properly influenced by this successful practitioner from the past. This book is beautifully bound to resemble the original 1856 edition. It is truly a must-have collector's item for singers, singing teachers, and those who collect classic books of singing.