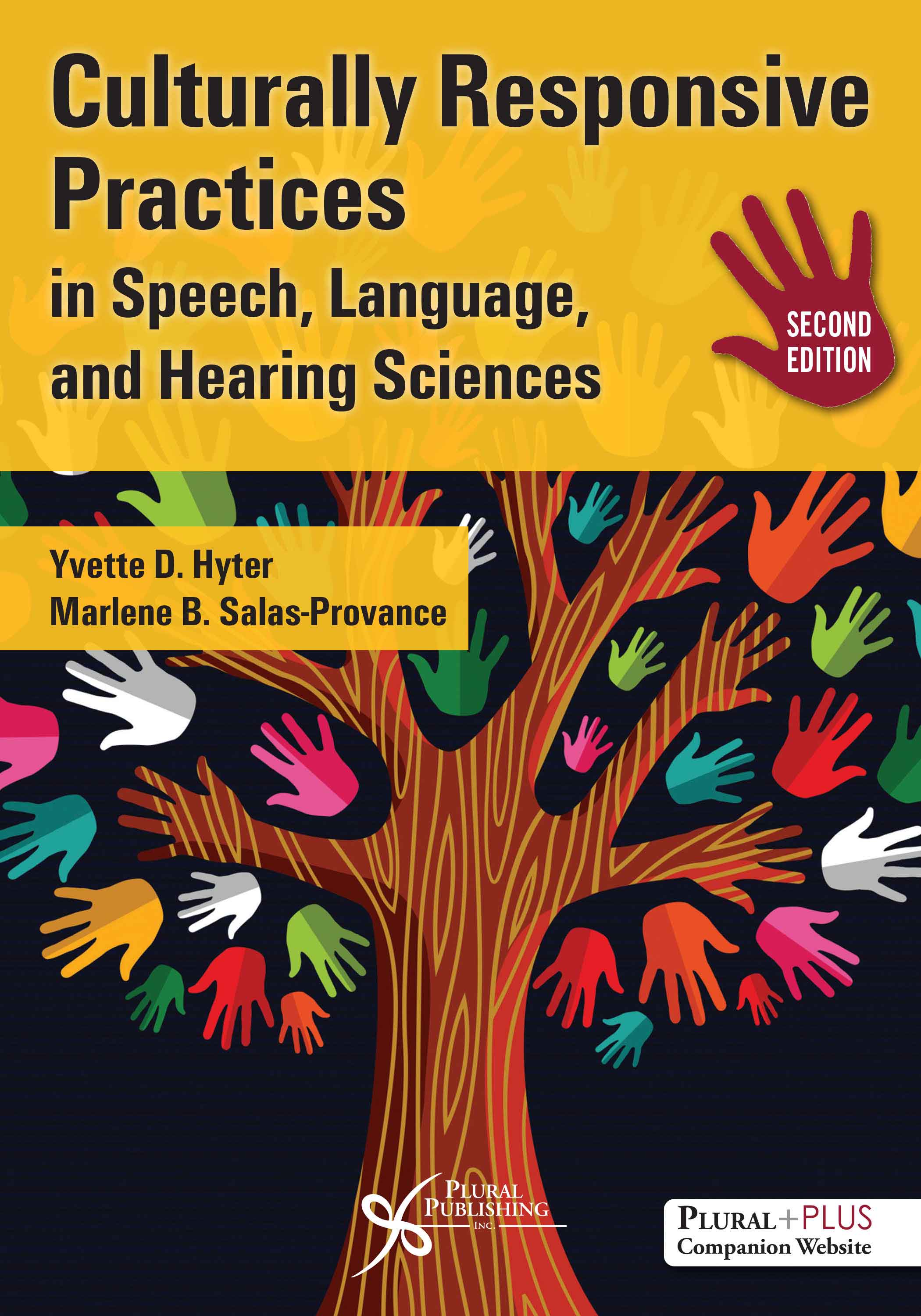 Culturally Responsive Practices in Speech, Language and Hearing Sciences
Second Edition
Yvette D. Hyter, Marlene B. Salas-Provance
Details: 440 pages, B&W, Softcover, 7" x 10"
ISBN13: 978-1-63550-650-1
© 2023 | Coming Soon
Release Date: 11/01/2021
For Instructors
Price: $129.95
Available for purchase starting 10/01/2021
Culturally Responsive Practices in Speech, Language, and Hearing Sciences, Second Edition provides an innovative perspective on cultural competence in the field of communication sciences and disorders. It is imperative for clinicians and scientists to be aware of diverse aspects of globalization: how these aspects may affect their own knowledge, strengths, biases, and interventions, as well as the relationships between the communities, families, and individuals with whom they partner in care. The purpose of this essential textbook is to facilitate the creation of knowledge and the development of attitudes and skills that lead to culturally responsive practices.
The text presents a conceptual framework to guide readers toward cultural competence by becoming critically engaged users of culturally responsive and globally engaged practices. The text is focused on speech, language, and hearing, but also draws from theoretical frameworks in other disciplines for an interprofessional, transdisciplinary, and macro practice perspective, and is appropriate for other allied health professions. This information will help students and professionals build their own conceptual framework for providing culturally and linguistically responsive services and engaging with others globally.
New to the Second Edition
Reorganized chapters and text for a greater flow of information.
Updated throughout to reflect the current state of research.
A thoroughly revised chapter on Culturally Responsive Practices using a Human Rights Approach through a Social Justice Lens (Chapter 4)
Material on Culture and Hearing (Chapter 6) has been updated and expanded
Key terms are now bolded throughout the text.
Content has been edited to be more concise for increased readability and comprehension.
New reflection focus with thought cloud graphic noted to target these areas throughout the book.
Key Features
Case studies to facilitate students' and professionals' knowledge and skills regarding culturally and linguistically responsive practices
Journal prompts and discussion questions that challenge individuals to use critical and dialectical thinking
Real-life activities that can be completed inside or outside the classroom or therapeutic setting
Suggested readings from the current literature in cultural and linguistic responsiveness, cultural competence, and global engagement in order to build knowledge and skills, and to influence student attitudes
A PluralPlus companion website with supplementary PowerPoint lecture slides, case studies, exercises, and activities for instructors, and study guides, flashcards, and additional readings for students.
A PluralPlus companion website with supplementary resources for students and instructors. For students, the website includes study guides for each chapter, flashcards for concepts used throughout the text, and suggestions for additional readings. For instructors, the website offers PowerPoint lecture slides outlining chapters and learning activities to use with students, designed to support class preparation and teaching the content in the text. Such learning activities include:
Case studies including decision making and planning for culturally responsive assessment and intervention processes
Journal prompts designed to strengthen critical and dialectical thinking
Identifying challenges and proposing solutions to providing culturally responsive speech-language pathology and audiology services
Exercises to facilitate clinical observations, ethnographic interviewing skills, and working with an interpreter
Foreword by Ida J. Stockman, PhD, CCC-SLP
Preface
Acknowledgments
Reviewers
Chapter 1. Introduction
Definition of Culture
Cultural Responsiveness
Opportunities for Reflection
Unconscious Bias
Building Blocks of this Textbook
References
Chapter 2. Definitions and Concepts
Learning Objectives
Key Concepts
Activity 2–1
The Contexts that Give Meaning to Culture and Cultural Responsiveness
Globalization and Its Multidimensional Effects
Changing Demographics Around the World
Health Disparities and the Goal of Health Equity
World Health Organization's International Classification of Functioning Disability and Health (WHO-ICF)
World Report on Disability
Defining Concepts
Essential Concepts and their Definitions
Activity 2–2
Critical Self-Reflection Questions
Chapter Summary
Extended Learning
Further Reading
References
Chapter 3. Theoretical Frameworks
Learning Objectives
Key Concepts
Over-the-Counter Hearing Aids-A Problem or Solution?
Theory and Social Theory
Components of a Theory
Conceptual Frameworks
World Report on Disability
Meaning of Illness, Disease, and Disability
The Tip of the Iceberg
Dimensions of Culture (Hofstede)
Power Distance
Uncertainty–Avoidance
Individualism–Collectivism
Masculinity–Femininity
Long-Term–Short-Term Orientation
Indulgence–Restraint
Models from Disability Studies
Models from Speech, Language, and Hearing Sciences
The VISION Model
Proposed Pedagogical Frameworks
Salas-Provance's (2021) Cultural Growth Profile Model
Hyter's (2014, 2021) Conceptual Framework for Culturally Responsive and Sustainable Global Engagement
Chapter Summary
Extended Learning
Discussion Questions
Further Reading
References
Chapter 4. Culturally Responsive Practices Using a Human Rights Approach through a Social Justice Lens
Learning Objectives
Key Concepts
Cultural Responsiveness through a Social Justice Lens
Equity
Intersectionality
Power
Physical Violence
Structural Violence
Symbolic Violence
Manufactured Consent
Privilege
Organization of Work
Macroaggressions and Microaggressions
Microinterventions
Macroaggression Interventions
Chapter Summary
Extended Learning
Discussion Questions
Further Reading
References
Chapter 5. Culture and Language
Learning Objectives
Key Concepts
Linguistic Relativity
Communication and Language
High-and-Low-Context Cultures
Language Variation
Social Networks
Communities of Practice
Bilingual Language Development
Theories about Second Language
African American English
Morphosyntactic Features of AAE
Lexicon of AAE
Pragmatic Characteristics of AAE
Written Language Variation
Language Politics
Linguistic Culture and Language Policy
Chapter Summary
Extended Learning
Further Reading
References
Appendix 5–1. Contextualized Timeline Chart
Chapter 6. Culture and Hearing
Learning Objectives
Key Concepts
Prevalence of Deafness and Hard of Hearing
Cultural and Ethnic Differences and Hearing
Assessment and Intervention Across the Lifespan and Across Hearing Levels
Considerations for Assessment
Considerations for Intervention
Bilingualism
Black American Sign Language (BASL)
Social Political Issues and Hearing
Due Process
Disparity in Hearing Aid Purchase and Use
Environmental and Personal Factors
Audism
Models of Cultural Beliefs and Stigmas
Explanatory Models
Biopsychosocial Model
Health Beliefs Model
Stigma
Health Literacy
Deaf Culture
Chapter Summary
Extended Learning
Further Reading
References
Chapter 7. Building Ethnographic Skills
Learning Objectives
Key Concepts
Activity 7–1
Ethnography
Ethnographic Methods
The Ethnographic Interview
Learning Through Observations
Analyzing Cultural Artifacts
Analyzing Documents
Chapter Summary
Extended Learning
Further Learning
References
Appendix 7–1. Ethnographic Participant Observation Form
Appendix 7–2. Artifact Analysis Form
Chapter 8. Working with Interpreters
Learning Objectives
Key Concepts
Defining Interpreter
The Need for an Interpreter
Responsibilities of the Interpreter
Activity 8–1
Skills of the Interpreter
BID Interpreting Process
Risk Inherent in the Interpreting Process
Chapter Summary
Further Reading
References
Chapter 9. Culturally Responsive Assessment
Learning Objectives
Key Concepts
Culturally Responsive Assessment Practices
Activity 9–1
Activity 9–2
Appropriate Assessment Practices, Measures, and Tools
Interview Protocol
Alternative Assessment Procedures
Modifying Norm-Referenced Tests
Dynamic Assessment
Holistic Assessments
Portfolio Assessments
Developing a New Screening and/or Assessment Measure
Speech Sound Assessment
Articulation and Phonological Assessments in the First Language
African American English
Fluency Disorders
Voice Disorders
Cleft Lip and Palate
Swallowing Disorders
Activity 9–3
Counseling
Chapter Summary
Further Reading
References
Chapter 10. Culturally Responsive Intervention
Learning Objectives
Key Concepts
Culturally Responsive Intervention
Services to Bilingual Clients
Intervention Services for Children who Speak Language Variations with Language Disorders
Intervention Strategies for Adults from Various Cultural and Linguistic Backgrounds with Language Disorders
Intervention Strategies for Children with Speech Sound Disorders
Intervention Strategies for Persons who Stutter
Intervention Strategies for People with Voice Disorders
Intervention Strategies for People with Cleft Lip and Palate
Telepractice
Chapter Summary
Further Reading
References
Chapter 11. Culturally Responsive Research
Learning Objectives
Key Concepts
"Whose Knowledge Is It Anyway?"
History of Research with Communities of Color and Scientific Racism and Ableism
Culturally Responsive Research (CRR)
The Necessity of CRR
Research Compliance
Engaging in Culturally Responsive Research
Skills of CRR Researchers
Begin with a Theoretical Framework
Critical Consciousness
Political Consciousness
Sociocultural Approach
Biopsychosocial Model
Social Theory of Transformation (Praxis)
Researcher Team
Criteria for Inclusion/Exclusion of Research Participants
Research Purpose and Research Questions
Imagine
Activity 11–1
Chapter Summary
Further Reading
References
Chapter 12. Global Engagement, Sustainability, and Culturally Responsive Practices
Learning Objectives
Key Concepts
Movement of People Around the World
International Documents, Guidelines, and Policies
UN Convention on the Rights of Persons with Disabilities
UN Millennium Development Goals
UN Sustainable Development Goals (2015 - 2030)
World Health Organization World Report on Disability (2011)
PRECEDE-PROCEED Model
Building Resource Capacity in Uganda
A Human Rights Approach to SLHP Services
"Voluntourism" or Effective Volunteering?
Sustainable Practice
Chapter Summary
Extended Learning
Further Reading
References

Index