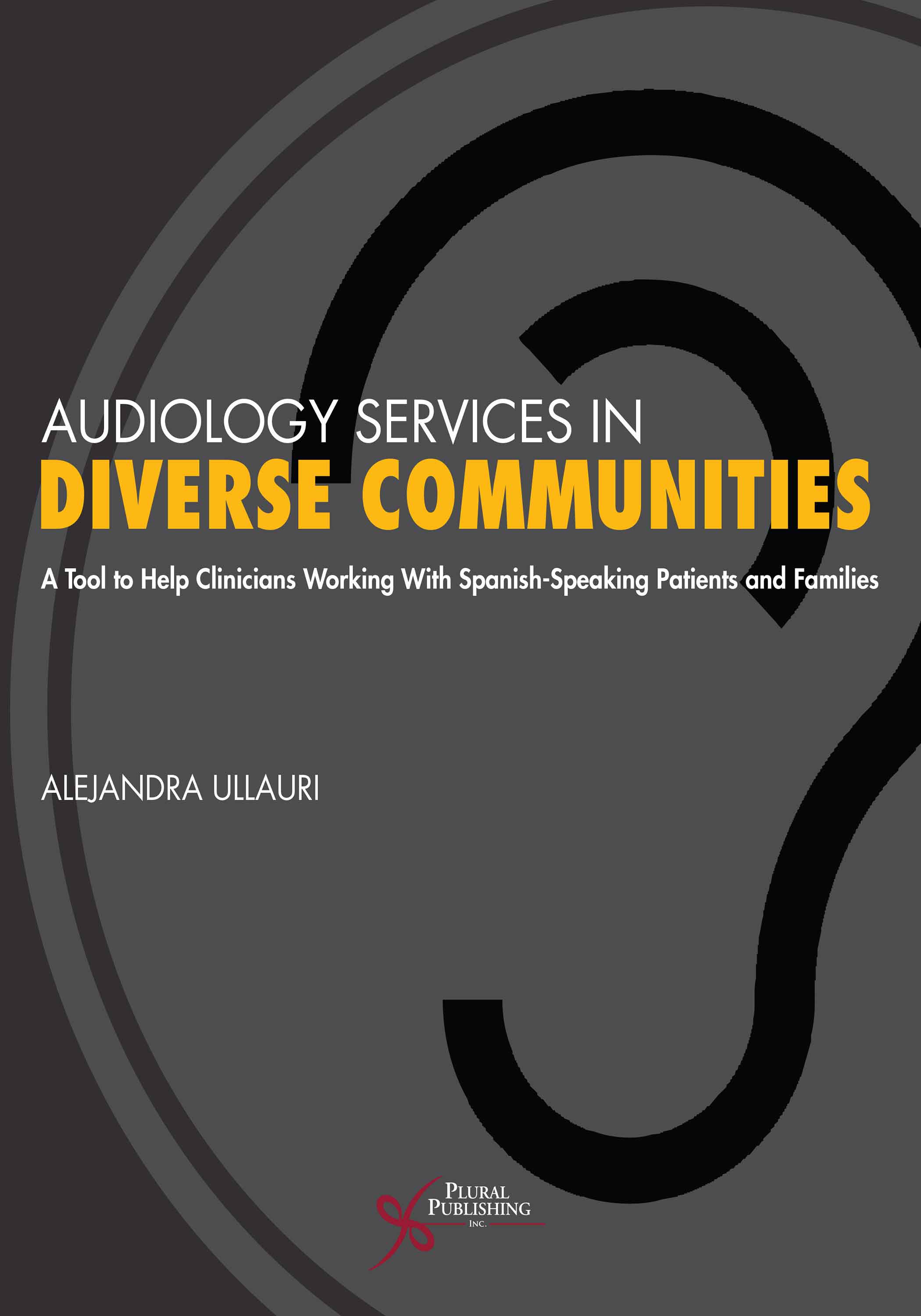 Audiology Services in Diverse Communities: A Tool to Help Clinicians Working With Spanish-Speaking Patients and Families
First Edition
Alejandra Ullauri
Details: 210 pages, B&W, Softcover, 8.5" x 11"
ISBN13: 978-1-63550-651-8
© 2022 | Available
As the population in the U.S. becomes more diverse, health care professionals have a responsibility to adapt their services to meet the needs of the diverse populations they serve. However, many providers lack access to the appropriate resources to provide high quality care to their Spanish-speaking patients. Audiology Services in Diverse Communities is a professional resource designed to decrease language barriers, improve patient-clinician interactions, and create more culturally competent hearing services.
Written by a clinician for clinicians working on a daily basis with minority communities experiencing existing systemic barriers, this unique text begins with an overview of cultural competence and the barriers that exist in audiology services. The text continues an evidence-based, cross-cultural approach to addressing some of those barriers and generating a discussion of what professionals can do in their own clinical settings. The final, and largest, section of the text is a language tool presented in both English and Spanish to aid clinicians as they communicate and work with Spanish-speaking patients.
Key Features
The only book that provides clinicians with a compilation of resources, in English and Spanish, ready to use in clinic
More than 25 resources such as clinical history forms, test instructions, standardized questionnaires, self-assessment tools available in English and Spanish to help clinicians provide with language concordance during clinical encounters.
Evidence-based ideas that can help clinicians assess, develop, implement, and monitor cultural-competent services
A unique format that allows clinicians to visualize English resources on the left-side and Spanish resources on the right-side, facilitating communication between patient and clinician - preview example here
Foreword
The field of Audiology emerged as a profession during the 1940s, in part, as a response to thousands of men and women returning from the various conflicts in World War II. Many of these returning veterans had developed noise-induced hearing loss and needed help. Although the care of hearing-impaired individuals preceded these events, it was the U.S. government's hearing rehabilitation programs that led to standardized procedures for aural rehabilitation and hearing aid fitting that set the stage for Audiology today. These days, Audiology is at the forefront of hearing health care. The entry level degree is the Doctorate of Audiology (AuD) and professionals who hold this degree are trained to assess and manage hearing and balance problems across the lifespan. Many aspiring Audiologists come from across the world to train in programs in the U.S. and many bring unique experiences from international efforts to address the hearing health care needs of children worldwide. The advanced diagnostic techniques, rehabilitation strategies, hearing aid technologies, and cochlear implants have had an enormous impact on the lives of millions of people with hearing loss. However, there are still large gaps in both knowledge and access to high-quality hearing health care in both the U.S. and across the world. In the U.S., one area that has lagged significantly is in the test materials, procedures, and management of Spanish-speaking individuals. Population data, as recent as 2019, estimate that about 42 million people in the U.S. speak Spanish at home. An additional 11.6 million are bilingual (Spanish/English). Not surprisingly, Spanish is the most studied language in the U.S. outside of English. To put it in perspective, when monolingual and bilingual Spanish speakers are combined the U.S. has more Spanish speakers than Spain and more Spanish speakers than the entire population of Colombia. The statistics alone suggest that hearing health care management of this population is essential and needs to be prioritized. Untreated hearing loss in this population not only can degrade quality of life, but also has practical implications. In particular, children in our schools are both at a disadvantage at home and in school trying to manage two languages. The first step to addressing this hearing health care need starts with Audiologists. There is a scarcity of bilingual Audiologists to begin to address this critical need and many Audiologists need additional training to work with the Spanish-speaking population and although language is a primary barrier, cultural barriers also exist. Latino and Hispanic individuals can be of any race, and come from many countries that have different customs. Spanish-speaking individuals also span the educational and socioeconomic spectrum. Being aware of the vast diversity within this population is essential in effective patient management. Moreover, the lack of well-normed test material, such as word recognition lists, presents direct practical challenges. None of these barriers are insurmountable, but the solution starts with individuals such as the ones reading this book, to begin to build true momentum to professional solutions aimed at improving access and care. This book is aimed at providing that first step by providing tools and suggestions to make current care more effective and to lay the groundwork for the essential solutions of tomorrow. As a bilingual Audiologist myself, I share the hopeful view with the author that the future will hold better solutions to meet the needs of this population both here in the U.S. and abroad. — Edward Lobarinas, PhD, CCC-A, Associate Professor, The University of Texas at Dallas
Review
"… The author states that we could serve this population better by realizing the cultural differences, the unique needs of this population, and how they are underserved.
… The book begins by delineating the diversity in the Latino and Hispanic
populations. It overviews cultural competence, focusing on hearing health care for those populations. The majority of the text is devoted to English/Spanish translations of documents that can be used for explaining anatomy, hearing tests and devices, test instructions, questionnaires, and audiological terms. The author highlights these documents can and should be used with an interpreter to decrease misinformation that can come even when using interpreters.
The author adequately highlights the problems in providing hearing health care in a language and from a culture that is not the patient's own. As an example, one study she cites indicates 56% and 83% of children with hearing aids and cochlear implants were white, respectively, while 21% and 8% of children with hearing aids and cochlear implants were Hispanic. It is refreshing and empowering to read how recognizing barriers to service, decreasing language barriers, and giving providers language tools for working with those with hearing loss that are Spanish speaking can help meet the needs of this population. The book raises great questions such as: Who is our community? Who do we serve? What barriers are there to our services? Are we marketing to all in the community? Do we have standardized and validated tools for different languages in our clinic? While disparities are observed in treatment outcomes, there was more time devoted to disparities and inequities that could have been given to solutions. In total, this is a great resource. It will be a tremendous resource for any clinician working with Spanish-speaking students, clients, and patients."
–Lori J. Newport, AuD, Biola University, in Doody's Reviews (January 2022)

"As a bilingual audiologist (Spanish-English), I have found this book to be a bridge between the two languages in the audiological world. It is a resourceful niched book that enables the pracising audiologist dealing with Spanish-speaking adult and paediatric patients to easily interact with them during consultations and to better culturally understand the Hispanic/Latino population, with a focus on audiological service provision. The book acts as a language tool aid, with English and Spanish versions literally translated of the various hearing evaluation tests, hearing devices, anatomical part of the auditory system, test instruction for patients, tips for the clinician when testing Spanish-speaking patients, standardized tests and questionnaires (validated in Spanish) and a quick guide to find the correct audiology term in Spanish…However, it could also be utilized by the Spanish-speaking audiological clinicians dealing with English-speaking patients as well…"
–Raúl Garcia-Medina, Founder and CEO, The Audiology Clinic, UK, in ENT & Audiology News (March/April 2022)
"…This book begins by rightly addressing two important points: that health disparities pose a serious drawback for health care organizations and that cultural competences of the Health care system are central to overcoming the needs of minorities within communities. Although this publication focuses on the Latino/Hispanic group - the largest minority in the US - its content may apply to a much wider transnational context… Chapter 3 offers several appendices, some in
bilingual format (English- Spanish) with questionnaire assessment and tests on Diabetes, Dementia, Cognitive, self–assessment speaking and listening proficiency, a patient road map for cochlear implant users and a user satisfaction survey… Part II is divided into 5 chapters: starting with a practical review of ear anatomy focused on familiarizing the clinician with the terminology. Chapter 5 presents a clinical history for pediatric and adult clinical case notes in English and Spanish… Chapter 6 provides a description and instructions for hearing tests that can be very useful for patients. The information delivered to patients is clear and well presented. The questionnaires for hearing loss and tinnitus disabilities, as well as the patients' educational materials, cover a wide vocabulary range regarding a significant number of clinical conditions on hearing assessment and are well presented. The last two chapters are dedicated to Hearing Technology and Cochlear Implants respectively. The chapter on Hearing Technology explains the different types of hearing aids and the different modalities of hearing aid fitting. The illustrations presented make it easy to follow the test. Different Tables provide practical indications on appointment description and instructions for patients. The last chapter, specifically devoted to Cochlear Implants, contains the currently available speech perception testing for children and adults followed by cochlear implant assessment test battery, clinical history, and referral form. The appendix to this chapter comprises a variety of well-verified verbal tests, (sentences and syllabic), in use for many years, as well as the Spanish version of early speech perception test. This book more than fulfils the task it was written for, that is, to assist clinicians working with minorities on a daily basis, in this case with Spanish-speaking minorities in the US."
–José Juan Barajas de Prat, from Hearing, Balance, and Communication (April 2022)

Alejandra Ullauri Discusses Audiology Services in Diverse Communities
Foreword by Edward Lobarinas, PhD
Preface
Acknowledgments
Reviewers
Introduction
Part I. Audiology Services in Diverse Communities
Chapter 1. Culturally Competent Health Services: An Ongoing Journey
The Role of Culturally Competent Health Care in Reducing Health Disparities
The Characteristics of Culturally Competent Health Systems
Assessing Cultural Competence in Health Care
References
Chapter 2. Culturally Competent Barriers in Audiology Services: Latino/Hispanic Perspective
Barriers Identified as Systemic
Barriers Identified Within Organizations
Barriers Identified Within the Workforce
Barriers Related to the Health Care User
References
Chapter 3. Addressing Barriers in Hearing Care: Beyond Provider Training
Building Adaptive Cultural-Competent Hearing Services
Addressing Systemic Barriers
Addressing Barriers Within Organizations
Addressing Barriers Within the Workforce
Addressing Barriers Related to the Health Care User
Embracing Diversity, Avoiding Stereotyping
Further Reading
References
Part II. Language Tool: Clinical Assessment and Counseling Materials in English and Spanish
Chapter 4. Anatomy Graph
Ear Anatomy
Chapter 5. Clinical History for Pediatric and Adult Cases
Adult Clinical History
Pediatric Clinical History
Chapter 6. Test Description and Instructions for Hearing Tests
Otoscopy
Pure Tone Audiometry
Measuring Uncomfortable Loudness Levels
Speech Audiometry Tests and Recommendations
Conditioned Play Audiometry
Visual Reinforcement Audiometry
Tympanometry
Acoustic Reflexes
Otoacoustic Emissions
Auditory Evoked Potentials
Hearing Health Questionnaires
Patients' Education Materials
References
Chapter 7. Hearing Technology
Hearing Technology Chart
Hearing Technology Description
Hearing Aid Evaluation
Taking Ear Impressions
Hearing Aid Fitting and Verification
Hearing Aid Follow-Up and Validation
Reference
Chapter 8. Cochlear Implants
Cochlear Implant Assessment Test Battery
Cochlear Implant Assessment: Clinical History
Patients' Education Materials
Cochlear Implant Assessment
References
Index