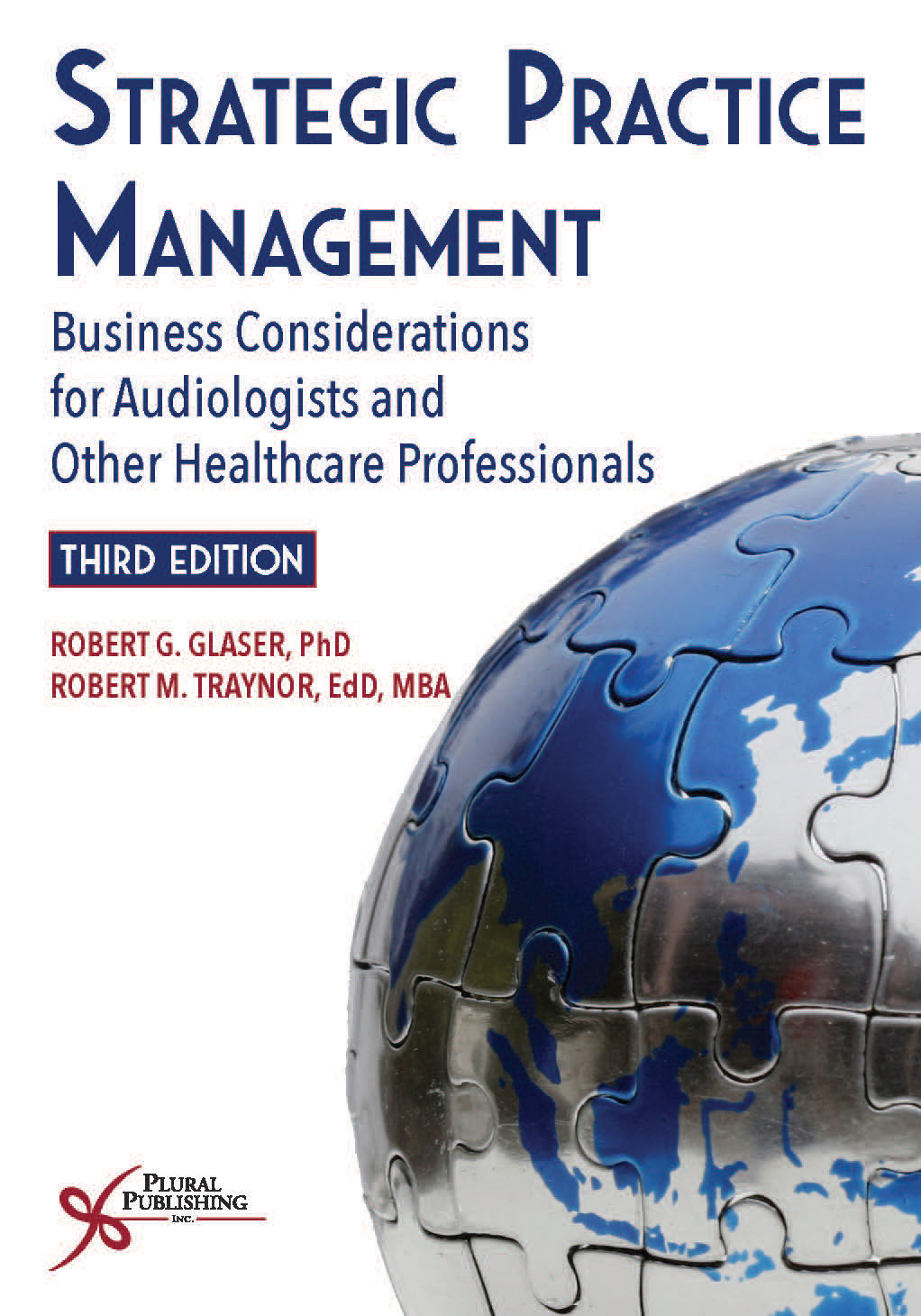 Strategic Practice Management: Business Considerations for Audiologists and Other Healthcare Professionals
Third Edition
Robert G. Glaser, Robert M. Traynor
Details: 768 pages, B&W, Hardcover, 7" x 10"
ISBN13: 978-1-63550-014-1
© 2019 | Available
Includes 9 Guest Authors and 6 New Chapters.
One of the major skills required for success in practice is to know how to manage a clinic. Strategic Practice Management: Business Considerations for Audiologists and Other Healthcare Professionals, Third Edition is extremely useful for clinicians currently managing their own clinics as well as for the development and teaching of courses in practice management. The first and second editions of this text have been used in university training programs.
The third edition contains contributions from nine guest chapter authors, six who are new to this text, and all are experts in their field. Their insight provides the reader with an enlightening resource essential to the operational and business management of the practice setting, including developing an appropriate business plan; startup and long-term planning; essential legal considerations; fiscal monitoring and methods to assess the ongoing financial health of the practice; reimbursement capture; patient and referral source management; human resource issues, including compensation strategies; and much more.
Dr. Robert Glaser and Dr. Robert Traynor have extensively updated all of the retained chapters with significant improvements to the content, tables, and figures. Comprehensively researched, every effort has been made to provide the most recent and thorough references for further review.
NEW CONTRIBUTORS AND CHAPTERS:
Legal Considerations in Practice Management: Michael G. Leesman, JD
Deliberations on Ethics in the Practice of Audiology: Rebecca L. Bingea, AuD
NEW! Itemizing Professional Hearing Care Services: Stephanie J. Sjoblad, AuD
NEW! Office Management Systems: Brian Urban, AuD
NEW! Audiology in the Insurance System: Amber Lund-Knettel, MA, and Thomas J. Tedeschi, AuD

ADDITIONAL NEW TOPICS:
Management Implications for Audiology Practice
Competition in Audiology Practice
Professional Selling Techniques

This text covers virtually every current area of practice management and is an excellent resource for any health care practitioner considering a startup venture, purchasing an ongoing practice, reinventing their current practice, or for those interested in sharpening their clinical service delivery model in the current competitive arena.
Reviews
"The book is very detailed and focuses on influential strategic writing about the core subjects, then relating them to the private audiological market in the US. This gives the reader a much broader understanding of the different decisions that can be taken, depending on the exact market conditions. Importantly, the reader also gets a working knowledge of the fundamentals of each subject, allowing them to understand how decisions may have to change if conditions alter. For me, the best chapters of the book cover what considerations need to be made when putting together a business plan (including profit and loss forecasts) for a new audiological shop and then understanding the fundamentals of marketing and growing the new company. Potential new business owners would have more successful starts and stronger future businesses if they had a better understanding of these areas and had a clear image of their unique selling proposition so they could promote this differentiation to their potential customers. The book is of interest to anyone thinking about running their own private retail practice and covers all of the areas where critical decisions will need to be made. The book requires not only an investment in its retail price but also time. However, I think this book gives a strong positive return."
—Johnathan Le Brun, Business Development Director, Starkey Hearing Technologies, UK in ENT & Audiology News (July/August 2017) review of the previous edition
Introduction by Holly Hosford-Dunn, PhD
Acknowledgments
Contributors
Prologue: Leadership and Successful Practice Management by Robert G. Glaser, PhD
Chapter 1. Management and Economic Implications for Audiology Practice
Robert M. Traynor, EdD, MBA
Chapter 2. Strategic Business Planning
Robert M. Traynor, EdD, MBA
Chapter 3. Competition in Audiology Practice
Robert M. Traynor, EdD, MBA
Chapter 4. Legal Considerations in Practice Management
Michael G. Leesman, JD
Chapter 5. Deliberations on Ethics in the Practice of Audiology
Rebecca L. Bingea, AuD
Chapter 6. Fundamentals of Marketing the Audiology Practice
Robert M. Traynor, EdD, MBA
Chapter 7. Professional Sales Techniques
Robert M. Traynor, EdD, MBA
Chapter 8. Optimizing Pricing Strategies
Robert M. Traynor, EdD, MBA
Chapter 9. Itemizing Professional Hearing Care Services
Stephanie J. Sjoblad, AuD
Chapter 10. Office Management Systems
Brian Urban, AuD
Chapter 11. Fiscal Management and Accounting
Robert M. Traynor, EdD, MBA
Chapter 12. Audiology in the Insurance System
Amber Lund-Knettel, MA and Thomas J. Tedeschi, AuD
Chapter 13. Coding, Billing, Payment, and Compliance
Debra Abel, AuD
Chapter 14. Patient Management
Robert G. Glaser, PhD
Chapter 15. Referral Source Management
Robert G. Glaser, PhD
Chapter 16. Hearing Instrument Manufacturers and Suppliers
Robert G. Glaser, PhD
Chapter 17. Personnel Management
Robert G. Glaser, PhD
Chapter 18. Policy and Procedures Manual
Robert G. Glaser, PhD
Chapter 19. Compensation Strategies
Robert M. Traynor, EdD, MBA
Chapter 20. Supporting Practice Success: Counseling Considerations for Patient and Employee Management
John Greer Clark, PhD
Chapter 21. Practice Management Considerations in a University Audiology Clinic
Gail M. Whitelaw, PhD, MPH
Chapter 22. Transitions: Optimizing Entry and Exit Strategies
Gail M. Whitelaw, PhD, MPH
Index