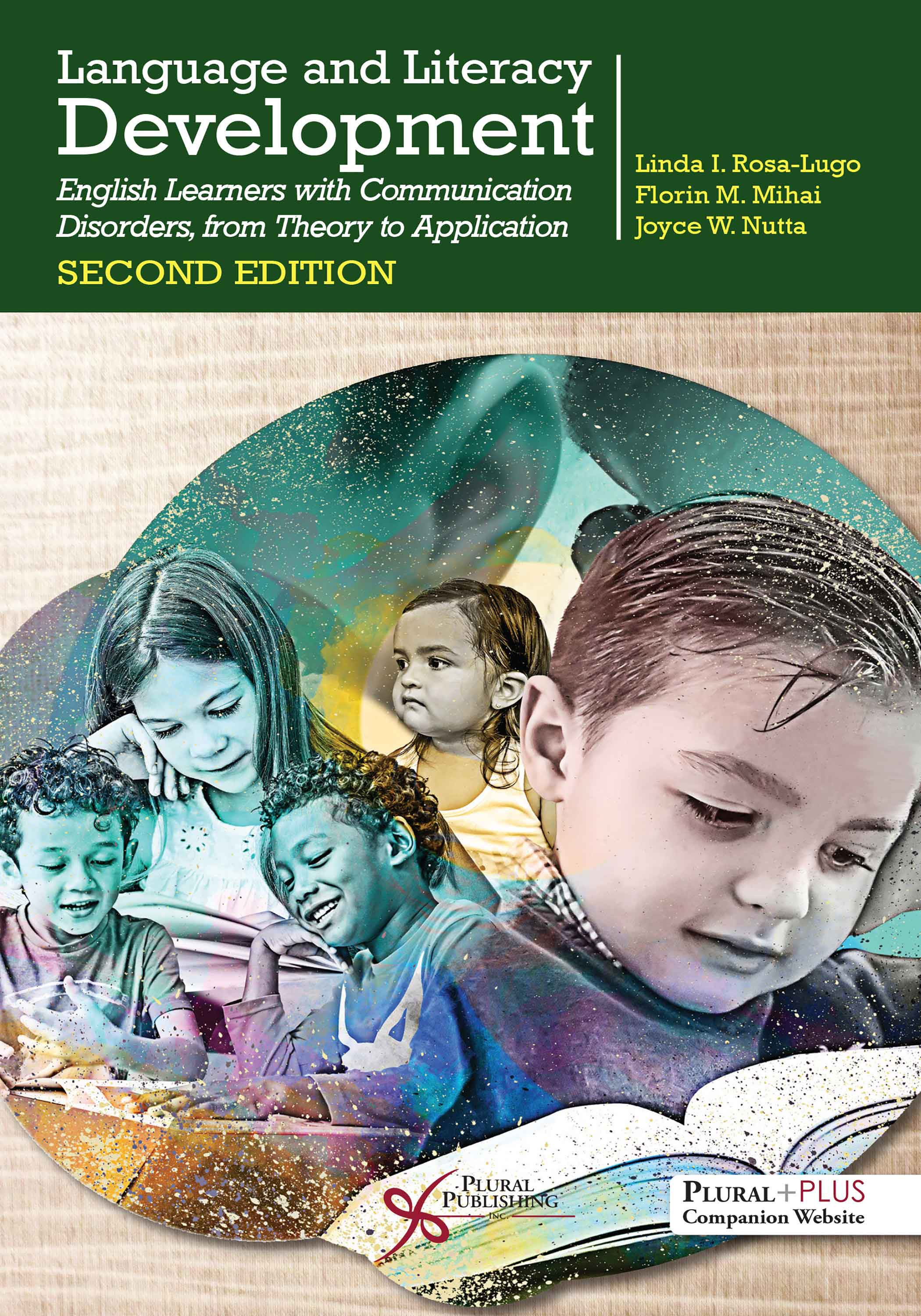 Language and Literacy Development: English Learners with Communication Disorders, From Theory to Application
Second Edition
Linda I. Rosa-Lugo, Florin Mihai, Joyce W. Nutta
Details: 432 pages, B&W, Softcover, 6" x 9"
ISBN13: 978-1-63550-153-7
© 2020 | Available
For Instructors
Purchase
Price: $99.95
Language and Literacy Development: English Learners with Communication Disorders, from Theory to Application, Second Edition brings you the most useful, up-to-date information on best practices for English learners (ELs) with communication disorders from a variety of backgrounds—how to conduct assessment, intervention, and progress monitoring. The first edition of this text gave a comprehensive overview of the theory and practice of serving ELs with communication disorders, and the second edition is expanded to show the nuts and bolts of how to meet ELs' needs and how professionals can support their success at school.
This text emphasizes collaboration between speech-language pathology (SLP) and English for speakers of other languages (ESOL) professionals. More importantly, it shows how to apply the knowledge and implement the mechanics and practicalities of assessment, intervention, and progress monitoring.
New to the Second Edition
Updated EL and EL with communication disorders demographics and legislation.
An innovative assessment/intervention/monitoring (AIM) framework geared toward language proficiency development and academic content expansion of ELs with communication disorders.
Research-based and proficiency-level appropriate pedagogical interventions and recommendations for implementing effective assessments that support English learners with communication disorders in their language and content growth.
Updated information on commonly used assessments used by speech-language pathologists to identify/determine disability.
A PluralPlus companion website with case studies and other related resources, including PowerPoint slides for instructors.
Review
"This book focuses on the explanation of how English Learners (ELs) with communication disorders acquire language and develop their literacy skills. The previous edition published in 2012 brought together the theory of teaching literacy to ELs as well as the need to address their communication disorders. This second edition improves upon this subject by adding the practical side of increasing literacy skills and remediating communication disorders for English Learners.
The purpose of this book is to answer the question of 'how should schools effectively respond to the cultural, linguistic, and literacy need of English Learners, particularly those with communication disorders?' (p. ix) Although this is a question that has been addressed in the past, the answer is one that is worth repeating and updating. Our children continue to need people who understand how to meet their needs and this book does just that. These objectives are thoroughly met throughout the book. The companion website offers three case studies to enhance the concepts learned in the book.
The intended audience for this book is school speech-language pathologists. However, the authors also believe the book would be beneficial to other educators as well as researchers. By providing the AIM framework, the authors hand the readers specific guidelines on how to address this population of children. All three authors have extensive knowledge of the areas they write about and together provide much needed information to this field.
The book is organized in eight chapters. It takes several chapters to establish that both second language educators and speech-language pathologists need an understanding of ELs' learning of both language and literacy. The book offers both theoretical and practical information. It further provides a model for assessment and intervention of English Learners with communication disorders. The book ends by providing clear directions for how two disciplines can work together to serve this population of children. The references are extensive and will allow any interested party to further research the topics covered."
—Yvana Uranga-Hernandez, PhD, CCC-SLP, Biola University, in Doody's Book Reviews (November 2020)
Foreword by Dr. Barbara J. Ehren
Foreword by Dr. Kouider Mokhtari
Organization of the Text
List of Important Terms
Acknowledgments

Chapter 1. English Learners—The Merging of Two Disciplines
Chapter 2. The Context of Working with English Learners with Communication Disorders
Chapter 3. English Learners—Perspectives from Two Disciplines
Chapter 4. First and Second Language Acquisition: Theoretical and Practical Considerations
Chapter 5. Literacy Development in a Second Language
Chapter 6. Assessing Language Proficiency Levels for Identification and Disability Determination
Chapter 7. Intervention and Monitoring—Approaches and Practical Strategies to Facilitate and Monitor Langauge and Literacy Development in English Learners
Chapter 8. Directions for an Effective Collaborative Practice Between SLPs and ESOL Professionals—The Power of Two+

References
Index