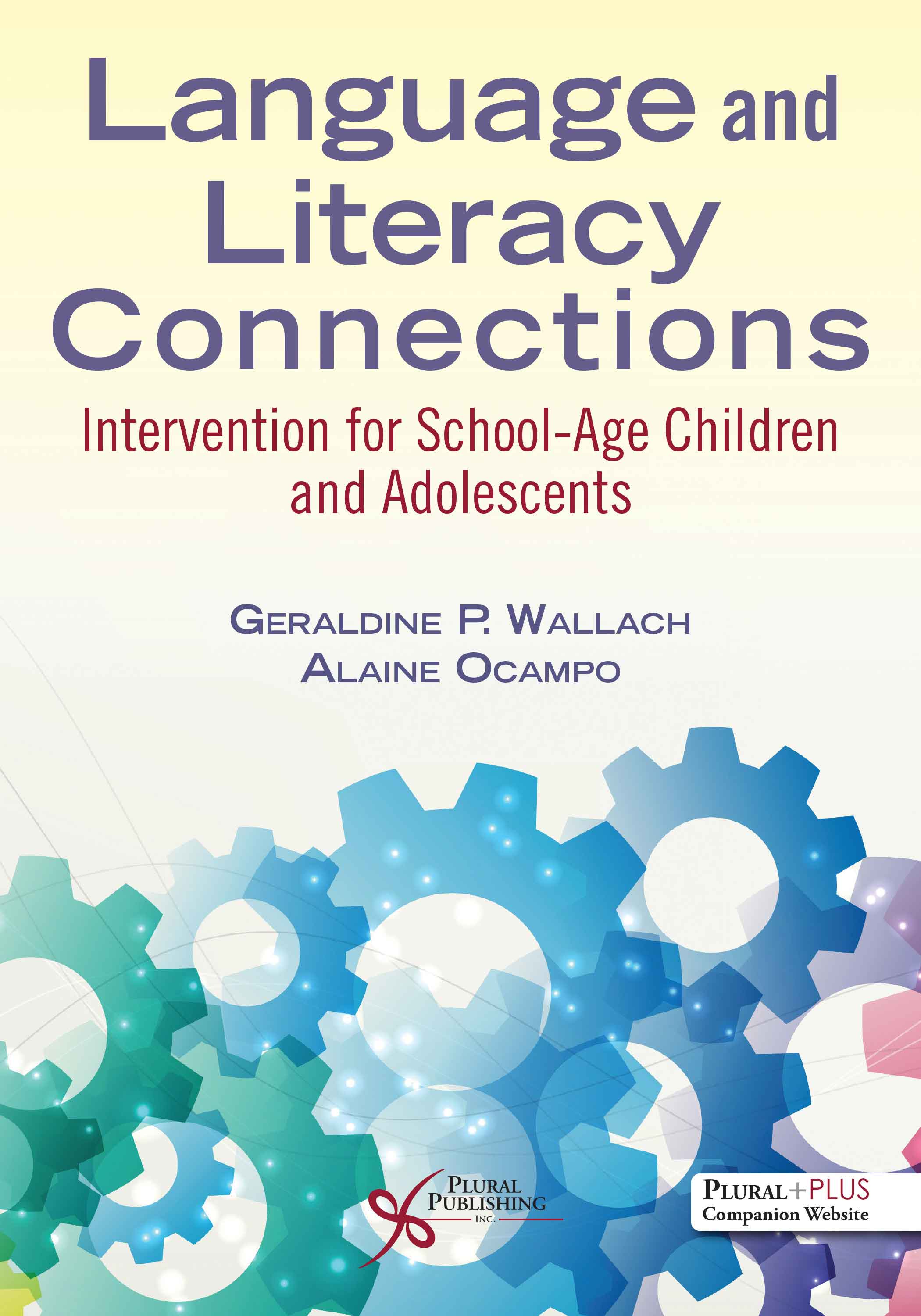 Language and Literacy Connections: Interventions for School-Age Children and Adolescents
First Edition
Geraldine P. Wallach, Alaine Ocampo
Details: 358 pages, B&W, Softcover, 8.5" x 11"
ISBN13: 978-1-63550-213-8
© 2022 | Available
For Instructors
Price: $89.95
Unravel the connections between LANGUAGE & LITERACY and help your students thrive in their classrooms and beyond. . .
Language and Literacy Connections: Intervention for School-Age Children and Adolescents takes readers on a path of knowledge steeped in principles and practical applications. This much-needed new text uniquely integrates language learning and disorders and literacy together in a coherent and cohesive narrative that covers the challenges facing school-age students from early elementary levels through high school. Using past and current research and interventions from speech-language pathology (SLP) and reading and literacy arenas, the authors present transcripts, cases, and detailed intervention sessions to provide a template for daily practice. The text raises questions relating to "why am I doing this?" and provides some answers to this most complex, yet basic, question.
Language and Literacy Connections...
Uses strong theoretical foundations with detailed applications to real-life situations and practices
Highlights the different levels of literacy, from foundational to disciplinary, that underpin current thinking
Includes three major sections that build upon one another as the authors navigate through: (1) conceptual frameworks, (2) practical applications across discourse intervention and individual language components, and (3) service delivery models
Addresses the role of comprehension in auditory processing and classroom difficulties
Compares effective and less effective intervention sessions with explanations about why each fall within a category
Debunks common myths and practices that have been questionable for decades but that persist in practice
Offers innovative suggestions related to providing collaborative service delivery procedures through virtual online platforms and specific lesson plans
Answers the question asked by many school-based SLPs: How do I add literacy on top of my responsibilities when my caseloads are so large and demanding?
Key Features
Questions at the beginning of each chapter that reflect concerns of SLPs and their teams
Projects and assignments that supplement and review the material
Examples of teaching modules with practical lesson plans that integrate the role of SLPs in Interprofessional Practices (IPP) while explicitly addressing the curriculum across a variety of subject areas
A PluralPlus companion website with PowerPoint slides for instructors, as well as videos, case studies, and sample forms and reports for students
Foreword xiii
Preface xvii
Acknowledgments xxiii
Reviewers xxvii
Part I. Conceptual Frameworks for Consideration
Chapter 1. Innovative Language Literacy Intervention at School-Age Levels: What It Takes to Get There
Summary Statement
Questions for Chapter 1
Forming a Framework for Language Intervention: Some Beginnings
On Language
On Literacy
Brief Summary of Definitional Issues
Aspects of Knowledge Needed in Clinicians' Toolboxes: Peeling Away Some Misconceptions and Moving Forward
Keeping Definitional Issues in Mind: Language Has Layers
Keeping a Broad-Based Perspective: The Forest Versus the Trees
Getting Beneath Isolated Symptoms of Language-Learning Problems: "Tip-of-the-Iceberg" Phenomena
Appreciating the Reciprocity Among Systems: Beware the One-Way Street Interpretation
Approaching Assessment and Intervention with an "Inside" and "Outside" Perspective: External Factors Matter
A Mini Summary
Getting to Innovative Language Literacy Intervention: Where Do We Go from Here?
Language Roots Provide a Familiar Framework for SLPs as They Embrace Roles in Literacy Learning
How We Define Ourselves and the Terminology We Use May Require Some Updating
To Conclude and Move Forward
Reflections and Projects for Chapter 1
Reflection #1
Chapter 2 The Continuum of Language Disorders and Learning Disabilities Definitional and Eligibility Issues
Summary Statement
Questions for Chapter 2
Introductory Thoughts
Definitions and Diagnostic Labels: Some Interesting Interactions for Clinicians to Note
Language Disorders Terminology
Learning Disabilities Terminology
Related and Intersecting Terminology: Language at the Core?
Additional Terminology: Alive and Well in Schools (and Other Places)
Partial Summary: Language, LD, and Reading Along a Continuum
An Introductory Roadmap of Language Disorders and Language Learning Over Time
Labels Revisited: Disorders Viewed on a Continuum of Change
Language Learning on a Continuum of Changing Styles, Contexts, and Demands
The Path from Language Disorders to Learning Disabilities
Reciprocity
Illusionary Recovery
Populations Revisited: Alternatives in Our Midst?
Statistics Suggest Some Patterns within Schools
The Evolution of Response-to-Intervention (RtI)
Some Key Takeaways for SLPs and Collaborators
Looking Ahead
Possible Discussion Points and Projects for Chapter 2
Scenario 1: Language and Learning Disabilities
Scenario 2. Eligibility Considerations
Scenario 3. Create a Case
Additional Projects That Relate Concepts from Chapter 2
Chapter 3 Integrating Spoken and Written Language: An Eye Toward Becoming Literate
Summary Statement
Questions for Chapter 3
Social/Communicative Language and Academic Language: A River and Highway Intersecting Across Time
The Conversations in Early Reading Routines: A Social Experience Connected to Academic Success
Scenario #1
Scenario #2 (Also Reported by DeTemple, 2001)
Scenario #3
What the Scenarios Say to Us
Print Awareness: Another Bridge to Literacy
Scenario #4
Language Intervention Within Literature-Based Frameworks: Pulling the Pieces Together by Linking the Forest and the Trees
Scenario #5
Scenario #6
Summary Points from the Scenarios: Early Reading Routines, Print Awareness, and Literature-Based Frameworks Meet on the Road to Literacy
The Horizon Looms Large: Connecting Early and Later Literacy Experiences
Fast-Forward to Grade 5
The Continuum Revisited: Keeping the "Bigger Picture" in Mind
The Early Stage (Preschool and Very Beginnings of School: Kindergarten and Grade 1)
The Middle Stage (Grades 2–6)
Advanced Stage (Grades 5–6 and Beyond)
In Closing for Now
Possible Discussion Points and Projects for Chapter 3
Appendix 3–A. Examples of Scripts at Each Level Used in the Book-Sharing Intervention Based Upon the Work of van Kleeck et al. (2006)
Appendix 3–B. Suggested Sequence of Literature-Based Language Activities Based Upon the Work from Gillam and Ukrainetz (2006)
Chapter 4 From Preliteracy to the Literacies of School: How Curriculum-Relevant Intervention Begins
Summary Statement
Questions for Chapter 4
Curriculum-Based Intervention: Some Beginnings
Math Is Language and a Symbol System on Top of a Symbol System
Examples from Grade 6 Provide Additional Insights into the Complexity of Language in Curricular Content
Opportunities For SLPs: What Language Do Our Students Need to Access and Acquire Curricular Knowledge?
Reflections: What the Math Examples Say to Us
Curriculum-Relevant Intervention Continued: A Historical Example
Reflections: SLPs and History
Curriculum-Relevant Intervention Continued: A Look at Science
A Closer Look at the Language of Science: What SLPs Need to Know
In Sum: The Importance of Understanding Disciplinary Literacy
The Following Points Might Be Highlighted for School-Based SLPs and Future Clinicians
Roles and Responsibilities: The Long Road to Clarification
Revisiting Clinicians' Perceptions About Daily Practice: Roles in Literacy and Beyond
Aspects of Self-Reflection
Thoughts on Shared Responsibilities in Literacy
Ending Comments
Possible Discussion Points and Projects for Chapter 4
Content-Area Excerpts
Part II. Practical Applications of the Frameworks
Chapter 5 Exploring Elements of Processing and Comprehension: Getting Beneath the "Tip-of-the-Iceberg" of Symptoms and Intervention Choices
Summary Statement
Questions for Chapter 5
Second-Language Learning Experiences: Do They Help Us Understand Language Disorders and Related Symptoms?
Processing and Comprehension Challenges in French: Based Upon a True Story
The Language Participants
First Scenario
Second Scenario
Last Scenario
What the Scenarios Say to Clinicians: Factors to Consider When Creating Language Intervention Goals
Cases in Point: Perceptual and Language Knowledge Revisited
Auditory Discrimination and New Vocabulary
Auditory Figure Ground and Language Proficiency
Some Classic Missteps
Case 1
Case 2
Case 3
Case 4
Where Do the Cases Take Us?
Beware of Quick and Easy Answers
Concepts from Information Processing Theory Offer Insights into Language Learning Disabilities
(1) The Concept of Mental Models
(2) The Idea of Competing Resources
(3) The Role of Automaticity
From Information Processing Considerations to the Metalinguistic Component
Keep the Conversation Going
Possible Discussion Points and Projects for Chapter 5
Chapter 6 What Language Intervention "Looks Like" at School-Age Levels: The Intervention–Assessment Connection
Summary Statement
Questions for Chapter 6
Who Shall Be Called "Language Disordered"? Selected Thoughts Revisited
Principles of Assessment at School-Age Levels: Broader Paths to Intervention
Consider the Following Five Assessment Principles (Adapted from Ocampo & Wallach, 2019; Wallach, 2018a)
Snapshots from Clinical Sessions That Demonstrate Aspects of What Language Intervention "Looks Like" at School-Age Levels
Snapshot #1
Snapshot #2
Snapshot #3
Snapshot #4 (Taking a More In-Depth Look at a Language Intervention Session)
Snapshot Summary: A Review of Our Five Principles and Beyond
Asking Additional Questions About School-Age Intervention
Language Underlying Academic Tasks
The Knowledge, Skills, and Strategies Triad
Question Summary
Taking a Closer Look at What Intervention Goals Might Look Like
Going Back to the Theoretical Base for Additional Examples of Intervention Directions
Sentence Comprehension: Some General Points
Sentence Comprehension: Some Classics from the Psycholinguistic Literature
From Theory to Practice: How Might We Bridge the Gap?
A Phonemic Segmentation Cover Sheet
From the Student to the Context: Back to Classroom and Curricular Concerns
The Culture of Schools Encased in Teacher Talk: More of What It Takes?
Curricular Issues Revisited: Even More "What It Takes?" Examples
Some Preliminary Closing Thoughts: What It Must Be Like to Have a Language Disorder
Intervention Is a Complex Balance of Many Variables: Chewing Gum and Walking at the Same Time
In Closing
Possible Discussion Points and Projects for Chapter 6
Appendix 6–A. Levels of Questioning (Blank, Rose, & Berlin 1978, 2003)
Appendix 6–B. Example of an Assessment Report for Treatment Planning
Appendix 6–C. Revised Bloom's Taxonomy Action Verbs—Reference These Verbs When Formulating Goals for Students
Chapter 7 Seeing the World Through Connected Text: Bringing Structure and Content, Macro and Micro Pieces Together (Part 1)
Summary Statement
Questions for Chapter 7
What Written Language Samples May Tell Us
Dissection of the Mars Piece: Keep the Disciplinary Literacy of Science in Mind
Disciplinary Literacy Revisited: Keep Science in Mind
Summary: From Written Samples, to Textbooks, to Knowing Text Requirements
Discourse Sampling and Additional Resources for Consideration
A Useful Discourse Protocol
Students with Language Learning Disabilities and the Hadley Protocol
Narrative and Expository Text: Taking an Even Closer Look
Additional Patterns in Connected Text: Selected Examples from the Field
Some Brief Reflections
Revisiting Some Generalities About Text and Text Processing
Moving On
Possible Discussion Points and Projects for Chapter 7
Appendix 7–A. Suggestions on Eliciting Conversation, Narrative, and Expository Samples of Connected Speech and Eliciting Story Retelling/Generation (Adapted from Hadley, 1998)
Appendix 7–B. Five Traits Related to a Holistic Scoring Rubric and Descriptors (for Expository and Narrative Passages)
Chapter 8 Seeing the World Through Connected Text: Bringing Structure and Content, Macro and Micro Pieces Together (Part 2)
Summary Statement
Questions for Chapter 8
Syntactic Skill and Word Knowledge: Moving Toward Successful Strategic Acquisition and Use
Syntactic Considerations
Helping Students Appreciate, Recognize, and Use Literate Forms
A Closer Look at Word Knowledge and Skill
Word Savvy Summary: A Curriculum Connection Worth Repeating
What "Strategic" Language Intervention Looks Like: Moving Beyond Syntax and Vocabulary
Selected Samples to Help Students Become More Strategic
School's Back in Session: An Integration of Components and Disciplinary Literacies of Science and Social Studies
Science Revisited
Creating Authenticity: A Pragmatic Notion
Using Accessible Text to Create Content Knowledge
Understanding the Text Itself: Matching Text Activities to Content-Area Subjects
History Repeats Itself: Some Reminders
Toward a Summary: Macro and Micro Components Come Together in a Backdrop Drawn from Classroom Content
Stop Light Organization
Really Finally
Possible Discussion Points and Projects for Chapter 8
Appendix 8–A. Targeting 10 Missteps: Scenarios for Further Discussion
Part III. Toward a Summary
Chapter 9 Back into the Field: Starting to Pull the Missing Pieces Together
Summary Statement
Questions for Chapter 9
State of the Art in Public Education: Keep "Fighting the Fight" to Collaborate
Thoughts as We Look Back and Approach the End
State Standards: An Example of Keeping Language Functional and Relevant
English Language Arts Content
From Grades 7 and 8
From Grade 5
Looking Across the State Standards
Explicit CCSS Connections with Disciplinary Literacy
Example of an In-Class History Lesson for Middle School (Sixth Grade)
Sample Lesson
Possible Discussion Points and Projects for Chapter 9
Chapter 10 The End Becomes a New Beginning: Evaluating Intervention Sessions and Sequences
Summary Statement
Questions for Chapter 10
Why Am I Doing This? A Metaexploration of Selected Intervention Activities
Activity One
Activity Two
Activity Three
Activity Four
Activity Five
Activity Six
Activity Seven
Activity Eight
Activity Nine
Activity Ten
Activity Eleven
Ending on a Positive Note
References
Web Resources
Index