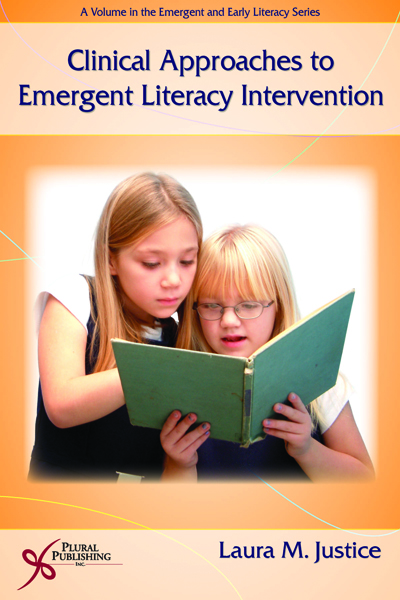 Clinical Approaches to Emergent Literacy Intervention
First Edition
Laura M. Justice
Details: 452 pages, B&W, Softcover, 6" x 9"
ISBN13: 978-1-59756-092-4
© 2006 | Available
This seminal text provides a scholarly overview of current evidence-based approaches to emergent literacy intervention as a necessary component of clinical practice in speech-language pathology. Numerous books are available on the topic of emergent literacy, yet few are developed specifically for the speech-language pathologist. This book fulfills this important need.
The scope of this book is comprehensive yet focused: it is tailored to identify state-of-the-art approaches on a range of topics in the area of emergent literacy, yet focuses its emphasis on children from toddlerhood to kindergarten. This period corresponds to the emergent literacy years, which precedes children's transition to beginning reading.
Each chapter provides scientifically cited background information relevant to the content of the chapter before discussing the "How To" and the "Why." Figures, tables, and charts throughout the text are easily accessible to the busy practicing clinician. By providing a usable integration of theory and research, it encourages readers to think about building early foundations in literacy to promote healthy early development, and emphasizes the specific approaches speech-language pathologists need to employ when targeting literacy in childhood intervention.
Designed for speech-language pathologists at both pre-professional and post-graduate levels, the book will also be of value to reading specialists, literacy coaches, special educators, preschool and kindergarten teachers, and others.
Review
''Clinical Approaches to Emergent Literacy Intervention edited by Laura M. Justice, PhD, is part of the Emergent & Early Literacy Series by Plural Publishing. The purpose of the series, according to Dr. Justice, 'is to provide clinical and educational professionals with usable, practical and evidence-based resources for enhancing their ability to include literacy as an integral part of their services to toddlers, preschoolers and school-age children.' The series is a response to the guidelines from the American Speech-Language-Hearing Association (ASHA) that suggest speech-language pathologists work with students on reading and writing. As stated in this volume, speech-language pathologists' knowledge of developmental language and literacy milestones, as well as their expertise in facilitating attainment of these milestones through linguistically responsive interactions with children, equips them to provide appropriate support and consultation to early childhood educators.1 This is stated in the Individuals with Disabilities Education Act (IDEA) Amendments of 2004. This attractive paperback edition fulfills its objective of providing practical, evidence-based tools for making literacy an integral part of speech and language intervention. The book is divided into two sections: 'Program Design Considerations' and 'Clinical Approaches.' Each chapter addresses a particular area or approach to emergent and early literacy development and discusses difficulties with direct linkages to everyday practices. There are suggestions on how to work with children who need augmentative and alternative communication (AAC) systems, as well as students who are at risk for reading failure. The book includes programs that stress prevention rather than remediation, although it is accepted that some problems only can be lessened and not completely eliminated even with early appropriate intervention. Of particular interest are the chapters on phonemic awareness. Educators are now becoming cognizant of the need for this skill when treating reading disorders. However, there is no mention of Dynamic Indicators of Early Literacy Skills (DIBELS), a set of measures being used in some schools for Response to Intervention to offer help to students at risk of failing. This should be added in updated versions of the series. Clinical Approaches to Emergent Literacy Intervention will be useful for speech-language pathologists and professionals who work with young children and teach reading. It effectively contributes to answering the question, 'What can speech-language pathologists do to include literacy as a target in childhood intervention?'"
—Anita R. Kraft, PhD, CCC-SLP, Advance for Speech-Language Pathologists and Audiologists (July 2007)
Program Design Considerations

Fundamentals of Emergent Literacy Intervention
Laura M. Justice
Meeting the Needs of Culturally and Linguistically Diverse Families in Early Language and Literacy Intervention
Susan M. Moore, Clara Pérez-Méndez, and Karin Boerger
Using Assistive Technology to Support Literacy Development in Young Children with Disabilities
Amelia K. Moody
Clinical Consultation with Teachers for Improved Preschool Literacy Instruction
D. Sarah Hadden and Robert B. Pianta

Clinical Approaches

Adult Responsiveness as a Critical Intervention Mechanism for Emergent Literacy: Strategies for Preschool Educators
Elaine Weitzman, Luigi Girolametto, and Janice Greenberg
Phonological Awareness Instruction in Early Childhood Settings
Barbara Culatta and Kendra M. Hall
Using Emergent Writing to Develop Phonemic Awareness
Teresa A. Ukrainetz
Integrating Phonological Sensitivity and Oral Language Instruction into Enhanced Dialogic Reading
A. Lynn Williams
Supporting Storybook Reading Participation for Children Who Use Augmentative and Alternative Communication Systems
Gloria Soto (in collaboration with Elena Dukhovny and Tove Vestli)
Recruiting Children's Attention to Print during Shared Reading
Sharon R. Stewart and Sherri M. Lovelace
Integrating Word Study into Clinical Interventions
Latisha L. Hayes
Literacy Intervention in a Culturally and Linguistically Diverse World: The Linking Language and Literacy Project
Peggy Rosin

Index