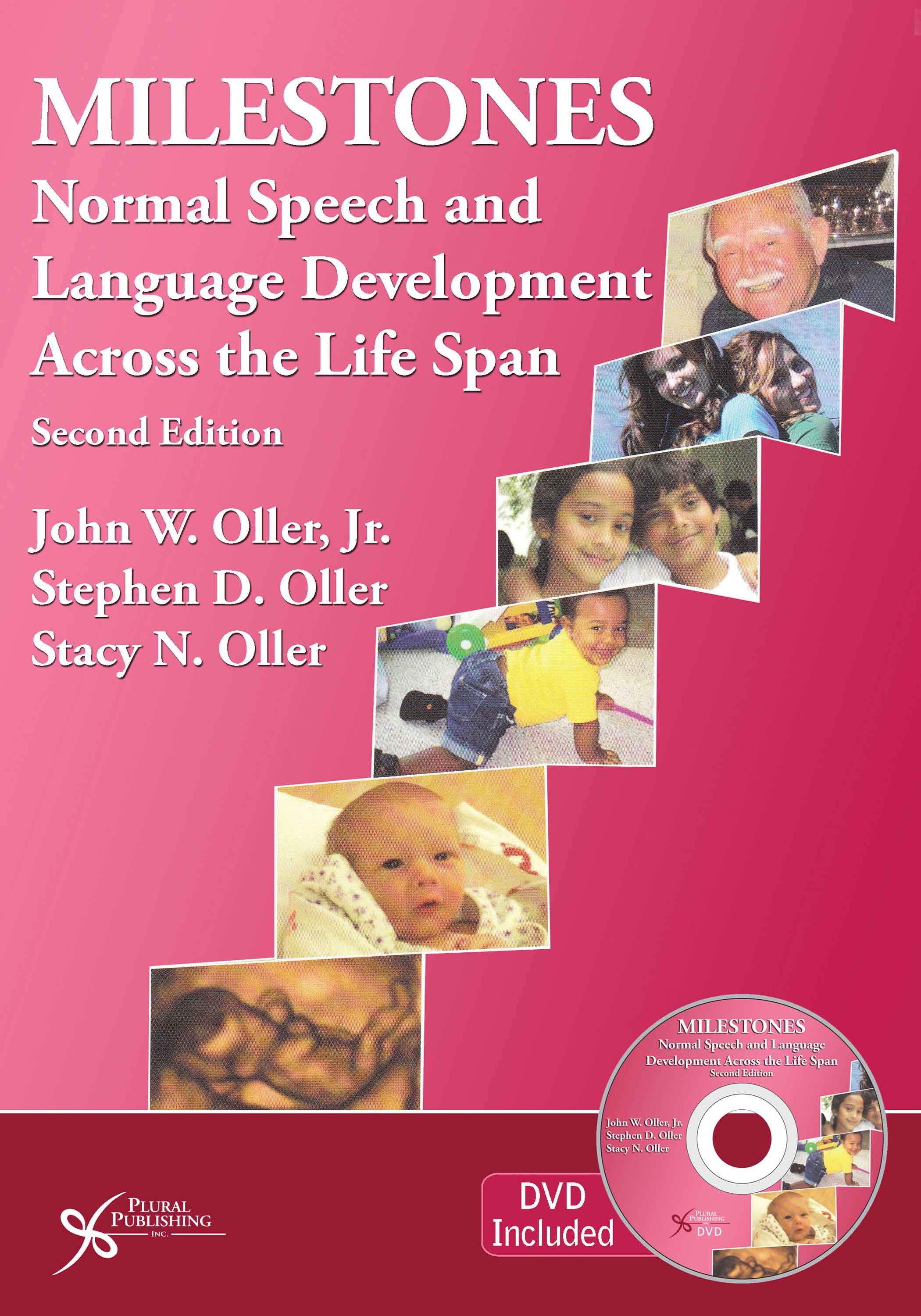 Milestones: Normal Speech and Language Development Across the Life Span
Second Edition
John W. Oller, Jr., Stephen D. Oller, Stacy Oller
Details: 624 pages, B&W, Softcover, 7" x 10"
ISBN13: 978-1-59756-501-1
© 2013 | Available
Milestones: Normal Speech and Language Development Across the Lifespan is a textbook for the introductory course in Language Development for students in Speech-Language Pathology, Communication Disorders, Special Education, Educational Psychology and Education. It adopts a coherent chronological approach, beginning with responsiveness to speech and language in the womb and working across the lifespan into maturity and beyond.
By using a chronological organization, the text helps students relate the material to the whole person at each milestone. It takes a constructive approach, starting with the simplest theoretical apparatus of the youngest infant, gradually increasing in complexity and comprehensiveness one milestone at a time. The organizational background becomes a series of narratives of interesting cases, keeping the theory and structure of language development grounded in real stories.
In the second edition, the authors have enhanced and updated the cutting-edge information on early language development, literacy acquisition, and some of the factors that can delay or even derail the normal progression. They have amplified innovations that students found useful in the first edition while updating the text with respect to current research and theory. The organization of the text has been streamlined, and some of the theory and research has been clarified and illustrated with additional or updated videographic illustrations.
The digital resources on the second edition DVD-ROM include:
A complete Digital Summary of the whole book together with hyperlinked media and Internet resources referred to in the book
A well-illustrated PowerPoint summary of each chapter with one or more videographic clips for every class meeting
A Study Guide of Multiple Choice Questions containing 1,000 items (400 more than in the prior edition) linked in sequence, page-by-page and chapter-by-chapter, to the subject matter in the text
A series of 10 Discussion Questions at the end of each chapter
A digitally searchable Glossary of Technical Terms also containing brief biographies of major theoreticians, researchers, and innovators
A searchable list of all the published and Internet references in the book
An extensive index
The foundational chronology of basic milestones of development is essential information for speech-language pathologists and for educators working with preschoolers, as well as obstetricians, pediatricians, nurses, and professionals in the health sciences. The second edition of Milestones continues to lead the way in bringing this crucial information to successive new generations of students and future clinicians.
Chapter 1. Development Across the Life Span
Objectives
Getting There Earlier Than Expected Language Systems and Their Grammars Intentional Actions Are Grammatical Principles of Development
Common Ground: Where the Researchers Agree
You Can Make a Difference Summing Up and Looking Ahead Study and Discussion Questions
Chapter 2. Before and Just After Birth
Objectives
Actions Are Crucial to Development
The Integration of Sensation and Movement
Symbols: Emotion, Memory, Imagination, and Language
Testing Sensation and Movement at Birth
Connecting Language with Content
Innate Language Capacity or Just Biomechanics? Cross-Modal Transfer and Integration of the Senses Summing Up and Looking Ahead
Study and Discussion Questions
Chapter 3. Language Acquisition theory
Objectives
Three Kinds of Work Distinguishing Forms of Speech Abstraction
Abstracted Signs Enrich Experience
Learning to Understand What You Don't Understand
Making A Critical Distinction Summing Up and Looking Ahead Study and Discussion Questions
Chapter 4. Entities That Move and Talk
Objectives
Coordinating Movements
Solving the Forms of Significant Movements The "Nonverbal" Signs Needed for Words The Surprising Problem of Identities
The Sign Cycle
The Iconic Cycle of Abstraction
The Indexical Cycle
Abstracting and Generalizing to the Hypostatic Index
Summing Up and Looking Ahead
Study and Discussion Questions
Chapter 5. Working Up to A Receptive Vocabulary
Objectives
Integrating the Nonverbal Signs with the Verbal
Levels of Reference and the Logical Positions of Discourse
Building Up to Tertiary Reference
The Infant Uses All Three Positions of Discourse
Indexes as the Connectors Discriminating Linguistic Symbols Gaining Motor Control of Surface-Forms Summing Up and Looking Ahead
Study and Discussion Questions
Chapter 6. From "One Word" to Grammatical Strings
Objectives
Reviewing What's Already Been Achieved
Working Backward from the Goal
What's an Argument
The Growing Hierarchy of Sign Systems Moving Beyond Zero Order Predicates Zero Order Predicates Become Arguments
Meaningful Questions About Words Emerge
Summing Up and Looking Ahead
Study and Discussion Questions
Chapter 7. Pragmatics and Literacy
Objectives
From Surface-Forms to Pragmatics
The First Symbols Are TNRs
The Adult Level of Mature Reasoning A General Limit of Abstractness Obstacles to Success with Phonics Summing Up and Looking Ahead Study and Discussion Questions
Chapter 8. Meaning Outranks Surface Form
Objectives
It's All About Meaning
Meaning Enables Communication
Whole Language Approaches
The Critical Role of Narrative-Like Sequences
Universals of Chronology
Becoming Literate Is Cognitive Empowerment
Achieving Ordinary Coherence Summing Up and Looking Ahead Study and Discussion Questions
Chapter 9. Different Languages, Dialects, and Cultures
Objectives
Consequences of Language/Dialect Differences the Difference Between Languages and Dialects New Varieties Are Constantly Arising
Language Varieties at School
Evaluating Emotional, Social, and Cognitive Abilities
Revisiting Disproportionality in LD and Gifted
Classifications
How to Achieve Valid Measurements, Assessments, and Judgments
Nonprimary Language Instruction/Acquisition
Methods That Work: Always Involve Pragmatic
Mapping
Summing Up and Looking Ahead
Study and Discussion Questions
Chapter 10. Development in Relation to Disorders and Dissolution
Objectives
The Theory of True Narrative Representations
Classifications of Disorders
The Milestones Scale of Development
Parents as Diagnosticians
Physical, Emotional (Social and Behavioral), and
Mental Development Disorders are Linked to Toxins Solving the Mystery Disorders
Epidemic Autism, Alzheimer's, and Other Disorders
Life, a Mystery: Mortality? Not So Much Summing Up and Looking Beyond this Book Study and Discussion Questions
Reference
Glossary of Terms
Index of Authors, Subjects, and Technical Terms
Appendix 1. Battery of Multiple Choice Test Questions
Appendix 2. Battery of Multiple-Choice Test Questions: With Answers and Cross-References to Text