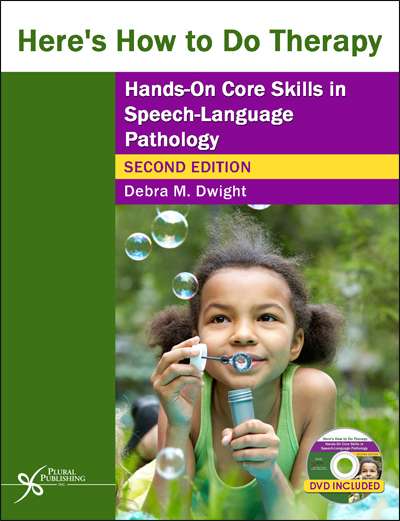 Here's How to Do Therapy: Hands-On Core Skills in Speech-Language Pathology.
Second Edition
Debra M. Dwight
Details: 400 pages, B&W, Softcover, 8.5" x 11"
ISBN13: 978-1-59756-565-3
© 2015 | Available
A new edition will be released in November 2021!

Unique in design and content, this book and accompanying DVD provide a logical and manageable approach to therapy and help students and practitioners enhance their clinical skills through guided practice of key concepts.
Twenty-eight fundamental therapeutic skills are presented in a "workshop format" using organizers, definitions/demonstrations, think-out-loud questions, prompts for practice, post-organizers, and more. This second edition also includes an all new chapter that examines the concept of "critical incidents" in learning speech-language therapy and details 18 classroom activities for clinical supervisors and instructors.
The 80-minute DVD significantly enhances the tutorial aspect of this text by presenting visual demonstrations of core therapeutic skills. One-to-three-minute vignettes give students real-life examples of implementing these skills and two extended DVD sessions demonstrate the basics of language-based therapy, highlighting articulation and language intervention.
Here's How to Do Therapy, Second Edition, is an ideal reference for providing effective therapy for both clinical practicum and management courses, as well as for clinicians engaged in SLP intervention.
View a sample video from the DVD here.
Reviews
"I was looking for a good textbook that clearly explains evidence-based treatment methods and as well as the effective components of therapy. Dr. Dwight's new edition textbook certainly fits the bill. The DVD demonstrating the techniques is a real plus!"
—Christine Maul, PhD, CCC-SLP, Assistant Professor, Department of Communicative Disorders and Deaf Studies, California State University, Fresno (2014)
Preface

PART I
Chapter 1 Introduction: Here's How to Use this Text
Chapter 2 Basic Considerations for the Therapeutic Process
Chapter 3 Foundations for the Therapeutic Process: Overview
Chapter 4 Learning Theories Related to Speech-Language Intervention
Chapter 5 Developmental Domains and Special Classifications Related to the Therapeutic Process: An Overview
Chapter 6 Hands-On Core Skills: The Speech-Language Pathologist as Facilitator of Positive Communication Change
Chapter 7 Basic Structure Within the Therapeutic Process
Chapter 8 Peripheral Speech-Language Therapy Management Issues

PART II
Chapter 9 Guided Practice in Language-Based Therapy
Chapter 10 Guided Practice in Articulation Therapy
Chapter 11 Guided Practice for Voice Therapy
Chapter 12 Guided Practice for Resonance Therapy
Chapter 13 Guided Practice for Fluency Therapy
Appendix
Glossary
Index