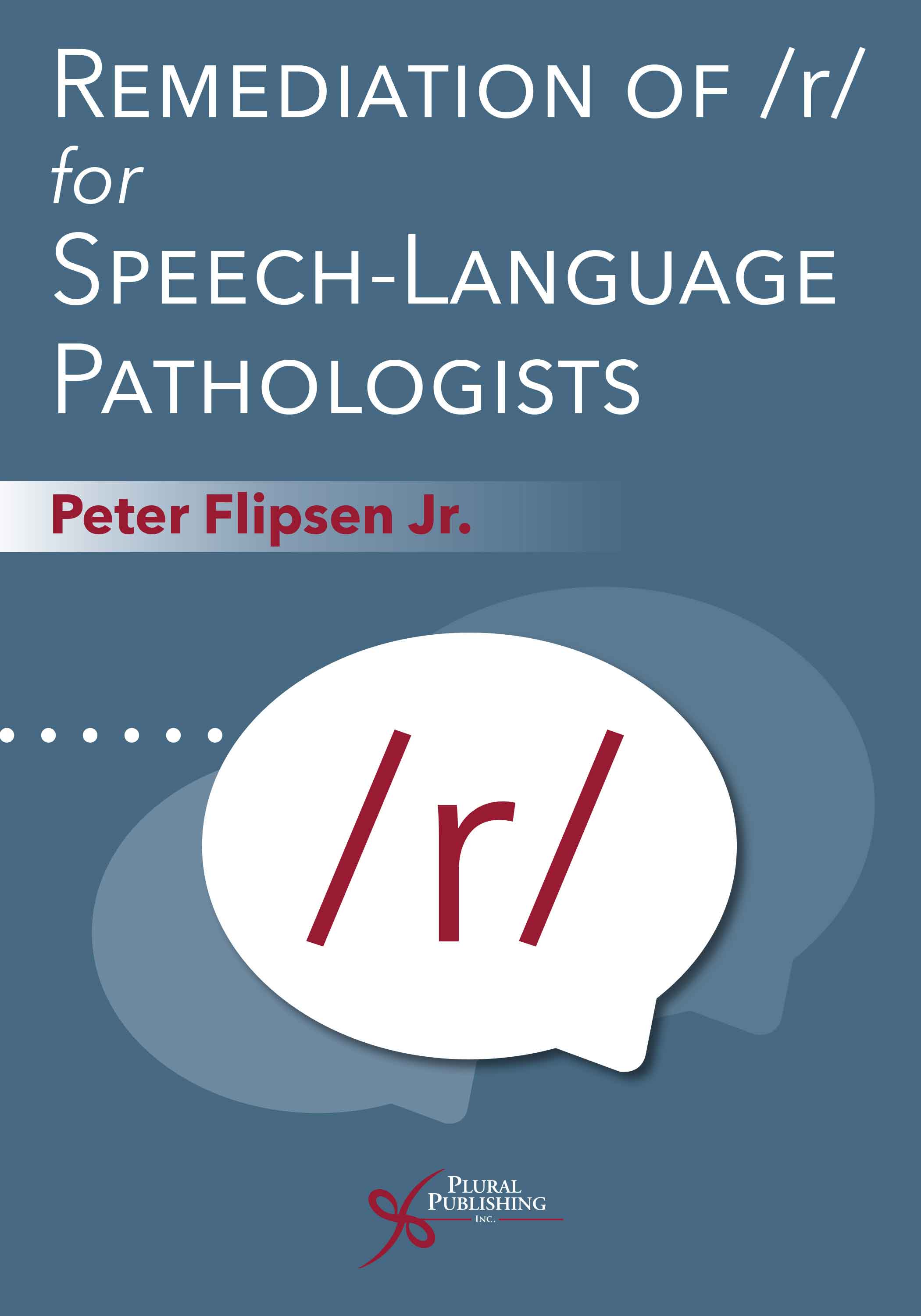 Remediation of /r/ for Speech-Language Pathologists
First Edition
Peter Flipsen Jr.
Details: 228 pages, B&W, Softcover, 7" x 10"
ISBN13: 978-1-63550-287-9
© 2022 | Available
Treating older children and adolescents who have difficulty correctly producing /r/ sounds remains an ongoing source of frustration for many clinicians. The new professional resource Remediation of /r/ for Speech-Language Pathologists provides the most up-to-date information on the current understanding of /r/ and the related errors, along with a range of treatment options, to offer a comprehensive tool for Speech-Language Pathologists (SLPs) treating this complex issue.
In addition to a discussion of traditional articulation therapy and ways to improve the administration of this technique, this practical text offers a detailed review and explanation of several very promising alternative approaches. Written in what has been described as Dr. Flipsen's "folksy" style, this text is designed for the busy clinician.
The first five chapters of Remediation of /r/ for Speech-Language Pathologists delve into the basic information needed to treat /r/. The next six chapters each tackle a specific treatment option. The treatment section begins with a re-examination of traditional articulation therapy and uses research evidence to help clinicians to fine-tune its application. It then progresses to discussing more significant modifications to traditional therapy and introduces several newer approaches to modifying the feedback being provided to the client. For each treatment option, the author presents a solid rationale and the latest evidence, along with practical strategies for their implementation. The final chapter discusses methods for deciding which remediation method to choose when working with /r/ errors.
Reviews
"This book outlines the three-fold factors that contribute to the failure of speech-language pathologists (SLPs) in treating 10-20% of our clients, namely the production of /r/ itself, the clinician's role, and the therapy process. The author lays a strong foundation of the retroflexed and bunched formations of the tongue and offers slight modifications to traditional articulation therapy ("bottom-up" approach). … He encourages SLPs to consider alternative systems that may help motivate clients to work diligently on their productions. The book aims to be an evidence-based resource for clinicians. The author answers the question of working with older students, reviewing IDEA 2004 to justify the need for therapy. Beyond this, he sets out to introduce the SLP to traditional and non-traditional approaches to therapy….
This book is written for speech-language pathologists working with older children whose speech is intelligible but continues to have distortions in their production of /r/. The information is not intended for the severely impaired child, but can be applied by clinicians working with children of all ages struggling with speech production. The level of difficulty and the scope of the topic are appropriate for practicing SLPs. Researchers would appreciate the numerous studies covered in the book, making an extensive reference section. The author's experiences in the field and in research authorize him to speak in depth about the topic. He holds years of service in the field as a clinician, researcher, professor, and presenter. … Readers do not need to feel daunted by the heavily research-based validation, however, as the therapy approaches are practical, well explained, and accompanied by tables of examples to use for the various techniques.
This book covers the assessment of sound production and treatment intervention. The author validates the importance of evaluating the nature of the problem, which then guides the therapy process. The non-traditional approaches to therapy involve visual, visual-acoustic, and tactile feedback, using instrumentation such as Speech Buddies, electropalatography (EPG), and ultrasound. The book's strength is the author's use of empirically evidenced approaches that have been peer reviewed. He brings his expertise and extensive research, particularly in the area of speech-sound disorders, to help SLPs to approach the complex and varied production of /r/. …"
–Darcie Beth Hultberg, BA, MS, Biola University, in Doody's Reviews (January 2022)
Preface: A Visit with the Rhotacist
Reviewers
Chapter 1. Introduction
Chapter 2. Typical Production of American English /r/
Chapter 3. When to Intervene
Chapter 4. Assessment of /r/
Chapter 5. Remediation Principles
Chapter 6. Treatment Option #1: Fine-Tuning Traditional Articulation Therapy
Chapter 7. Treatment Option #2: Modifying Traditional Articulation Therapy
Chapter 8. Treatment Option #3: Adding Supplemental Tactile Feedback
Chapter 9. Treatment Option #4: Adding Visual Feedback via Electropalatography
Chapter 10. Treatment Option #5: Adding Visual Acoustic Feedback
Chapter 11. Treatment Option #6: Adding Visual Feedback via Ultrasound
Chapter 12. Concluding Remarks: Deciding What to Do
References
Index