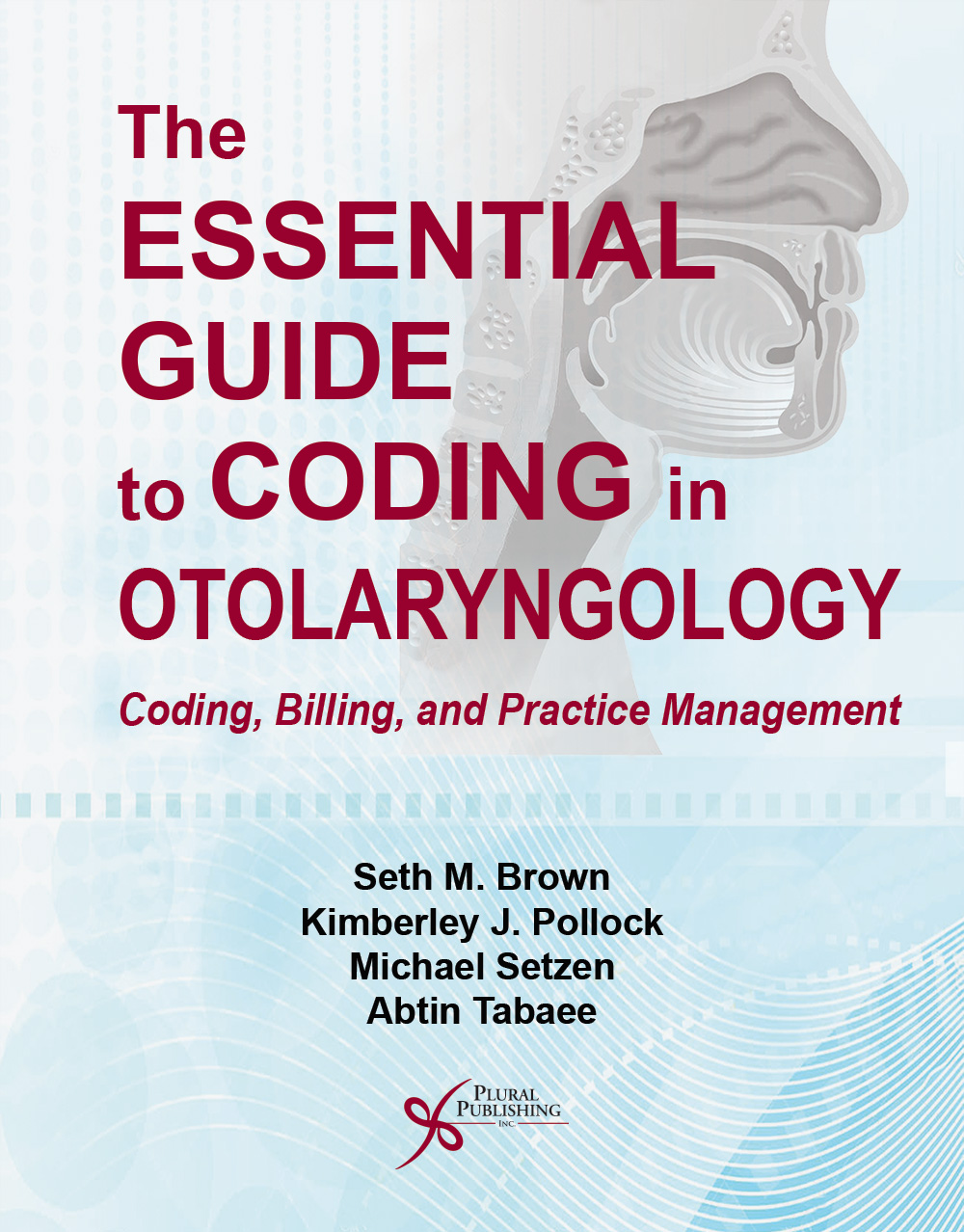 The Essential Guide to Coding in Otolaryngology: Coding, Billing, and Practice Management
First Edition
Seth M. Brown, Kimberley J. Pollock, Michael Setzen, Abtin Tabaee
Details: 391 pages, B&W, Spiral Bound, 8.5" x 11"
ISBN13: 978-1-59756-616-2
© 2016 | Available
The FIRST coding book BY otolaryngologists FOR otolaryngologists!
The Essential Guide to Coding in Otolaryngology: Coding, Billing, and Practice Management details how to properly and compliantly code for both surgical and nonsurgical services. It is a practical guide for all otolaryngologists in the United States and fills the gap in training residents and fellows in coding with a readable yet searchable book. Included are sections on otolaryngology coding basics and advanced issues, claim submission, and ICD-10-CM.
Focused entirely on a practical approach to coding, billing, and practice management, this text is user friendly and written both for the practicing physician and the coder. A physician's income is tied to the ability to code and good revenue cycle processes; thus, he or she must properly bill and collect for services provided. As profit margins are squeezed, the ability to optimize revenue by compliant coding is of the utmost importance. The Essential Guide to Coding in Otolaryngology is vital not only for new physicians but for nearly every otolaryngologist in practice.
Key Features
All chapters written by practicing otolaryngologists, health care providers, practice management, and coding experts
Discussion of the foundations of coding, billing, and practice management
Otolaryngology subspecialty-focused discussion of office-based and surgical coding
Robust index for easy reference
Reviews
"The rules and regulations surrounding coding, billing, and practice management are complex, variable, and updated on a regular basis. This all-star group of editors does an outstanding job of presenting the guidelines in an easy-to-understand, straightforward, and logical way, through which the reader can efficiently not only learn the basics and the advanced nuances of billing and coding, but also utilize the text as a reference for quick, to-the-point answers that arise on an ad hoc basis. . . . The strengths of the text include the combination of the expertise brought to bear on this challenging discipline, while maintaining a structure and template that reads well across the various disciplines. In addition, the text is extremely current, with focus on areas of high-frequency denials, controversies that providers are challenged with in the current payment structure, and discussion of current technology that is still working its way through the reimbursement system."
—Robert R. Lorenz, MD, MBA, Cleveland Ohio, in Head & Neck (March 2, 2017)
"A ring bound multi-author text of 33 chapters, it achieves a remarkable uniformity of style. ...Most chapters freely discuss 'controversial areas' and the perils of incorrect coding. ...Both office and hospital care are covered in basic principles, but also for every possible procedure, from robotic surgery, to investigation of sleep disordered breathing. ...Obviously, for US readers this is essential and a reference fundamental to practice."
—Liam M. Flood, FRCS, FRCSI, Middlebrough, UK, in the Journal of Laryngology & Otology (October 2016)
Introduction
Preface
Acknowledgments
Contributors
Section I. Basics of Coding and Billing
Chapter 1. Essentials of Coding
Natalie Loops
Chapter 2. Navigating the CPT® Book
Teri Romano
Chapter 3. Transition to ICD-10-CM
Margaret A. Skurka
Chapter 4. Health Policy
Richard W. Waguespack and Lawrence M. Simon
Chapter 5. Successful Strategies in Billing
Cheryl Toth and Karen A. Zupko
Chapter 6. Successful Navigation of the Appeals Process
R. Cheyenne Brinson
Chapter 7. Legal Issues: Management Strategies and Avoiding Pitfalls
Patricia S. Hofstra and Elinor Hart Murárová
Chapter 8. Billing Guidelines for Nonphysician Practitioners and Teaching Physicians
Sarah Wiskerchen
Chapter 9. The Office Visit
Betsy Nicoletti and Kimberley J. Pollock
Chapter 10. Coding for Hospital Care
Betsy Nicoletti and Kimberley J. Pollock
Chapter 11. Demystifying Modifiers
Kimberley J. Pollock
Section II. Office-Based Otolaryngology
Chapter 12. Office Rhinology
Seth M. Brown
Chapter 13. Otolaryngic Allergy
Gavin Setzen and Michelle M. Mesley-Netoskie
Chapter 14. Office Laryngology
John W. Ingle and Clark A. Rosen
Chapter 15. Speech Pathology
Manderly A. Cohen and Michael Setzen
Chapter 16. Office Otology
Benjamin J. Wycherly
Chapter 17. Audiology
Debra Abel
Chapter 18. Office Facial Plastic Surgery
Amit D. Bhrany
Chapter 19. Office Head and Neck Surgery
Marc A. Cohen and Abtin Tabaee
Chapter 20. Office Pediatric Otolaryngology
John P. Dahl and Sanjay R. Parikh
Chapter 21. Office Sleep Medicine
Anit T. Patel
Chapter 22. In-Office Imaging
Gavin Setzen, Mary Lally, and Michelle M. Mesley-Netoskie
Section III. Surgical Otolaryngology
Chapter 23. Basics of Surgical Coding
Seth M. Brown
Chapter 24. Operative Rhinology
Jivianne T. Lee
Chapter 25. Operative Laryngology
Babak Sadoughi and Lucian Sulica
Chapter 26. Operative Otology
Christopher R. Thompson and Charles A. Syms III
Chapter 27. Operative Facial Plastic Surgery
Rebecca E. Fraioli
Chapter 28. Operative Head and Neck Surgery
Andrew M. Hinson and Brendan C. Stack, Jr.
Chapter 29. Reconstructive Head and Neck Surgery
Babak Givi, Adam S. Jacobson, and Neal D. Futran
Chapter 30. Skull Base Surgery
Belachew Tessema and Jack A. Shohet
Chapter 31. Robotic Surgery
Jason G. Newman, Bert W. O'Malley Jr., and Gregory S. Weinstein
Chapter 32. Operative Pediatric Otolaryngology
Lawrence M. Simon
Chapter 33. Operative Sleep Surgery
Fred Y. Lin
Index